Template Mashup: Ordinary Moments Today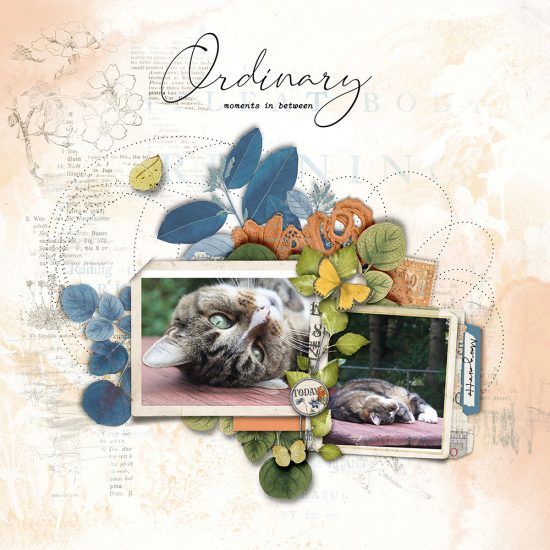 Merrilee here (also known as digigrandma) and where I live we are beginning to transition to autumn after the wonderful summer months. Perhaps, where you live you are welcoming signs of spring after the cold winter months. Whatever the case may be, I suggest we pause to record some ordinary, but, beautiful moments. I think the templates I chose for the first Template Challenge in September will work beautifully for showcasing a special moment in time that might be ordinary, yet very beautiful.
The rules for the Template Challenge are simple. Just make sure you use parts of both templates in your new design. If you wish to add in additional elements that is OK to do.
Post your pages in the Template Challenge Gallery and if you are earning points towards our Rewards Program, be sure to also include your layout in the September Challenge Participation thread, too.
The two templates for the Challenge are:
Frame and Blend Story Layered Vol 2 Layered Template No 04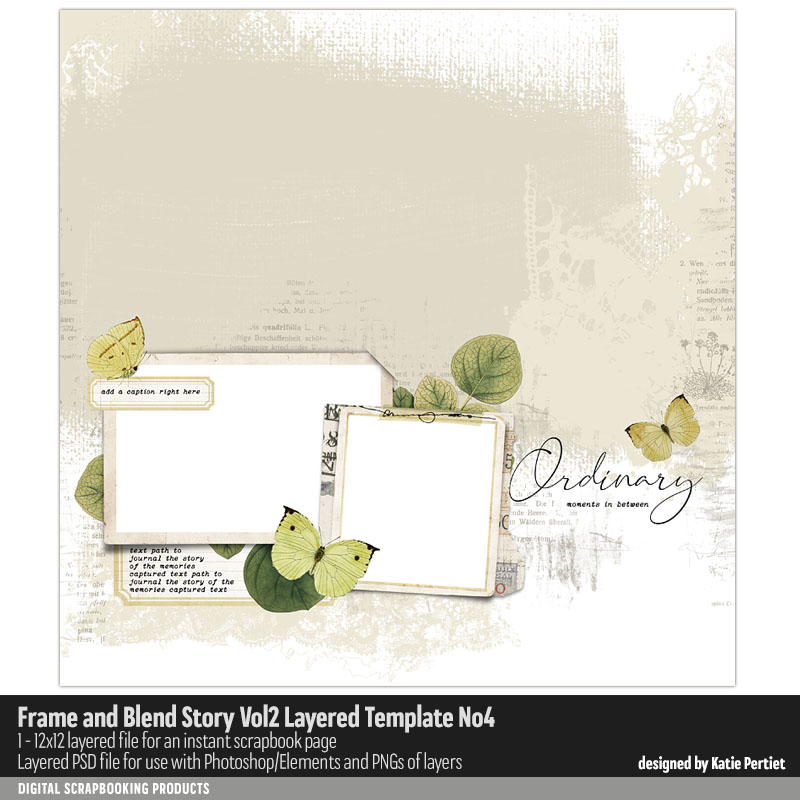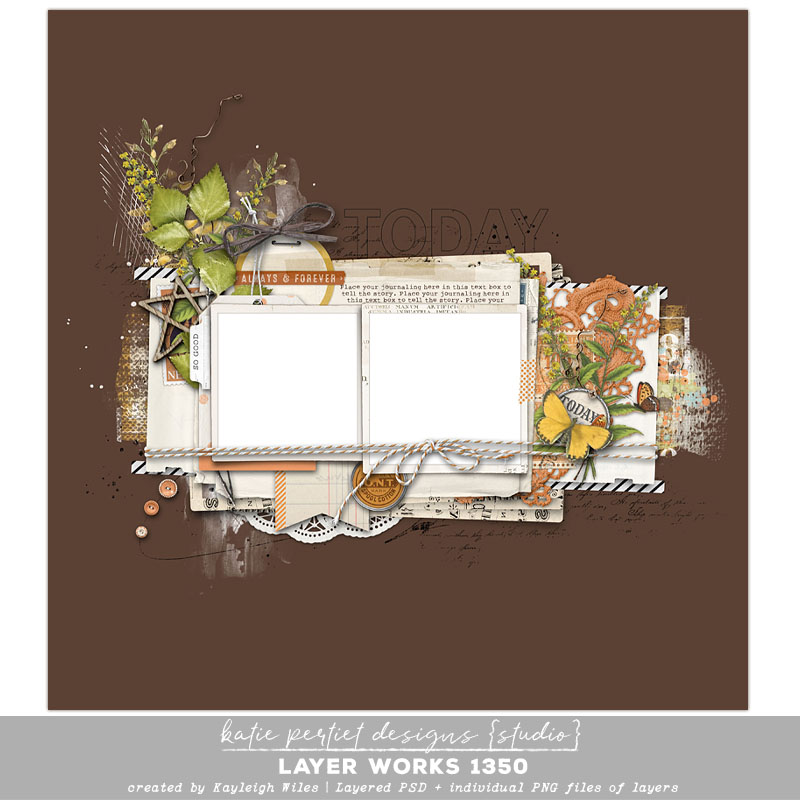 Julie (aka MaggieMae) , Kathy (aka BlackKathy)  and Carol  (aka oldbag165) helped me out with wonderful example layouts using the templates.
Julie is already noticing fall flowers on the front steps of the porches in her neighborhood. I like that she sees the beauty in her everyday surroundings. Her colorful title art is cleverly filled with her flower photos. I love her layers under the photos which include lace and a doily, plus leaves and a variety of ephemera papers all found in the two templates. Julie's additions to the templates are: 
Cutting Files: Merging Statements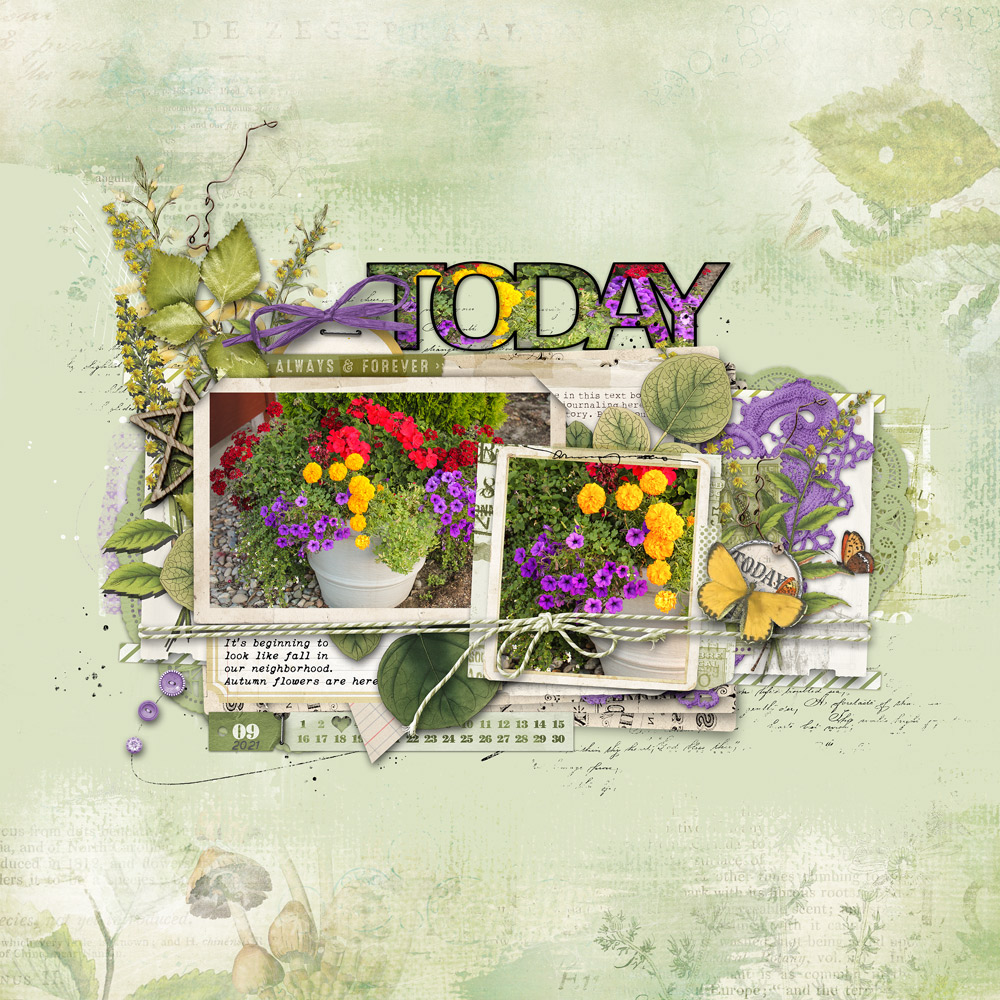 I bet Kathy delights in watching her beautiful kitty laze around on her patio. I like that she takes photos of ordinary moments like this. The fall colors of her page are a foretaste of the season ahead and I like to think of the addition of the blue colors she added as a remembrance of summer's blue skies. I also love the autumn colored lace tucked in her cluster surrounding her photos. Kathy also usedz;
Vintage Artistry Wedgewood Ephemera.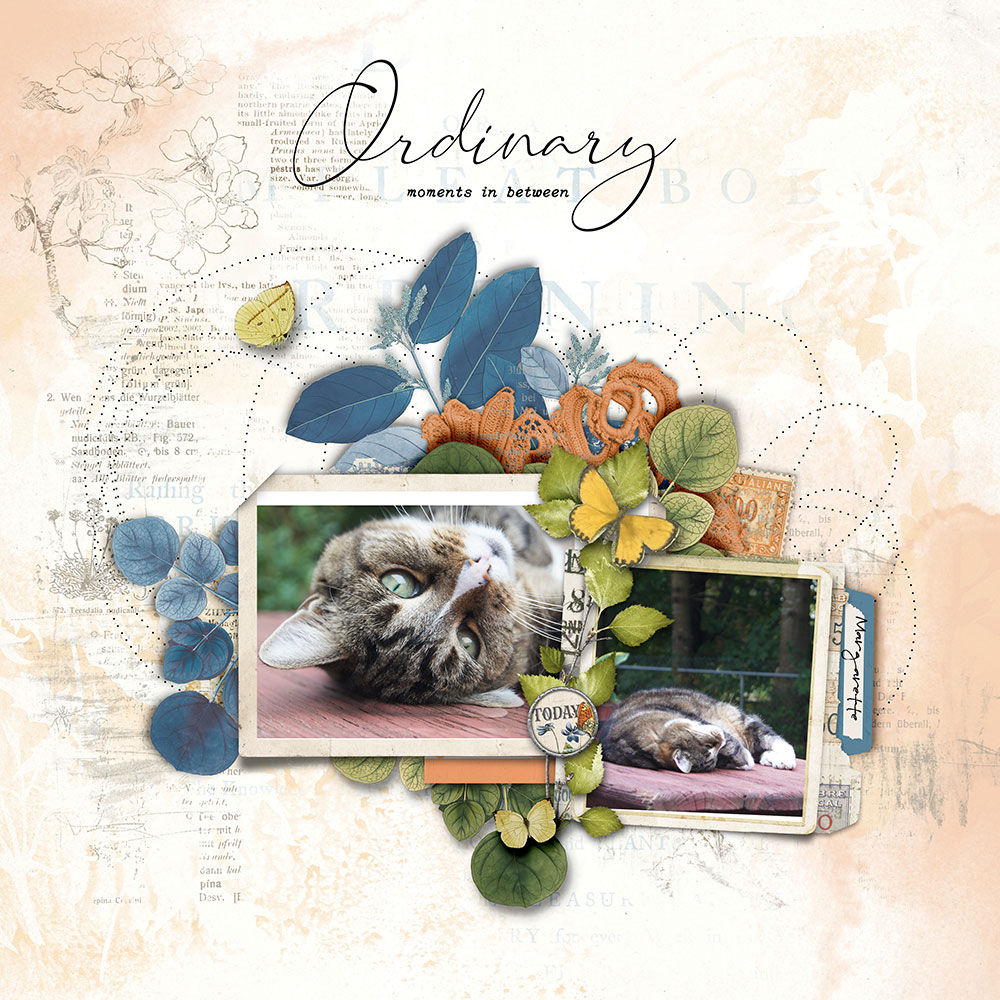 As you know, Carol is a wonderful wildlife photographer. What I love about her Mashup example is how the photographs in her page feature a furry friend that we all see scurrying around in the woods every day and we get so used to seeing them we often don't look at them closely. I think chipmunks are adorable and I am happy to see Carol's closeup views of one of them. Carol's design takes advantage of the large painted mask included in one of the templates. Notice the extracted chipmunk tail coming out of the photo frame. Carol's background paper is Palette Textures No 31.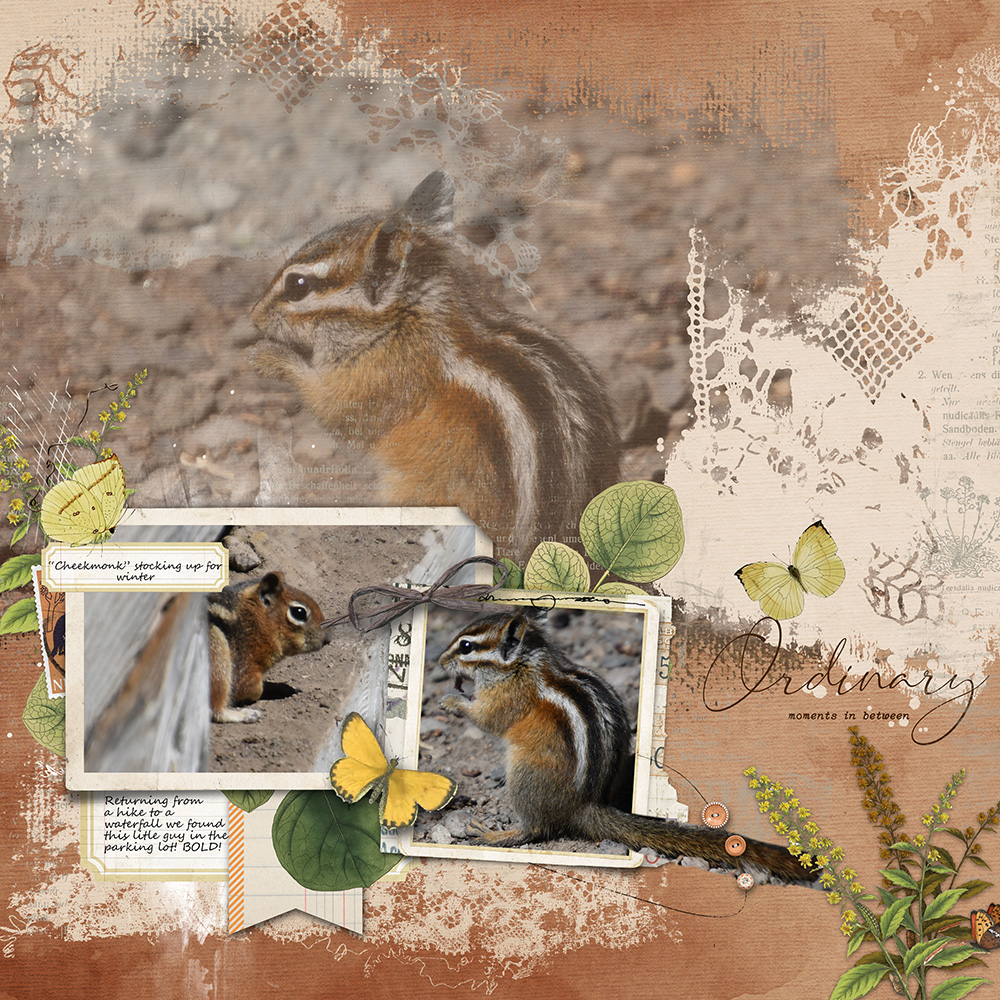 We make many trips back and forth to our cabin in northern Minnesota in the summer and early fall months. The brick planters at the end of our road into the cabin tell us we have arrived! I chose to use the large painted mask for a large photo in the background on my page and I found all of my embellishments in the two templates. My background paper is also from Palette Textures No 31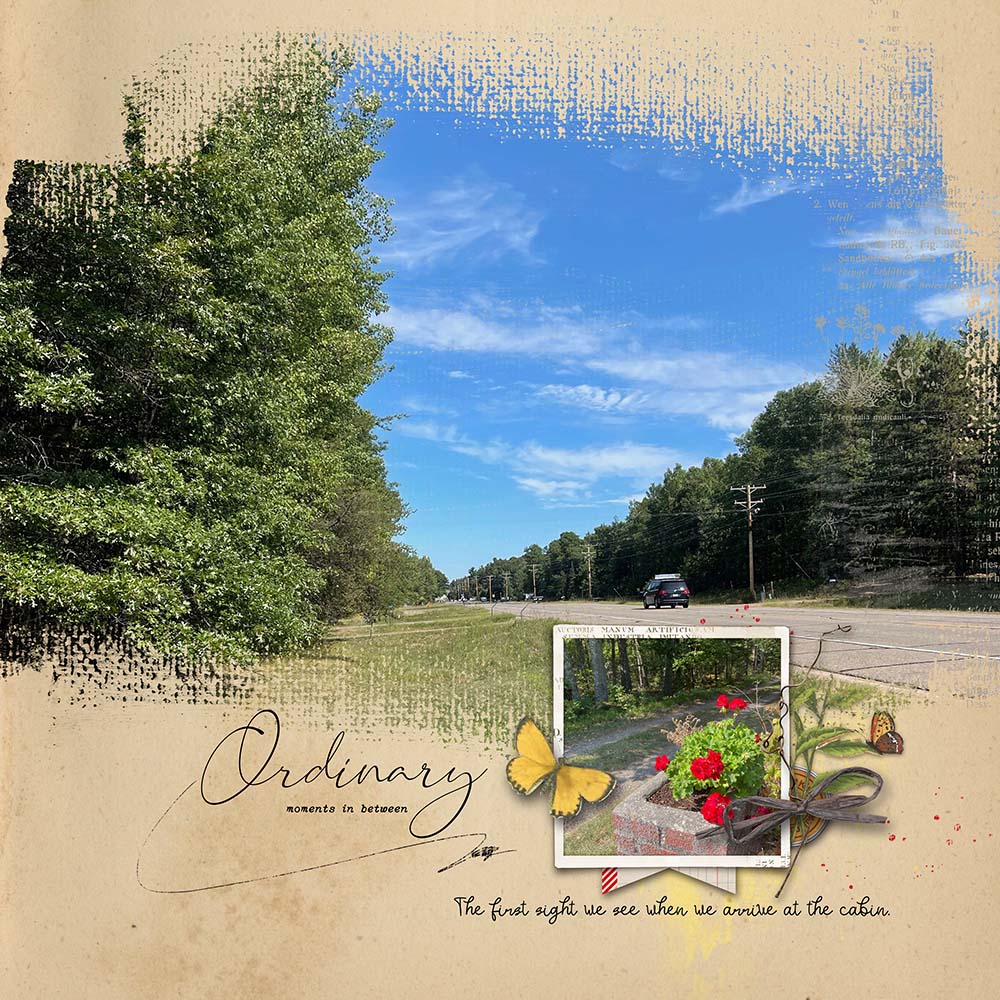 I'll be on the lookout for layouts posted in the Gallery using the templates. As is usual for this challenge, the chosen templates will be included in the sale this week. You'll love having the goodies in these templates in your stash to use again and again. TFL! Happy Scrapping!
Merrilee (aka digigrandma)