Template Mashup: Love, Joy and Peace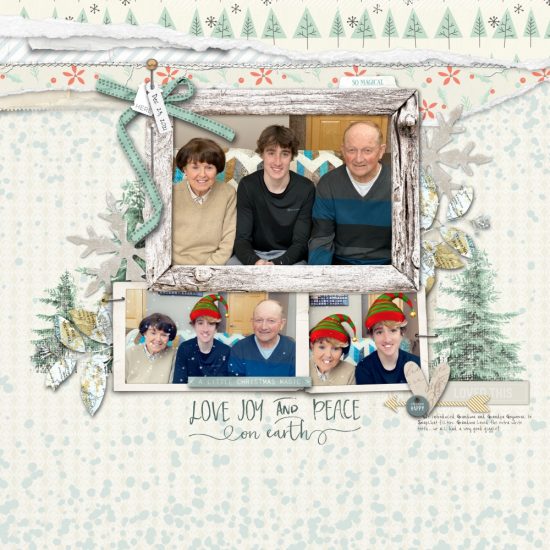 Greetings for the New Year, 2022! This is Merr (aka digigrandma) with the first Template Mashup in 2022. I hope you're keen to try mashing the two templates after you see the example layouts created by Creative Team.
The rules for this challenge are simple: Create a design of your own by combining parts of the two templates. You can add additional designs from KP Designs, if  you wish, as long as you include parts of both templates in your design. So, let's get started!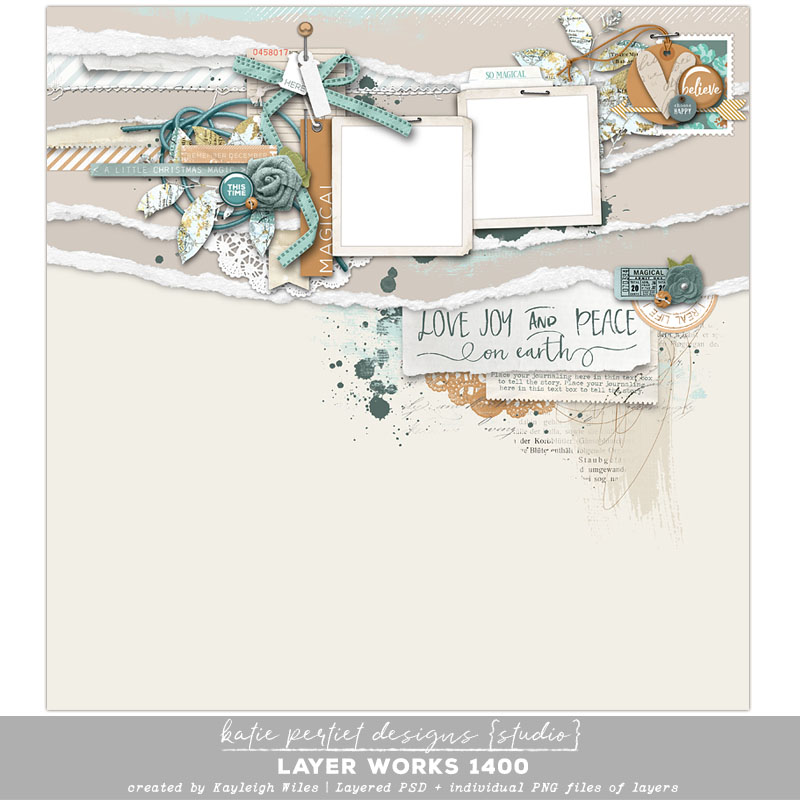 Snow Day Layered Template No 02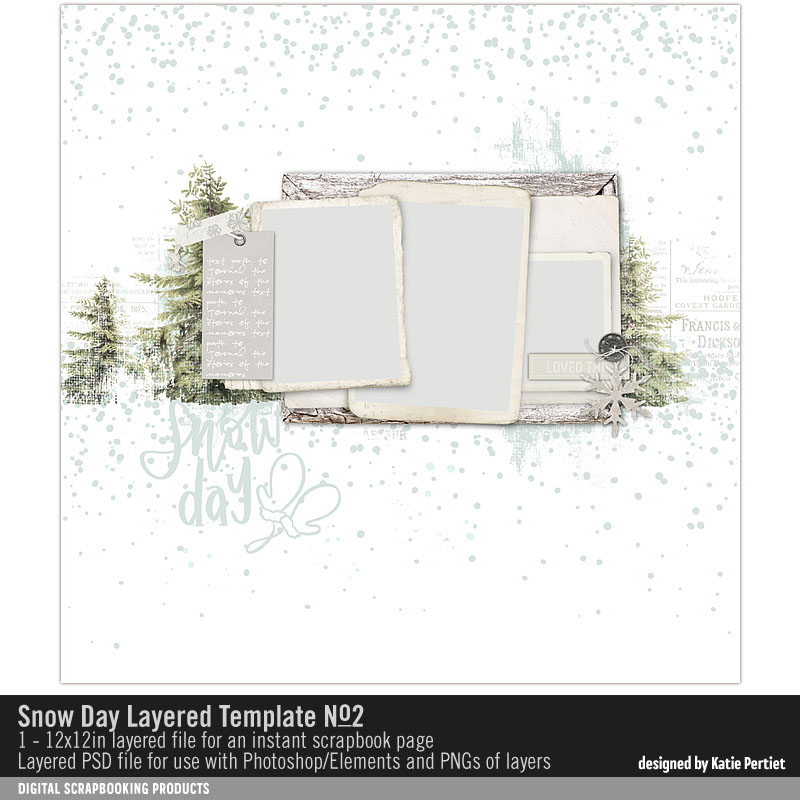 Addie's photos capture the fun personalities of her son and his grandparents, even including a snapchat photo! I love the color scheme and that row of trees across the top of the page.
It makes me smile just looking at this sweet page. Papers are from Minted Christmas Add-on Paper Pack and  Minted Christmas Pack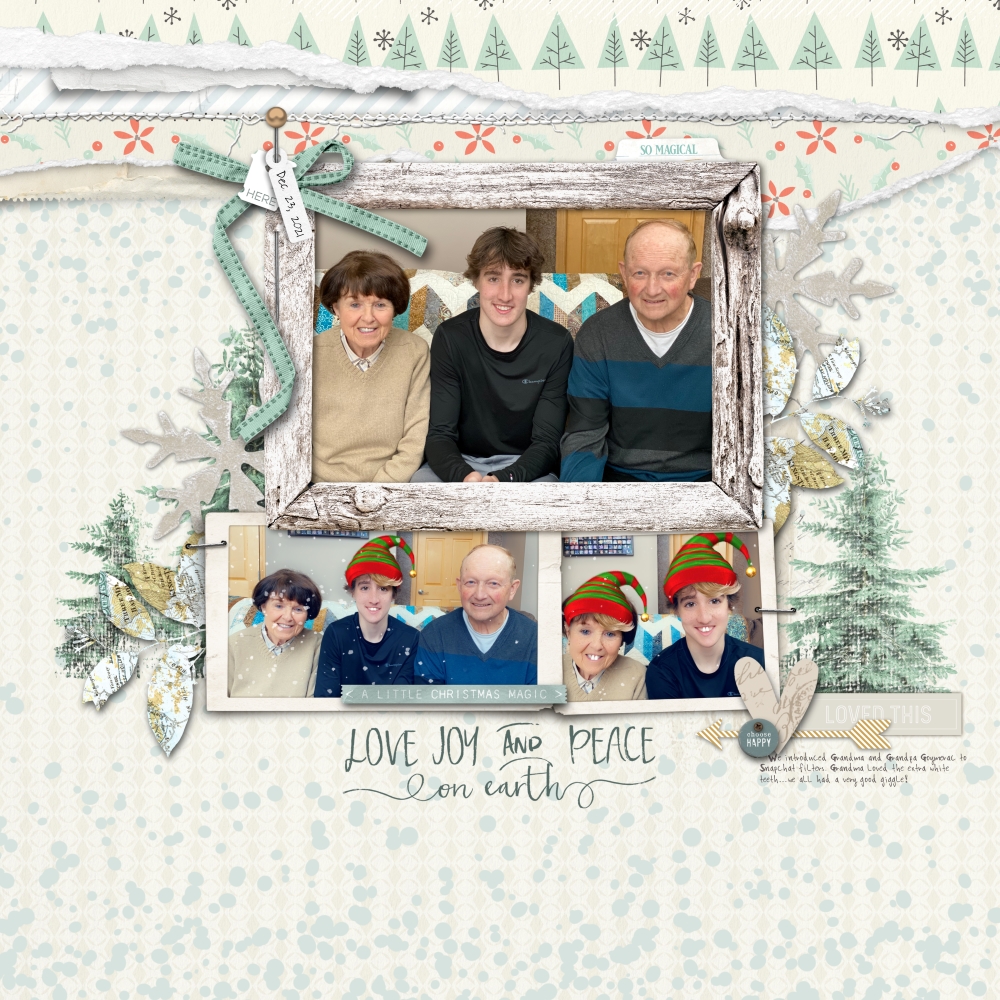 Jheri's fabulous photo of a beautiful snowy landscape captured my imagination. I'd love to be walking by that icy stream. (Bundled up for warmth, of course!) Jheri achieved a wonderful feeling of depth using textured white papers clipped to the torn papers strips. I love that she placed the layers under her photos giving the feeling of mounds of snow piled up. Textured Whites Paper Pack 01 and Textures Whites Paper Pack 02.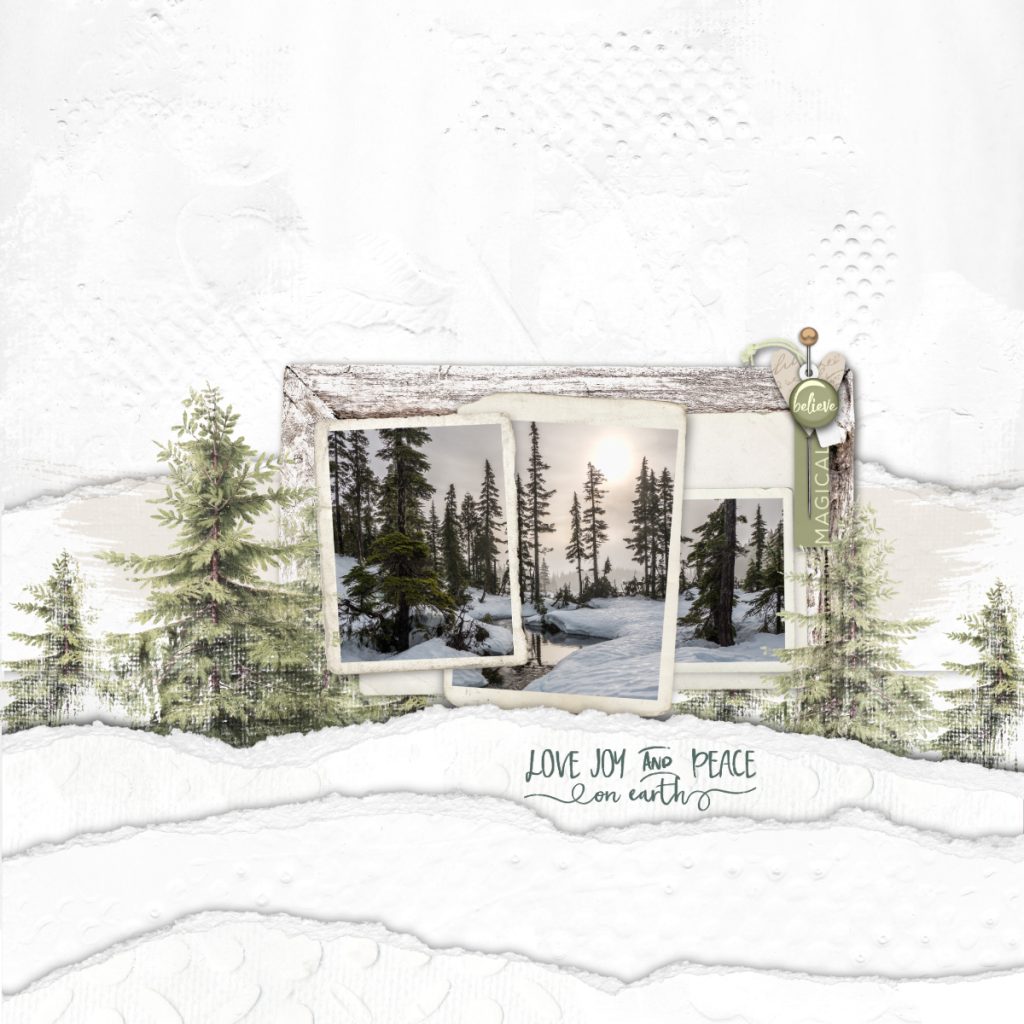 Fran, as did several of us, placed the strips of torn paper across the top and clipped a variety of pretty papers to them. Papers are from December Sparkles Essentials Paper Pack and Vintage Artistry Essentials Paper Pack. She used parts of Readymade Layers: Winter Borders 01 to add to the wintry theme of her interesting photos. Those skates remind me of how much I loved ice skating when I was young.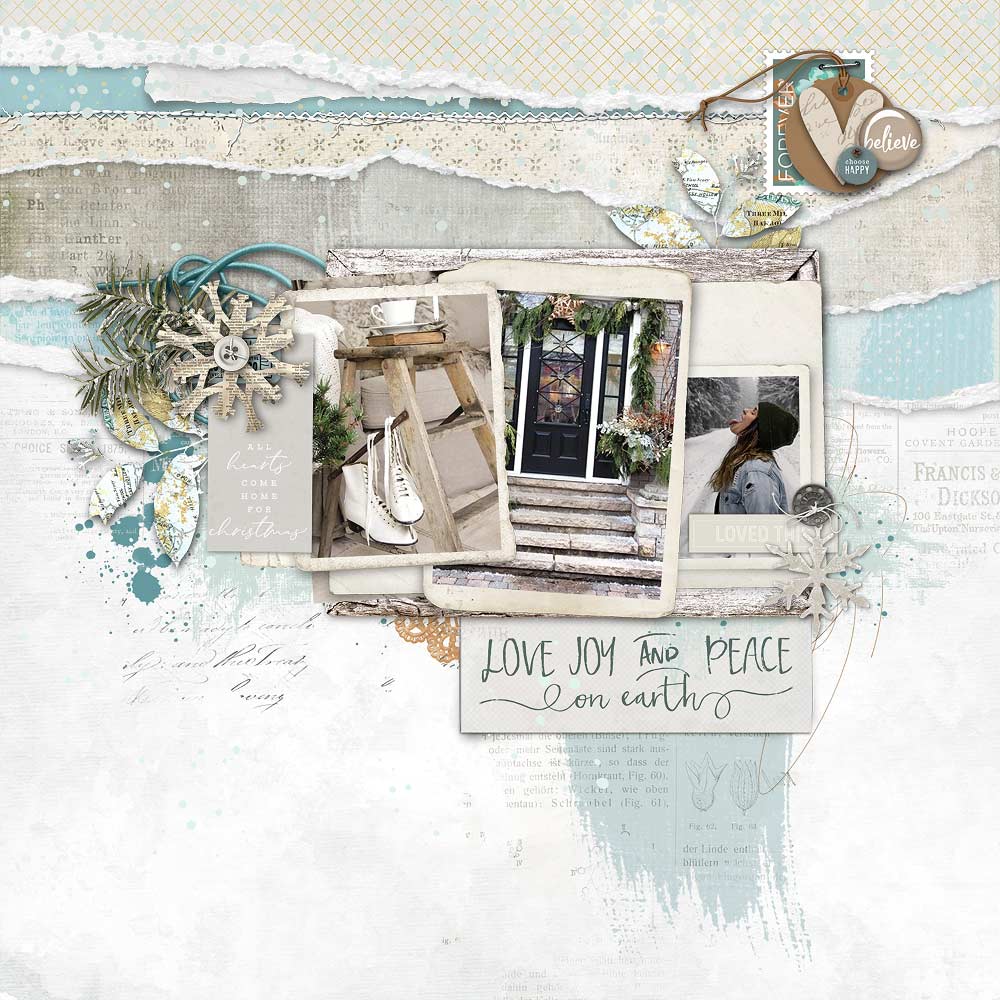 The theme of Love Joy and Peace on Earth is certainly evident in Kate's page. She features a gorgeous scene from the area where she grew up. Her simple design is pure elegance. Papers are from Arctic Frost Sort of Solids Paper Pack and Watercolor Sketchbook 01 Solids Paper Pack.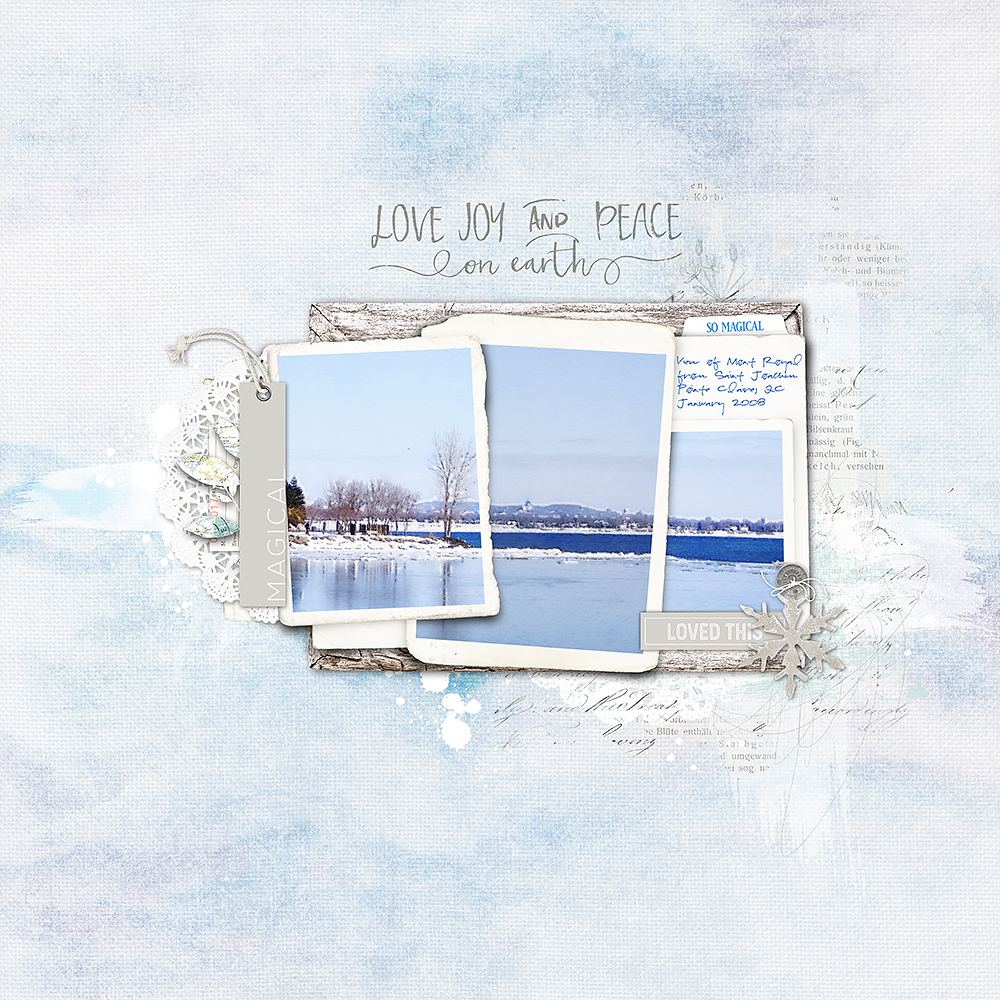 And, Julie's wintery scene is another place I'd love to walk!  So serene and peaceful; again matching the theme of Love, Joy and Peace on Earth. The word art is just perfect for her beautiful photo and I love that she added the deer in the woods, too. Papers are from Arctic Frost Add-on Paper Pack and Arctic Frost Paper Pack. Additions to the page are designs from Country Christmas 02 Painted Layers and ArtOptions Mini Mix 21.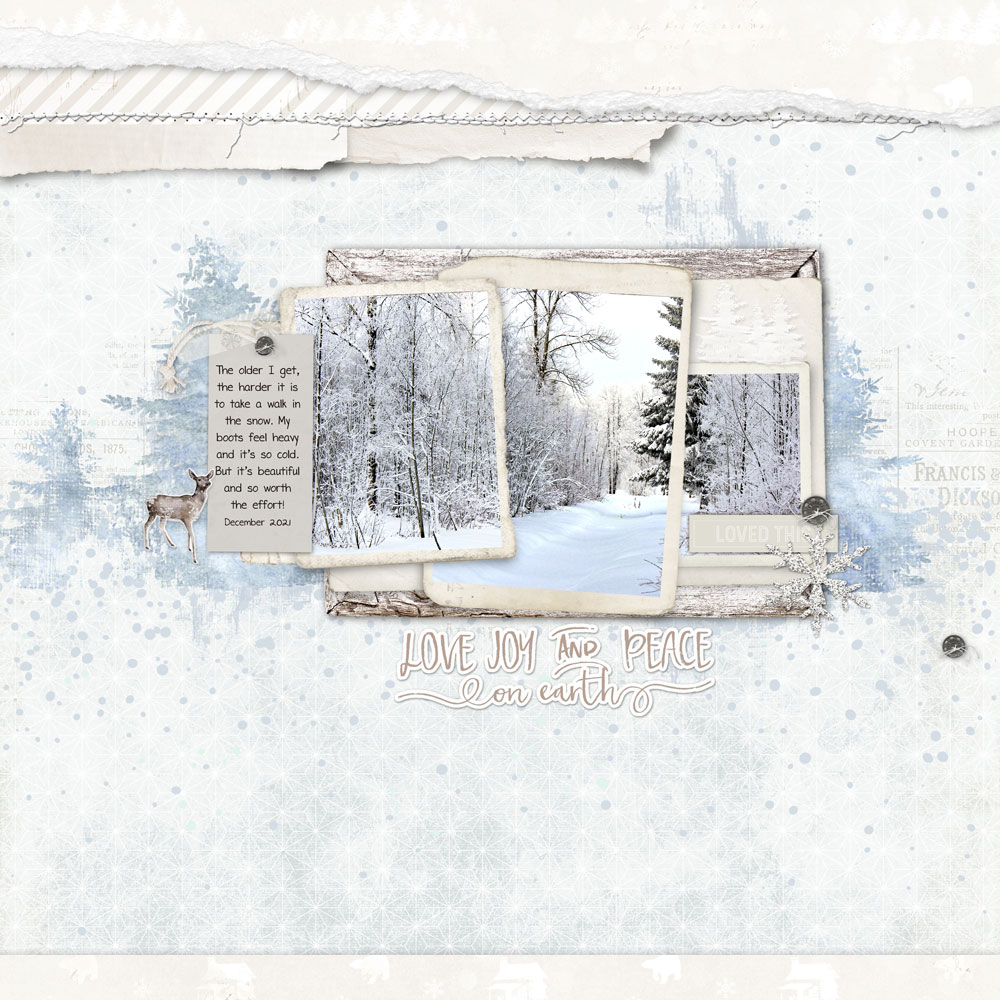 I've been going through older photos lately; doing lots of reminiscing about the grandsons when they visited us for sleepovers that included afternoons of sliding on our hill followed by pancakes for supper made by Grandpa. I clipped the fun polka dot paper from ARToptions Mini Mix 23 to my torn paper strips. I have so much fun mashing two templates and I wish everyone would try it!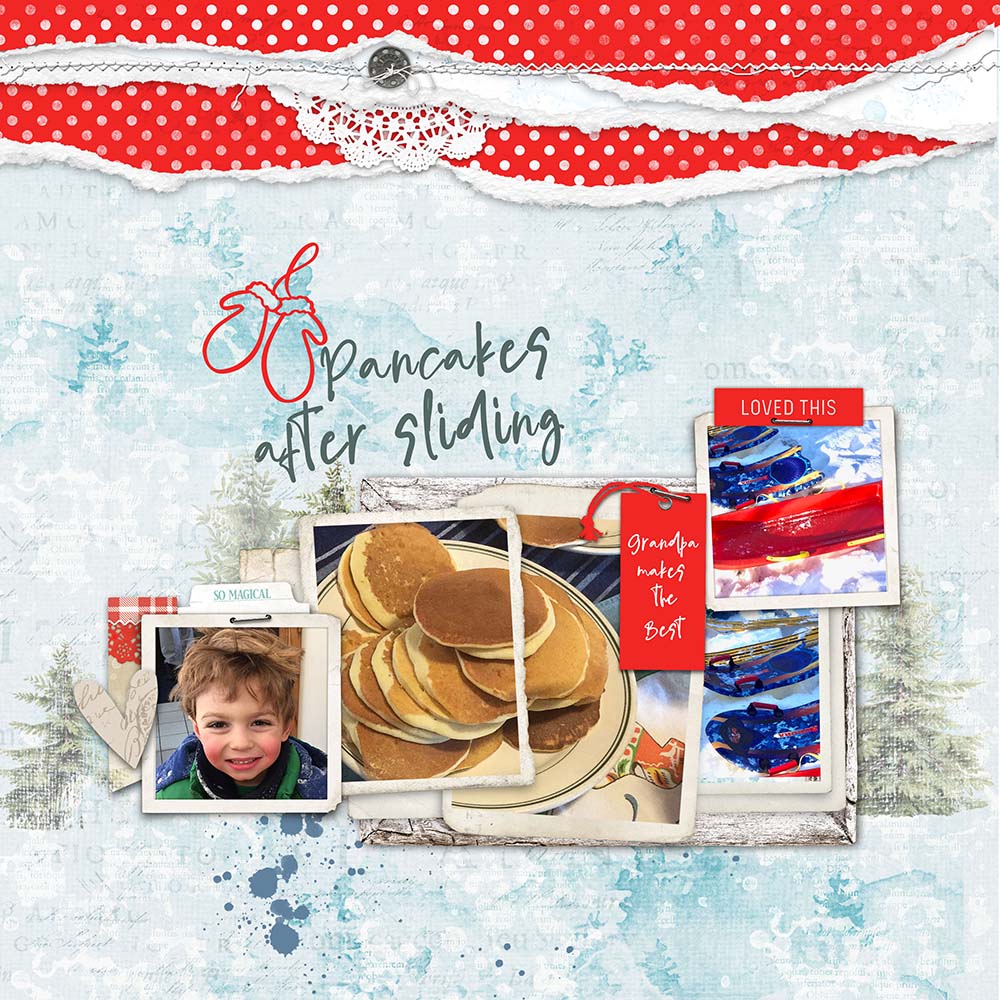 The templates will be on sale this week. These templates are useful for Christmas themed as well as winter themed pages. Add them to your stash and you'll use them again and again for the torn paper strips, the evergreen trees and the variety of photo frames plus the word is very special.  
Remember, if you use 100% KP Designs you can add your page to the Gallery and to the January Challenges Sign-in Thread to count towards a rewards discount code to use in the store.
I'll be looking for your pages in the Gallery! Can't wait to see how you create something wonderful with the templates.