Template Mashup : Getting Artsy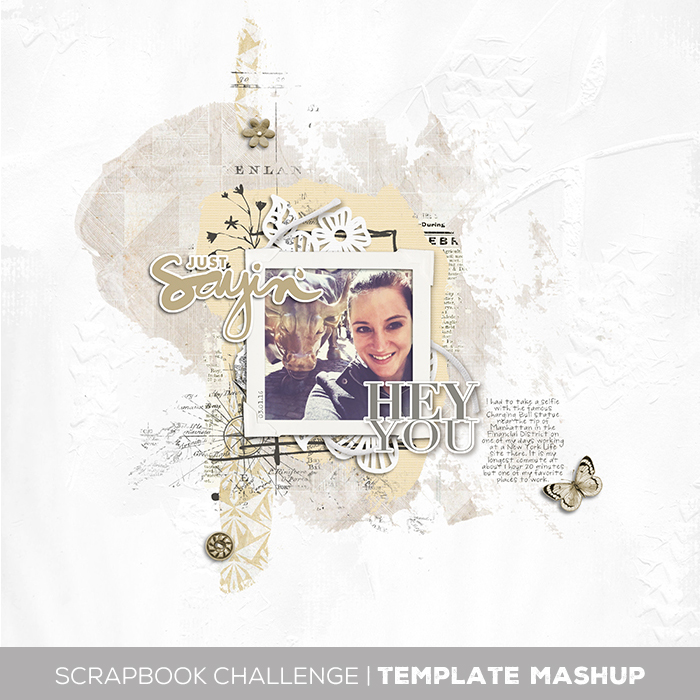 Here's a new template challenge for you!
How would you mash these two templates?
The first template has lovely paint and brushwork for an artsy look. The second template is full of eye catching word art and embellishments. The good news is the templates I chose go on sale this week for Thrifty Thursday. You are invited to join this challenge to combine parts of both templates for a totally new looking page. Please post in the Template Challenge Gallery and to count in the Rewards Program also post your layout in the June Challenge Participation Thread in the forum.
Thanks to three of our Guest Creative Members I have inspiration for creating your own original looking designs. The first example by Jheri made wonderful use of all the beautiful butterflies in the Layer Works No. 1288 template. The butterflies cascade down the page and surround the lovely photo of her daughter. I love the placement of the big bold word art down in the corner of her page. Jehri's paper choices are from Autumn Bliss Solids Paper Pack and Watercolor Sketchbook Paper Pack No. 01.
Audrey's example is pure elegance. I love all the subtle brush work, textures and layers she created for her artsy page. She clipped several different papers to the paint masks from the Abstracting Memories Template to create her lovely textured background.  She used papers from the Finley Paper Pack, Finley Add On and Finley Solids, plus paper from Textured Whites Paper Pack No. 01.
Deborah Wagner created a refreshing, delightful page perfect for a princess! She used digital papers and embellishments from Artistry d'amour Kit, Lucy Lou Glitters and the Monthly Memories Vol. 3 Bundle No. 06. I love how the pink colors give this page a very sweet look. It is so effective the way she blended the big bold word art into the background in keeping with the monochromatic color scheme.
For my own page I kept the background in masculine colors and made the big bold word art match the colors in my grandson's tee shirt. It is so convenient to add embellishments from a template instead of hunting all over in my design stash. I used the papers from the Lake Lodge Kit for my background.
Thank you for visiting the Blog. I hope you join in the Template Mashup Challenge because I love to see the variety of pages created with the same two templates.