All About YOU Challenge: Work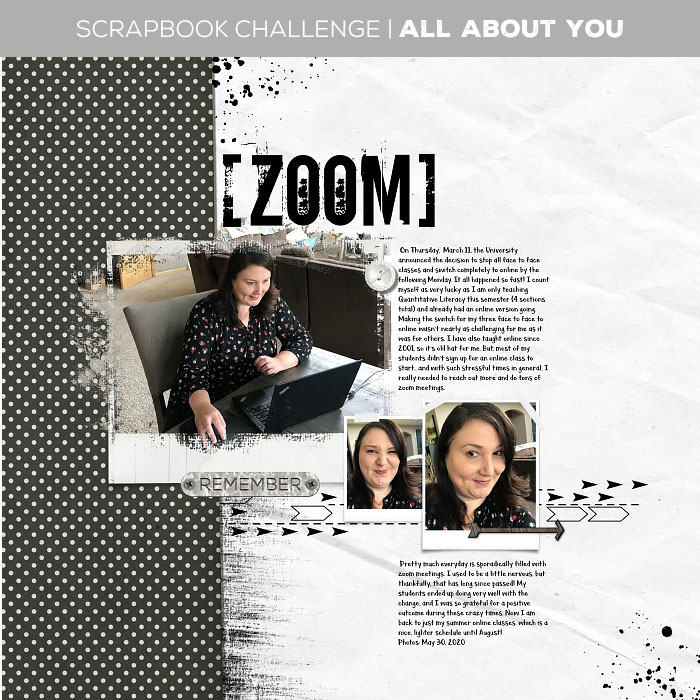 One of the things we don't see enough of in your pages is YOU! As scrapbookers, we tend to take many photos throughout the month. How about making sure you get in a photo at least once a month and then work it into a page?!? Our photos and stories are important too!
For the month of June, we are going to focus on a page about YOU and work. Maybe you're a stay at home Mom, and you can have your child take a photo of you doing chores, chauffeuring, cooking a meal, etc. If you have an office job, have a coworker snap a photo of you. Maybe you're retired but certainly still do plenty that counts as work! Whatever you classify as work, let's document it!
Sharon (Shannamay) made this wonderful page about her love of being in the classroom, reading to the children! Loving that ruler to add a punch to this amazing design!
Supplies Sharon used: Monthly Memories Vol. 02: Layered Templates No. 02 , Jelly Serif Alphabet No. 01 , Back to School Alphabet Cards, Back to School Element Pack
Monthly Memories Vol. 02: Element Pack No. 01 , Calne Element Pack
Smitten Solids Paper Pack
Next, Rachael (myssp) admitted that it was out of her comfort zone to scrap photos of herself….but, it so wonderful to get in our books! Her page turned out amazing….the addition of the days of the week is perfect for a working theme!
Supplies Rachael used: Layer Works No. 1109,  Readymade Layers: Rose Garden Borders No. 02 , Chunky Groups: Dates No. 01
Next, Jana is retired but still manages to volunteer as a tutor! This is such an important story to document! How adorable are all the details of her page?!
Supplies Jana used: Christmas Market Solids Paper Pack, School Mates Element Pack , 
Schmeared Blocks No. 01 Brushes and Stamps, Twisted Stitches 06, 
Stitched Frame Clusters No. 03, Fine Lines Page Titles No. 09 Brushes and Stamps
Blendables Layered Template No. 111
Finally, here is my page. It is my first page about our current pandemic and how it effected my job.  My face to face classes switched to fully online with 3 days notice. It was a crazy time, and I am happy to have that story documented. I had my hubby take a photo of me on a Zoom meeting with one of my students (I teach for the math department at Northern Michigan University). I also included a few silly selfies!
Supplies used for my page: Stay Home Brushes and Stamps, Photo Clusters No. 36
Striping Graphic Brushes and Stamps No. 04, Splatters Brushes and Stamps No. 07
Grunge it Up Brushes and Stamps No. 01 , Moonlight Dreams Scrapbooking Kit
I can't wait to see photos of YOU and learn more about what you call work! Remember to post your page in the All About You Challenge gallery as well as in the June Challenges Sign-in thread in the forum. Happy scrapping! – Addie