Story Scrapbook Challenge : Public Events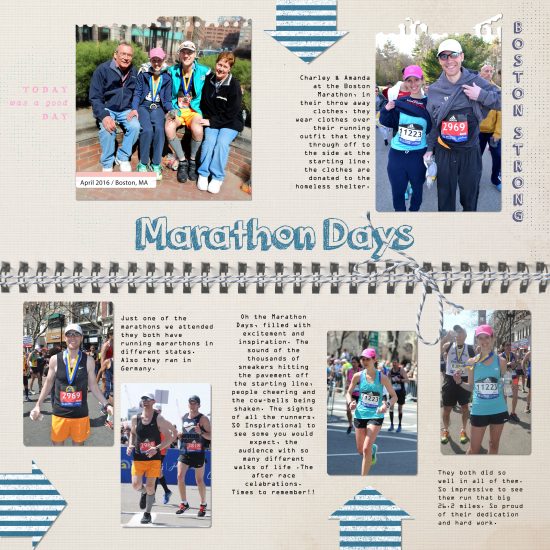 Hi Carol here bringing you the Story Scrapbook Challenge again this month.  So you know what I've been missing whilst the world has gone crazy?  Being around lots of people.  So this month I want to read stories about concerts and events and fabulous times oh my!   Whilst some of the world is opening up, some other parts of the world are still shut tight.  So let's enjoy reminiscing about special times.
So I'd love to know about a concert you've been to, who did you see, do you still have the tickets?  How about sitting in the cinema shoulder to shoulder watching the movies and eating the popcorn.  Are you a sports fan, that awesome feeling about being in a stadium and hearing a mighty cheer go up.
How about an exhibition, visiting a museum, going to an art show?  What about a parade, standing and cheering as you watch the parade come down the road?  And if you're still stuck for ideas, we've probably all been guests at a wedding with an after party, dancing the night away.
Playing in a band entertaining the crowd, ballroom dancing in a swirly dress in the arms of a dapper man, going to the zoo, a school concert, a debutant ball.
So many of these fun times have had the pause button pressed, so let's enjoy each other's memories.
The creative team have jumped on board with some terrific example pages:
This page had me at hello.  Imaggs (Lori Ann) has created the most fabulous page at being at the Boston Marathon cheering on family members.  How proud they would have been.  Humanity at it's finest seeing all the runners from all walks of life giving their all to get to the finish line.  Love this so much.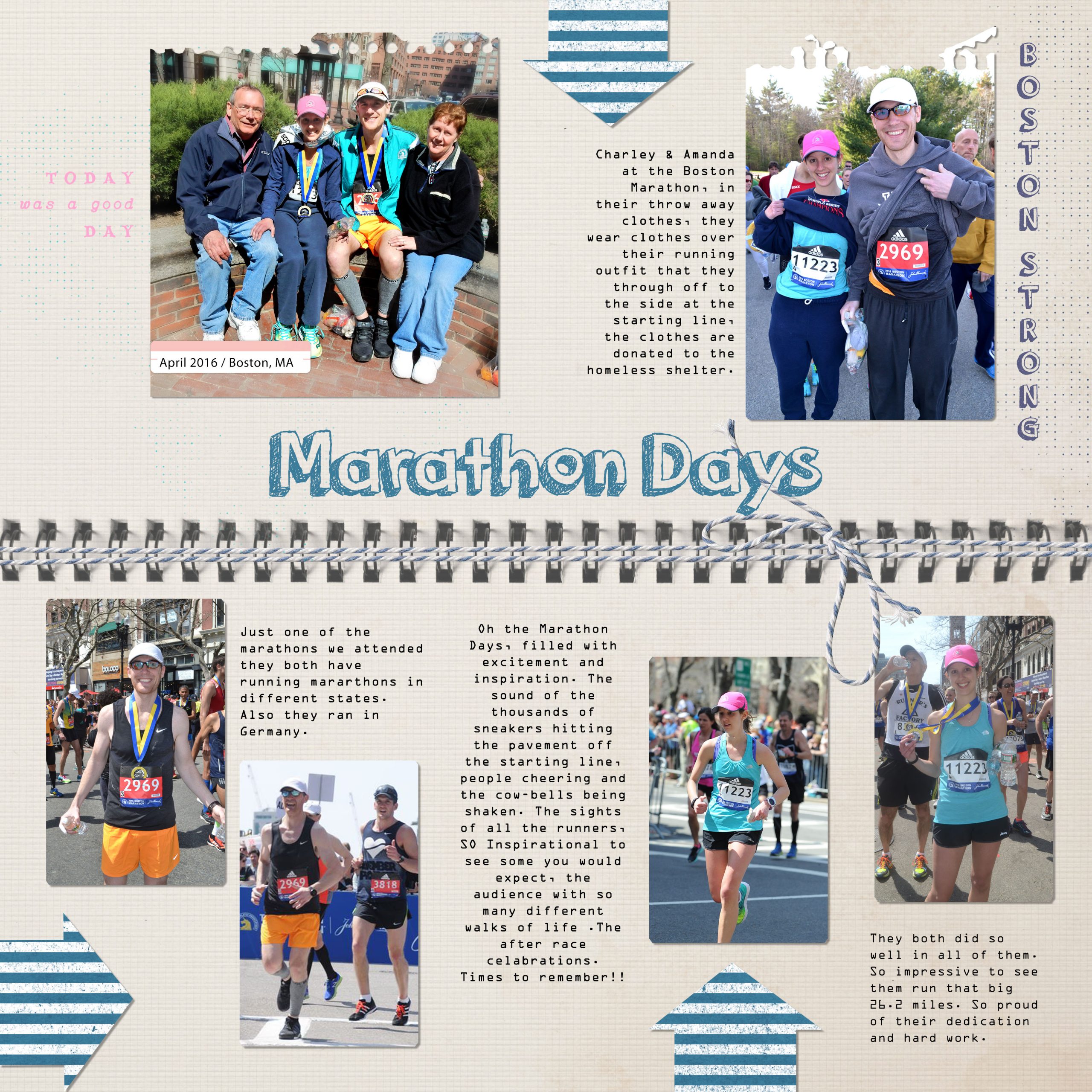 Supplies Lori Ann has used:  Notebook Edge Masks 02,  Transparently Captured Layered Template 02,  Bound Paper Pack 16,  Arctic Whites Paper Pack 02,  Krafty Dots and Stripes paper pack 04,  Bakers Twine Assortment 02.
Next Kikimama (Chrissy) has taken a walk back to 2014 after watching the Cycling at the Commonwealth Games on the Green and enjoying the fun zone with the kids.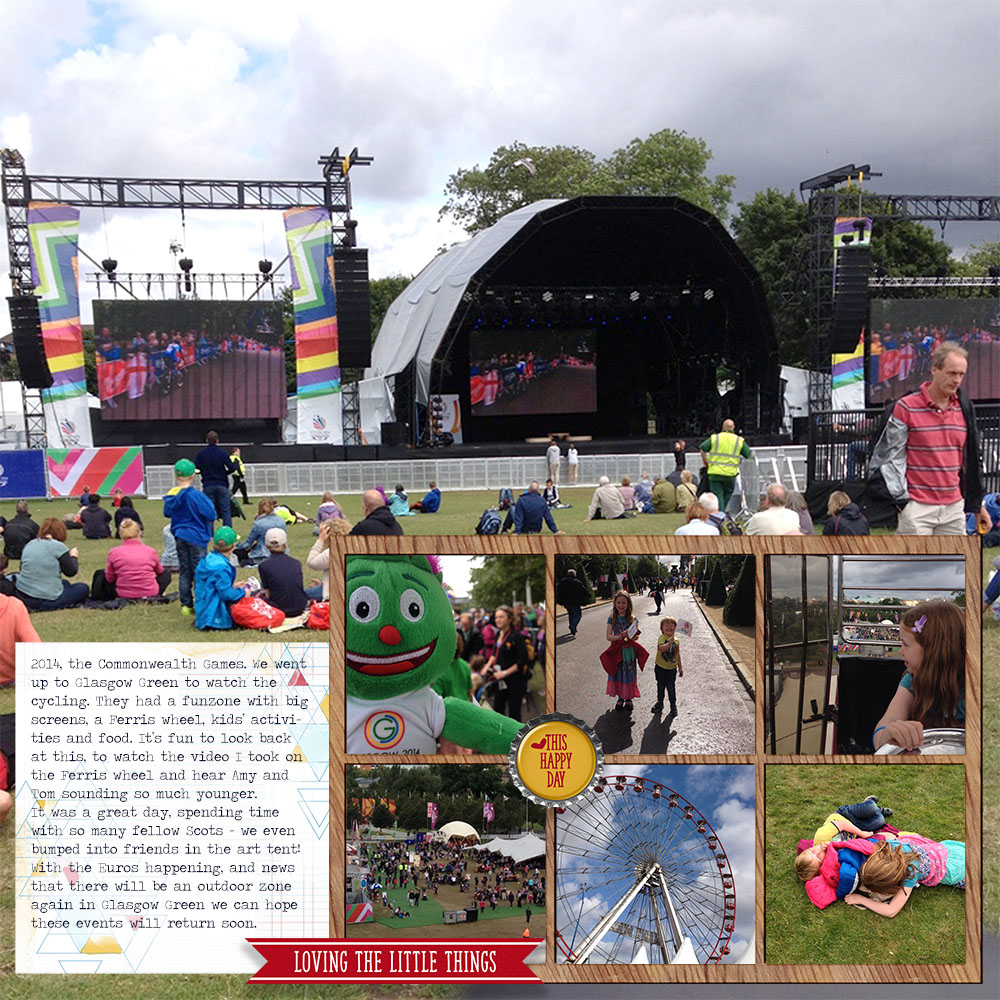 Supplies Chrissy has used:  Catching Rainbows Scrapbooking Collection,  Wood Veneer window frames 02.
And for my page (carollee) I have documented the time we went to see my husband's all time favourite comedian Billy Connolly.  A once in a lifetime chance for us.  I stayed with using round shapes to match the logo of the tour.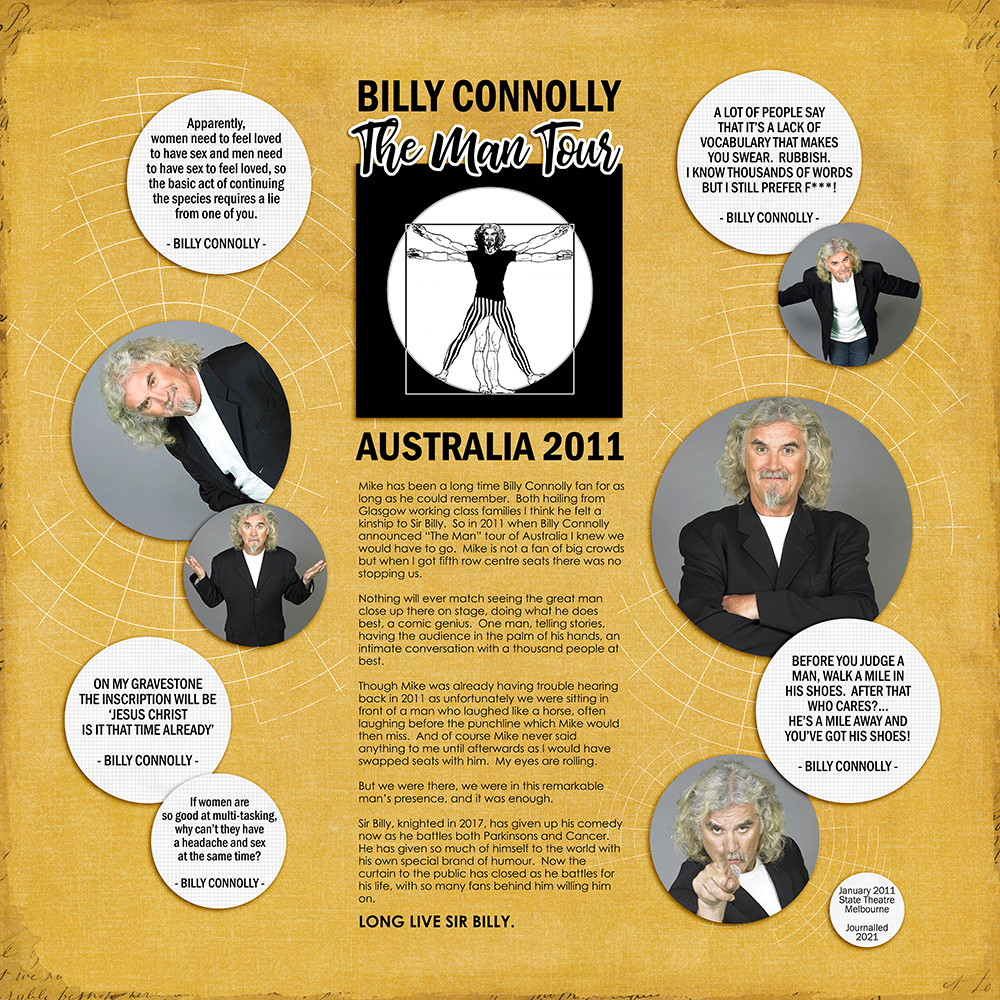 Supplies I have used:  Barely There Paper Pack 01,  Vintage Edge Overlays 01,  Watery Grids Brushes and Stamps 01,  Graphed Notebook December Paper Pack.
The team at KPD have generously provided a freebie to help you on your way, the freebie link is valid for six months, how generous KPD is.  I hope the goodies inspire you.
Post your pages in the Scrapbook Challenge Gallery and don't forget when you use ALL KPD product on your challenge page you should post a link of your page in the June Challenge Participation thread so that it will count toward your savings in the rewards program.  Everyone's a winner!