Story Scrapbook Challenge : Lists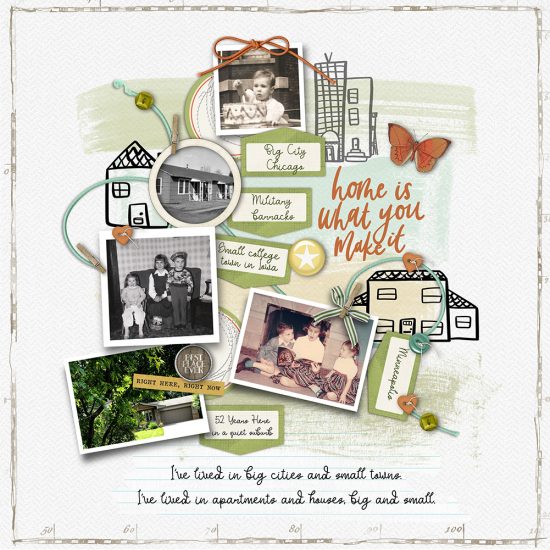 Hello, Carol here and I hope you're up for a challenge.  For some people story telling is terrifying.  Talking is one thing, reminiscing amongst friends another, but to sit at a blank computer screen and get those words down onto our pages is daunting.  I get it.
But there are other ways to tell our stories, to ensure people know us, to have them come into our world with pictures AND words, so the challenge this month is to tell your story by using a list.  And this list that you choose will tell us a lot about you and who you are, and maybe not so daunting.
Here's some suggestions for your list:
Places you've lived
Inspirational people you admire
Favourite movies you've watched
Books you've read this year
People you'd invite to a dinner party
The pets you've had in your life
Your grandchildren
Your favourite desserts
Countries you've visited
Jobs you've had
Any one of these things will add to the fabric of your story.  Just list them or be as elaborate as you like in explaining them.  This is your list, your page and your story.
Shannon tells the story by way of listing their recent flying trip, what a great way to show the states in the map.  Not much journalling at all, but my goodness it tells a lot about the vastness of their trip.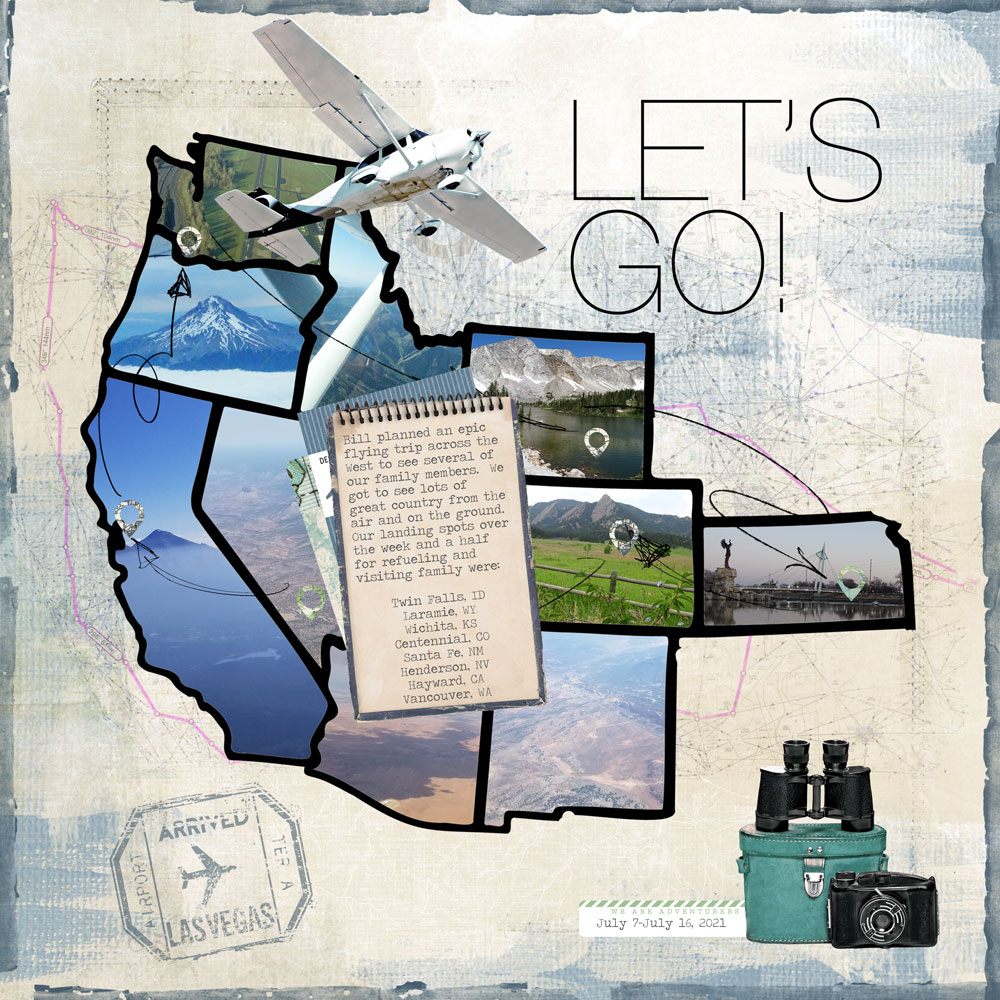 Supplies Shannon has used:  Spill Frames 34,  Fine Line Titles 28,  Spiral Journalers 04,  Cutting Files Where U Been 01,  Departure Gate Bundle,  Instant Artsy Arrows 01,  Instant Artsy Arrows 02,  Vintage Artistry Anywhere Paper,  Vintage Artistry Anywhere Ephemera and more.
Love the page from Lori-Ann.  This one is so timely as in the future as looking through their family albums they'll be able to look back at this year and see all their favourite flicks.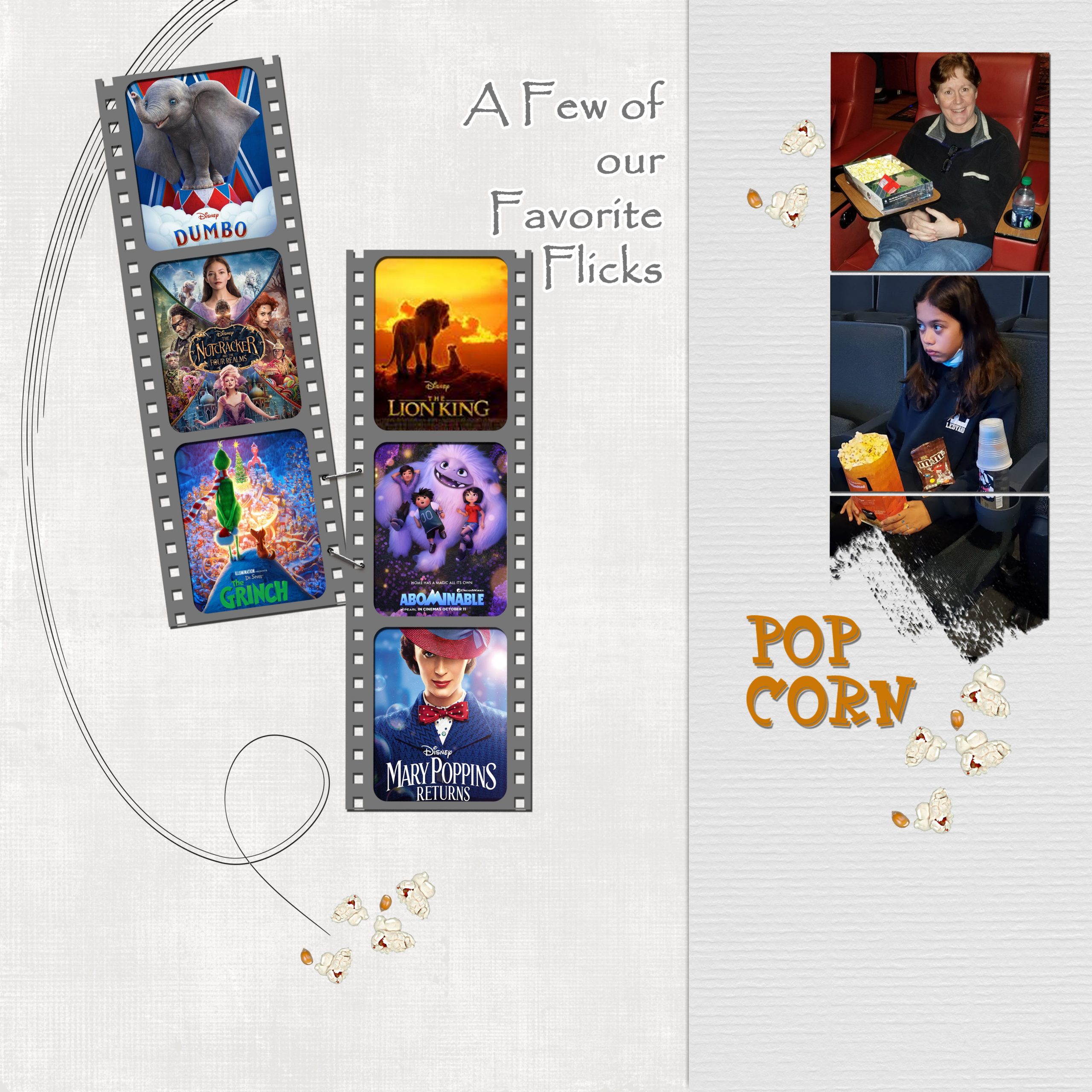 Supplies used by Lori-Ann:  Cold Outside Paper Pack,  Lightly Linens paper pack 03,  Leyton element pack,  Movie Night popcorn scatterings,  Painted window frame layers 05,  Looping lines brushes and stamps 01.
I was very excited when digigrandma put her hand up for this challenge.  Not one for long stories, this challenge was right up her alley, documenting many of the types of places she has lived in over her life.  And knowing Merr, I bet she made every single one of them a beautiful home.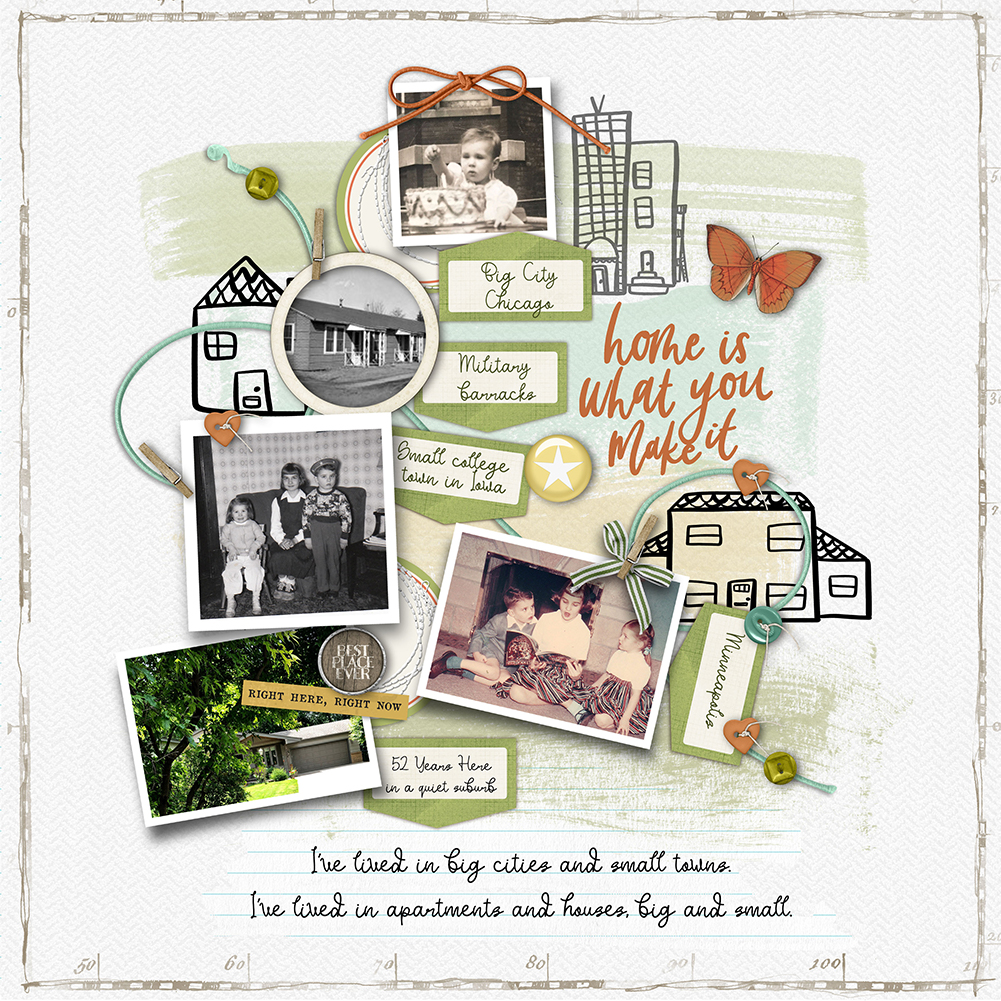 Supplies Merr has used:  Hand Drawn Icons No 01,  Arctic Whites No. 2,  Elastic Cords No 01,  Inspiration Board Layered Template No 06,  Layer Works No 1131.
And lastly for my page, I decided to list out all my leading men!  Would they be on your list too?  Maybe my hubby won't make your list though!! ha.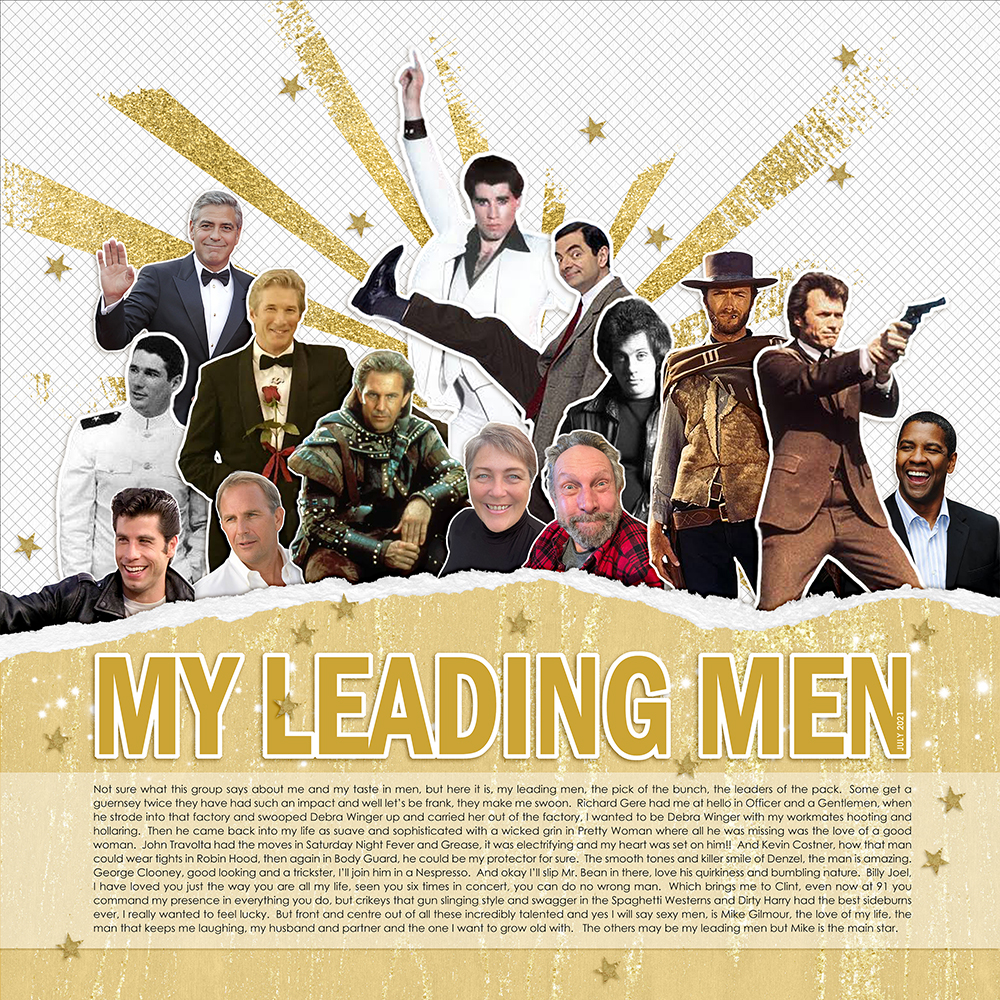 Supplies I have used:  Basic Grids Paper Pack 01,  Torn Templates 02,  Golden Bursts 01,  Winter Peony Solids Paper Pack,  Gold Stars 01.
The team at KPD have generously provided a freebie to help you on your way, the freebie link is valid for six months, how generous KPD is.  I hope the goodies inspire you.     You'll find a fun element 1 to 5 in there, but please do make your list as long as you want.
Post your pages in the Scrapbook Challenge Gallery and don't forget when you use ALL KPD product on your challenge page you should post a link of your page in the July Challenge Participation thread so that it will count toward your savings in the rewards program.  Everyone's a winner!