Story Scrapbook Challenge : Fathers
Carol here back with another Story Scrapbook challenge.  Today is my dad's birthday, even though he is not with us now, he's still very much with us.  I hope that makes sense.  It's the beauty of scrapbooking that people are always with us, right?  Through our words and stories.
So today I want you to tell a story about your father, grandfather, step dad or significant male in your life.  Tell us about him.  Relay a story that really sticks out in your mind, whether it be silly, funny or serious, be it a moment in time or a grand event.  Did he have a saying that he'd repeat over and over.
Actually something I am passionate about is that I'm going to say 99.9% of my scrapbooking is through my voice, and it's our albums, not just mine, so maybe spin this around.  Speak to your husband or partner and ask him what it's like for him to be a dad, how he felt when he held his baby for the first time, the responsibilities he feels, the love he feels, the exasperation even.  Get his words onto this page, what a wonderful addition that would be for your family albums.
And for those amongst us that do not have a great relationship with your dad, speak of your hurt if you will, but please don't feel you must share.  Keep it private if need be.  Tell of your longing for the stereotypical father, is there a stereotypical one or are we all just making this parenting thing up as we go?
And if your dad has passed like mine, let us know him through your eyes.  That's the greatest gift you can give, let us know he mattered.
The creative team have jumped on board with some terrific example pages, oh boy you're going to love them:
This page by Rache is exactly why we scrapbook, what a wonderful story, now it's immortalised, not just in the spoken word, but in the pages of her family albums.  I adore this, it speaks so much of her father and aunt's relationship and closeness.  And having lost her father as a young child, it gives her an inkling into the type of man he was.  I love that.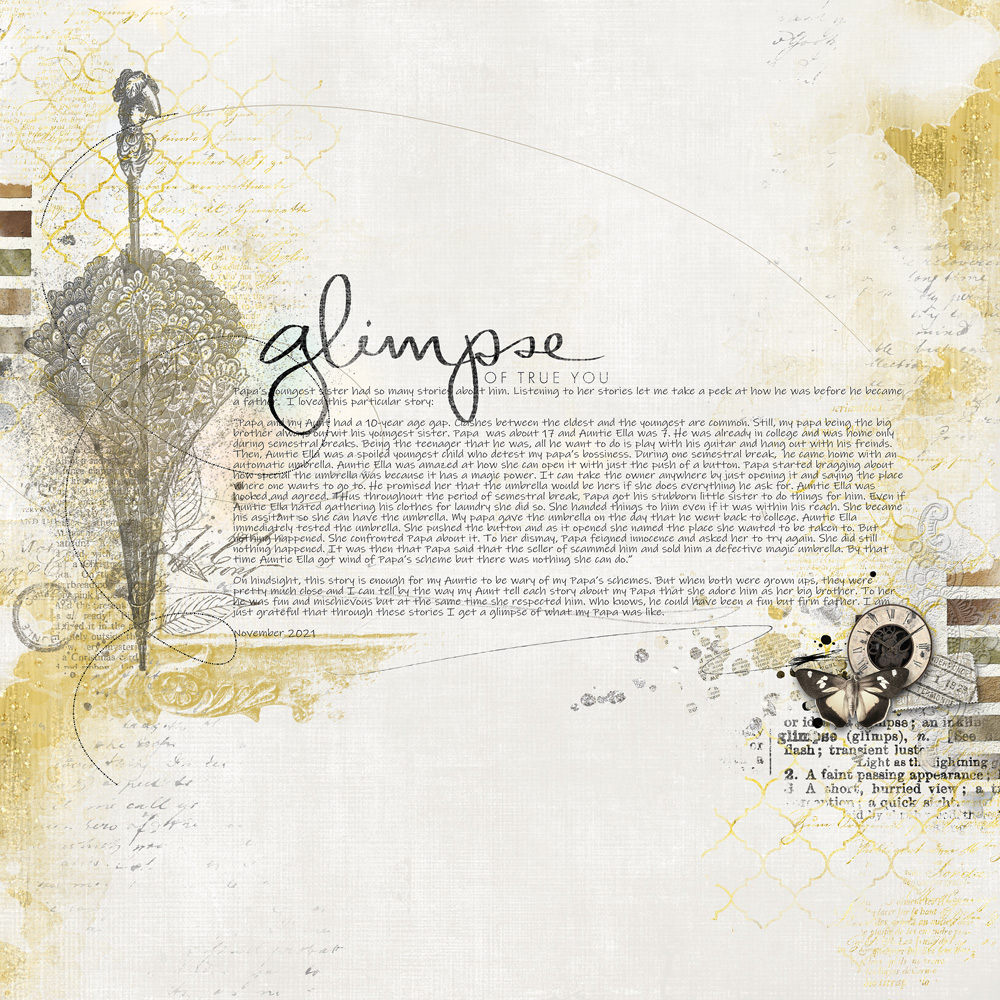 Supplies Rache has used:  Lightly Linens Paper Pack 02,  Defining Grunge Brushes and Stamps 01, Lens Flares: Colors 01,  Be Golden Clusters 03,  Fine Line Twists Brushes and Stamps 04,  Paint it Gold 03,  Vintage Blendable Palettes 01,  and more.
I love the design of Rae's page here my eye is drawn across the page I don't want to miss anything.  Her father as a young man and Rae's understanding of him as an adult.  Forgotten memory certainly, but any memory documented is a memory kept.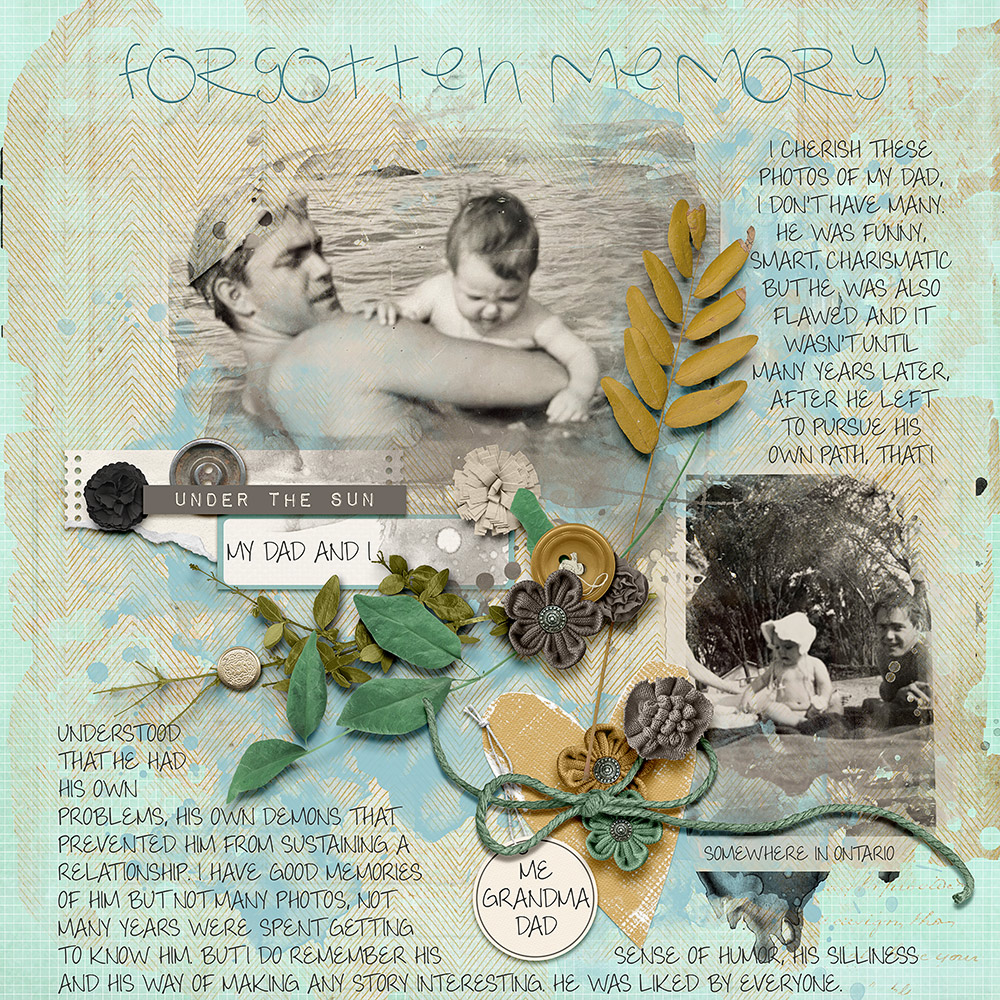 Supplies Rae has used:  Page Blends 10,  Watery Photo Masks 13,  South Beach Scrapbook Kit,  Curated Studio Mix Scrapbooking Kit 19,  Blendable Layers 95.
Oh Audrey, stunning page, beautiful photographs, amazingly beautiful photographs, but the journalling, oh boy that journalling.  How perfect to put down the eulogy given at your dad's funeral, it tells of quite a man who I dare say made an impression with everyone.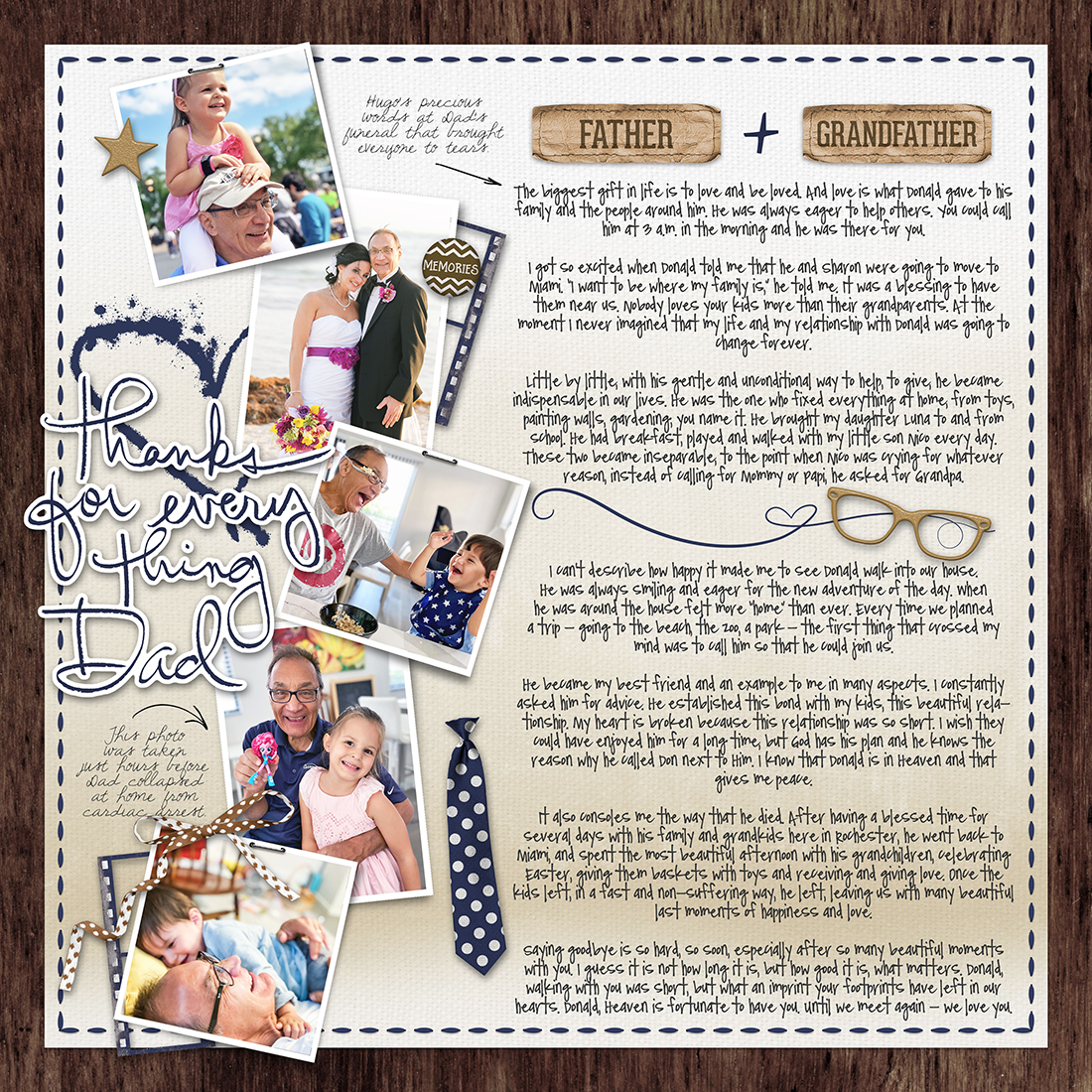 Supplies Audrey has used:  Daisetta Element Pack,  Looping Hearts 01,  Handdrawn Best Dad Brushes and Stamps,  Instant Artsy Arrows 02,  Artsy Inked Hearts 02,  Ombre Essentials 02,   Antibes Solids.
And lastly for my page, I wanted to tell the story of my dad's love for Christmas and about the last Christmas we spent together.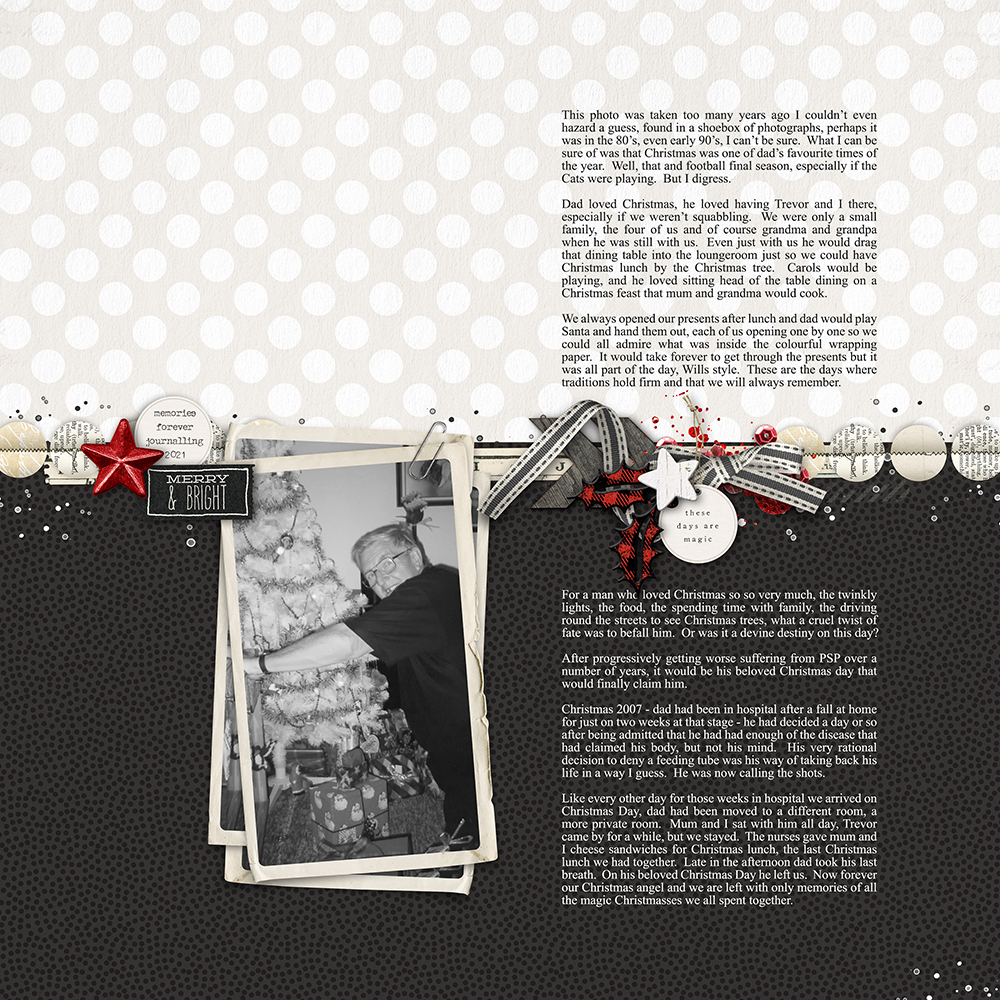 Supplies I have used:  Seasons Finest Add-On Paper Pack,  Clipped Stacks 04,  Readymade Layers: Christmas Borders 07.
The team at KPD have generously provided a freebie to help you on your way, the freebie link is valid for six months, KPD surely is generous.  I hope the goodies inspire you.
Post your pages in the Scrapbook Challenge Gallery and don't forget when you use ALL KPD product on your challenge page you should post a link of your page in the November Challenge Participation thread so that it will count toward your savings in the rewards program.  Everyone's a winner!
And now I'm going to need to lie down, I'm pretty much spent reading these stories today, what a rollercoaster of emotions.