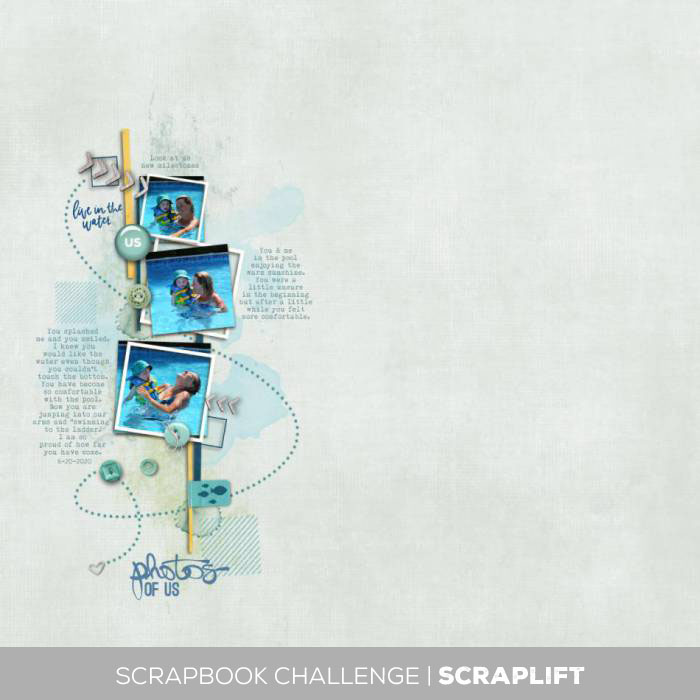 Scraplift: Gradually Sized
Happy Saturday! It's going to be a hot day here. The perfect excuse to stay inside and lift our featured page. This week I chose a fun pool page by Lori (lmaggs). I loved the gradual line of smaller striped circles ending at the little fish. Such a clever summer pool page. Lots of directions you could go with this one.
Jheri was quick to jump in to play with this page as she loves white space. She used gradually larger photos and frames along a vertical line. Love her background brush work and the sweet button details.
Hand Scripted Beach Stamp Pack 01, Bold and Scripted Brushes and Stamps 07, Lightly Linens Paper Pack 25, Lightly Linens Paper Pack 06, Monthly Memories Vol. 03: Pattern Essentials Paper Pack 06,  Layer Works 1308, Layer Works 1313
Rachael (myssp) was inspired to use graduated elements that she made and shadowed herself. What a sweet little kitten! Love all the heart details and background brush work.
Vintage Mini Mix 14, Ripped Stacked Frames No. 3, Lemon Zest Scrapbooking Kit
Vintage Artistry Natural Scrapbooking Bundle, ARToptions Krafty Paper Pack 04
Curated Team Scrapbook Mix 08, Painted Lace Edgers 01, Minted Wings Scrapbooking Kit, Worth Repeating Brushes and Stamps 29, Outlined and Scripted Sentiments Brushes and Stamps 02, More to Shore Element Pack, Fresh Vintage: Clare Element Pack, Nine Lives Brushes and Stamps, Bliss Scrapbooking Kit
I was also hoping to play along but my EHD isn't working so I can't access my products. I hope to lift Lori's awesome page very soon. In the meantime, please join Jheri and Rachael and post your scraplifts in the Saturday Scraplift Gallery and the July 2020 Challenge Participation Thread. When you use 100% DD products, your page qualifies for the rewards program.
Enjoy your weekend and I'll see you in the gallery. 🙂