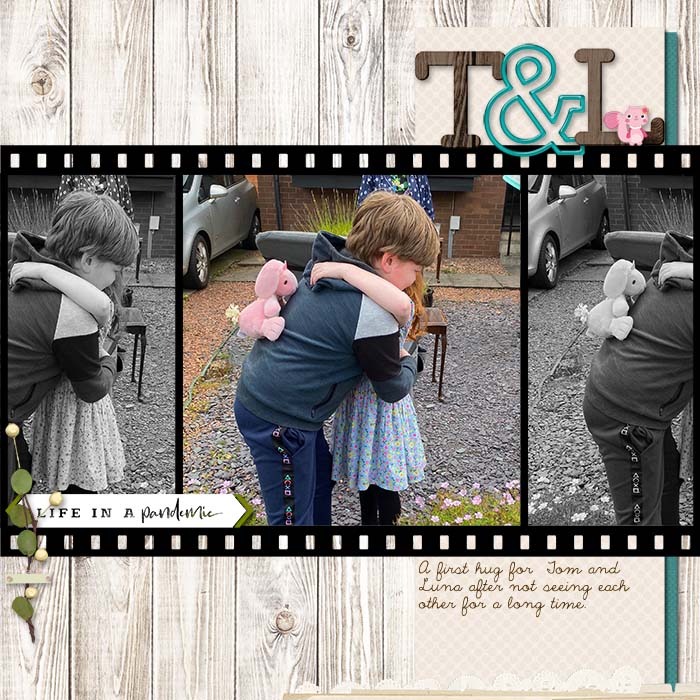 iTunes Challenge: Summer Spread
Welcome to this month's iTunes challenge. I've chosen a versatile album cover; it could be used with bright colors for summer pages, or vintage for family history memories. 
I love the repeated photo, which can be a very effective design for layouts, as well as the simple, bold colour scheme. You could be inspired by the titlework with its outline letters. There's also a striped background in the photo, and plenty of striped papers in the store that could be used behind your choice of photos.
Recently I met up with my sister and her kids. The cousins had barely seen each other since March, and Luna especially was super-keen to hug Tom. It was lovely to see them so happy together.
I decided to be inspired by the repeated photo, though made the side ones black and white. The recent Lake Lodge Scrapbook Bundle was perfect for my page. I also used Sign Maker Alphabet: Teal No. 01; Flagged Words Stamp Pack No. 08; Classic Cardstock: Enticing; Little Dudette Element Pack; Vintage Artistry Butter Ephemera; Watercolor Sketchbook No. 01 Scrapbooking Kit;
Now it's your turn to be inspired. Katie's generously provided a challenge freebie. Post your pages in the iTunes inspiration gallery so we can leave some love. Remember to keep track of your pages in the July Challenges Sign In Thread to earn store discount.
Happy Scrapping!