Saturday Scraplift: Words as Elements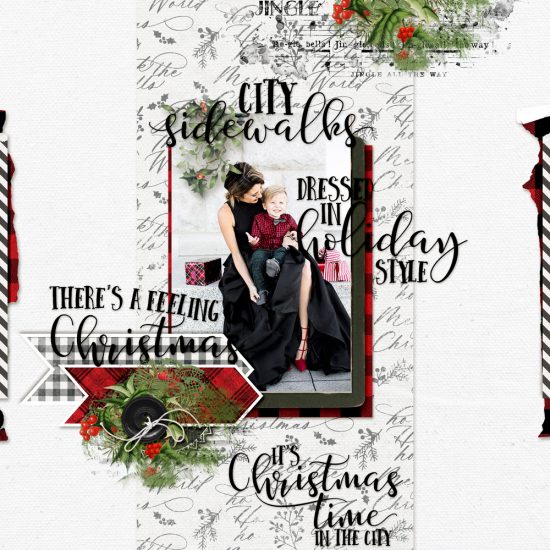 As a former English teacher, I have a longstanding love affair with words. One of the first things that drew me to Rachael's (myssp) gorgeous page was her use of several pieces of word art and a background panel of text paper. You can never have too many words, right? Several of my fellow Creative Team members joined me in lifting Rachael's page, and we were all inspired to scrap pictures of pretty girls.
Rachael's page: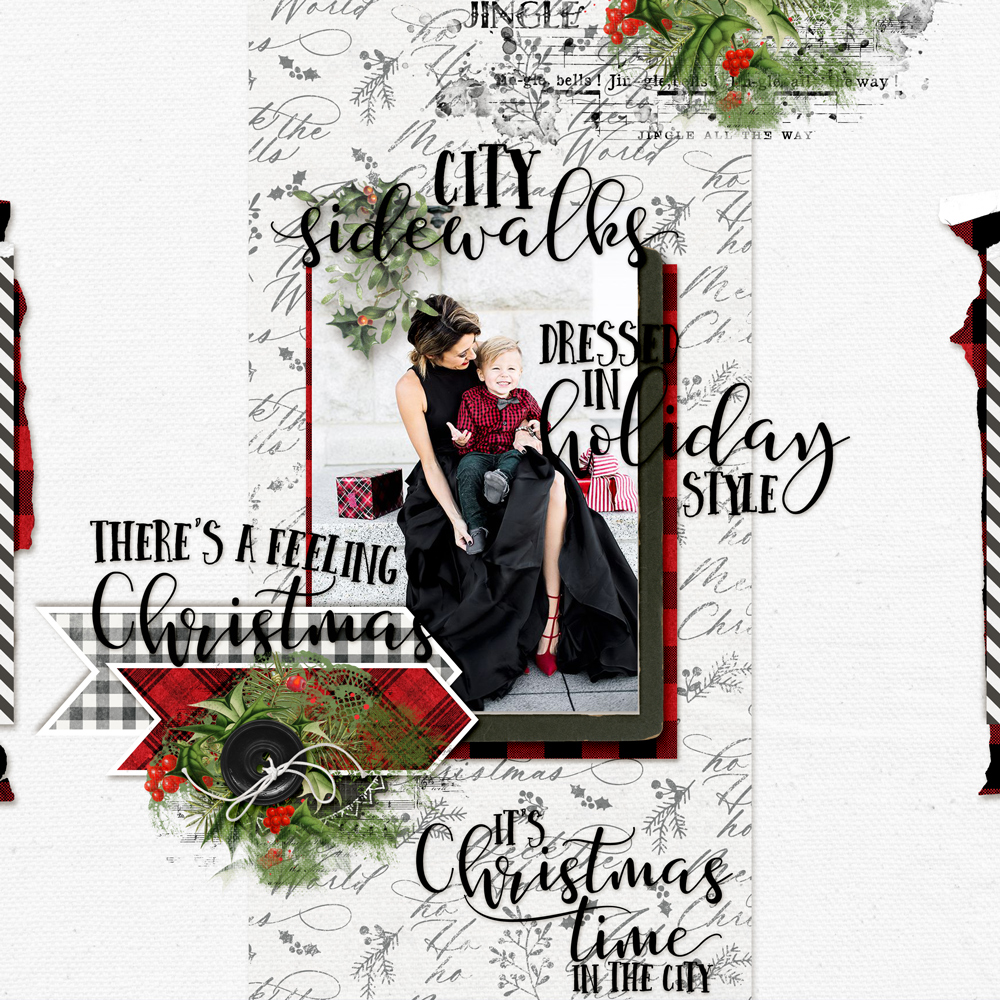 I love the adorable photo of Brenda's (bbe) granddaughter that has center stage on her design, and the pink and black color scheme is a winning one. The flower elements peeking out at the top and next to the frame echo the blooms in the photo itself. Brenda cleverly created her own text paper, and the polka dot triangles and chevrons serve to draw the eye to that sweet little girl.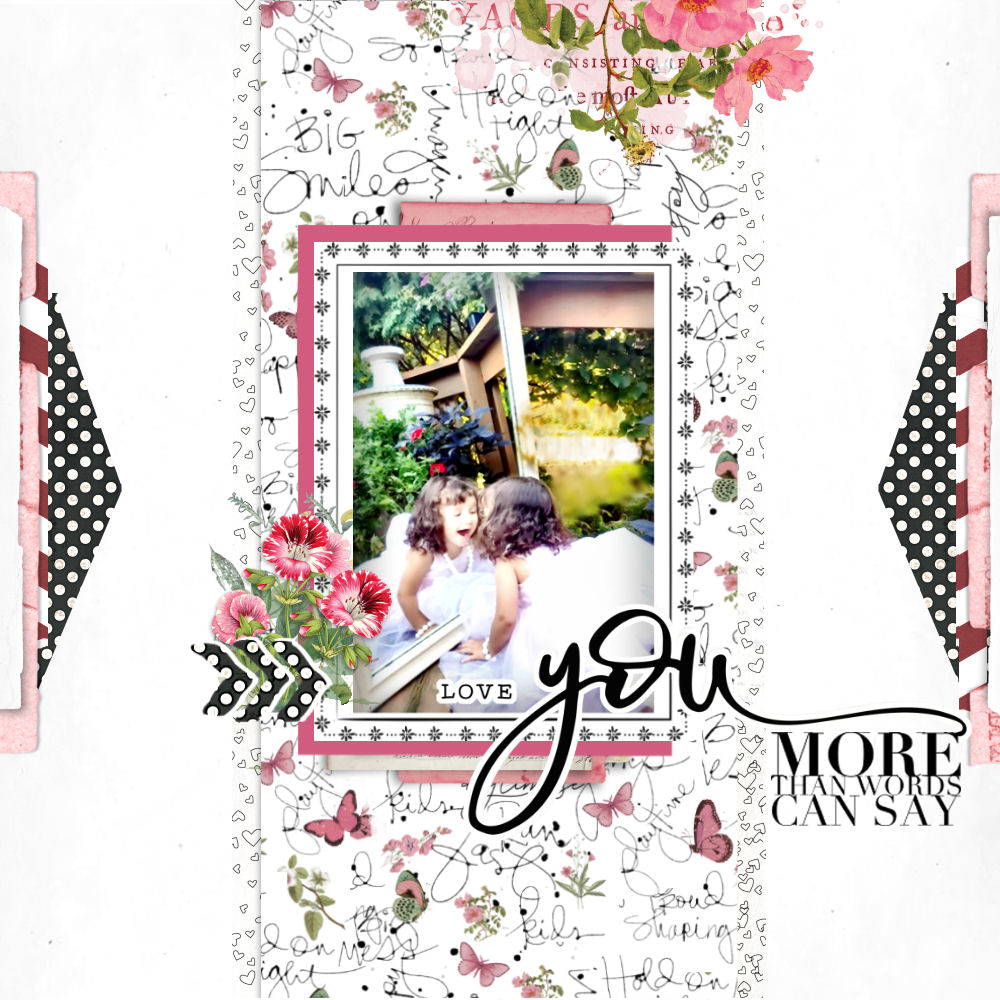 Credits: Blendable Layers Base Paper Pack 06; Cottage Fields Printable Paper Pack 01; Vintage Artistry Blush Bundle; Typed and Scripted Stamp Pack 18; Doodledo Frames Stickers and Stamps 18; Bliss Element Pack; Tight Stacks Love Brushes and Stamps 01; Everlasting ReMix Paper Pack; Inky Words Brushes and Stamps 02; Splatters Brushes and Stamps 07
I'm so impressed with the wonderful photos Erin (Ernie88) takes each month of her cute daughter, and the one she chose to scrap is no exception. I like the dimension of her title and the way it anchors the bottom of her photo. The torn gingham pieces and the stripes frame her page so well, and I always love a few pops of black.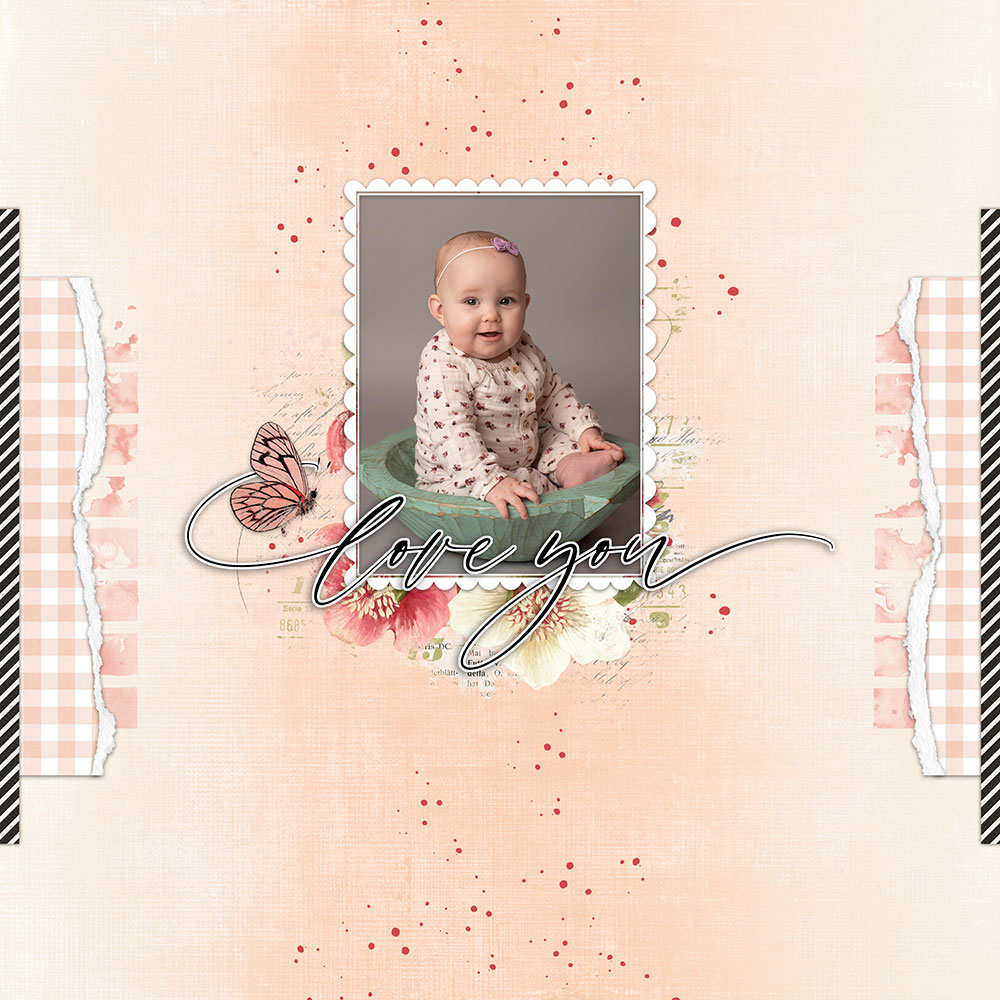 Credits: Lightly Linens Paper Pack 31; Cottage Fields Blendable Layers; Cottage Fields Paper Pack 01; Cottage Fields Solids Paper Pack; Left Unsaid Brushes and Stamps; Page Fades 02; Scalloped Frames Stamp Pack 01; Striped Mix: Magic Value Paper Pack; Torn Templates 01; Vintage Blendable Palettes 06
Jheri (Jheri) made use of blended sheet music as a background to her beautiful photo – I love that creativity! I also applaud the way she turned the word art into stickers, a technique that I enjoy using often as well. The readymade elements she incorporated perfectly frame and draw attention to her focal photo.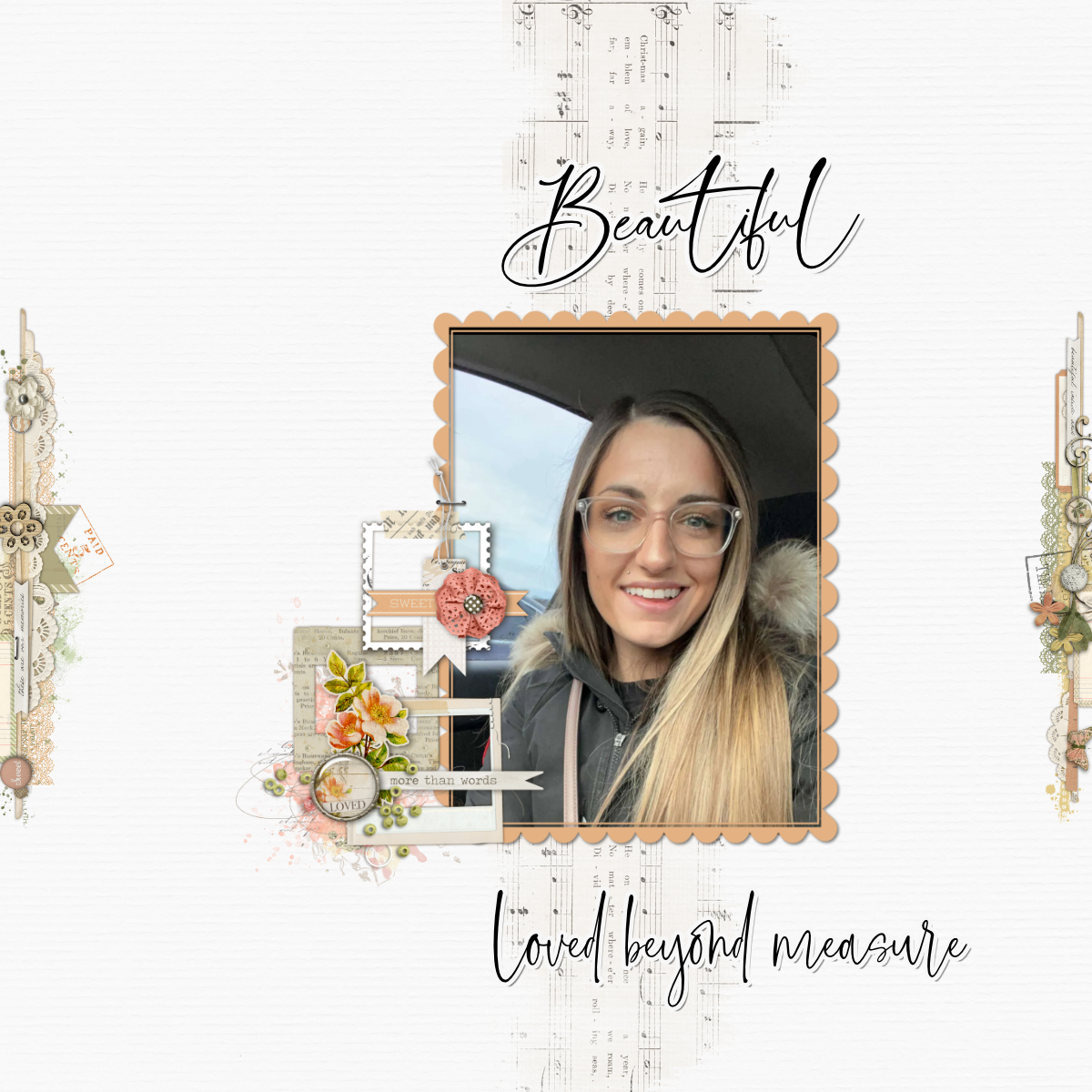 Credits: Readymade Frame Clusters: Everyday 02; Readymade Layers: Vintage Borders 02; Scalloped Frames Stamp Pack 01; Readymade Layers: Christmas Edgers 05; Kitlet Solids Paper Pack 04
I rotated Rachael's design to accommodate my landscape-oriented photos. I got a little carried away but tried to preserve some elements of Rachael's page, such as the descriptive word art and the mats beneath the photo of my granddaughter. I do love to stack those mats!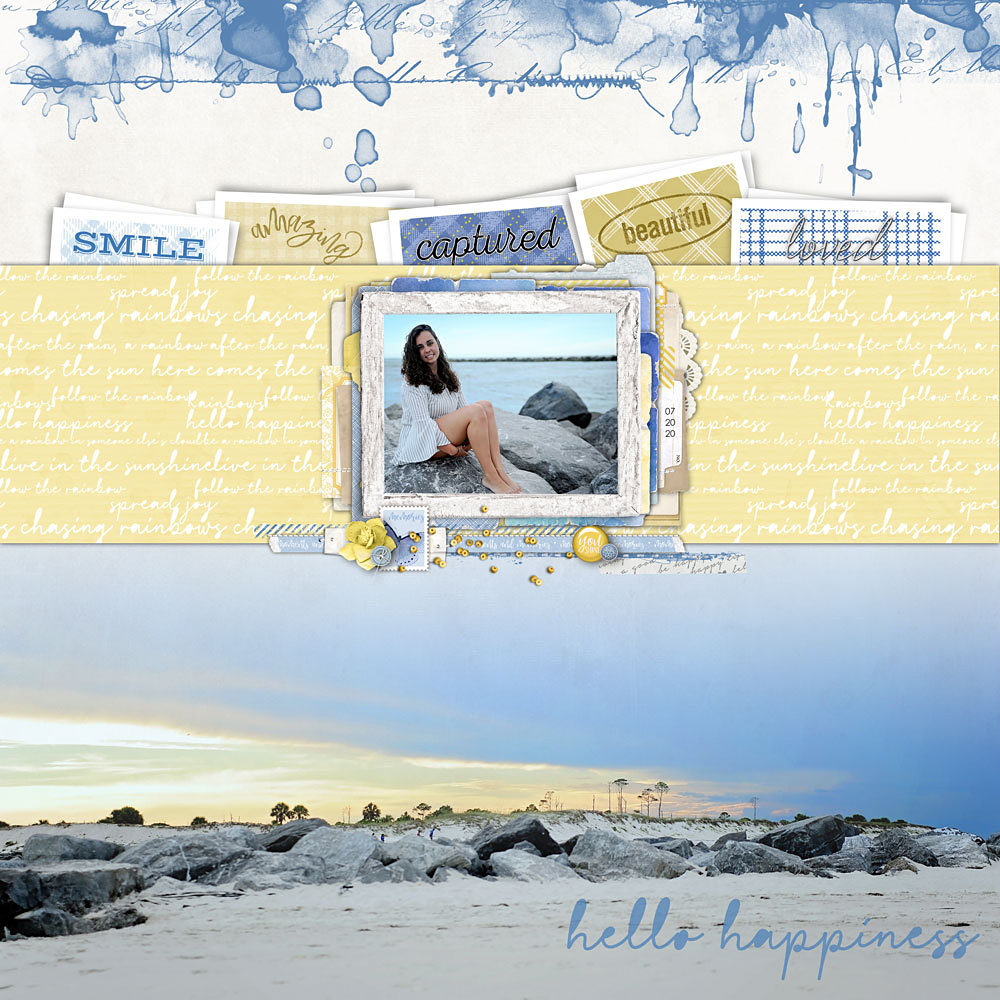 Credits: Botanical Christmas 01 Solids Paper Pack; Artsy Stripes Brushes and Stamps 01; Chasing Rainbows Mini Scrapbook Kit; Patterning Palettes: Royal Paper Pack; Wired Words 01; Monthly Memories Paper Pack 09; Singular Words Brushes and Stamps: Love; Botanical Colors Cerulean Meadow Paper Pack; Color Muse: Keen Element Pack; Hike More Checks and Dots Paper Pack; Scripted Curves Brushes and Stamps 01; Cadmium Gardens Add-on Paper Pack; Shadowed and Scripted Brushes and Stamps 02; Stuffed Edge Photo Frames 02; Frosted Winter Element Pack; Collage Stacks 01; Arctic Frost Remnants; Autumn Bliss Remnants; Spring Meadows Roughed Up Photo Mats; Vintage Botanicals Solids Remnants; Watercolor Chromatics Roughed Up Photo Mats 01; Watercolor Rainbow Roughed Up Photo Mats 01; Watercolor Rainbow Roughed Up Photo Mats 02; Watercolor Rainbow Roughed Up Photo Mats 03; Wooden Chipboard Frames 03; Readymade Layers: Spring Borders 04; Bead Scatterings 01; All My Love Element Pack; Arctic Frost Element Pack; Drop Shadow Styles 02
I think you'll have fun lifting Rachael's page – there's so much inspiration there! Remember to post your page in the Saturday Scraplift Challenge Gallery as well as in the January Challenges Sign-in thread in the forum. Happy new year and happy scrapping!