Saturday Scraplift: Layers of Goodness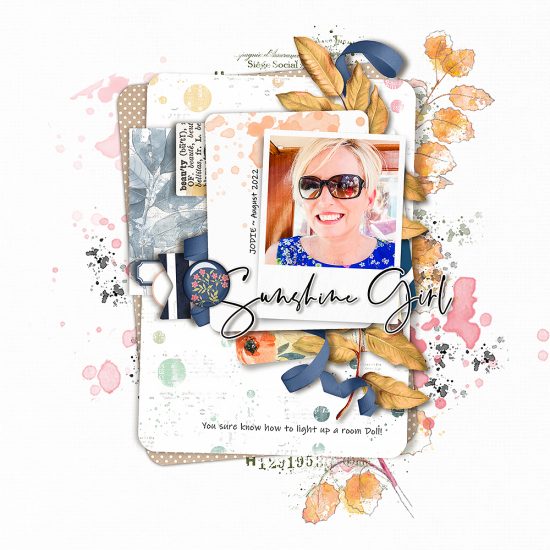 It's Linda with a page that I'm sure is going to inspire you for this week's Saturday Scraplift. I'll be the first to admit that layering goodies on my scrapbook pages is not a talent that comes naturally to me as it does to many of the creative geniuses here at Katie Pertiet Designs. Liz Toms (lizziet5) is definitely one of those geniuses. On this page, I love how Liz layered different mats, ribbon, foliage, brush work, and lots of other accents beneath the photo of her beautiful daughter. Her design makes for such a lovely page. Brenda and Jan, two of my Creative Team sisters, joined me in lifting Liz's pretty page. This is how we were inspired.
Liz's page: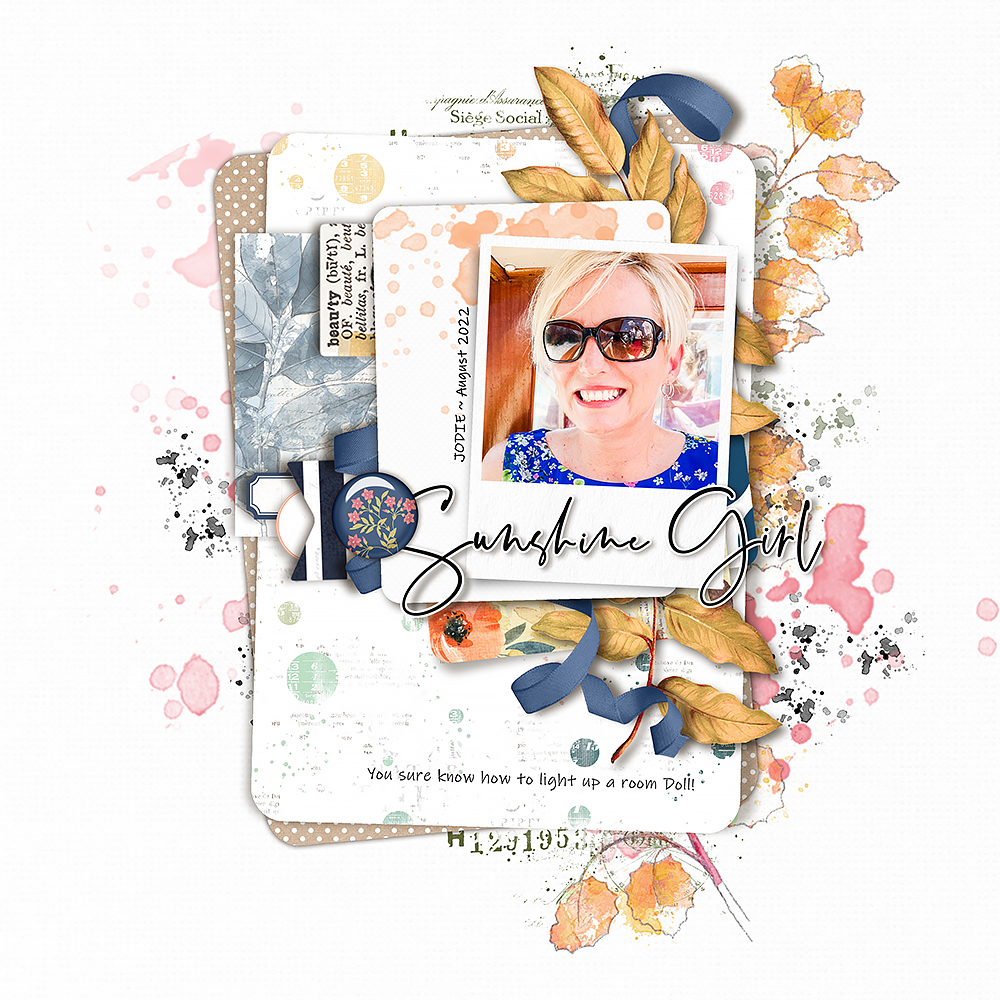 Brenda (bbe) scrapped an adorable photo of her granddaughter and used a striking color scheme to make her page really pop. I love the mix of patterns that she chose for the mats and the botanicals she used to extend the outdoor theme of her picture. And I truly believe some black on a page elevates it to the next level.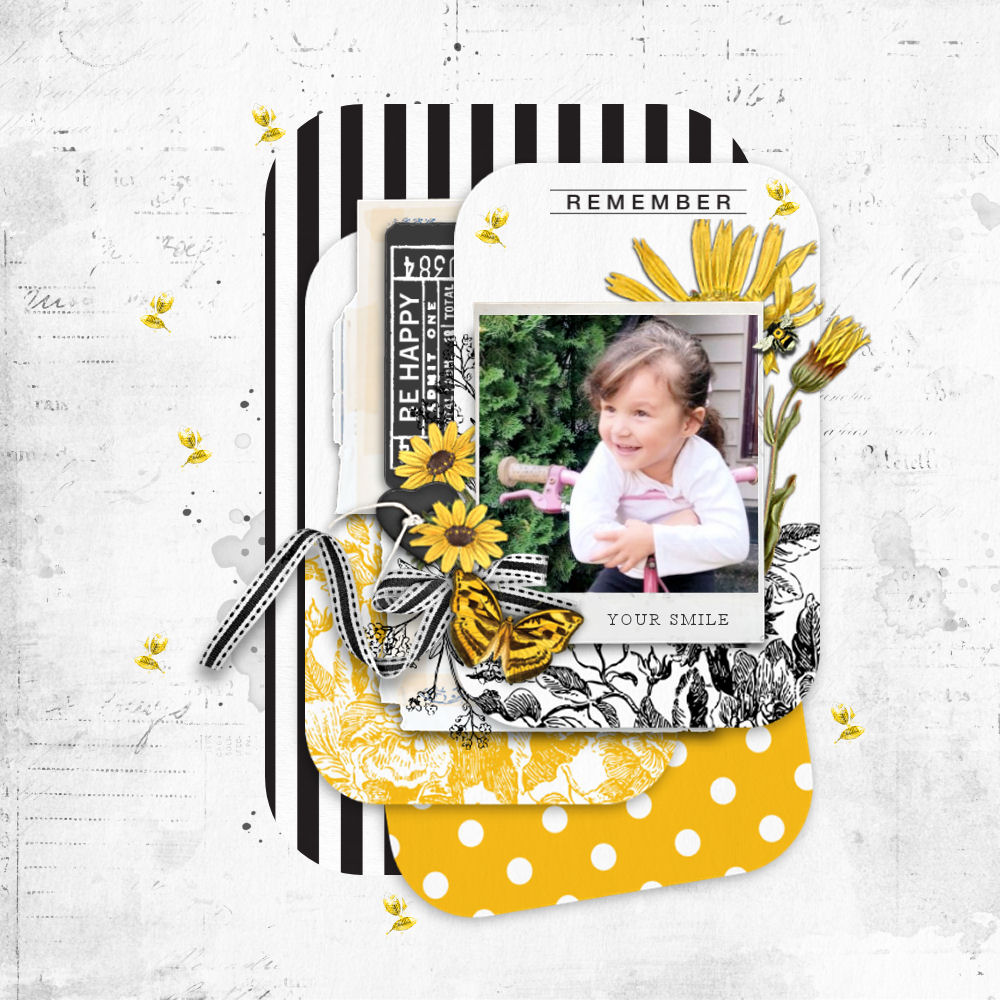 Credits: Modern Vintage Simplicity Printable Pocket Cards 01; Modern Vintage Simplicity Paper Pack 01; Lemon Twist Layered Frames 01; Lemon Twist Element Mix; Lemon Twist Stamp Set; Simply Botanicals Stickers 02; Taped Together Stacks December 01; Vintage Artistry Serenity Transfers 03 (recolored); Vintage Artistry Serenity Transfers 04; Remnant Overlays 01; Instamatic Frames 05
Jan (jmgesi) chose an amazingly detailed photo of a spider and his web to highlight on her page. Her choice of varying shades of green is perfect for this nature-themed design, and I love the detail of the brads she used in her title. I can't say I'm a spider lover, but they do underscore how intricate our natural world is, don't they?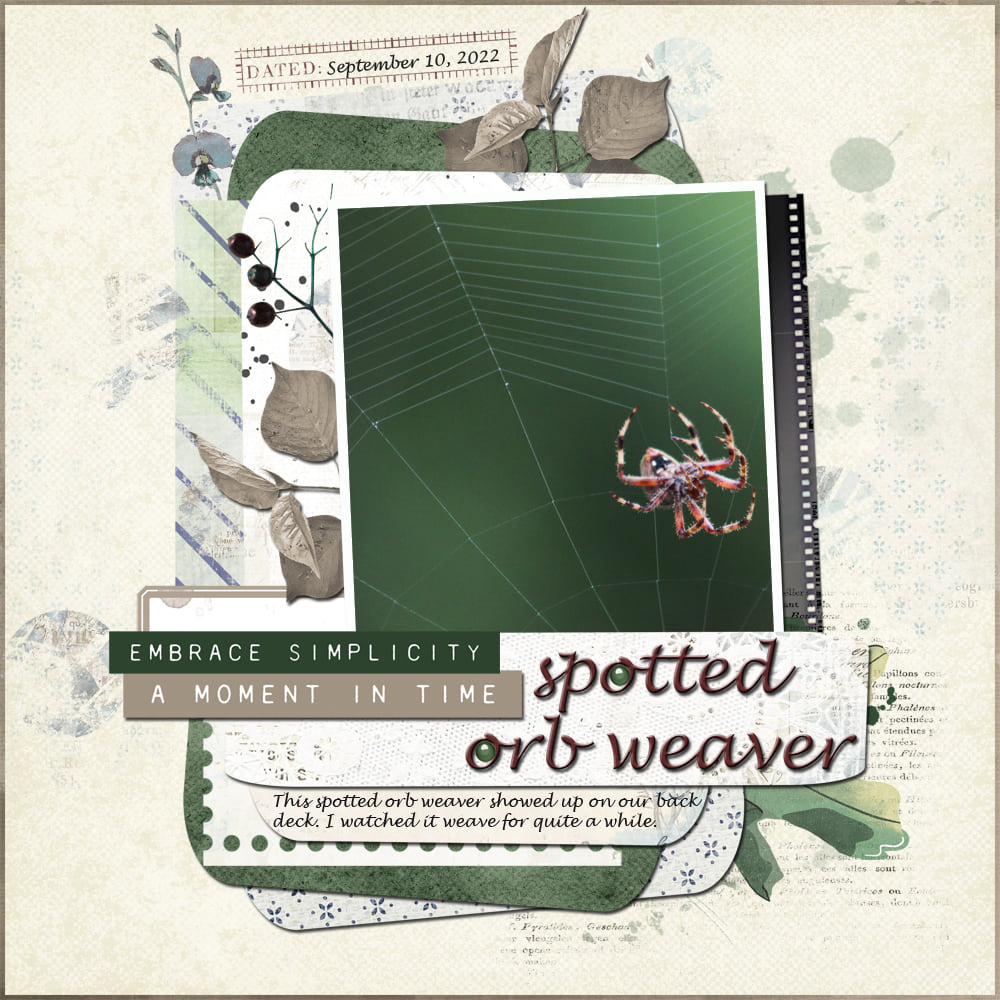 Credits: Texturing Paper Pack 01; Vintage Artistry Serenity Paper Pack 02; Vintage Artistry Serenity Ephemera; Vintage Artistry Serenity Ephemera Plus Pack; Vintage Artistry Serenity Transfers 03; Hand Drawn Layers 01; Curated Studio Mix 41; Ledger Journalers 01; Spotty Strip Stamps 01; Watery Photo Masks 24; Artsy Spots Brushes, Stamps and Layers 03
I was sorting through some photos my daughter-in-law had passed along to me when I came across this one of my granddaughter just before she went to have her senior yearbook portrait taken. I couldn't let it go unscrapped, and it lent itself to this design so well. I love scrolling through my stash to find mats to layer under a photo and rearranging them for the most pleasing look – that's the kind of layering even I can do!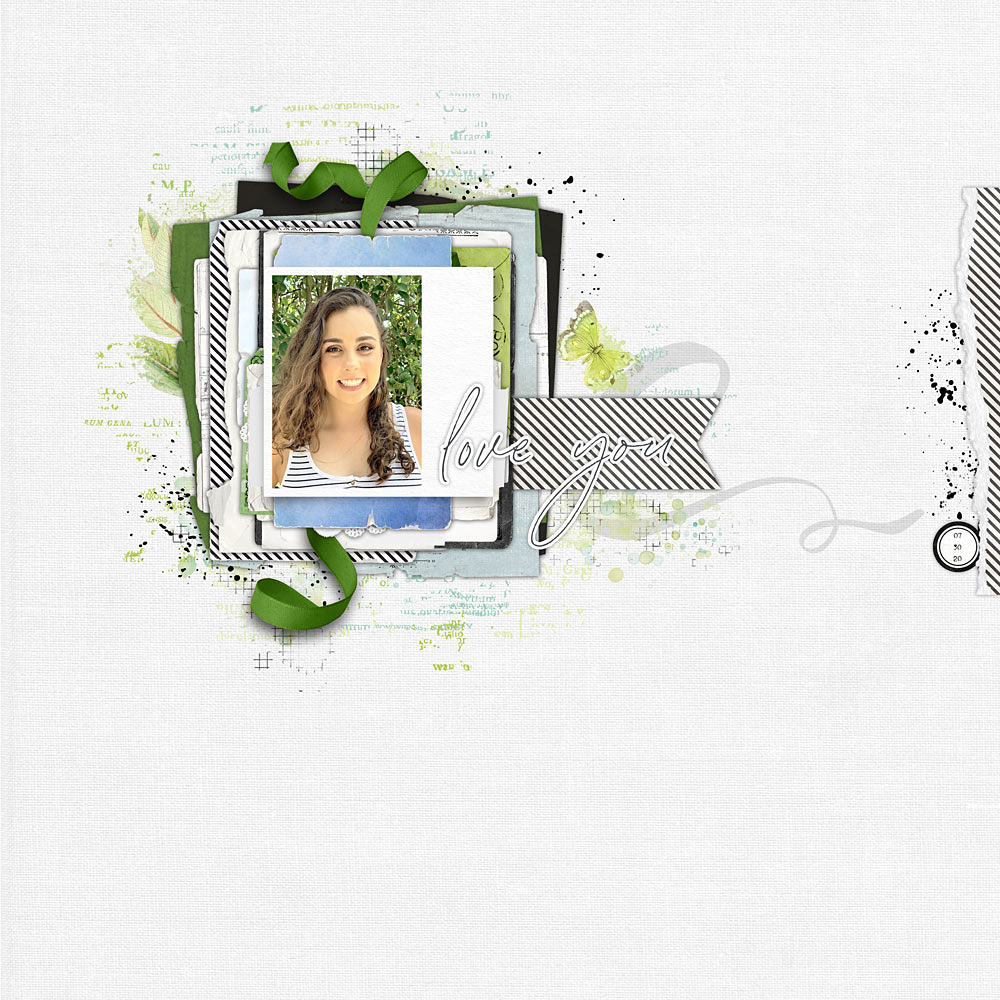 Credits: Arctic Whites Paper Pack 02; Hand Drawn Twists 01; Splatters Brushes and Stamps 06; Splatters Brushes and Stamps 07; Splatters Brushes and Stamps 08; Little Round Tabs 02; Torn Templates 03; Spectrum | Sherbet Tidal Wave Painted Grid Transfers; Spectrum | Sherbet Tidal Wave Lace Transfers; Spectrum | Sherbet Botanical Transfers; Lemon Twist Solid Remnants; Fall Garden Remix Solids Remnants 01; Americana Country Remnants; Vintage Farmhouse Garden Solid Remnants; Banner Masks 01; Rustique Noel Paper Pack; Candied Christmas Roughed Up Photo Mats; Newsprint Remnants 01; Watercolor Rainbow Roughed Up Photo Mats 02; Watercolor Rainbow Roughed Up Photo Mats 03; Batty Mini Mix; Vintage Artistry Collectors 02 Junk Journal Pages; School Rules Element Pack; DocuStacks 03 Value Pack; Classic Curled Photo Frames 07; Vintage Artistry Serenity Sentiment Transfers 03; Drop Shadow Styles 02
Liz's page is so gorgeous that I know it's going to provide all sorts of inspiration for you. Remember to post your lift in the Saturday Scraplift Challenge Gallery as well as in the September Challenge Participation Sign-in thread in the forum to be eligible for your discount. Happy scrapping!