Saturday Scraplift: Grids and Angles for Energy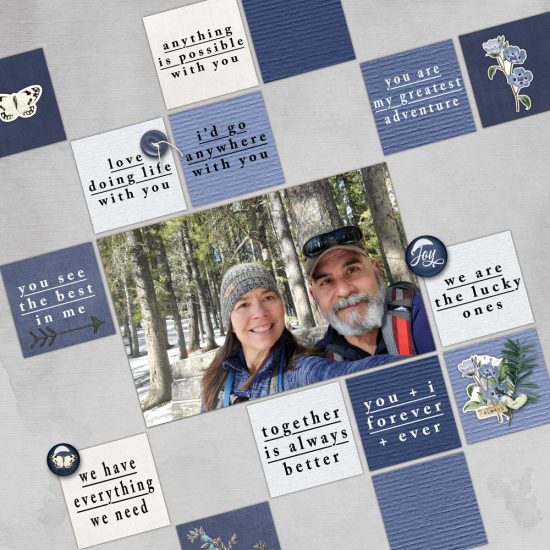 Hi, it's Linda with some scrapping inspiration for you today. I love a grid, and that sort of page design always tends to capture my attention in the gallery. Beth (bred1269) combined a grid design with angles to create an energetic and striking page celebrating her and her husband. Carolyn and Lynn, two of my fellow Creative Team members, joined me in lifting Beth's page. Here's where it took us.
Beth's page: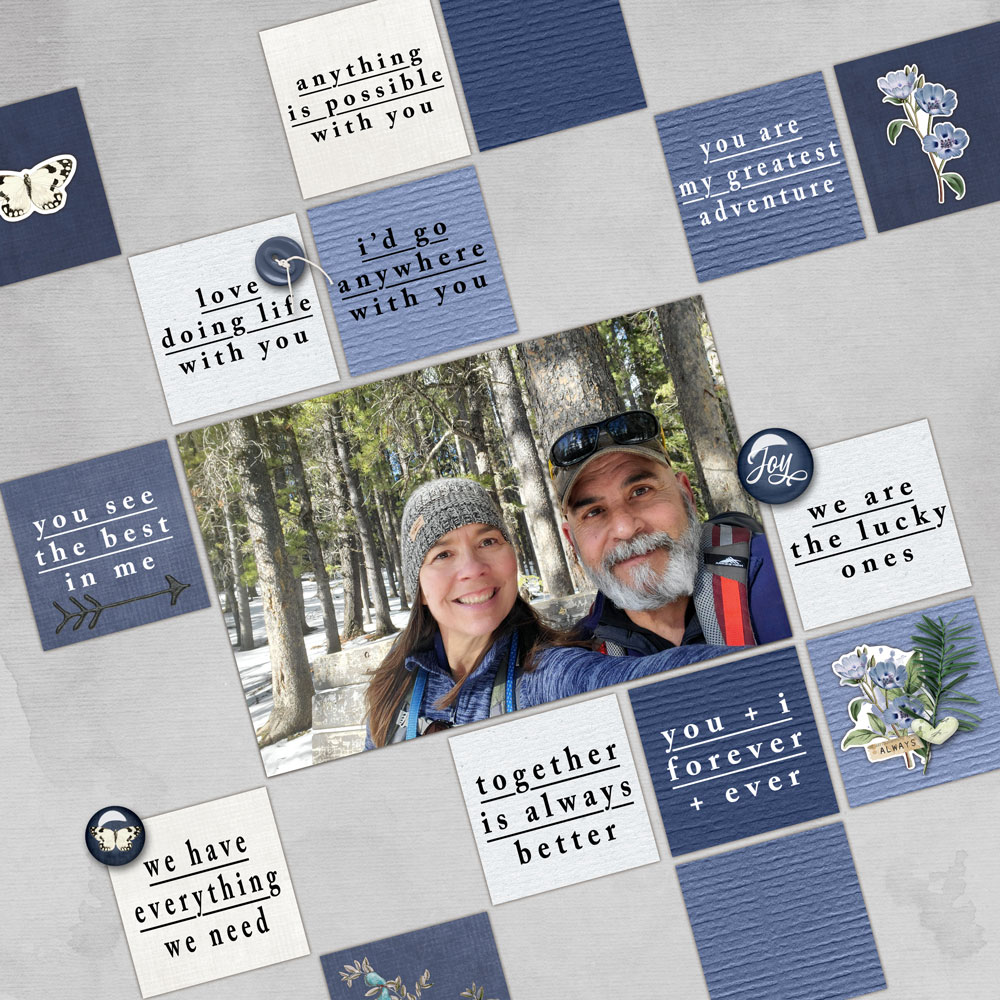 Carolyn (Amson) scrapped a photo of her and her husband on a trip to a peninsula in far eastern Russia, Kamchatka. I love how she pulled the colors of her page from the large landscape photo she used as a background. Like Beth, she filled the squares of her grid with word stacks, and the pops of pink form a pleasing visual triangle on her page.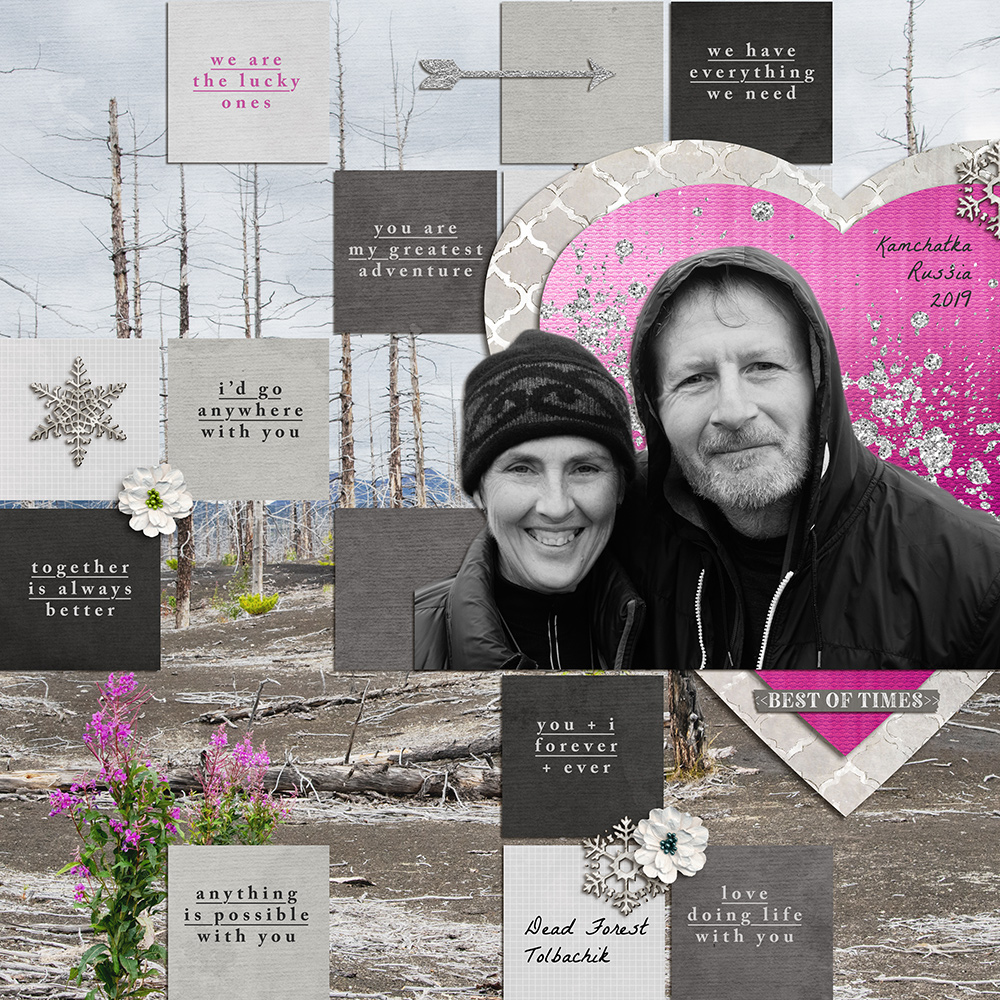 Credits: Strip Sentiment Stacks Stamp Pack 07; Palette Textures Paper Pack 09; Palette Textures Paper Pack 12; Winter Whites Element Pack; Lightly Linens Paper Pack 23; Be Merry Solids Paper Pack; Graphed Notebook Paper Pack 18; Painted Pencil Lines Paper Pack 01; Jungle Stories Element Pack; Silver Glitter Spatters 01; Silver Arrows 01
Lynn (grandma lynnie) used this challenge to celebrate the birth of her first great grandchild – congratulations, Lynn! I love how many sweet photos she was able to include and still preserve the order of her page. She carved out a great spot for her title, and the delicate patterned paper is the perfect choice for little Rosie Rae.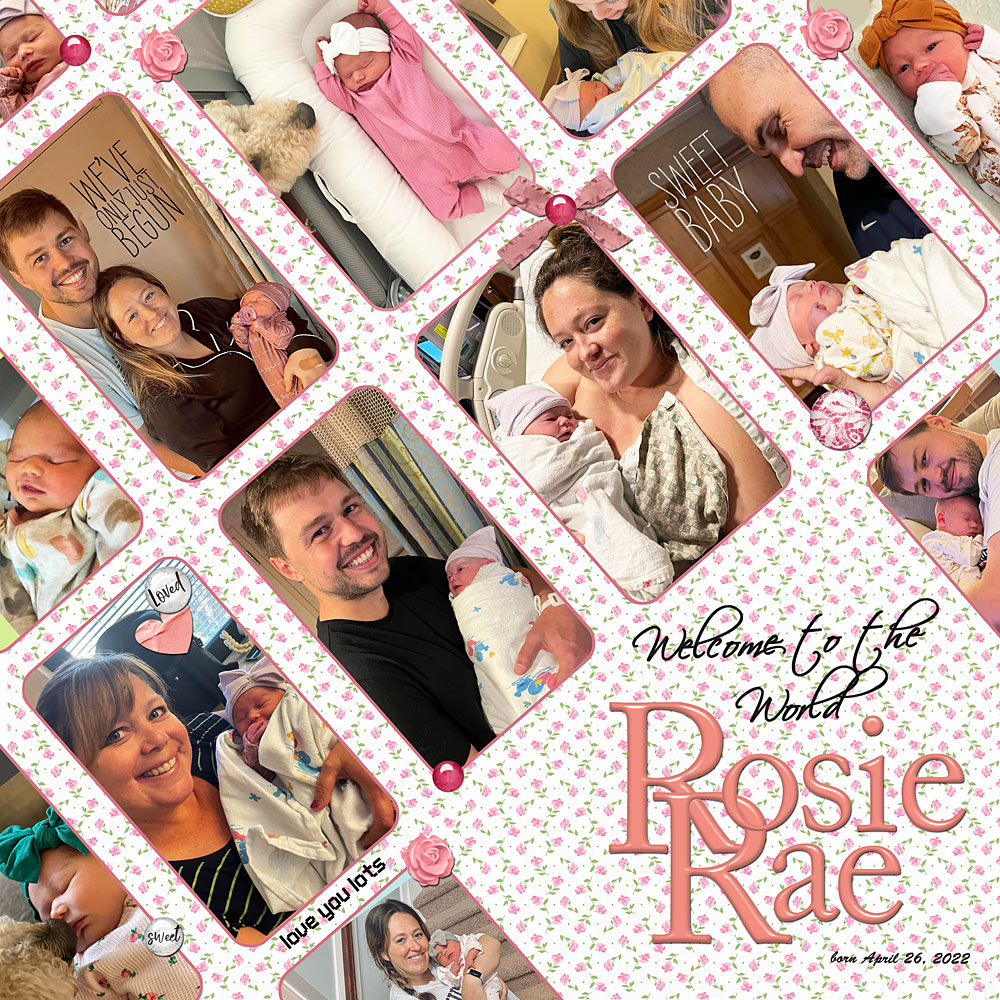 Credits: Hello Memories Layered Template; Patterning Palette 04 Paper Pack; Jelly Serif Alphabet 02; Fine Lines Page Titles 08 Brushes and Stamps; Littlest Baby Element Pack
My page is all about celebrations, too. On the same day he turned 17, our grandson Sam was baptized during the service at our church. I love these new photo frame envelopes Katie has designed, and now they come in PURPLE – so of course, I had to use them. That choice really gave rise to the rest of the page, and I had a blast indulging my love of the color.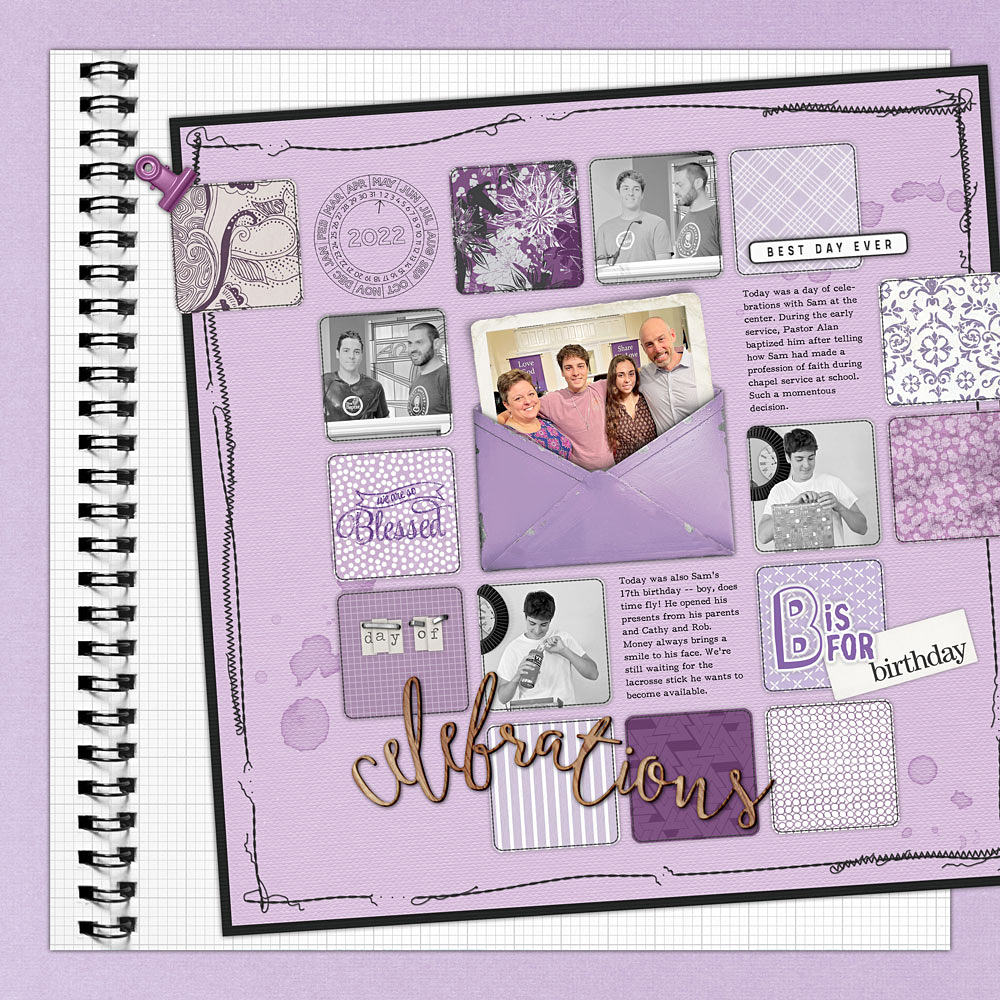 Credits: Darling Baby Solids Paper Pack; Bound Paper Pack 20; Hello December Solids Paper Pack; Botanical Bliss Solids Paper Pack 01; Coffee Stains Brushes and Stamps 01; Coffee Stains Brushes and Stamps 02; Messy Stitched Borders 03: Black; Digital Date Stamps Vol. 34; Clean Stitched Rounded Corners: Black 01; Anzio Add-on Paper Pack; Black White and Plum Kit; Winter ReMix Paper Pack 03; Vintage Flashcards: Birthday; Graphed Notebook Paper Pack 20; Spring Walk Add-on Paper Pack; Chalkboard Harvest Brushes and Stamps; Sudbury Paper Pack; Darling Baby Purple Patterned Paper Pack; Assigned Initials Brushes and Stamps 01; Enamel Sentiment Signs 03; Simply Flourished Value Paper Pack 05; Photo Frame Envelopes 05; Wood Veneer Words 20; Little Snips Alphabet 02; Cameron Element Pack; Spring Skies Element Pack; Drop Shadow Styles 02
I know you're going to love being inspired by Beth's fun page. Remember to post your lift in the Saturday Scraplift Challenges Gallery as well as in the May Challenges Participation Sign-in thread in the forum to be eligible for the reward program. Happy scrapping!