Saturday Scraplift: Going in Circles
Hi, it's Linda here with a fun page for you to lift this week. I love a good circle. There's just something so pleasing and satisfying about a circle: a wedding ring, a birthday cake, King Arthur's Round Table.  And it's such a great design element, too! Sharon (Shannamay) never ceases to amaze me with her creativity, and I have many of her pages in my favorites folder. On this page, she took a simple circle and made it the focal point of her page by repeating it, changing its size, separating it into parts, and highlighting it with different patterned papers. I also love the linear design she included to balance all the curves. That adorable chocolate-covered face is sweet, too, isn't it? Lori Ann, Julie, and Karen, my fellow Creative Team sisters, joined me in lifting Sharon's page. Here's where it took us.
Sharon's page: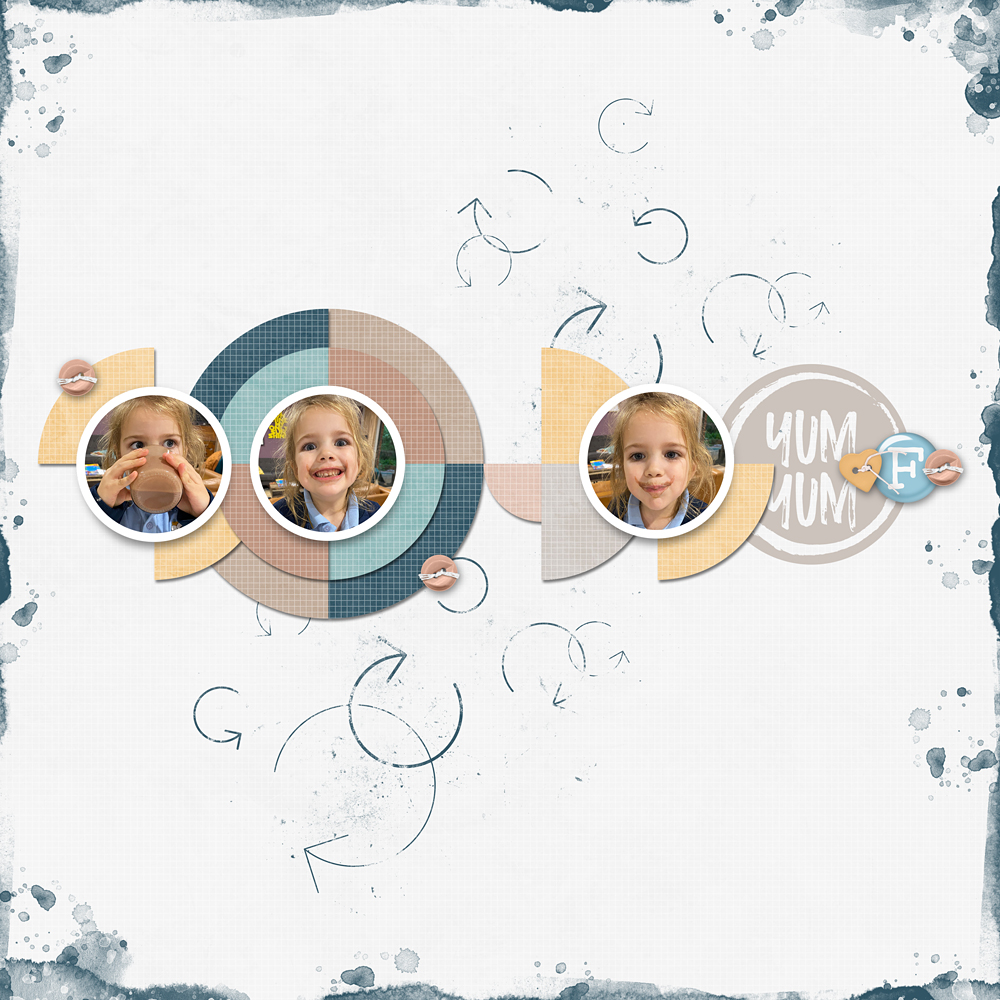 Lori Ann (lmaggs) scrapped some photos of her granddaughters enjoying some sweet, ROUND treats. She rotated Sharon's design and chose a great color combination of patterned papers to highlight her circular elements. The rectangular frames add some straight lines for balance. Lori Ann is definitely a master at geometric layouts.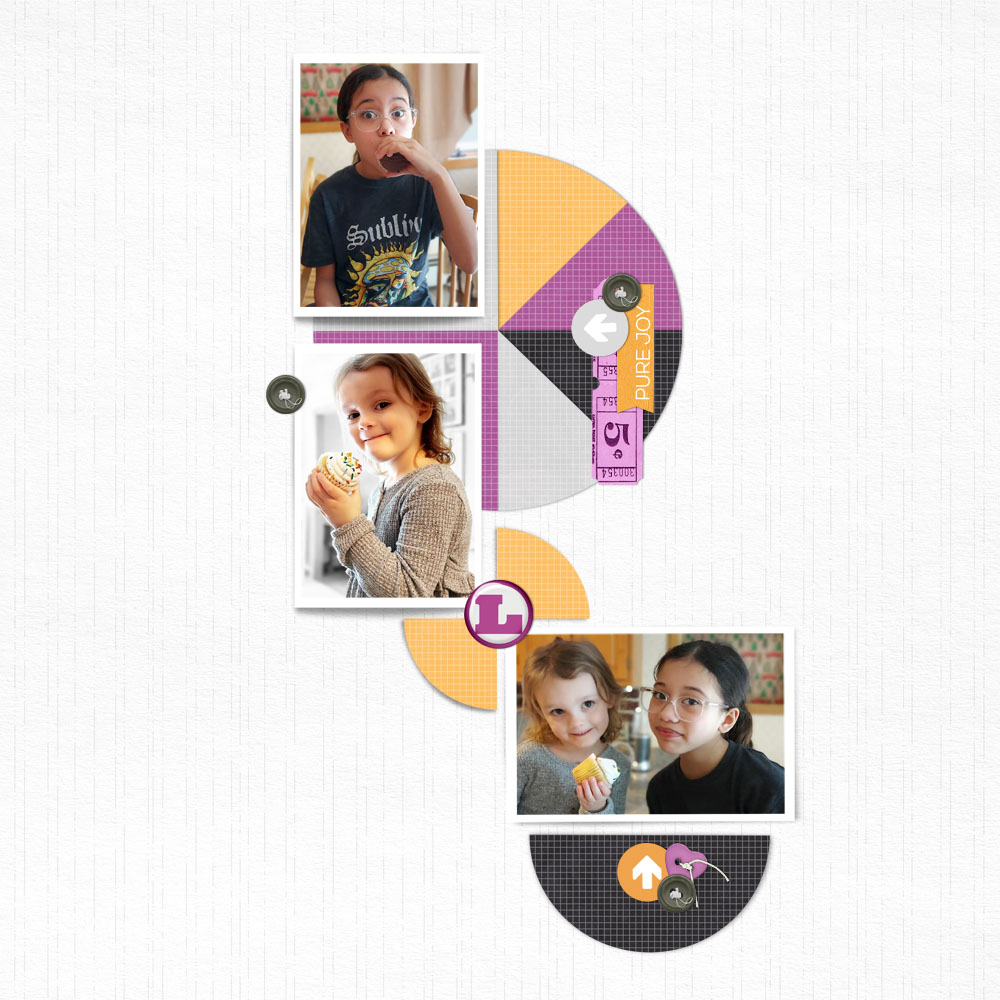 Credits: Whitacre Woods Solids Dots and Stripes Paper Pack; Graphed Notebook Paper Pack 11; Graphed Notebook Paper Pack 18; Spectrum | Sherbet Strawberry Lemonade Ephemera Plus Pack; ARToptions Mini Mix 17; ARToptions Mini Mix 18; Color My Love Kit
I love everything about Julie's (MaggieMae) beautiful page. The color scheme is divine, and I adore her soft take on the design, achieved by using Katie's new Messy Painted Circles. Another aspect of Julie's page that caught my eye is the photo – such a great perspective that perfectly displays the relationship between Dona and Jack. Well done!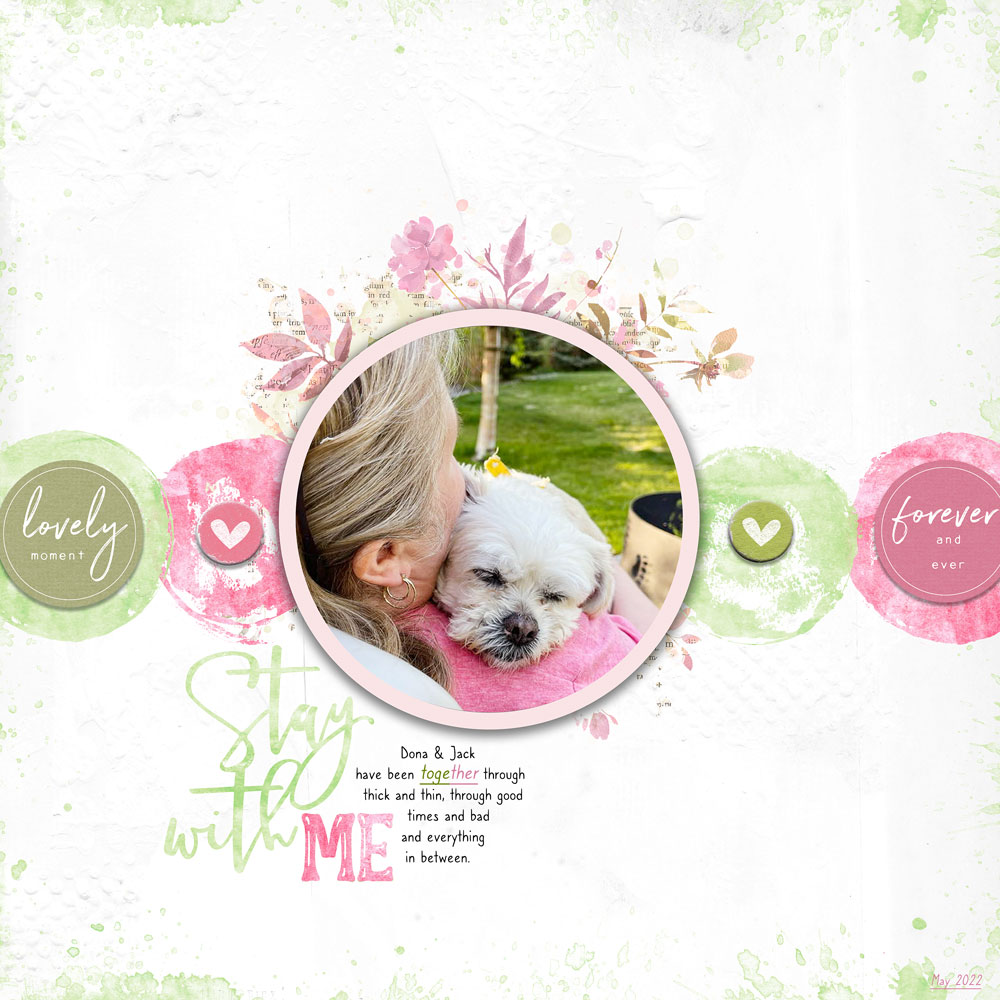 Credits: Living Life Stamp Pack 01; Messy Painted Circles 01; Textured Whites Paper Pack 01; Painted Overlays 01; ARToptions Mini Mix 25; ARToptions Mini Mix 27
Karen (grandmak) designed her page around some delightful, action-filled photos. Her technique of using the colors in her photos as the basis for her color scheme is always a winning choice, and I love how the repeated circles evoke the fun at the playground – I'm getting dizzy already! The border at the top is an effective linear complement to the circles.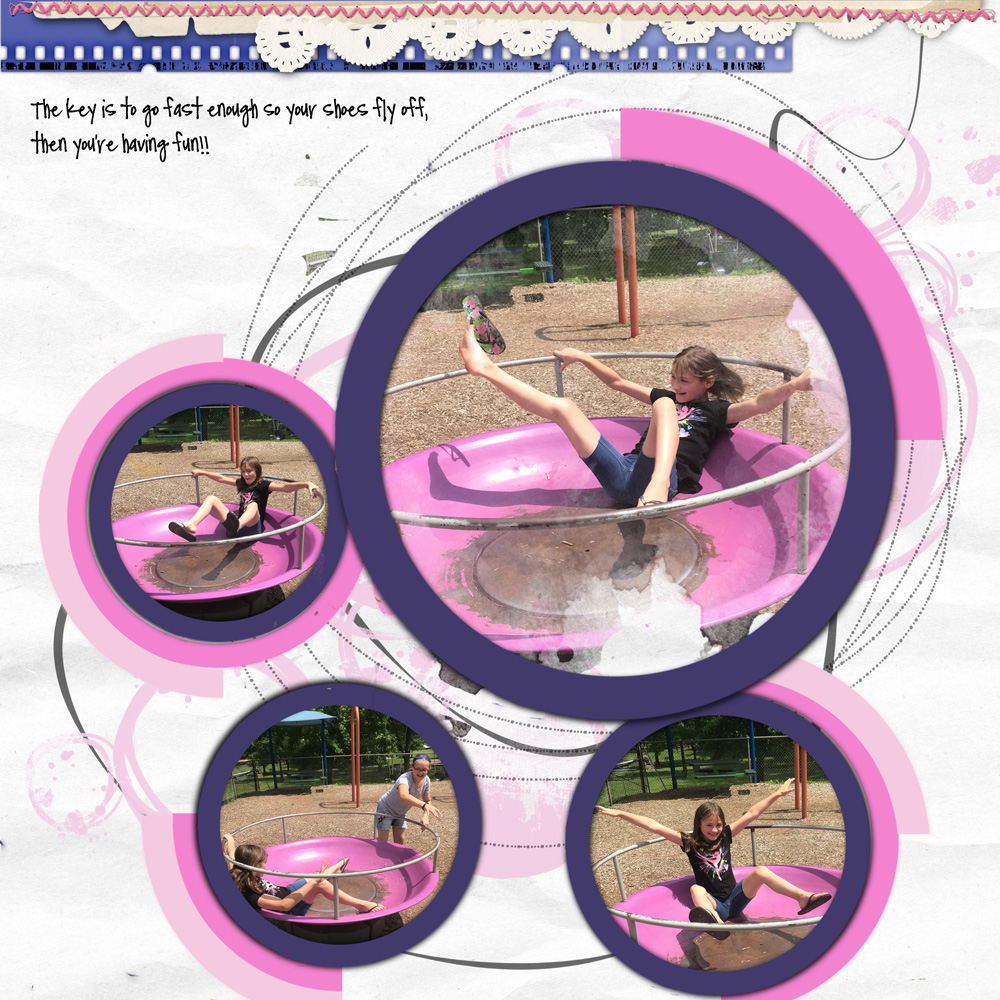 Credits: Colored Filmstrips 13; Inked Twists Brushes and Stamps 01; Arctic Whites Paper Pack; Artsy Spots Brushes, Stamps 04; Twisted Dots Brushes and Stamps 02; Spill Frame Layers 06; Doily Edgers 05; Party Time Element Pack
I really intended to scrap a more geometric page than I ended up with, but sometimes you have to go where the inspiration takes you. I love this photo of us during our South Dakota trip a couple of years ago, so I decided to go large with it and to highlight our faces with the circular frames. Then I had fun filling those circles at the bottom with lots of different elements.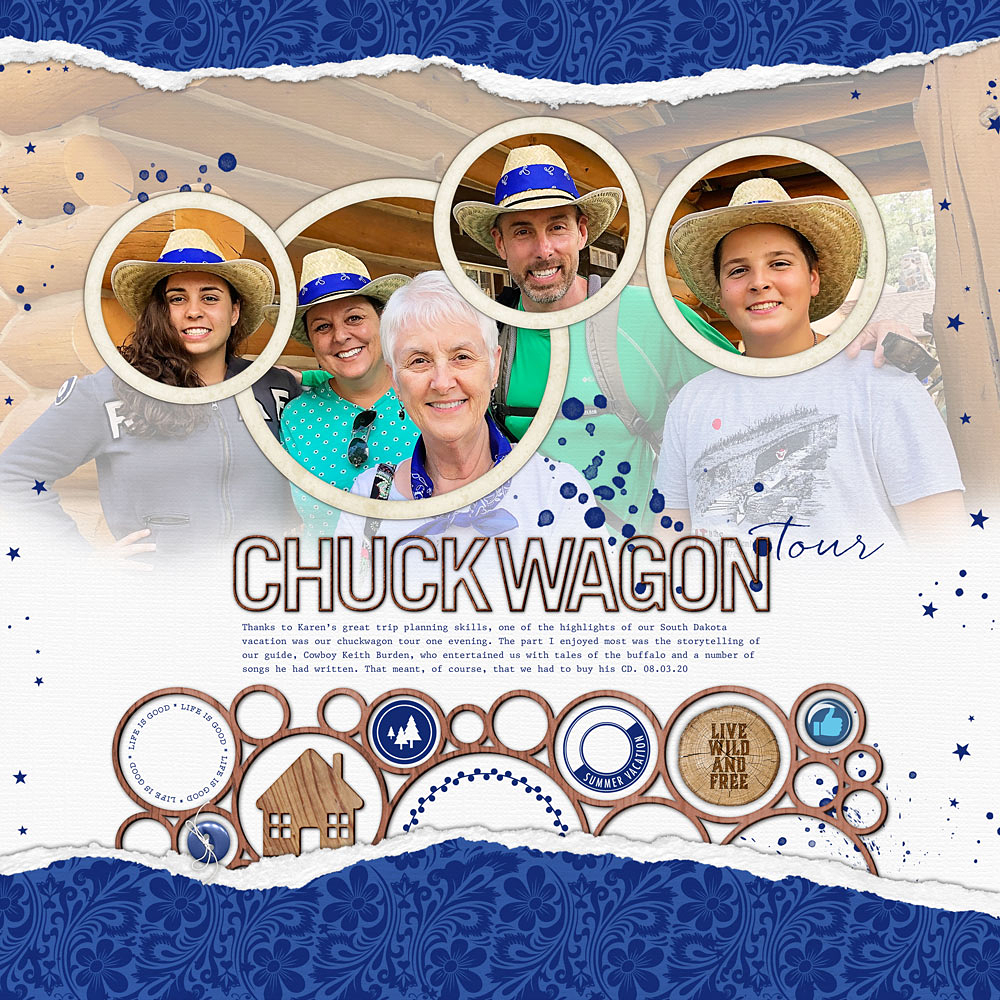 Credits: Arctic Whites Paper Pack 04; Watery Spots Brushes and Stamps 09; Watery Spots Brushes and Stamps 10; Brierley Element Pack; Meriam Ridge Element Pack; Around Words Thankful Brushes and Stamps; Circling Sentiments Brushes and Stamps 01; Iconic Spots Brushes and Stamps 01; Wood Veneer Patterns 02 (recolored); Monthly Memories Paper Pack 07; ARToptions Mini Mix 28; Starry Overlays 01; Torn Templates 02; Autumnal Flore Element Pack; Sentiments Spots Brushes and Stamps 07; Dalese Element Pack; Drop Shadow Styles 02
There's no end to the inspiration in Sharon's page, and I'm excited to see what you create. Remember to post your page in the Saturday Scraplift Challenge Gallery as well as in the June Challenges Participation Thread in order to be eligible for your discount. Happy summer and happy scrapping!