Saturday Scraplift: Energize Your Design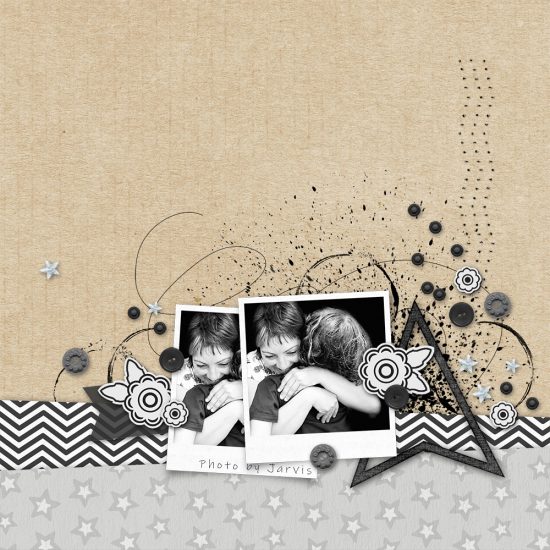 Isn't it amazing how some pages in the gallery just seem so full of energy? That's definitely one of the elements that drew me to Sharon's (Shannamay) cool page – that and the striking design. I also loved the neutral color scheme and the sweet photo captured by her grandson. Sharon energized her page by means of her brush work and patterned paper choices, placing the bulk of her design elements in the lower third of the page – absolutely brilliant. Several of my Creative Team sisters joined me in lifting Sharon's page. Here's where the inspiration took us.
Sharon's page: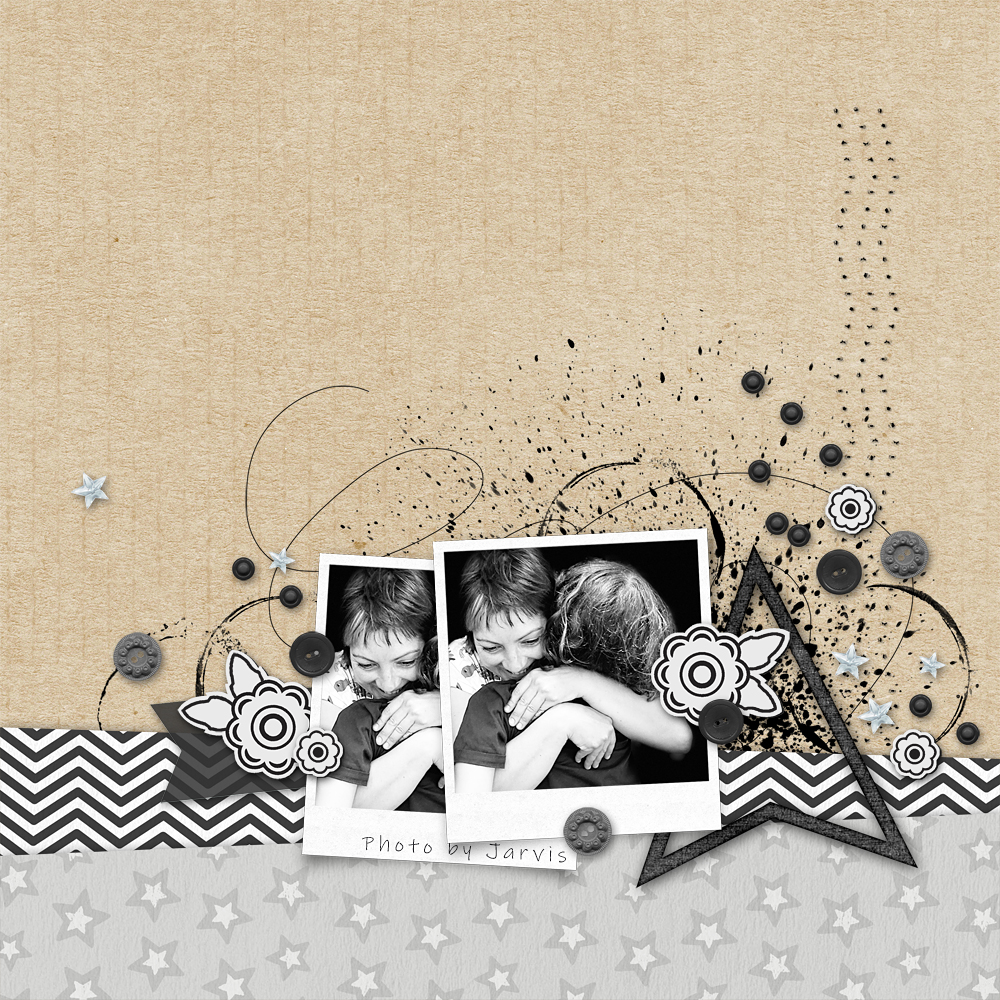 Maureen (maureenreynolds) scrapped some photos recalling a travel mishap when gasoline was put into their diesel car – no bueno! I love how she was inspired by the neutral color palette, and she did an amazing job infusing her page with energy through her perfectly chosen papers and brush work. I can feel the electricity!
Sarah's (sterkeurs) sweet pup is the star of her page, and I love how she modified the design to fill the white space at the top with a large photo of Lyra. She was guided by her photos in choosing patterned papers, and they all work perfectly together. The wooden arrows add energy to her page and draw the eye to her title.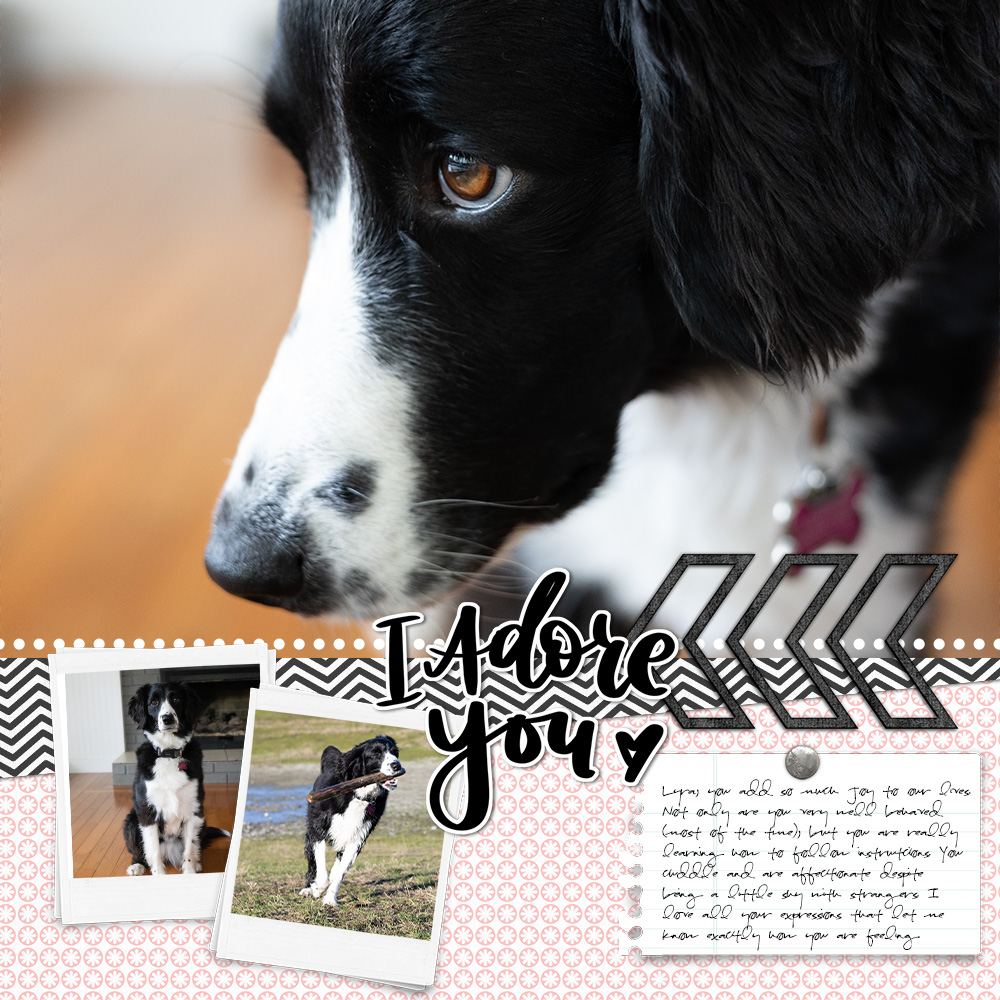 Credits: Handscripted Love 09; Inspiration Board Vol. 04 Layered Template 09; Patterning Mini Mix 01; Inspiration Board Vol. 04 Layered Template 08; Maybe Not Add-on Paper Pack; Wooden Arrows 03
Valerie (nana_vg) designed a terrific back-to-school page using adorable photos of her two cute granddaughters. Her choice of primary colors is perfect for this school-centric design, and I love how the dotted twists create so much movement on her page. The spiral notebook paper is just the right touch for the background.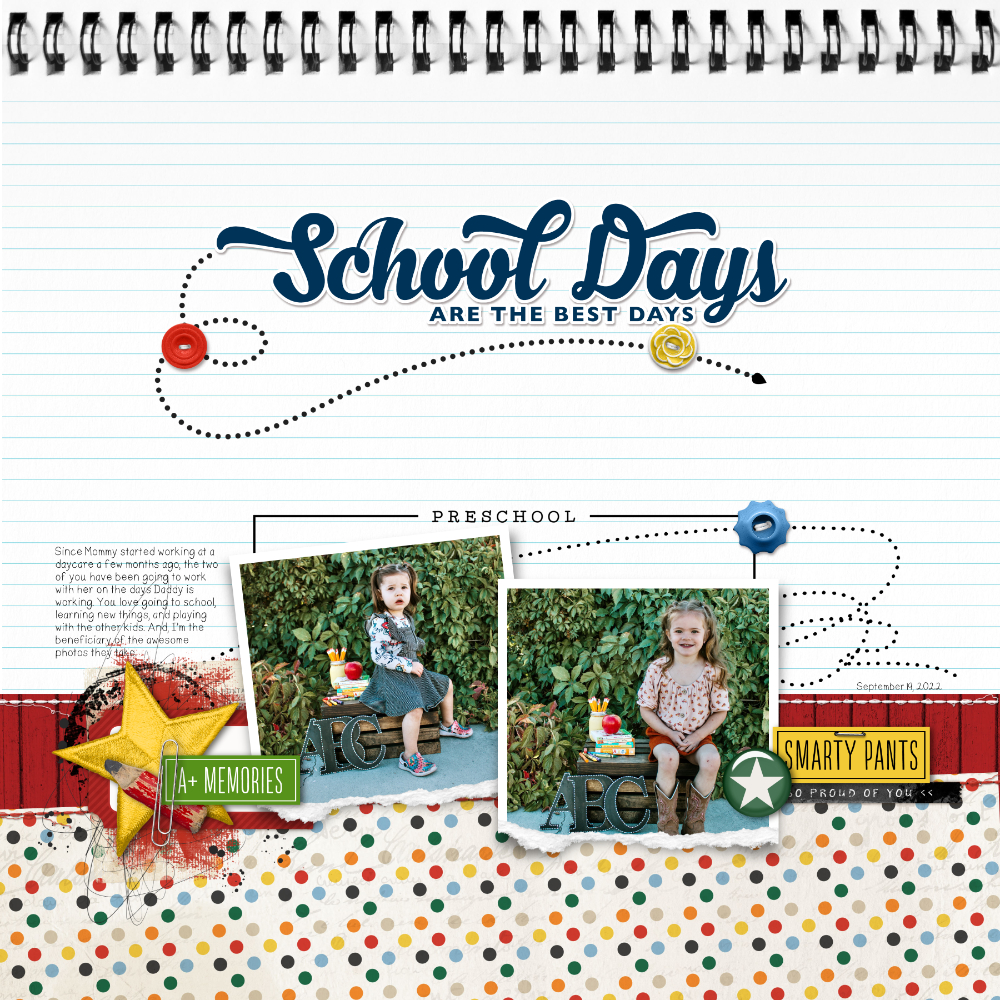 Credits: School Rules Scrapbook Kit; Readymade Layers: School Clusters 01; Curated Studio Mix Scrapbooking Kit 13; Torn Classic White Photo Frames 04; Twisted Dots Stamp Pack 03; Striping Graphic Curves Brushes and Stamps 01; All Around 4×6 Borders School Brushes and Stamps 01; Bound Paper Pack 19
Although I really liked Sharon's neutral color scheme, I decided to make my photos black and white and indulge my love of color in the other elements of my page about our cat burritos. I had fun adding zip to my page by piling on the glittery bling and brush work, and you know how I feel about torn edges – can't get enough of them!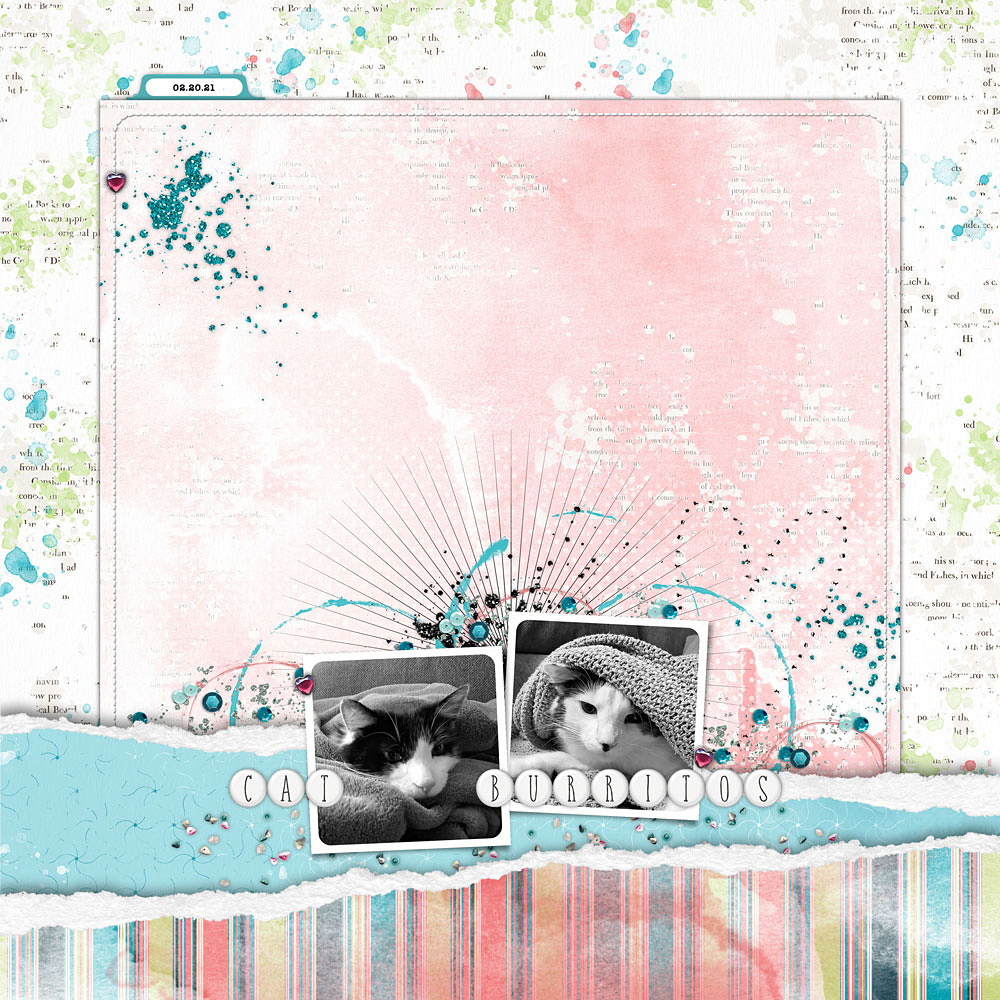 Credits: Vintage Lines Surfside Mini Mix; Spectrum | Sherbet Ephemera; Brilliant Life Element Pack; Starburst Brushes and Stamps 01; Messy Stamped Circles Brushes and Stamps 01; Artsy Scratchy Circles Brushes and Stamps 01; Stitching Holes: Hearts Brushes and Stamps 01; Sequins Scatters Sky; Clean Stitched Borders: White 01; Torn and Framed Layered Template 11; Smitten Element Pack; Classic Curled Photo Frames 06; Everlasting ReMix Element Pack; Artistry damour Element Pack; Drop Shadow Styles
Sharon has been rocking the gallery lately with page after page of inspiring design, so I know you're going to love lifting her work. Remember to post your page in the Saturday Scraplift Challenge Gallery and in the January Challenges Participation Sign-in Thread in the forum. Happy new year and happy scrapping!