Saturday Scraplift: Border Mania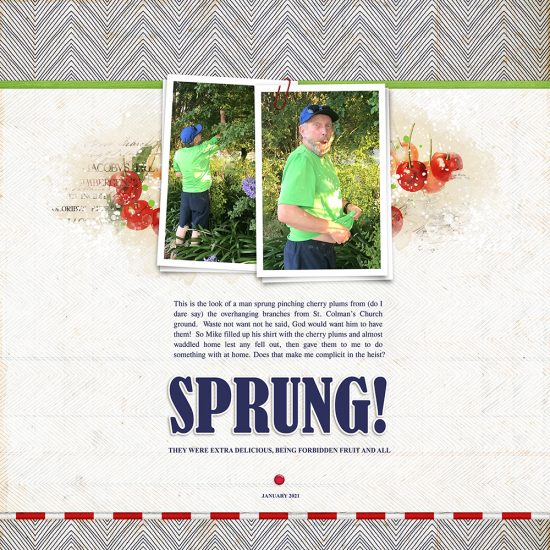 I love a border! Somehow it just seems to give a page that extra bit of zing. In Carol's (carollee) page that we're lifting today, she used those borders at the top and bottom to focus the viewer's eye on the important elements in the center of her page: those great pictures of her fruit-pinching husband Mike, the perfect brushwork, and her journaling that tells the whole story. Several of my Creative Team members joined me in lifting this terrific page; here's where it took us.
Carol's page: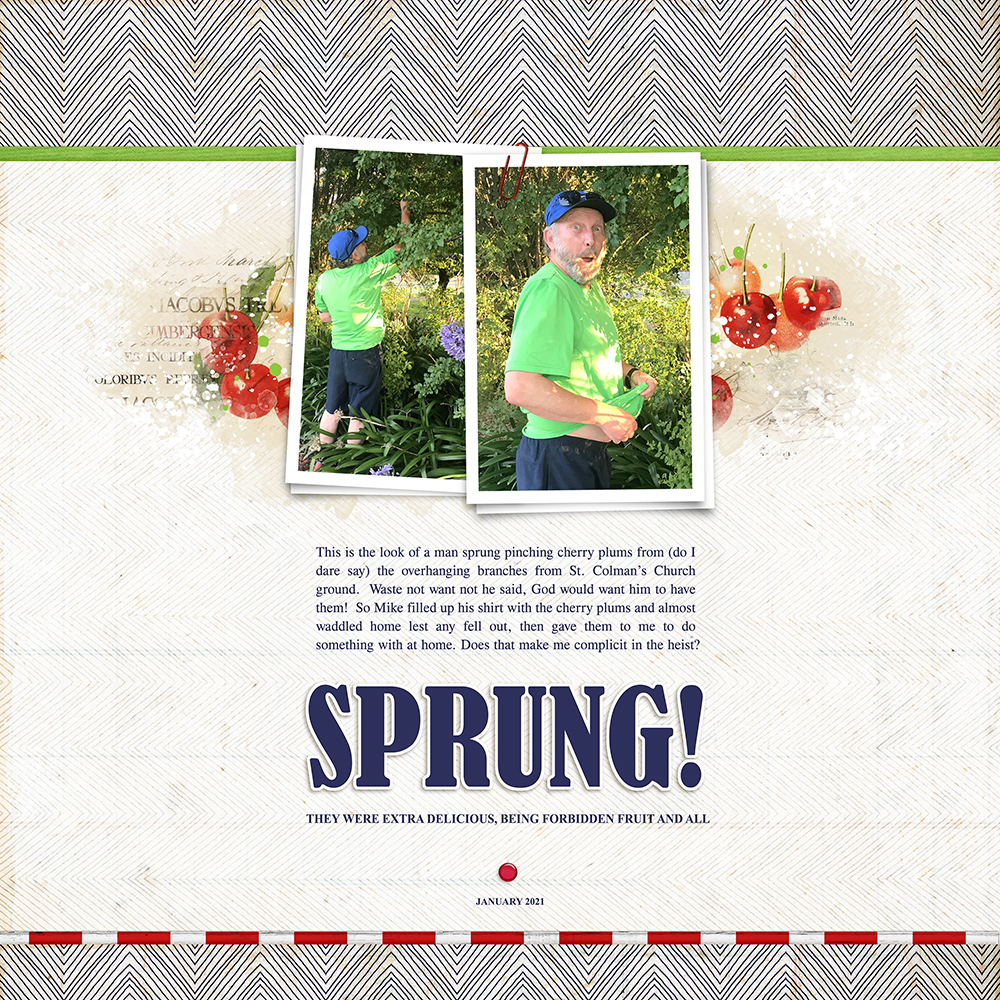 I want to go eat at Candy's (cnewby) house, but if I can't, I want a copy of this recipe collection that she's compiling! Anything cherry is at the top of my list, and I've tasted cherry clafoutis before – yum! I adore the red polka dot paper she used for her borders; it reminds me of a picnic, and the bottom border gave her the perfect spot for her title. The subtle cherry-themed brushwork makes just the right backdrop for those wonderful food shots.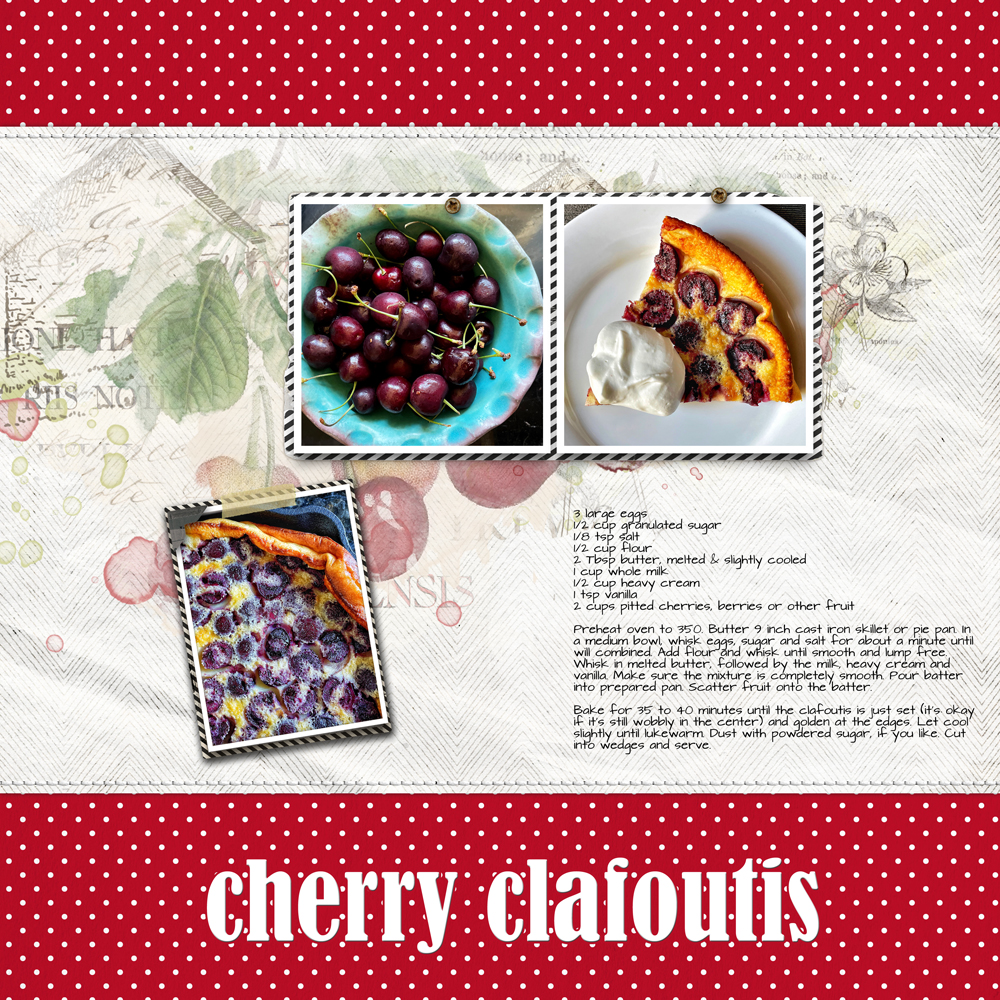 Credits: Drawn Chevrons Harvest Paper Pack; Catching Rainbows Paper Pack; Arctic White Paper Pack; Lightly Linens Paper Pack 02; Painted Photo Masks Brushes and Stamps 10; Vintage Blendables: Fruits 02; Assorted Basic Stitching; Vintage Farmhouse Garden Element Mix; December Stories Roughed Up Pocket Cards; Hinge Pack 01; Far and Wide Element Pack; Big Bottom Lift Classic Photo Frames 01
Amy (Amy L) captured such sweet shots of her grandson encountering a butterfly – look at that little face! Every element of Amy's page reinforces her photos and theme. We grandmas will do practically anything to delight our grandchildren, so her choice of the patterned paper borders is spot on. I really love how the flow of Amy's page pulls the eye down to that single butterfly near the bottom of the page where she recorded Henry's age and the date.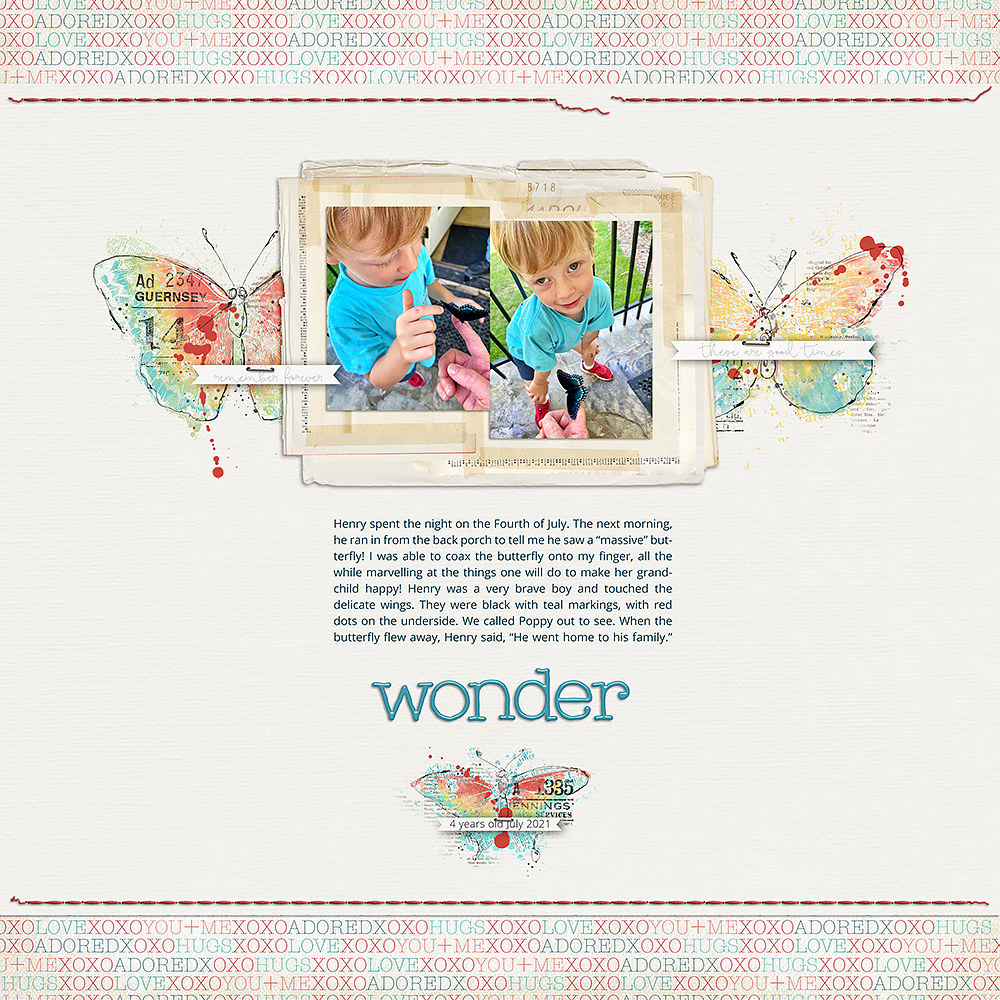 Credits: Assorted Messy Stitches: Red 01; Garden Stories 01 Solids Paper Pack; Jelly Serif Alphabet 01; Sweet Rose Bay Add-on Paper Pack; Taped Together Stacks 03; Readymade Layers: Butterfly Clusters 03
Lori Ann (lmaggs) knocked it out of the park with her summer fun page. Her color choices evoke the bright colors of the season, and the curved edges of her borders mimic the water – totally brilliant! I love how she tucked those cute photos into the curves of the "waves." She also wasn't afraid to leave lots of white space in the center to give the viewer's eye a chance to rest. Pulling the colors of her page from her photos makes for such a cohesive design.
Credits: Arctic Whites Paper Pack 02; Cute Mini Mix 05; Bunny Slope: Rosy Paper Pack; Blendable Layers 56; Thin Classic Photo Frames 04; Big Bottom Lift Classic Photo Frames 01; Curved Page Masks 01; Curved Page Masks 02; Layer Works 1524
If you know me, you know I love a good torn edge, so I decided to layer a couple of torn edges for my top and bottom borders to enclose a shot my granddaughter took of her BFF and soon-to-be college roommate. My Katie has a good eye for photography, and I just loved the photo because it gave me a chance to reflect on the big changes that are in store for these girls. And the new Watery Typecast Sentiment was perfect for the background.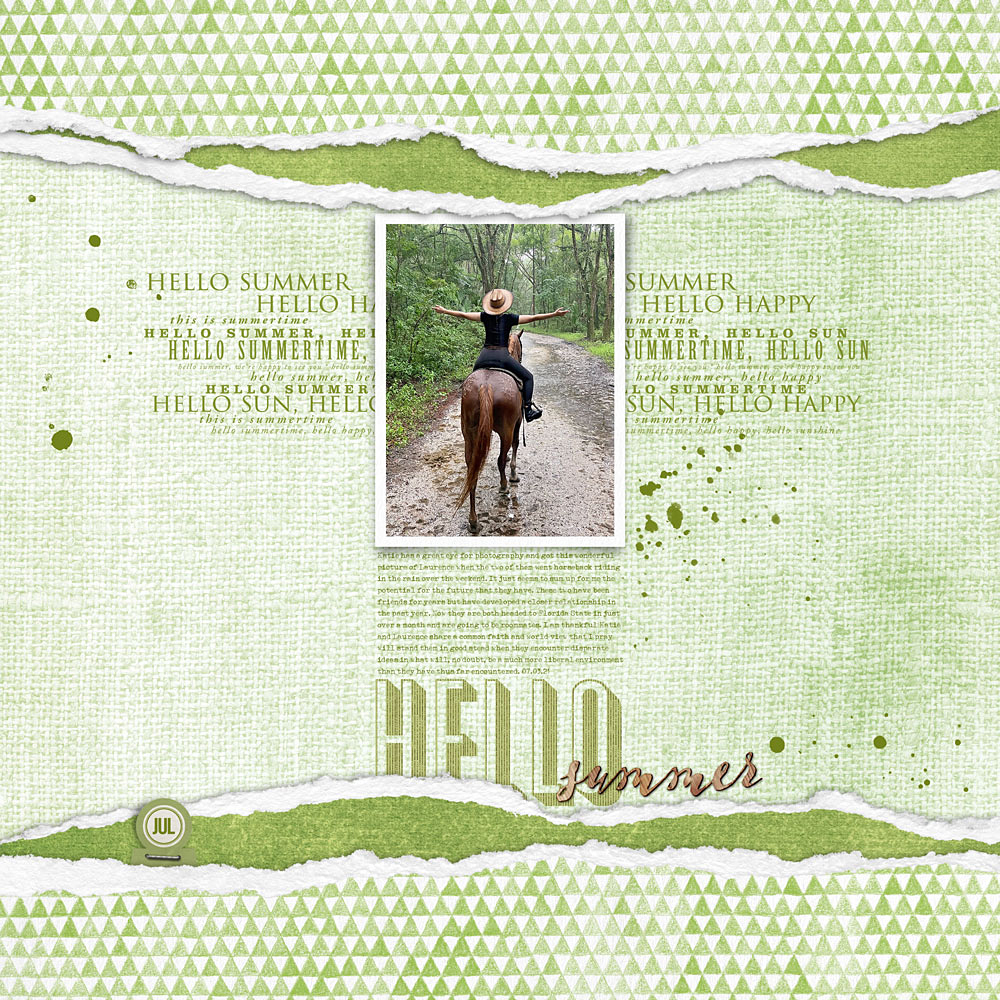 Credits: Vintage Artistry Beached Solids Paper Pack; Splatters Brushes and Stamps 07; Splatters Brushes and Stamps 08; Splatters Brushes and Stamps 09; Shadowed Alphabet 01; Wood Veneer Words 16; Watery Typecast Sentiments 11; Classic Curled Photo Frames 07; Torn Templates 02; Canvas Cardstocks Paper Pack 03; Little Round Tabs 03; Date Dots Brushes and Stamps 03; Torn and Framed Layered Template 04; Black, White and Lime Kit; Drop Shadow Styles 02
I think you're going to love lifting Carol's inspiring page, and I can't wait to see what you create. Remember to post your page in the Saturday Scraplift Challenge Gallery as well as in the July Challenge Participation Sign-in thread. Happy scrapping!