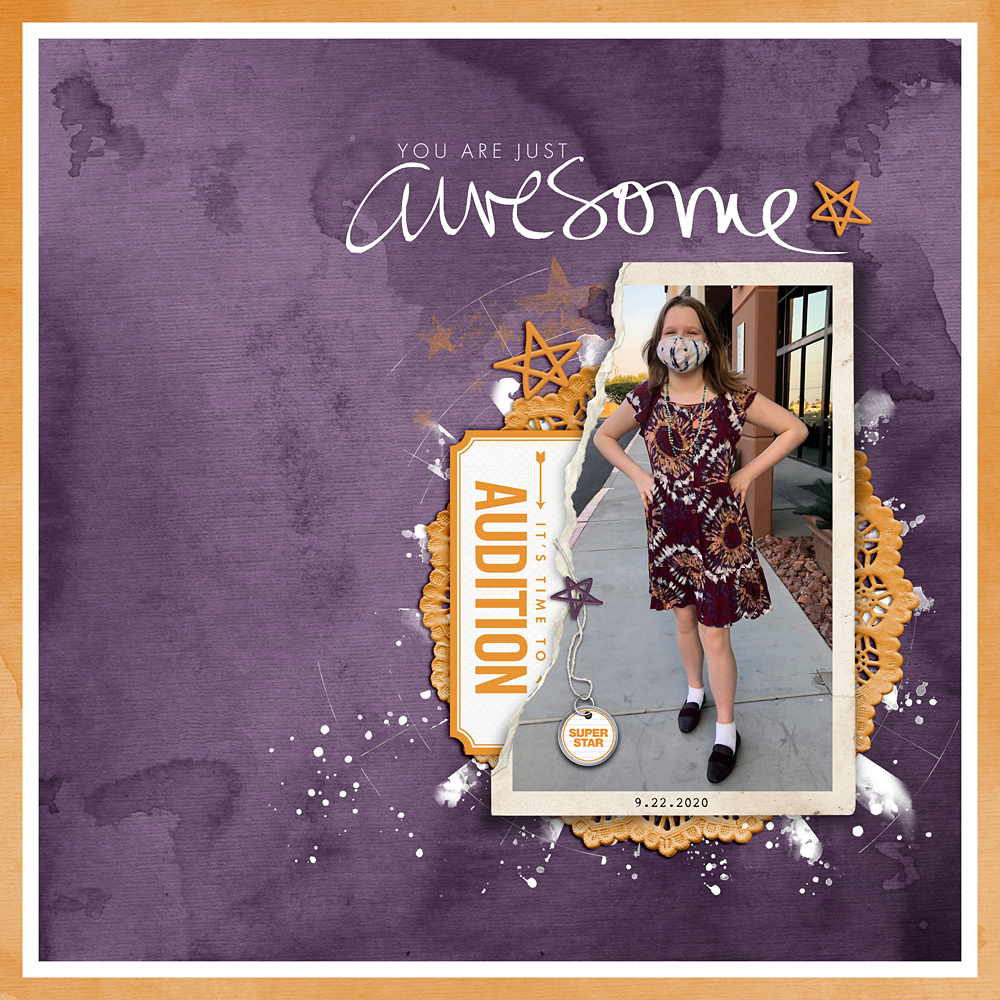 Saturday Scraplift: Add Some Drama to Your Page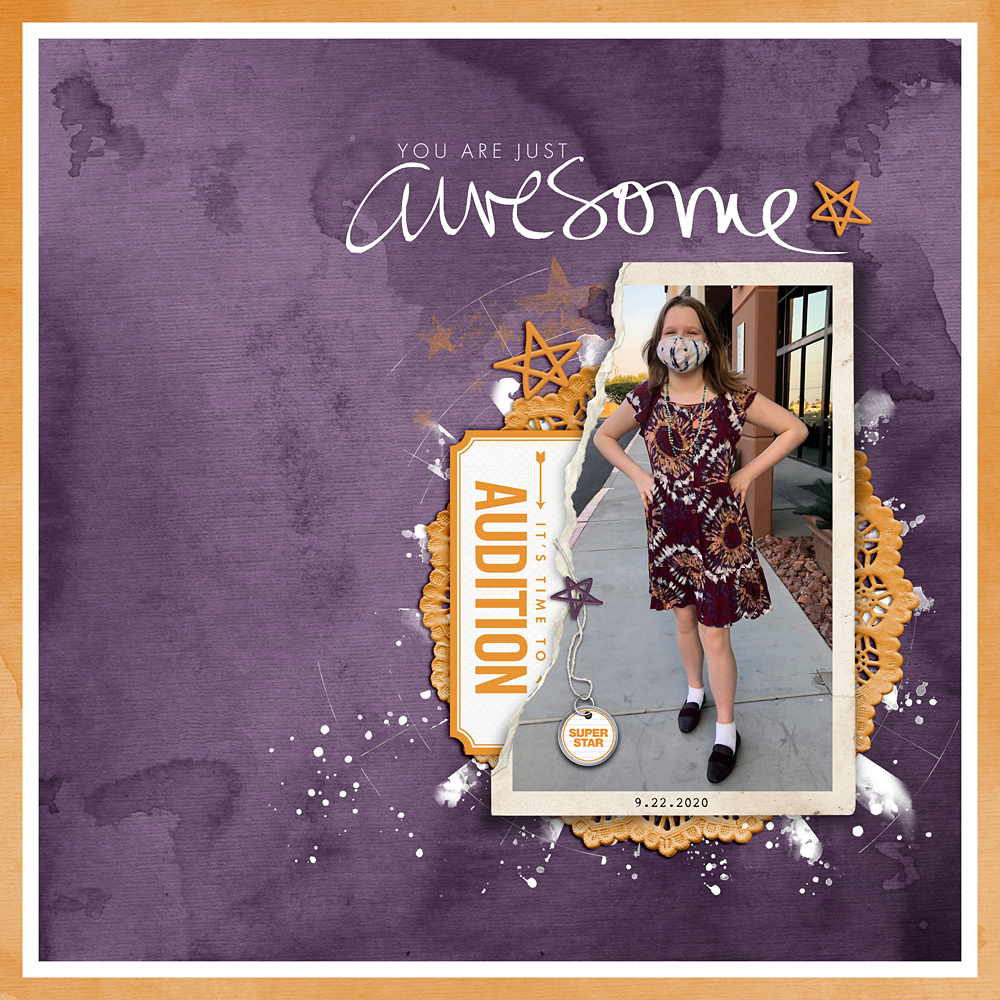 Sometimes a little drama can be a good thing – as in a scrapbook page. Karen (kaclink) infused her design with drama by several means. She drew the striking color scheme from the photo of her granddaughter getting ready to audition for a part in a play. The ripped edge of the frame immediately draws the viewer's eye to her photo, and her choice of accents and brushes supports both her color choices and the subject matter of her page. The result is both cohesive and dramatic. My fellow Creative Team members Kate and Julie joined me in taking inspiration from Karen's page.
Karen's page: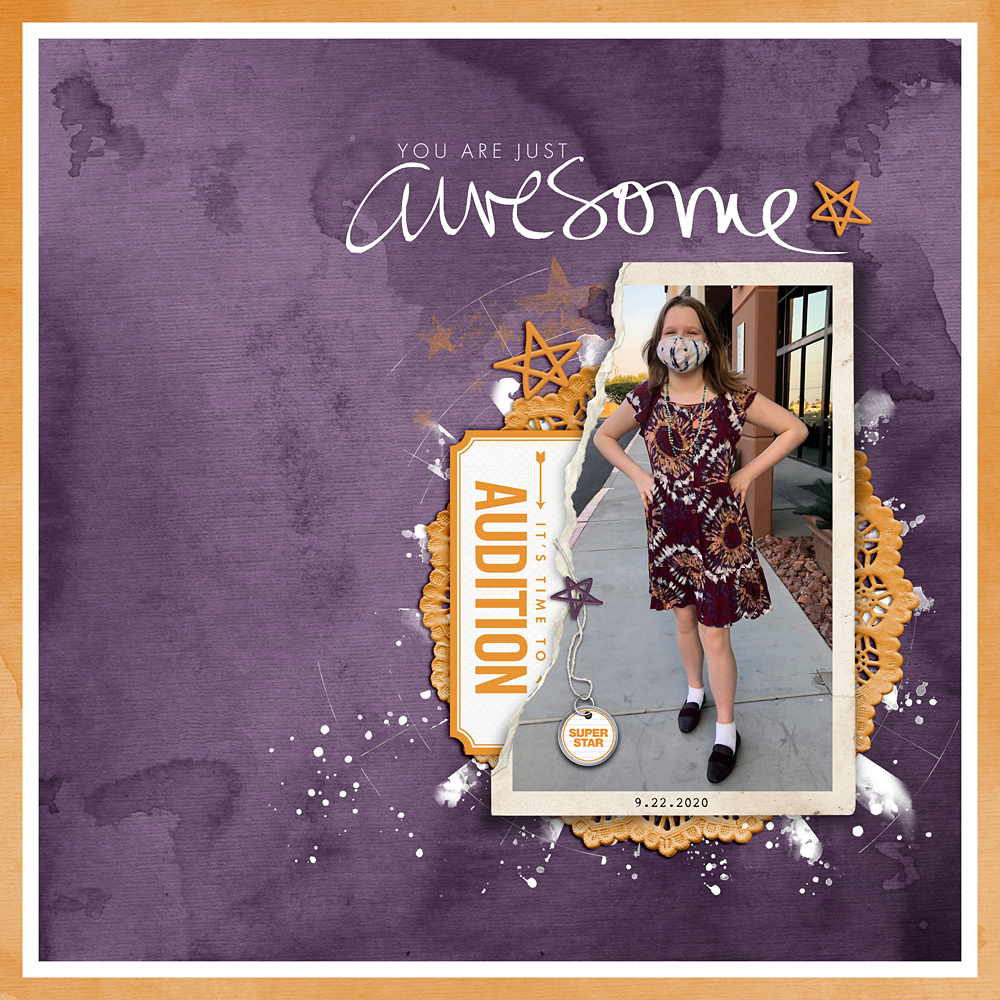 Kate (OKate) takes the most wonderful photos of flowers and scraps them to perfection. The pinky-purple hues of those mums are pleasingly replicated in her choice of papers, and the brush work and word strip nicely balance the weight of her stacked and ripped frames. I also love the jaunty bow that holds in place the charm and tag to complete her design.
Credits: Lightly Linens Paper Pack 17; Plum Spice Mini Kit; Hey There Element Pack; Letter Box Garden Song Element Pack; Meriam Ridge Element Pack; Monthly Memories Vol. 02 Element Pack 10; Vintage Mix Clusters Brushes, Stamps, and Layers 22; Typewriter Clusters Brushes and Stamps 09; Watery Grids Brushes and Stamps 01; Monthly Memories Dates Brushes and Stamps 02
Julie's (MaggieMae) page showcases a lovely fall photo, and she extends that theme with her selection of muted green papers enhanced with pops of orange. I really like the doily and card peeking out from behind the stack of photos, as well as those three perfectly positioned orange buttons and the cascade of leaves across the page.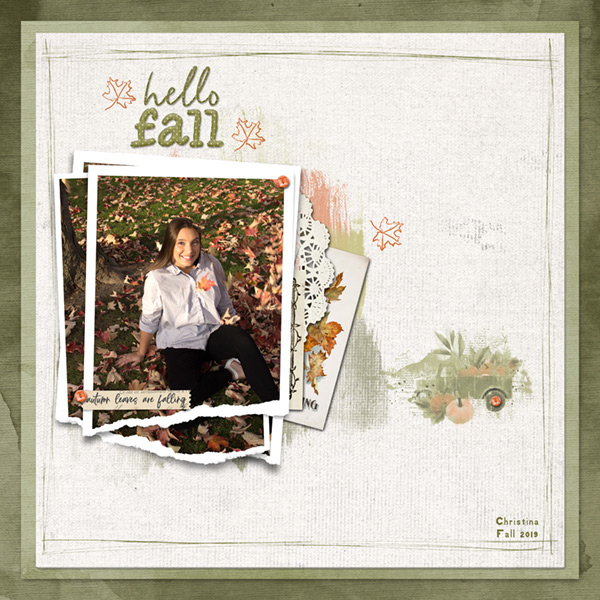 Credits: Palette Textures Paper Pack 06; Fall Market Solids Paper Pack; Fall Market Scrapbook Element Pack; Fall Market Blendable Layers; Scratchy Stamp Pack 01; Scribbled Overlays 03; Blendable Layers 118; Ripped Frame Stack Layers 01
The small town in which our church is located has a pretty downtown area, and every spring the wisteria on the pergolas shows off its finery. You know I love purple, and the colors in this photo inspired my page. While I used the purple shades for much of my page, I had fun incorporating bits of spring green and sky blue as well. And IMHO, there's always room for a ripped edge.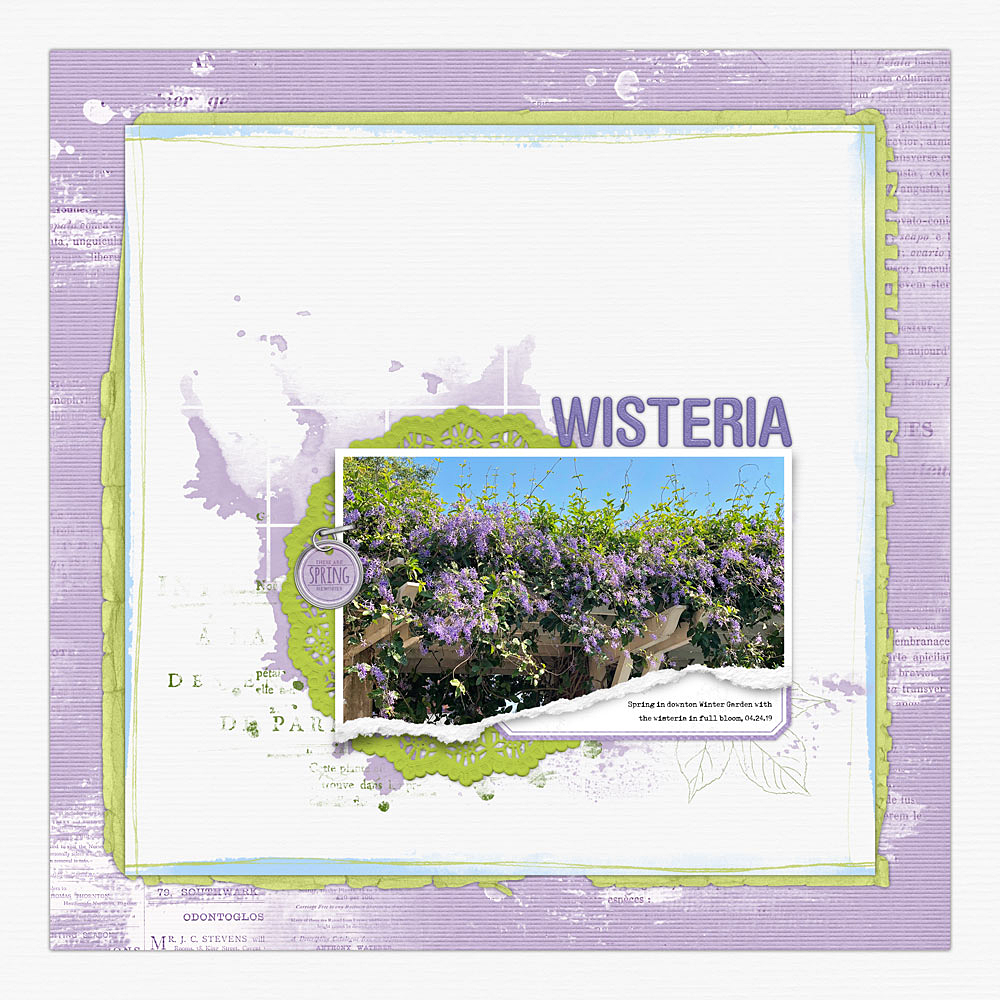 Credits: Forever Fresh Solids Paper Pack; Summer Gardens Solids Paper Pack; Newsprint Overlays 02; Spring Bouquet Roughed Up Cardstock Paper Pack; Edge Overlays 02; Scribbled Overlays 04; Painted Window Frames 05; Bookshelf Grunge Stamp Pack 05; Pencil Line Leaves Brushes and Stamps 16; Holly Jolly Element Pack; Monthly Memories Vol. 02: Element Pack 05; Torn Classic White Photo Frames 04; Cameron Element Pack; Little Dudette Element Pack; Springtime Circles Brushes and Stamps; Drop Shadow Styles
You'll find so much inspiration in Karen's page, and I'm looking forward to seeing what you create. Remember to post your page in the Saturday Scraplift Challenge Gallery and in the October Challenge Sign In Thread in the forum. Happy scrapping!