November iTunes Challenge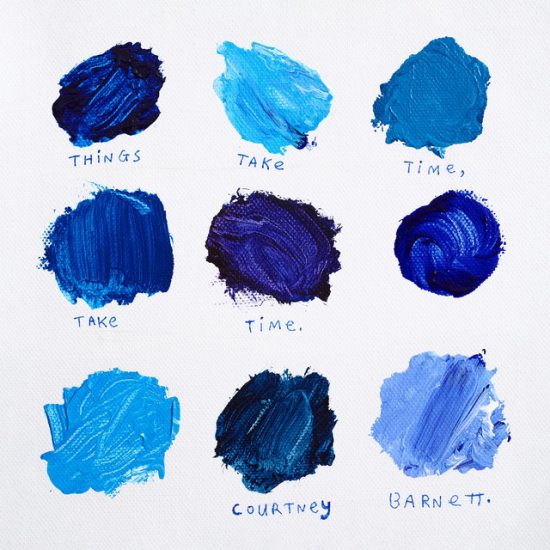 Hi Friends and welcome back for another iTunes inspiration challenge! I have never seen this album before but as soon as I saw those painted circles, I knew it would be fun to play with!
You could draw inspiration from the painted accents, the grid design or even the blues! Maybe the circles or the handwritten title inspire you? The possibilities are endless! Katie has provided a freebie to get you started but it's not a requirement for this challenge.
The creative team came up with some great example pages. They really show how this design can be taken a number of different ways.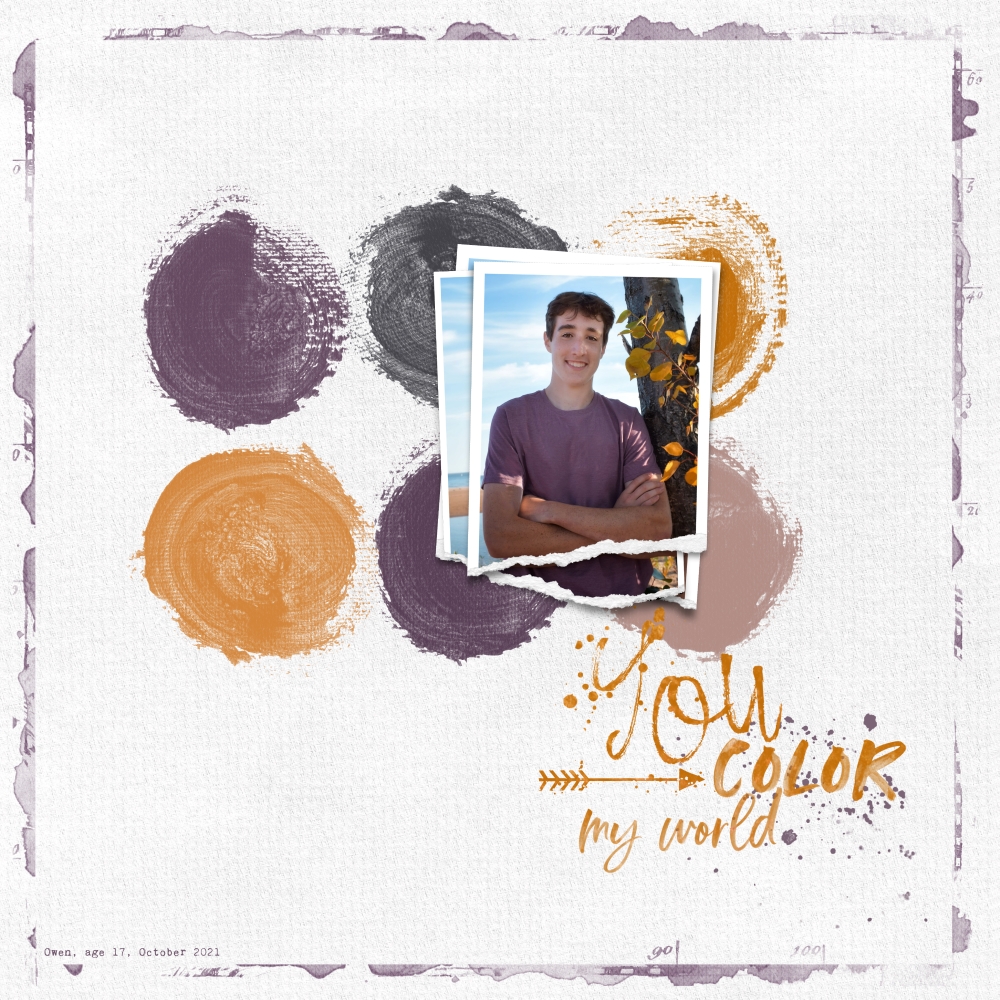 Addie (agoymerac) created a page using the circular grid design. She pulled in the colours from her photo to create a wonderfully cohesive page!
Addie used these products on her page: Arctic Whites Paper Pack, Live for Today Brushes and Stamps, Mapped Edge Overlays 01, Paint Spots Brushes and Stamps 01, Ripped Frame Stack Layers 01, Splatters Brushes and Stamps 07, Watercolor Page Titles Brushes and Stamps 07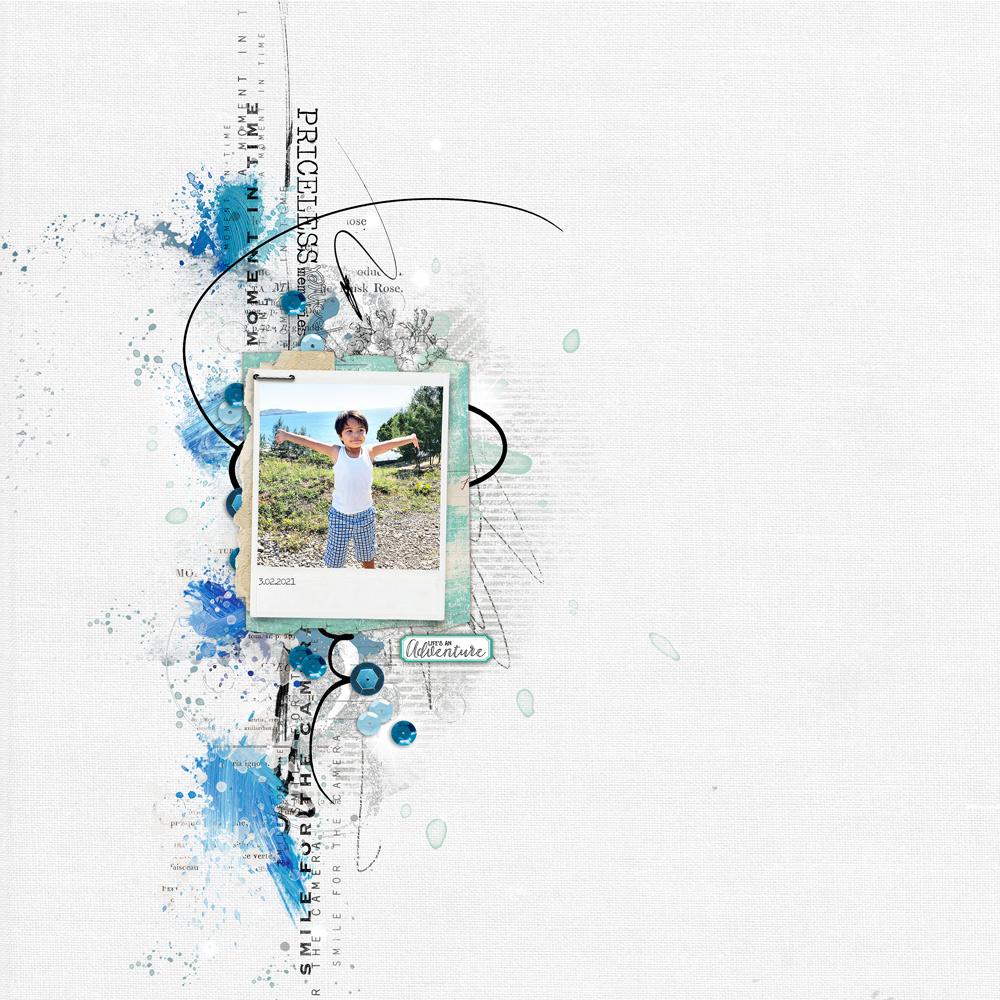 Rache (rache77) pulled inspiration from the blue painted circles. I love the pop of colour the circles give against the neutral background and black brush work!
Rache used these products on her page: Arctic Whites Paper Pack 02, Coffee Stains Brushes and Stamps 01, Colorful Watery Spots 01, Instamatic Frames 06, Instant Artsy: Arrows 02, Josie Element Pack, Scribbling Brushes and Stamps 03, Vintage Artistry Teal Ephemera Stack Layers, Vintage Artistry Teal Solid Remnants, Worth Repeating Brushes and Stamps 10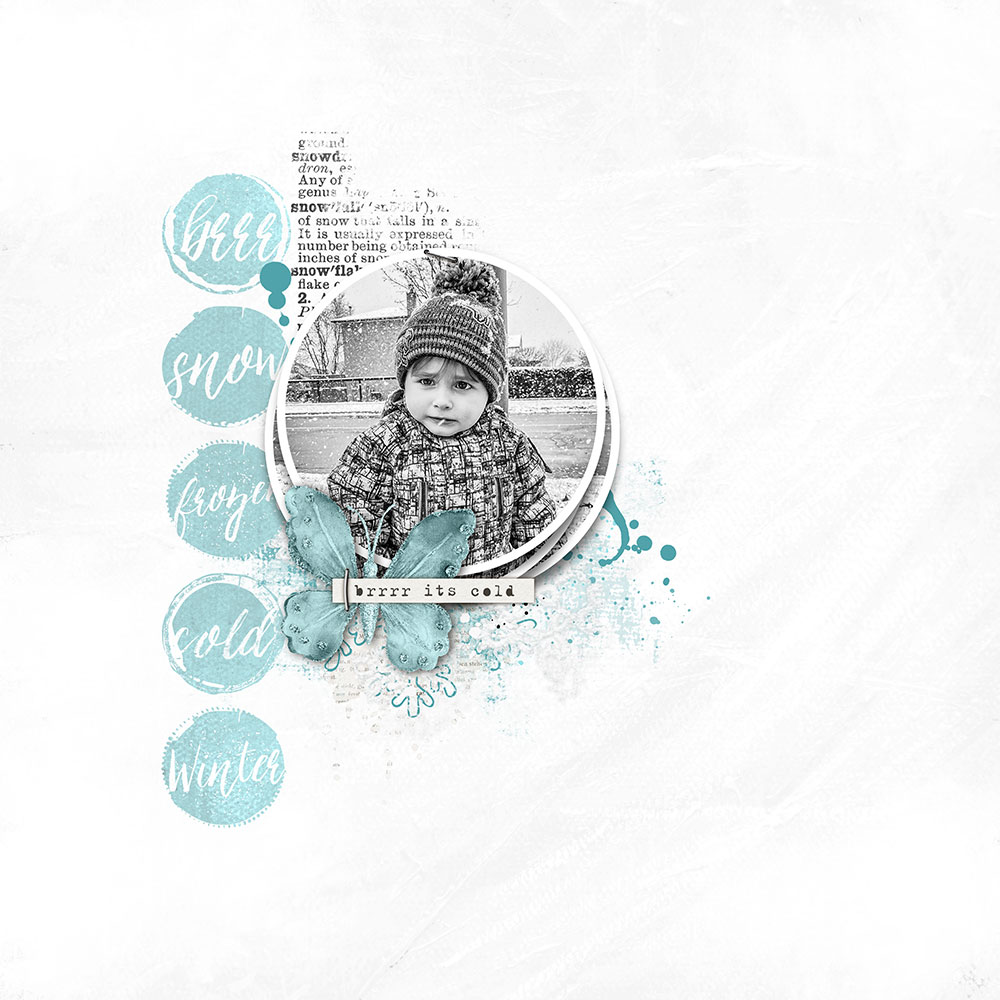 Erin (ernie88) was also inspired by the painted blue circles and created the perfect winter page! I love the addition of the larger circle frame and how the black and white photo takes centre stage!
Erin used these products on her page: Circle Frame Layers 01, Defining Grunge Brushes and Stamps 08, Readymade Layers: Winter Clusters 01, Scripted Spots Brushes and Stamps 05, Textured Whites Paper Pack 03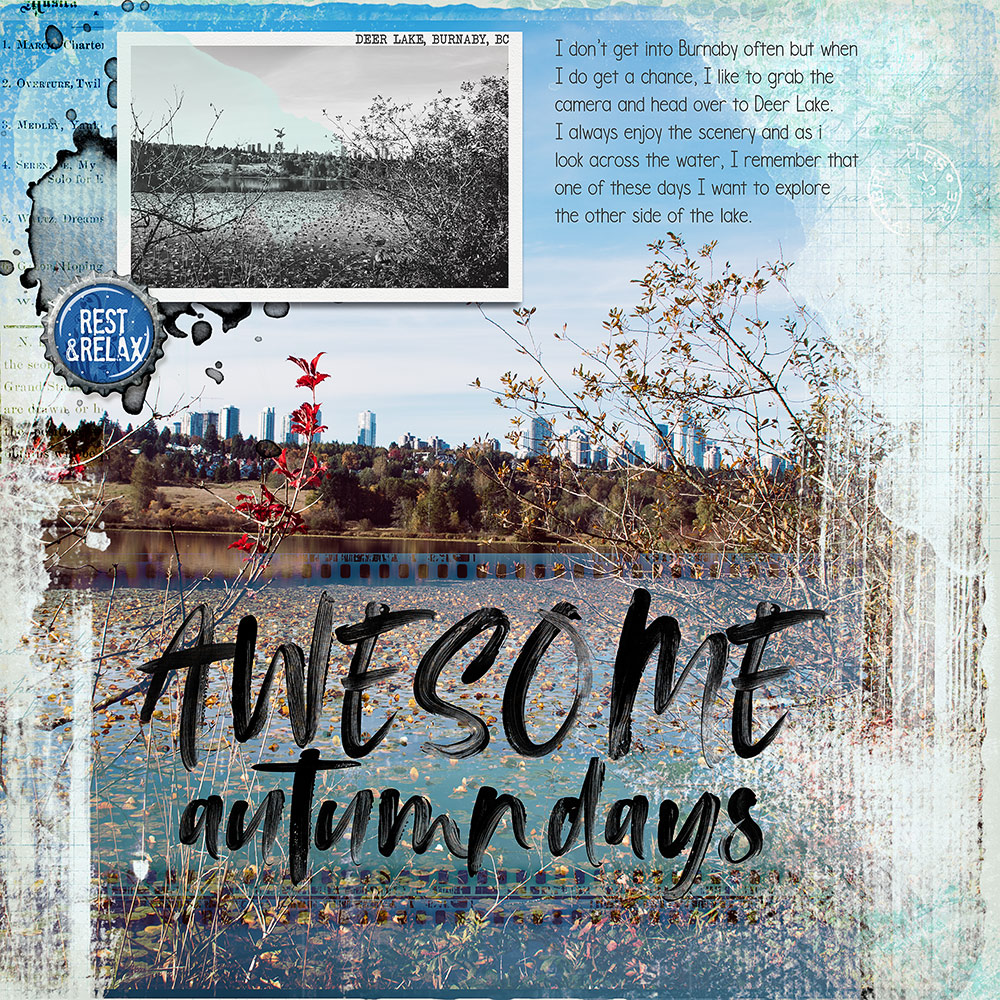 I love how Rae (bcgal00) took this challenge in a completely different direction. I love how she brought in the painted elements with the photo mask, title and brushwork and the blue with the bottle cap and skyline in the photo! Just stunning!
Rae used these products: Big Brushed Page Titles 03, Coffee Stains Brushes and Stamps 01, Colored Filmstrips 04, Curated Studio Mix Scrapbooking Kit 26, Messed Up Photo Blocks Brushes and Stamps 11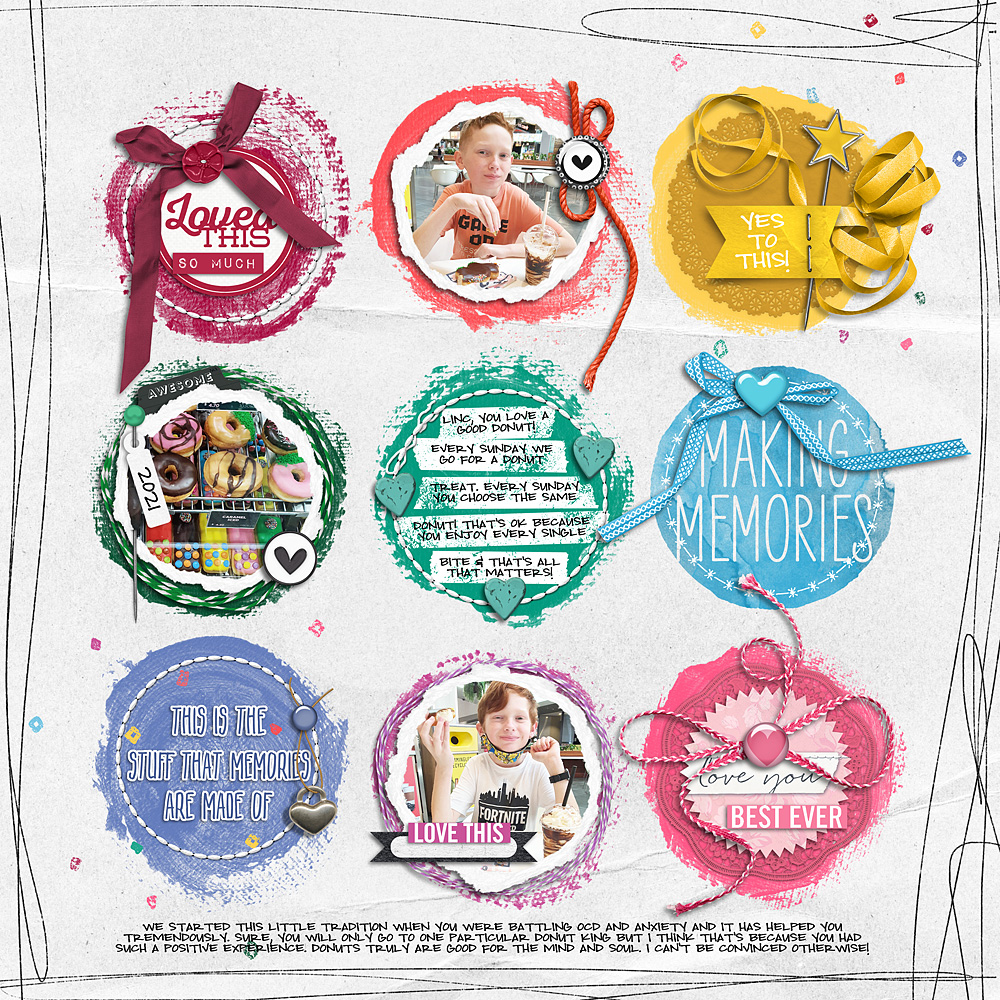 For me (tracermajig), it was the painted circles that caught my attention. I immediately thought of donuts! I also knew that meant for a very colourful page and a supply list that I would later regret! This is what I used: Bakers Twine: Lime, Bakers Twine: Plum, Black, White and Maroon Kit, Brilliant Life Element Pack, Brilliant Love Element Pack, Chalkboard Birthday Greetings Brushes and Stamps, Color Essentials Pink Ribbons and More, Cooked Element Pack, Curated Studio Mix Scrapbooking Kit 28, Curated Studio Mix Scrapbooking Kit 36, Doodledo Circles Brushes and Stamps 02, Finley Element Pack, Flair Minis 04, Journal Strip Stamps 02, Monthly Memories Element Pack 09, Mulberry Blossoms Mini Kit, Paint Spots Brushes and Stamps 01, Pinned Pearls 02, Scribbled Overlays 02, Sentiment Lines Brushes and Stamps 03, Spooktacular Solids Paper Pack, Spring Meadows Element Pack, Stitched Circles Clean and Messy: White 1 Value Pack, Torn Templates 05, Watery Dots 01
I hope you are inspired this month to join in on the challenge! I look forward to seeing everyone's creations in the iTunes Inspiration Gallery! Don't forget to update the November Challenge Pariticipation thread to earn store rewards!