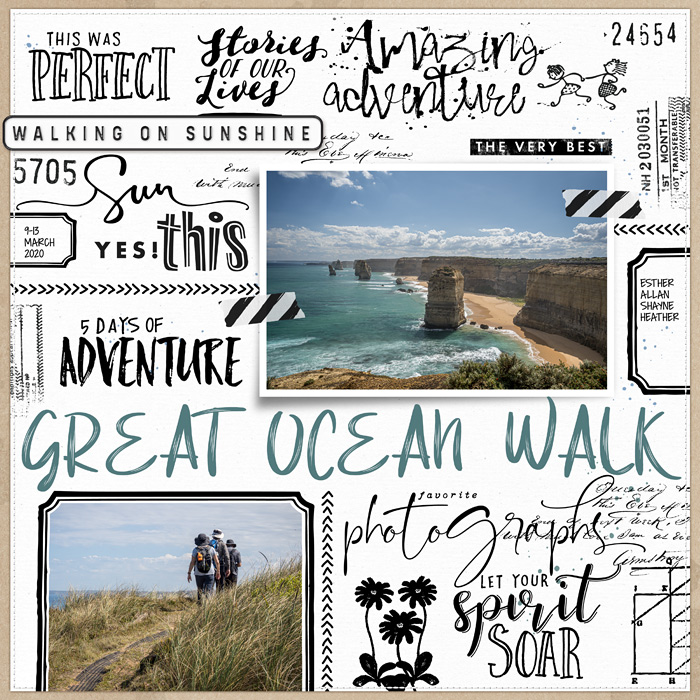 Wow! Do I have a MashUp Challenge for you this week! Our Creative Team has created five fabulous inspiration pages using these two element packed templates, which will be on sale this week::
The first page is Addie's, which starts with some very cute photos. I love the watery colors and textures in her background. She chose just the right frames and word art from the chosen templates to complete her page.
I love the way Jheri took the photo cluster from the Scattered Pictures Template and moved it to the corner. Combined with wordart from the Yes This template, this makes a great page!
Esther put together an energetic page for her album cover using lots of the fun wordart from the Yes This template. Esther's travel pages are always a treat.
For her page, Rachael added wordart from the Yes This template and papers in a vivid color combination to the frames from the Scattered Pictures template. Isn't this fabulous?
Our final inspiration page is from Terri. Don't you love the bold frames and wordart against that white space? I love how she put this together!
There you have five creative, clever and very different pages to give you inspiration for ways to mash up the chosen templates. Don't forget that these two templates will be included in this week's sale!
When you have completed your page, please post it in the Template Challenge Gallery for everyone to enjoy. And, if you also add a link to your page to the July Challenges Sign In page in the forums, you can earn a valuable coupon to the Designer Digitals store.