iTunes Challenge: September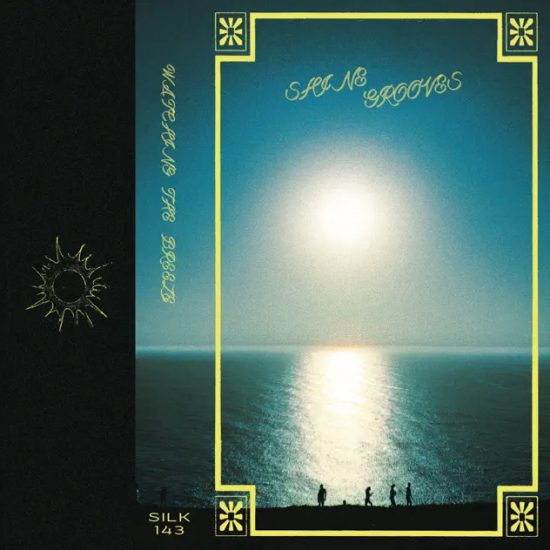 Hi friends and welcome back for another iTunes challenge! This month I (tracermajig) have some big picture inspiration for you and I hope you can play along!
On the surface this looks like a fairly clean design that you could quite literally scrap lift. However, I also think you could take just one or two elements from this design and make it your own! That's exactly what our team did and we all came up with quite different pages.
Check out below which direction the challenge took us in and I hope you feel inspired to join in! Katie has provided a freebie to get you started but it's not necessary to use it for the challenge.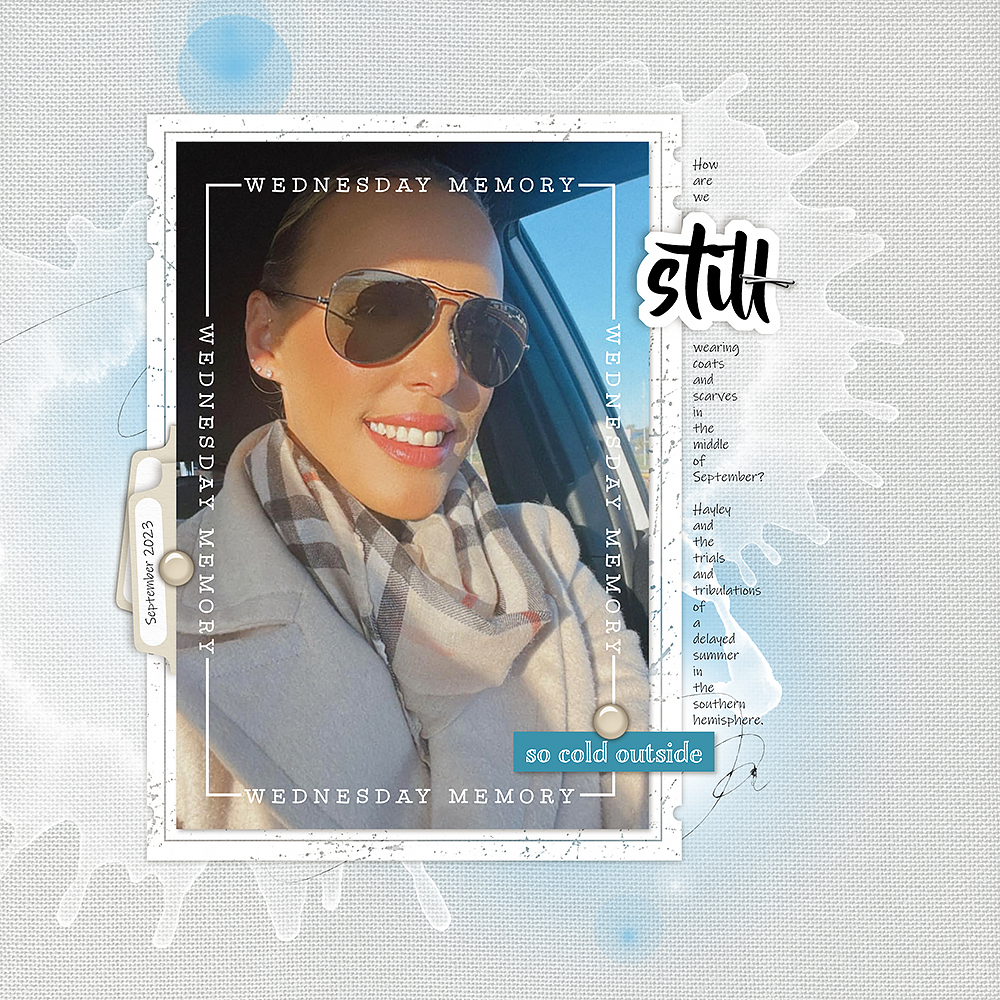 Liz (lizziet5) totally made this one her own! I love the way the All Around border frames her photo and the wonderful brush work in the background highlights her journaling!
Liz used these products on her page: All Around 4×6 Borders Daily Brushes and Stamps, All My Love Painted Layers, Coffee Stains Brushes and Stamps 01, Cut Ups: Winter 02, Lens Flare Brushes and Stamps 03, Plainly Woven Paper Pack 05, Scratched FilMasks Brushes and Stamps 01, Vintage Artistry Coral Ephemera, Vintage Artistry Sky Flairs, Watchet Element Pack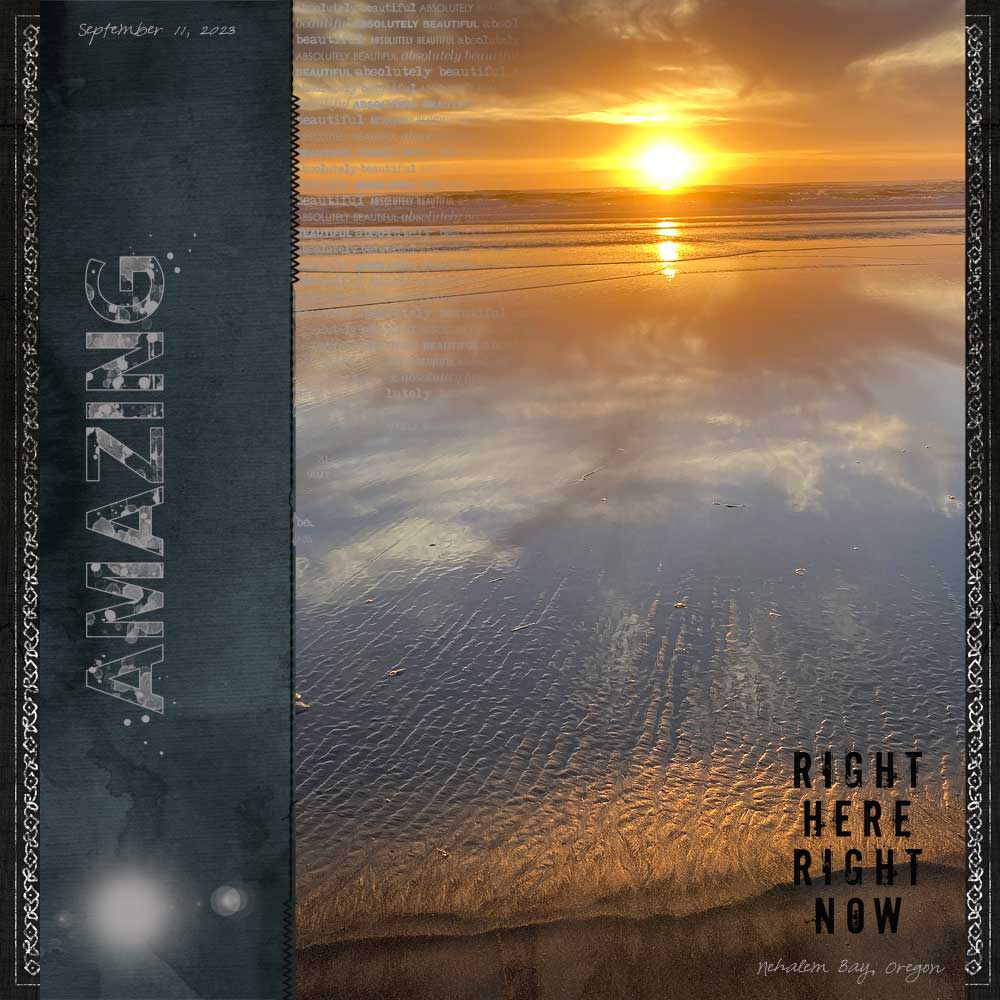 Stacia (stacia) had the perfect photo for this design! I love how she incorporated the stamped border and vertical title into her page. That beautiful sunset photo just glows against the dark background paper.
Stacia used these products on her page: ARToptions Viken Sentiment Transfers, Layer Works 1628, Lens Flare Brushes and Stamps 03, Palette Textures Paper Pack 18, Spectrum | Gardenia Sentiment Transfers 01, Worth Repeating Overlays 04,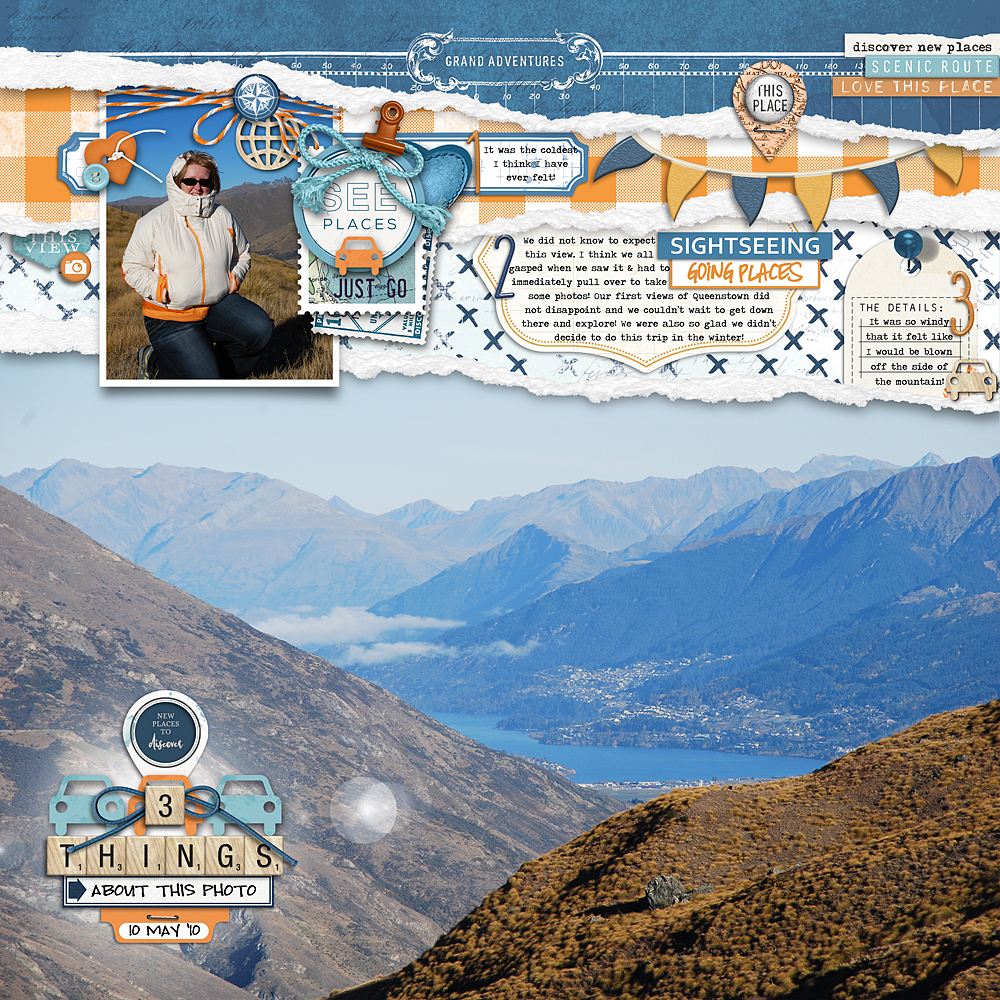 While I (tracermajig) love clean and simple scrapbook pages, I had to make this one my own style of page. I was drawn to the big photo design and flipped it on it's side to scrap a landscape picture. Then I went to town with all of the layers and elements and even added in an extra photo. In the end, it looks nothing like the album cover but that's the joy of inspiration, I guess!
These are the products I used on my page: Adventuring Travel Scrapbook Embellishment Pack, Away We Go Kit, Bakers Twine: Tangerine, Big Bottom Lift Classic Photo Frames 01, Book Bag Days Back-to-School Scrapbook Element Pack, Country Harvest Paper Pack 01, Lens Flare Brushes and Stamps 03, Metal Clip Assortment 03, Torn and Framed Layered Template 11, Vintage Artistry Everywhere Chipboard Bits, Vintage Artistry Everywhere Chipboard Words, Vintage Artistry Everywhere Ephemera, Vintage Artistry Everywhere Ephemera Plus Pack, Vintage Artistry Everywhere Epoxies, Vintage Artistry Everywhere Layered Clusters, Vintage Artistry Everywhere Page Layers 03, Vintage Artistry Everywhere Paper Pack 01
I hope we have given you some ideas and inspiration to play along! Don't forget to upload your pages to the iTunes Inspiration gallery and to also update the September Challenges participation sign in thread to earn your store rewards!
See you again next month!