iTunes Challenge: January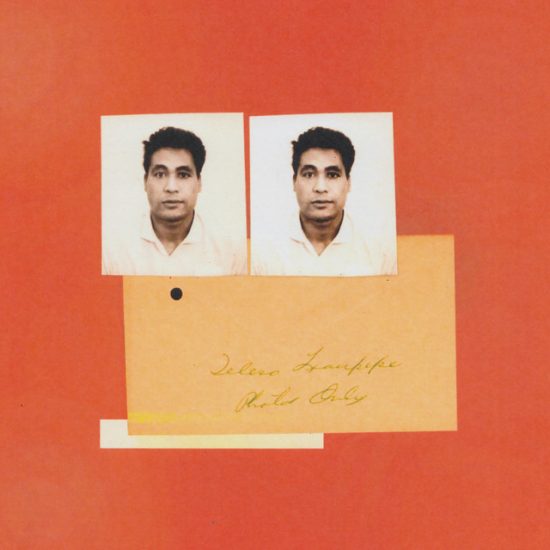 Hi everyone, Trace (tracermajig) here and welcome to the first iTunes inspiration challenge of 2023! 
I came across the inspiration for this one quite by accident as I was scrolling through my recommended music. I thought it was a nice, simple design to kick off inspiration for the new year. You could keep this one super simple or make it as layered and detailed as you like! It would also work great if you rotated it and had a vertical stack of photos.
Katie has provided a freebie to get you started but it's not a requirement to use it for the challenge.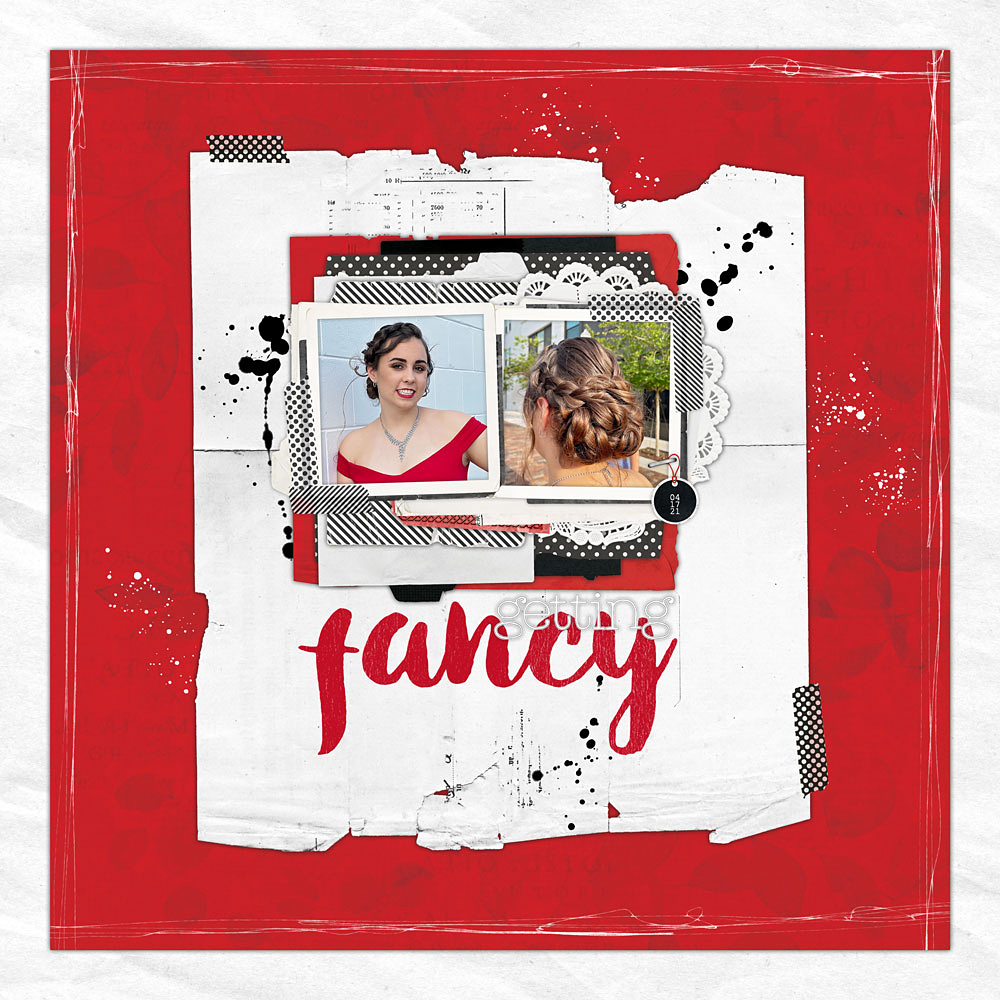 Linda's (earlofoxford) page is a great example of how you can use this inspiration piece as a jumping off point for a much more layered design. I love how she brought the red in as a solid background colour. The red and black make for such a striking page! 
Linda used these supplies to create her page: Arctic Whites Paper Pack, ARToptions Holiday Wishes Solids Paper Pack, Be Merry Element Pack, Chalkboard Christmas Element Pack, Cottage Charm Remnants, December Stories Roughed Up Pocket Cards, DocuStacks 03 Value Pack, Drop Shadow Styles, Lemon Twist Solid Remnants, My Vintage Valentine 02 Solid Remnants, North Pole Remix Solid Remnants, School Rules Element Pack, Scribbled Overlays 03, Simple Collage Frames 07, Smitten Element Pack, Splatters Brushes and Stamps 03, Splatters Brushes and Stamps 04, Vintage Halloween Washi Tapes 01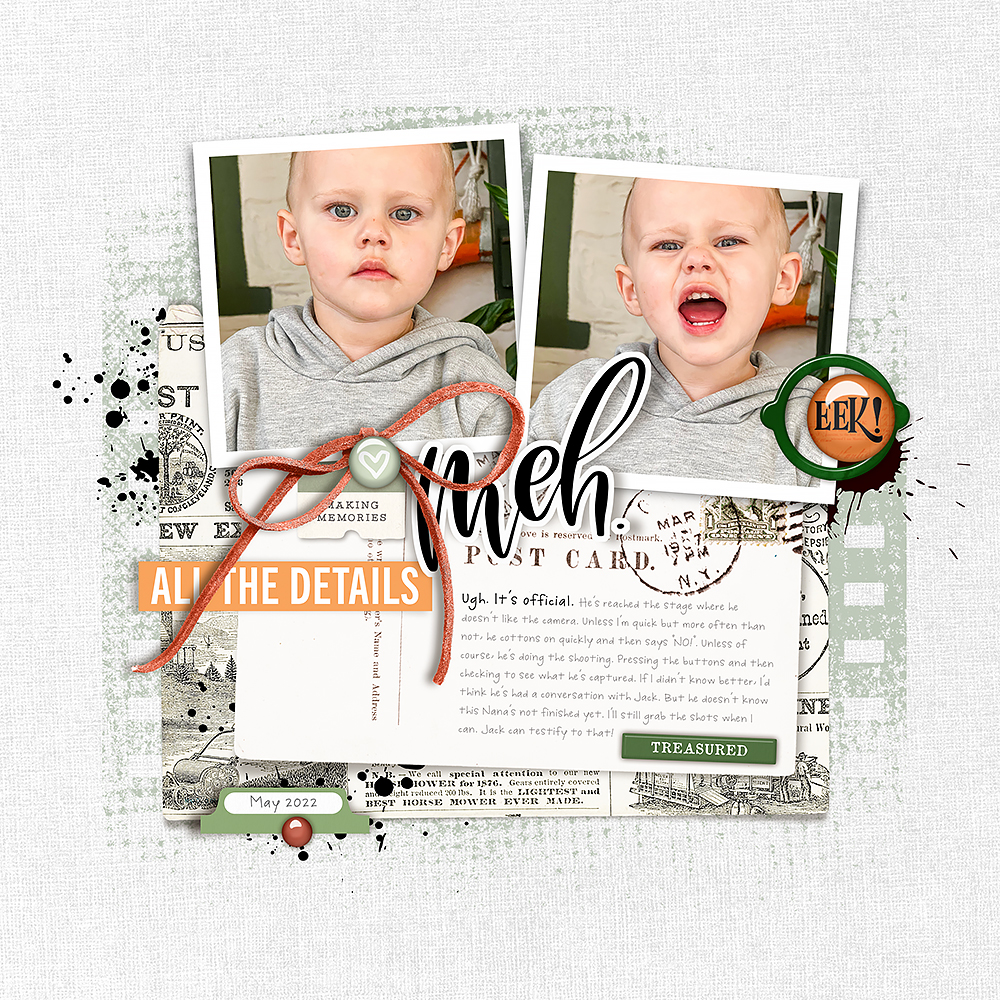 Liz (lizziet5) created a wonderful page to capture her grandson's recent dislike for the camera! I love how she let those fabulous photos take centre stage on her layout while also leaving room for lots of journaling! The elements she added all help tell her story in some way. I love the direction this challenge took her in!
Liz used these products on her page: ARToptions Alena Chipboard Stickers, ARToptions Plum Grove Chipboard Bits, ARToptions Plum Grove Ephemera Plus Pack, ARToptions Viken Ephemera, Cambrianna Element Pack, Clipped Stack Layers 16, DelMar Shores Element Pack, Filmed Photo Masks 07, Golden Seasons Solids Printable Paper Pack, Hand Scripted Brushes and Stamps 19, Lakeside Element Pack, Lakeside Flairs 01, October 31st Flairs, Spectrum | Sherbet Strawberry Lemonade Ephemera Plus Pack, Vintage Artistry Countryside Ephemera Plus Pack, Vintage Winter Woods Element Mix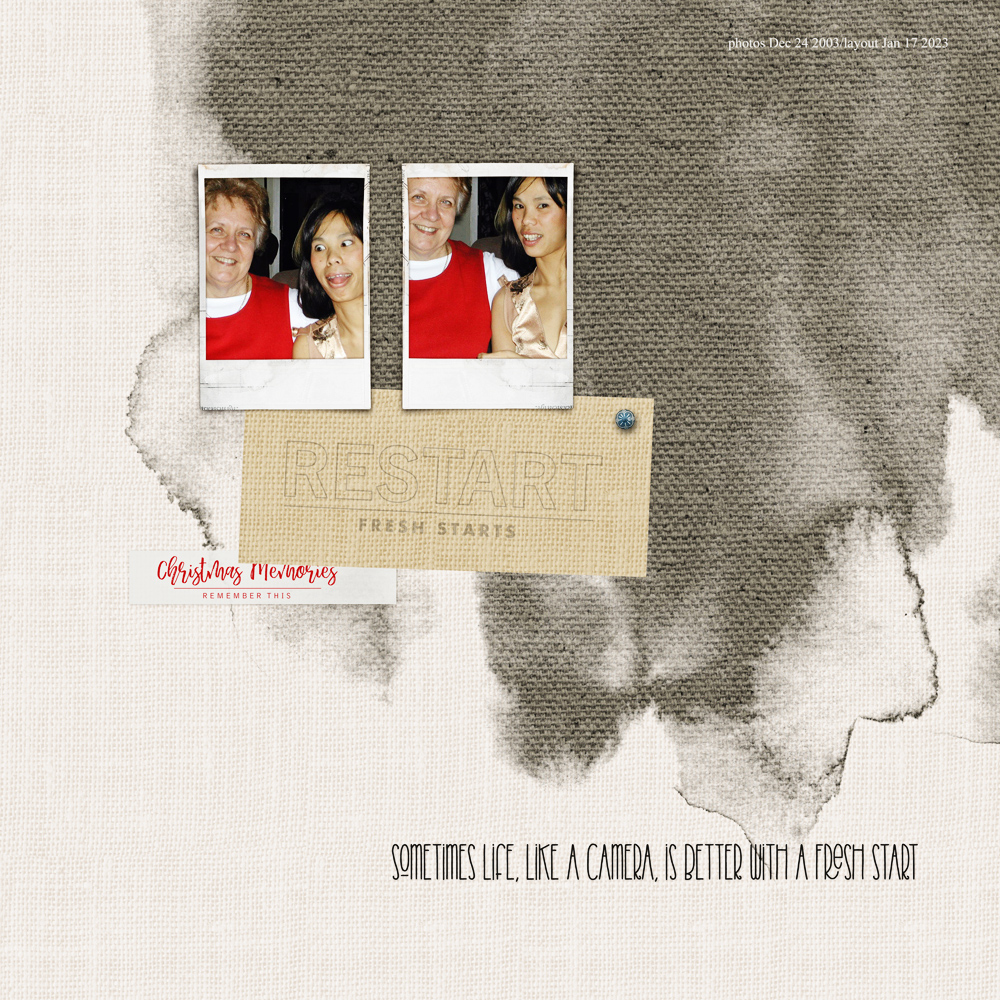 Maureen (maureenreynolds) shows how you can also create a minimalist page using this album! I think it works so brilliantly to let those photos really stand out. The images in the inspiration piece are quite serious and I love that Maureen was able to create a page using photos that are a lot more light hearted! 
These are the supplies Maureen used: Crowning Affair: Understated Solids Paper Pack, Deer Lodge Solids Paper Pack, Layer Works 1799, Partial Page Masks 09, Title Lines Brushes and Stamps 14, Title Lines 28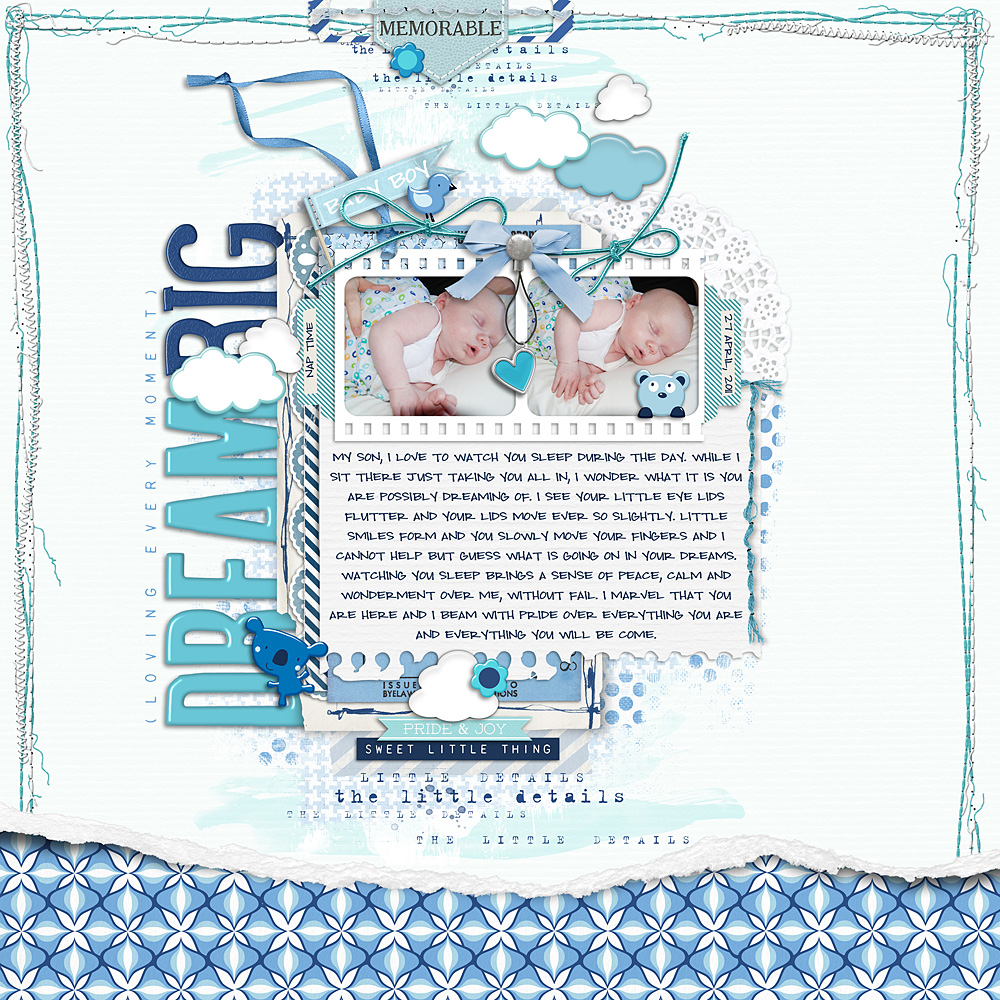 When I choose the album cover for the challenge each month, I never do so with a page idea in mind. I think it's fun to challenge my own scrapping style, too! So, I will be honest and say that I really struggled to come up with something for this one! I spent a very long time moving pieces around before this page felt like 'me'. I dare say it's because the album cover is very minimalist and my own personal style is quite busy and layered. I got there in the end though and I'm very happy! 
These are the products I used: Artistry de Azul Element Pack, ARTjournal Stories Layered Template 01, ARTjournal Stories Layered Template 02, Blue Bird Element Pack, Blue Bird Little Enamel Charms, Blue Skies Element Pack, Candied Christmas Scrapbooking Kit, Candied Christmas Solids Paper Pack, Cardstock Tabs 02, Coral Harvest Mini Kit, Curated Studio Mix Scrapbooking Kit 04, En Parens Brushes and Stamps 01, Hey There Border Strips, Inspiration Board Vol. 02 Layered Template 17, Inspiration Board Vol. 02 Layered Template 18, Leap Ahead Epoxies, Mango Skies Mini Kit, Messy Stitched Borders: Teal 01, Messy Stitched Borders: White 03, Party Pennant Sticks, Patterning Mini Mix 02, Roughed Up Pocket Cards: Striped 08, Textured Cardstocks Paper Pack 01, Torn and Framed Layered Template 03, Typewriter Clusters Brushes and Stamps 02
I hope you feel inspired to give this challenge a go! Don't forget to post your page in the iTunes Inspiration gallery and also update the January challenges participation thread to earn store rewards.