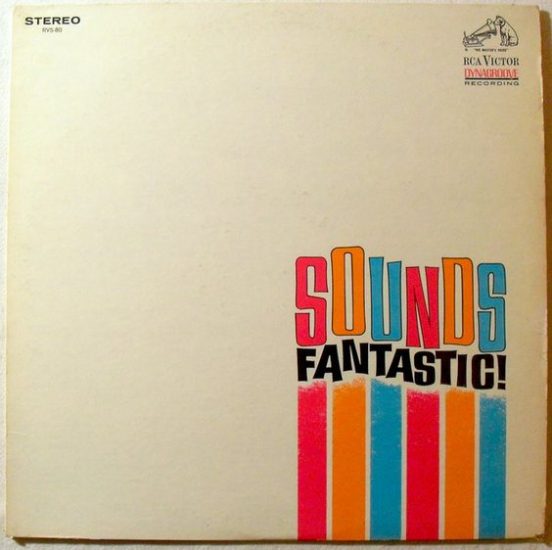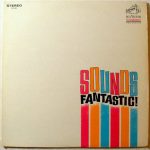 Welcome back to another iTunes challenge! It's Trace here again and I thought I would go for something a little different for August.
I went down a scrapbooking inspiration rabbit hole this month. I was browsing vintage record album covers and I was blown away by how many could easily transpire to a scrapbook page. I had a terrible time choosing just one!
I can see this going in a number of different directions. In fact, my brain is still going in a number of different directions and I have 2 pages half completed for this challenge!
My first thought looking at that blank canvas was a big picture layout. This would be a perfect design for those photos that you want to blow up. You could then add a title and some journaling strips to the white space of the photo and call it good. This would also work so well for a scrapbook album cover!
My next thought was how could I use those torn strips/stamps? I have a number of ideas for that!
You could turn them on their side and use them as journaling strips.
You could have strips of torn patterned paper. You could even 'stitch' them for added texture. My immediate thought was a rainbow of paper strips.
You could also 'paint' strokes onto your background. That would be a great way to play with colour, too.
How about using those strips as a mask for your photo?
Or 'cutting' strips out of your background and having a photo or patterned paper peak through?
Here is how some of our Creative Team were inspired! You may notice a theme – vacations and dogs!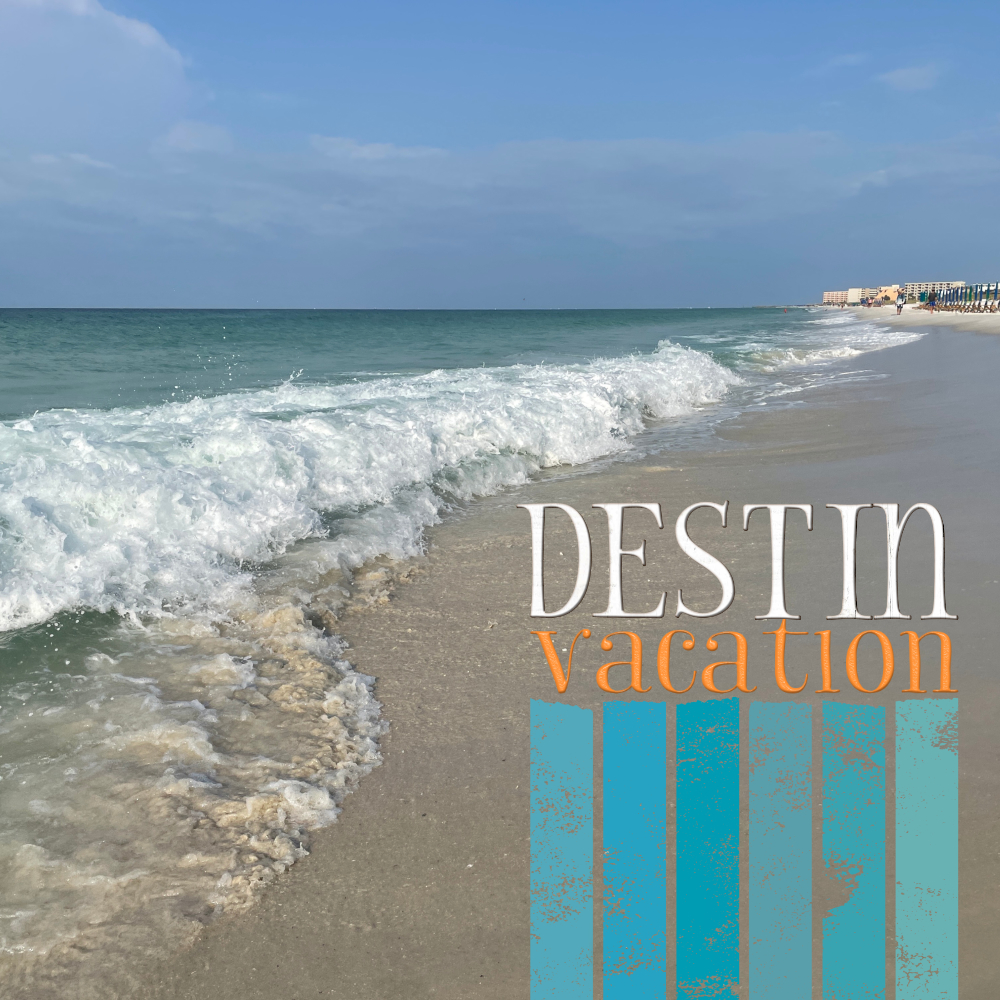 Monica (mosbaskets) used the challenge as inspiration for an album cover. I think that beautiful photo sums up perfectly what her album will be about! I also love how she re-coloured the journaling strips with different shades of beachy blues.
Monica used these products on her page:  Cadmium Gardens Alpha , Country Christmas Alpha , Journal Strips Stamps 2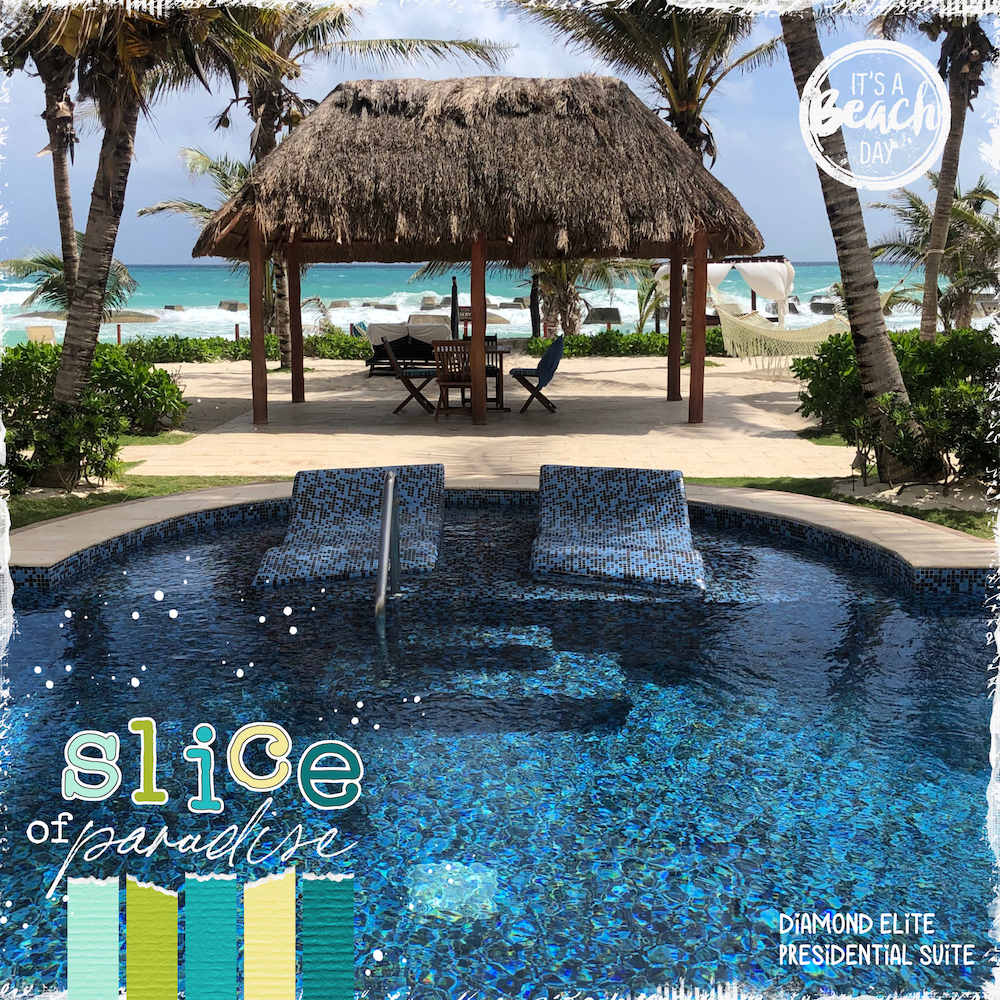 Cori (CoriK)also went for a large beach photo. She drew inspiration from the corner stamp, torn paper strips and bouncing title. I love how the torn strips point to the title! It really does look like paradise!
Cori used these products: All My Love Scrapbooking Kit (alpha), Edge Overlays 10, Patterning Palettes 02 Solids Paper Pack, Stamped Badges Beach Brushes and Stamps, Stamp Sets Vol. 02 Beachy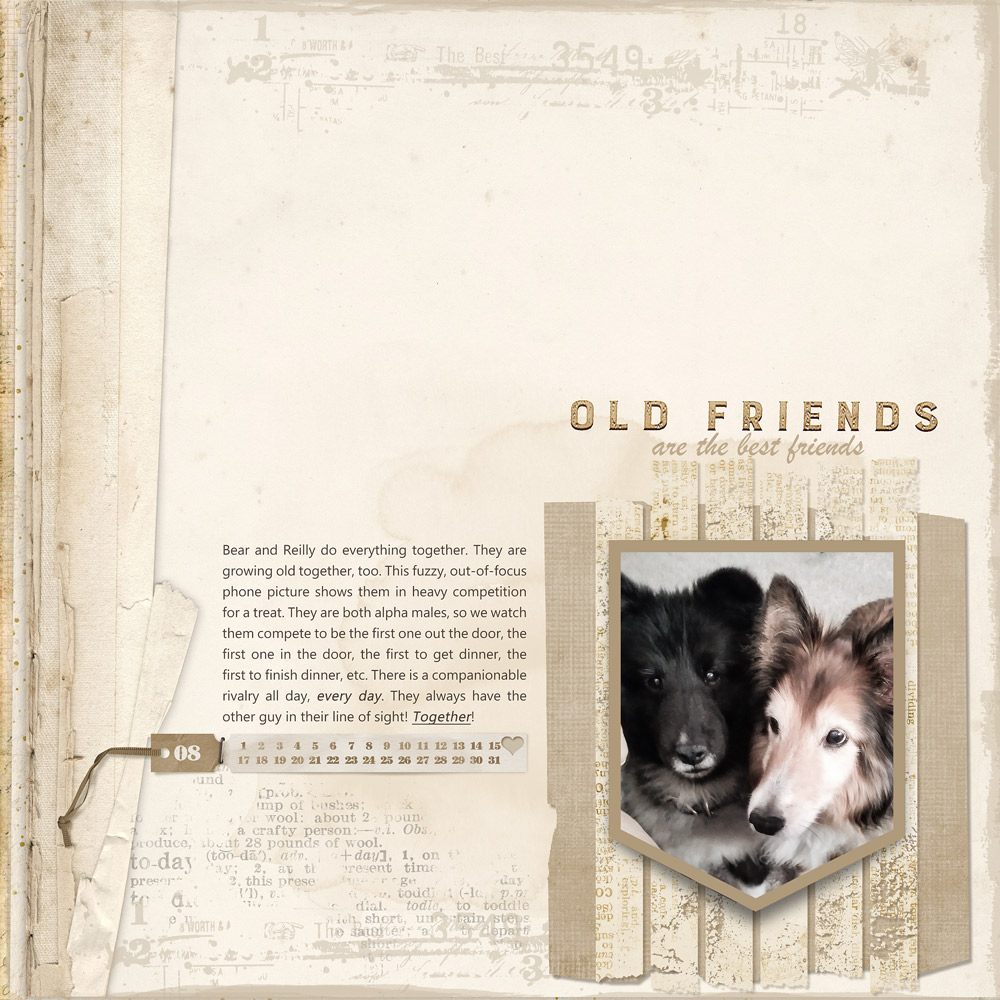 Julie (MaggieMae) was inspired to scrap with vintage products to tell this story of Bear and Reilly. The vertical strips of patterned paper really ground that sweet photo and the design lends itself to a lot of space for journaling.
Julie used these products: Blossom Add-On Paper Pack, Date Tags 05, Defining Grunge Brushes and Stamps 10, Ephemera Texture Clusters 01, Flagged Frame Layers 01, Journal Strip Stamps 02, TerraBotanica Add-On Paper Pack, Vintage Artistry Hike Remnants, Vintage Artistry Hike Solids, Watery Photo Masks No. 20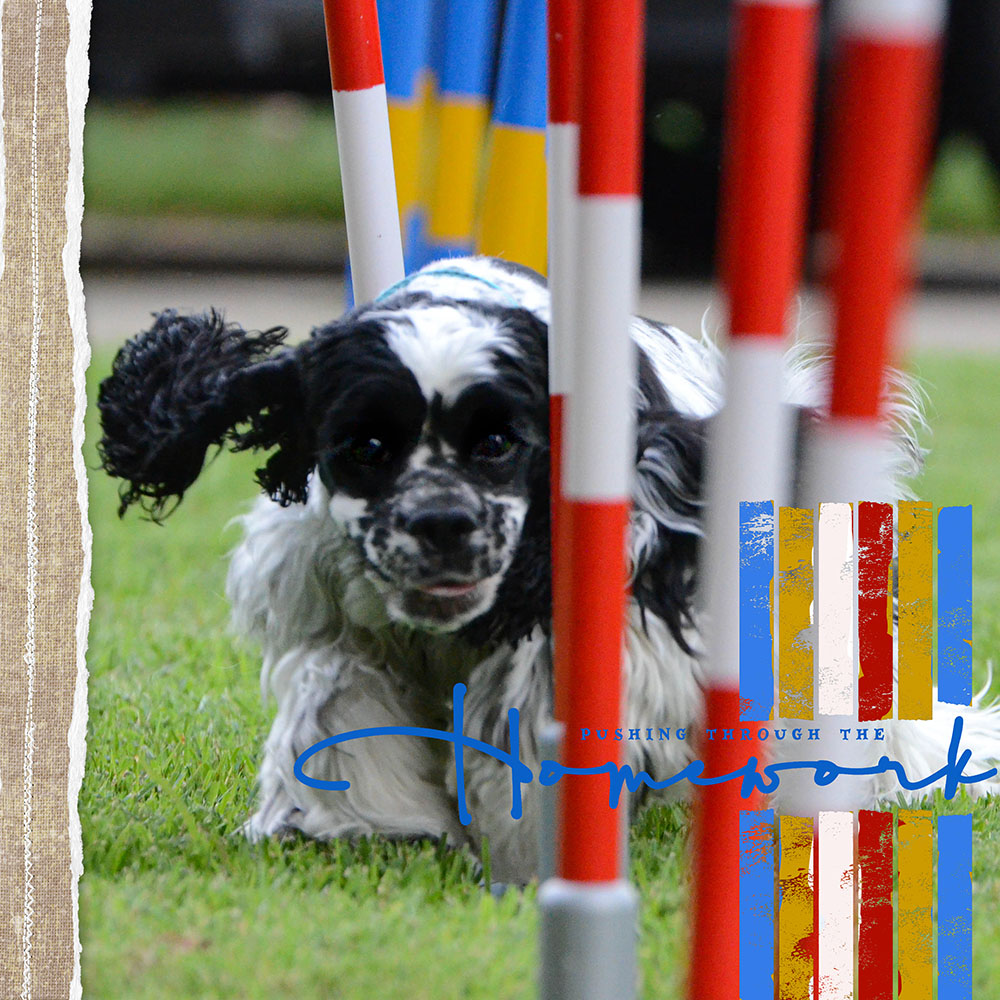 I love that Carol (oldbag165) kept this photo of Pippi weaving through the eave poles big! The painted strips look like a continuation of the poles in the photo. You almost feel as though you are right there watching her!
Carol used these products on her page: Sacked Solids 01, Torn and Framed LT 09, Typed and Scripted Stamp Pack 24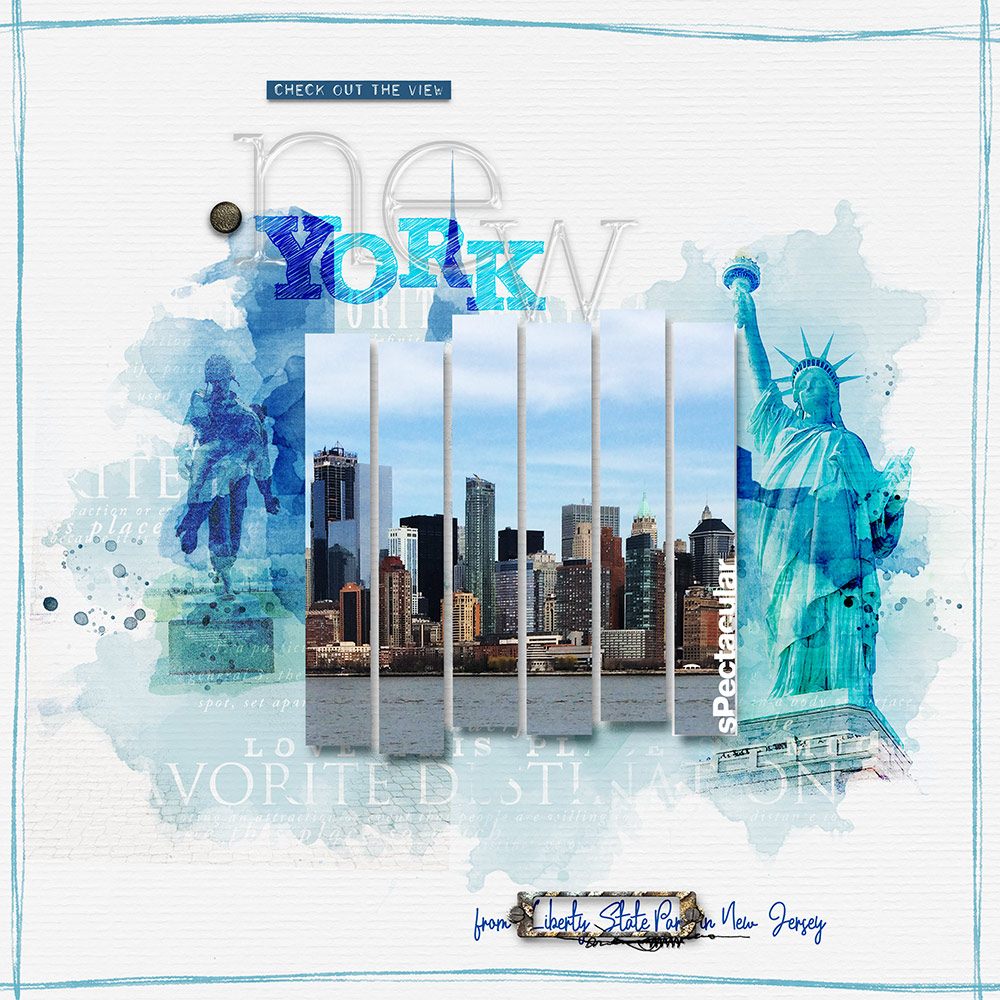 Kathy's (Blackkathy) page is a great example of turning your photo into strips. The strips emphasise the sky scrapers and the blended icons in the background really set the theme!
Kathy used these products on her page:  All Clear Alphabet 01, Between the Lines Alphabet 05, Blendables Layered Template 70, Blocked Out Photo Masks 05, Maybe Not Solids Paper Pack, Scribbled Overlays 04, Urban Bookplates
I hope you are inspired to scrap a page using this inspiration! Katie has generously provided a freebie to get you started! Don't forget to share your page in the iTunes Inspiration Gallery and update the August Challenge Participation thread to earn store rewards!