Template Mashup: Together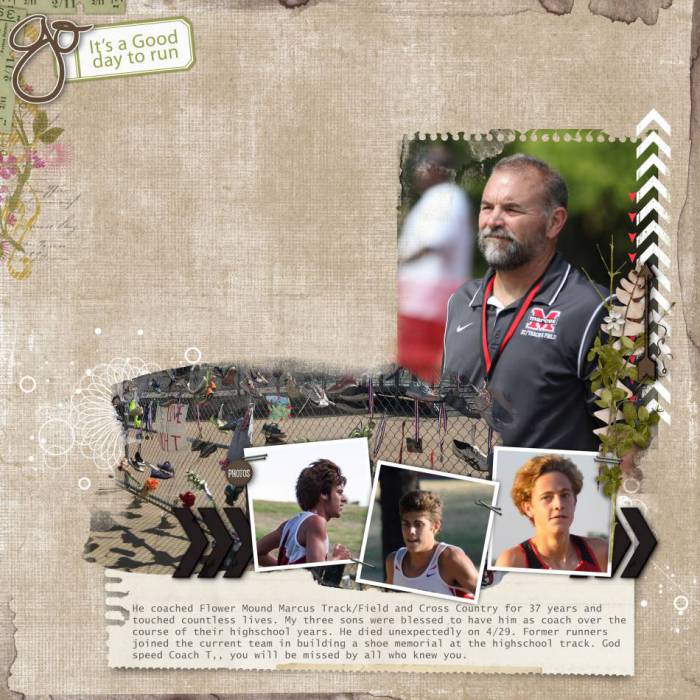 Merrilee planned this wonderful challenge, but she is having a computer issue, so I am posting for her.
From Merrilee:
When I found a sweet template with the word Together as the title, it reminded me of how creative we have to be during this time of sheltering in place due to the Covid-19 pandemic to stay in touch with family and friends. Each family unit in our family is staying home in their separate homes and my DH and I do separate drive-by visits to see them on their driveways. I really liked my first template's title, the three scattered photo frames and the lovely flower stamp.
My second choice of a template for mashing is Layer Works 795 which gave me plenty of interesting embellishments and a cool hanging photo frame for three photos for my mashup page. I hope you'll join me in using these two templates to create a new page. Remember, the two templates will be included in the Thrifty Thursday Sale.
I am so pleased to share wonderful examples from Erin, Candy and Kathleen.
Kathleen's page is a touching tribute to a beloved Track and Cross Country coach her sons loved and admired. His death leaves them missing him as a mentor and friend. I love the masculine feel of the page she created with photos of the coach, photos of her sons running and a poignant blended photo showing memorials left on the fence at the track.
Kathleen used ARToptions Krafty Paper Pack 03, Edge Overlays No. 11 and Watery Photo Mask Nos. 15 and 16 to complete her page.
Candy's page features photos of two sweet sisters wearing backpacks as they head off to school. She added words to the song You've Got a Friend in Me to complete her lovely page. I loved that there is a photo layer that gives a glimpse of the bright orange school bus, too.
Candy used Book Bag Days Back to School Scrapbook Kit, Big Bottom Lift Classic Photo Frames No. 01 and Roughed Up Notebook Paper Pack No. 03 to complete her page.
Erin artfully combined all the frames from the two templates. She filled the hanging frames with patterns and the three scattered frames with photos of three of her sons walking together. Very sweet!
Erin made good use of elements from the templates plus papers and elements from the Marlow Kit.
As I said, my own page is about families keeping together separately in their own homes. I used WaterColor Sketchbook No. 01 Solids for my background paper.
When you take part in this challenge, post your page in the Template Challenge Gallery. Also, be sure to add your page to the Rewards Participation Thread in the General Forum so that it goes towards determining your discount code to use in the DD store. Thanks for stopping by the Blog. Happy scrapping!