Story Scrapbook Challenge: Visits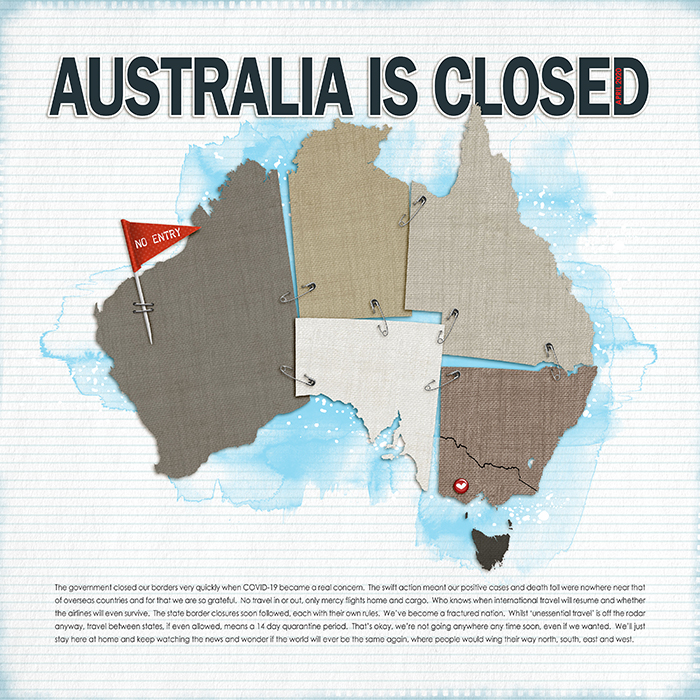 Holidays, trips, vacations – well whilst we might not be doing any tripping whilst in isolation and social distancing – how about we at least TALK about holidays, trips and vacations.
How about grabbing a fun photo from a previous trip and revisit it, the sights, the sounds, the foods, the company, and just enjoy for a brief moment whilst you take that trip down memory lane and scrap a page.  Are you dreaming of your next trip when life gets back to normal?
Or maybe you would like to document these times amongst your precious family pages.  Have you been disappointed that a long awaited trip has had to be cancelled?  Or are you on tenterhooks with the timelines – is it/or is it not going to happen?  Have you been caught up on flights being grounded and trying to get yourself or a loved one back home to you?
So whether you story is a happy one or a sad one, let's talk about holidays, trips and vacations, any way you'd like.  Buckle up your seatbelt and lets get scrapping!
The creative team have jumped on board with some terrific example pages, each of us diving into the subject from a different angle, which is what I love about the story challenge.
Firstly Shannon an intrepid traveller has had to cancel so many of her trips this year.   There are so many people like Shannon with plans both cancelled and up in the air.  I'm sure many will relate and this may spark something to scrap about your own cancelled plans, as sad as that is.
Supplies Shannon has used:  Watercolor Sketchbook Kit,  Watercolor Simplicity Layered Template No. 02,  Vintage Artistry Natural Stack Layers,  Let's Do This Brushes and Stamps.
There was no travelling for Amy for her birthday this year, one I'm sure she'll remember.  She documents beautifully how whilst her traditional birthday celebrations were out the window, that she had a lovely birthday anyway due to the beautiful friends and family she has.
Supplies Amy has used: Scattered Pictures Layered Template No. 13,  Watercolor Sketchbook No. 01 Brushes and Stamps,  Watercolor Sketchbook No. 01 Dots and Stripes Paper Pack,  Watercolor Sketchbook No. 01 Paper Pack,  Watercolor Sketchbook No. 01 Solids Paper Pack,  Watercolor Sketchbook No.01 Element Pack,  Painted Swirls No. 01,  Edge Overlays No. 07,  Letter Box Simplicity Paper Pack No. 01,  Letter Box Essentials Paper Pack No. 01,  Fall Brilliance Element Pack,  Good Day Flairs,  Everlasting Element Pack,  Everlasting ReMix Element Pack
And finally for my page, I've decided to document the state of travel (or lack thereof) in my country right now.  Who ever would have thought this would have happened?
Supplies I have used:  Australia and New Zealand Maps Brushes and Stamps,  Sacked Solids: Neutrals Paper Pack,  Edge Overlays No. 04,  Blue Bird Element Pack,  Bunny Slope: Blue Add-ons Paper Pack,  Flair Minis No. 01,  Watery Washes No. 03 Brushes and Stamps,  Krafty Tags: Holiday,  Splatters Brushes and Stamps No. 03
The team at DD have generously provided a freebie to help you on your way, the link is good for the entire month of May.  I hope the goodies inspire you.   I am really looking forward to reading all the stories this month.
Post your pages in the Scrapbook Challenge Gallery and don't forget when you use ALL DD product on your challenge page you should post a link of your page in the May Challenge Participation thread so that it will count toward your savings in the rewards program.  Everyone's a winner!