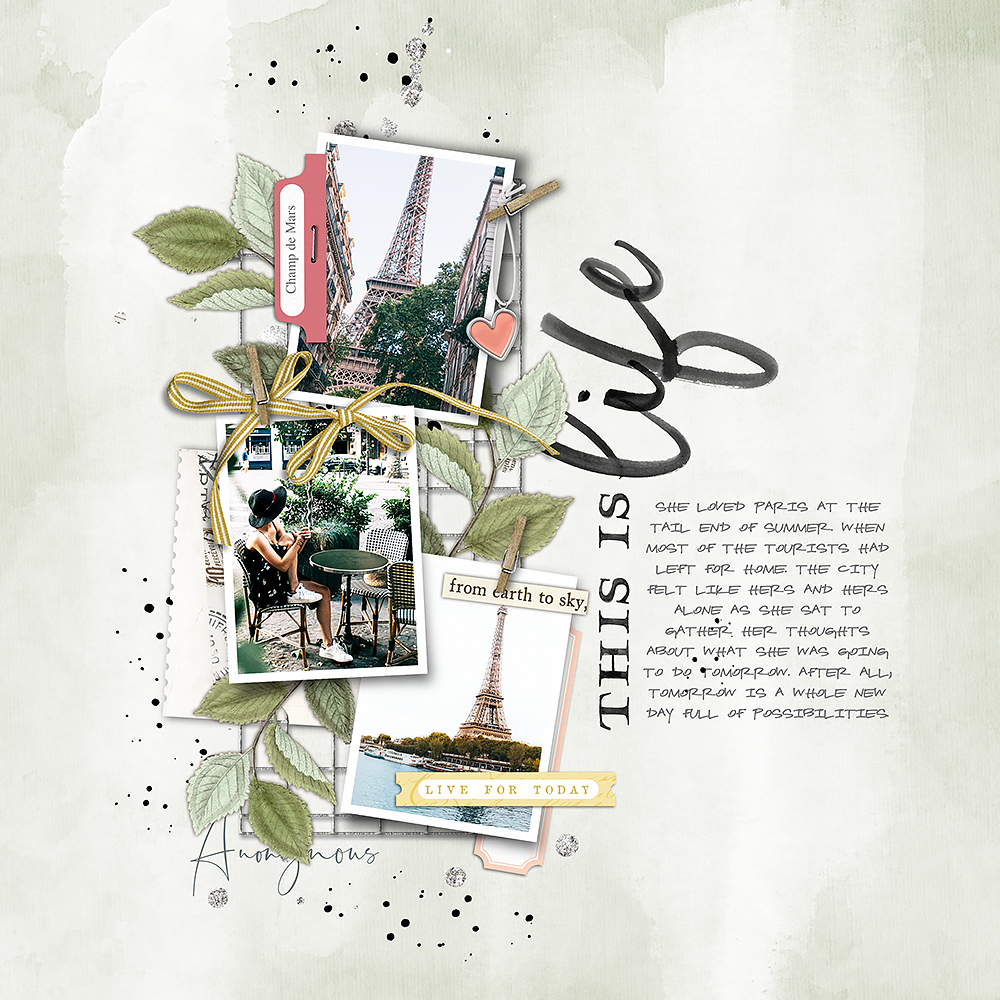 Template Mashup Challenge: Life
Hello everyone! I hope you are ready to try a new Template Mashup Challenge for April. It's easy and fun. All you have to do is combine parts of the two featured templates to create a new original design of your own.  You add your own choices for background paper and any additional elements you might choose to complete your page. I usually stick with what's included in the two templates, but, that is entirely up to you if you want to add from other kits from your stash of Katie Pertiet Designs.
Here are the featured templates for this Challenge. Inspiration Board Layered Template 03 and Layer Works 1277! They will be included in this week's sale which makes them a great buy because templates like this are so useful and can be used again and again in a myriad of ways.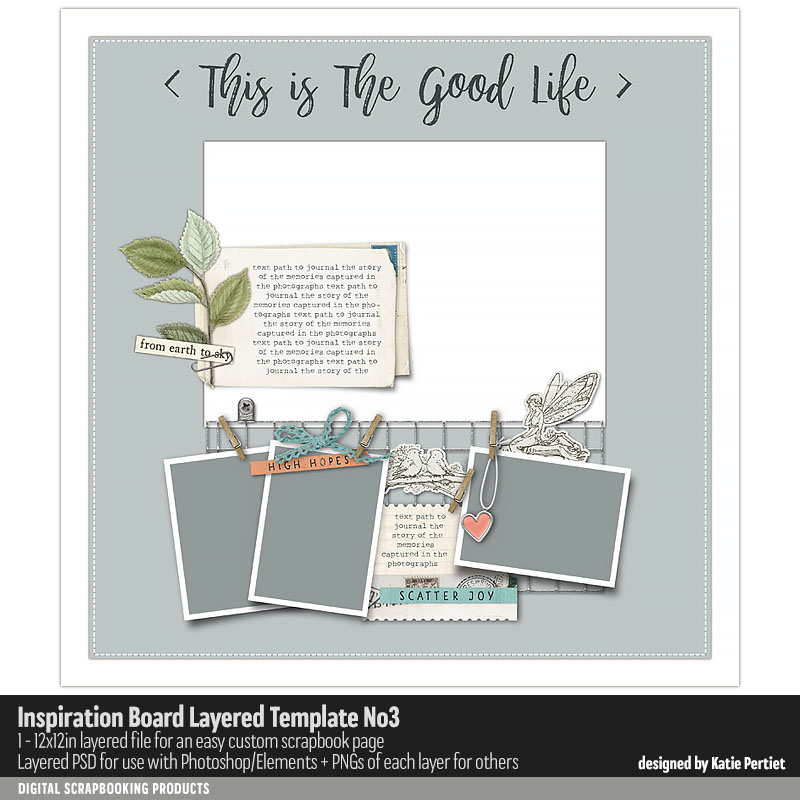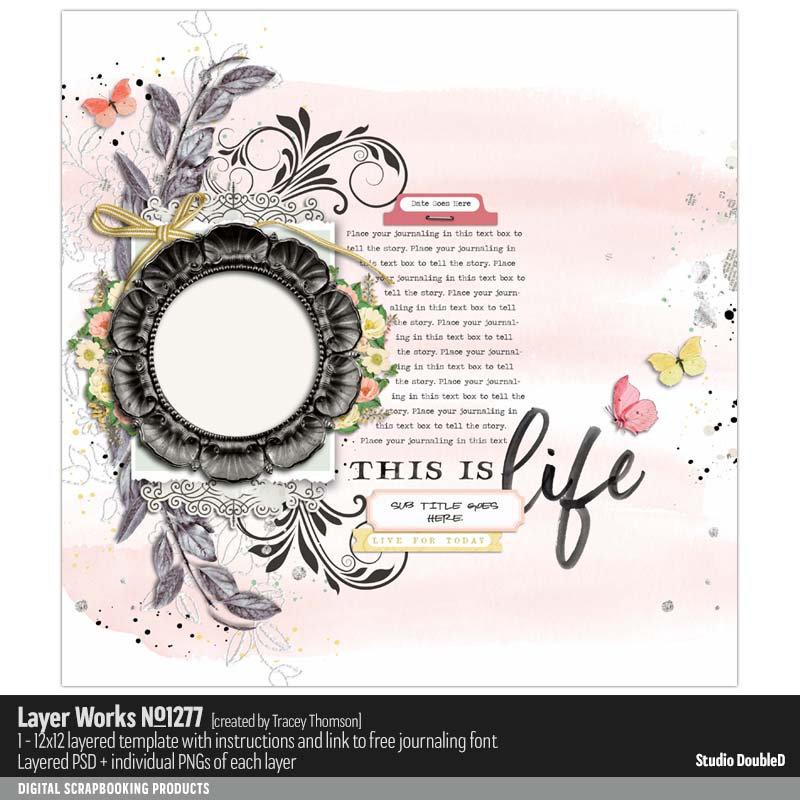 As usual, members of the Creative Team and the Guest Creative Team provided examples using the templates for your inspiration.
Liz (aka lizzyt5) cleverly created a vertical design with three cascading photos placed on layers of leaves and the wonderful grid from one of the templates. Her background paper is from Palette Textures Paper Pack No 27.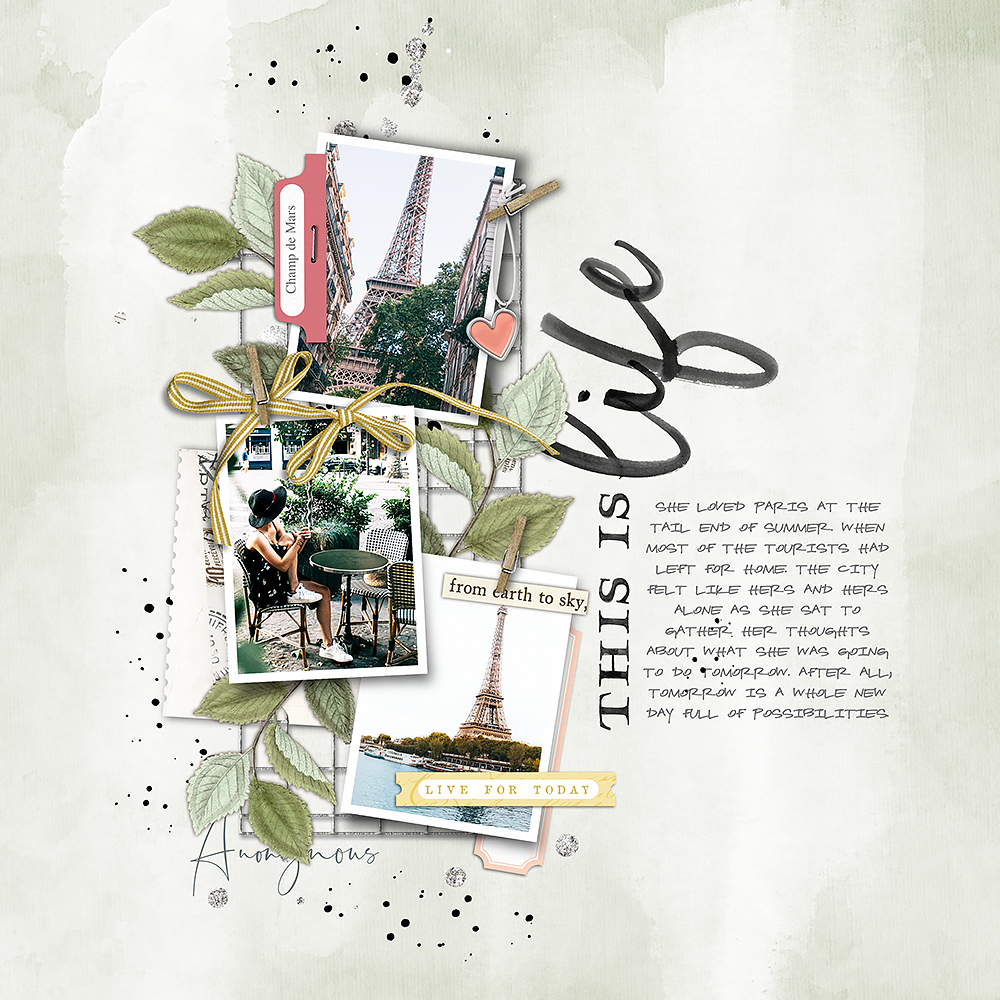 Jheri's page combines the fancy circular wooden frame from one template with a smaller snapshot type photo frame from the other template for a tribute to a wonderful great grandmother in her family.  Note how she added the sweet woodland fairy next to the snapshot of the three adorable children. Her pretty background paper is from the Cottage Fields Paper Pack No. 01.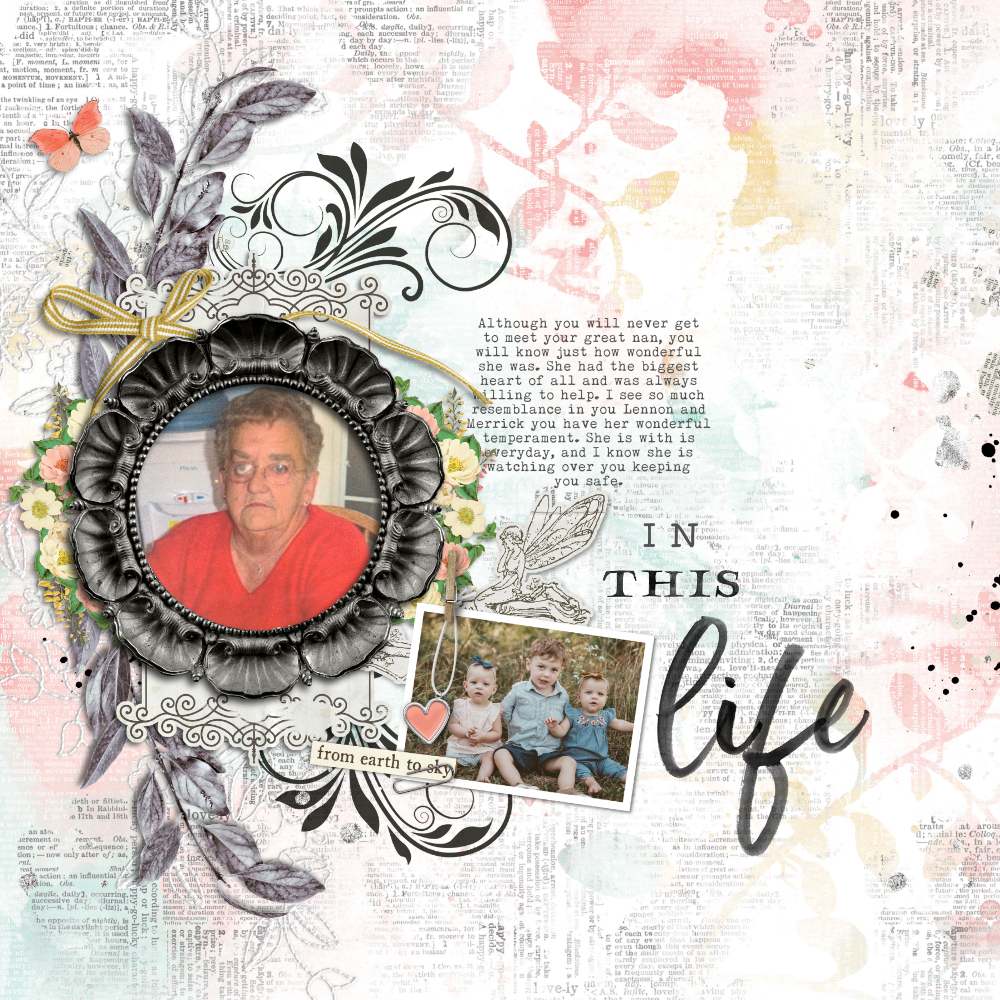 Kate's (aka OKate) example shows another clever way to use the circular frame with a closeup photo clipped to it, and, of course, a gorgeous large photo set against a lovely pink background. The white stitched flower pattern really shows up beautifully against the pink. In addition to Palette Textures No 09, Lightly Linens No 16 and Botanical Colors Pink Paper she added a title from Watercolor Page Titles No 20.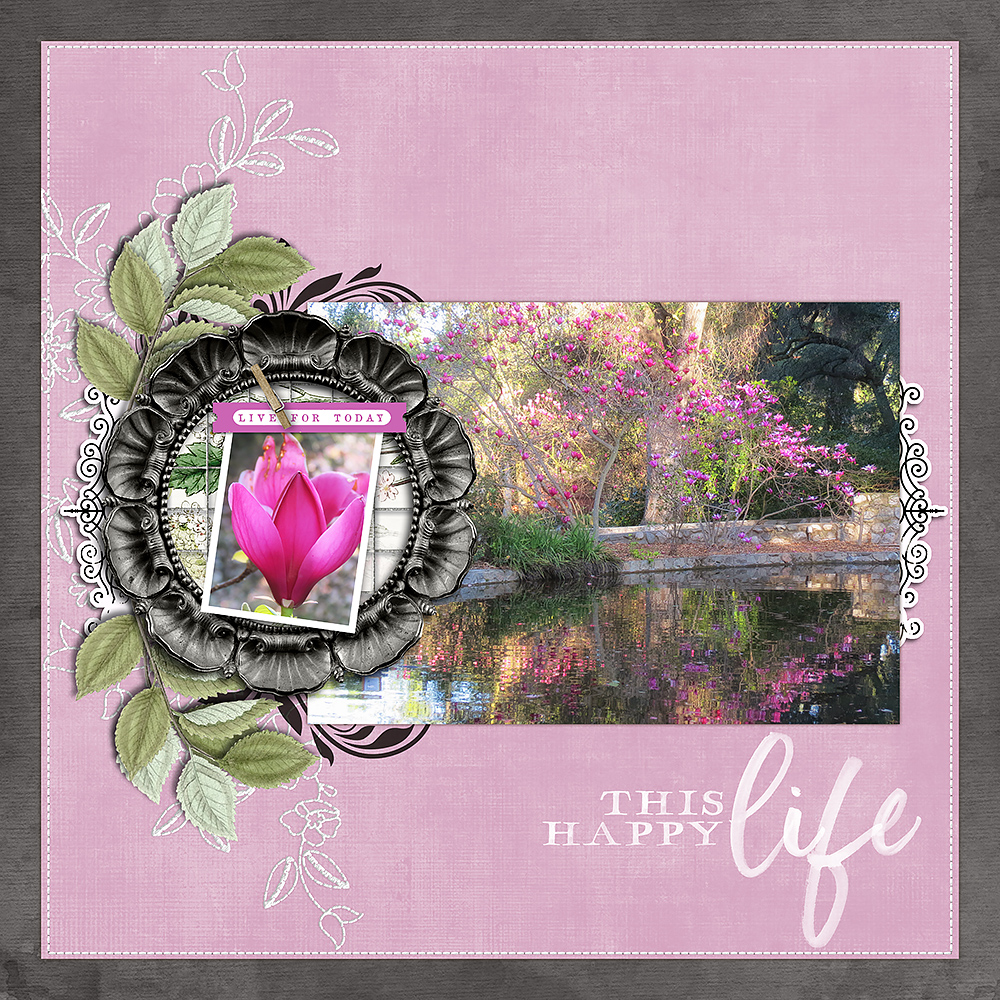 For my, Merrilee [aka digigrandma], example, I had fun using the clothes pins to pin embellishments to the grid and I also used the circular frame for my photo.  I found plenty of splatters and leaves and brushwork in the two templates to complete my page.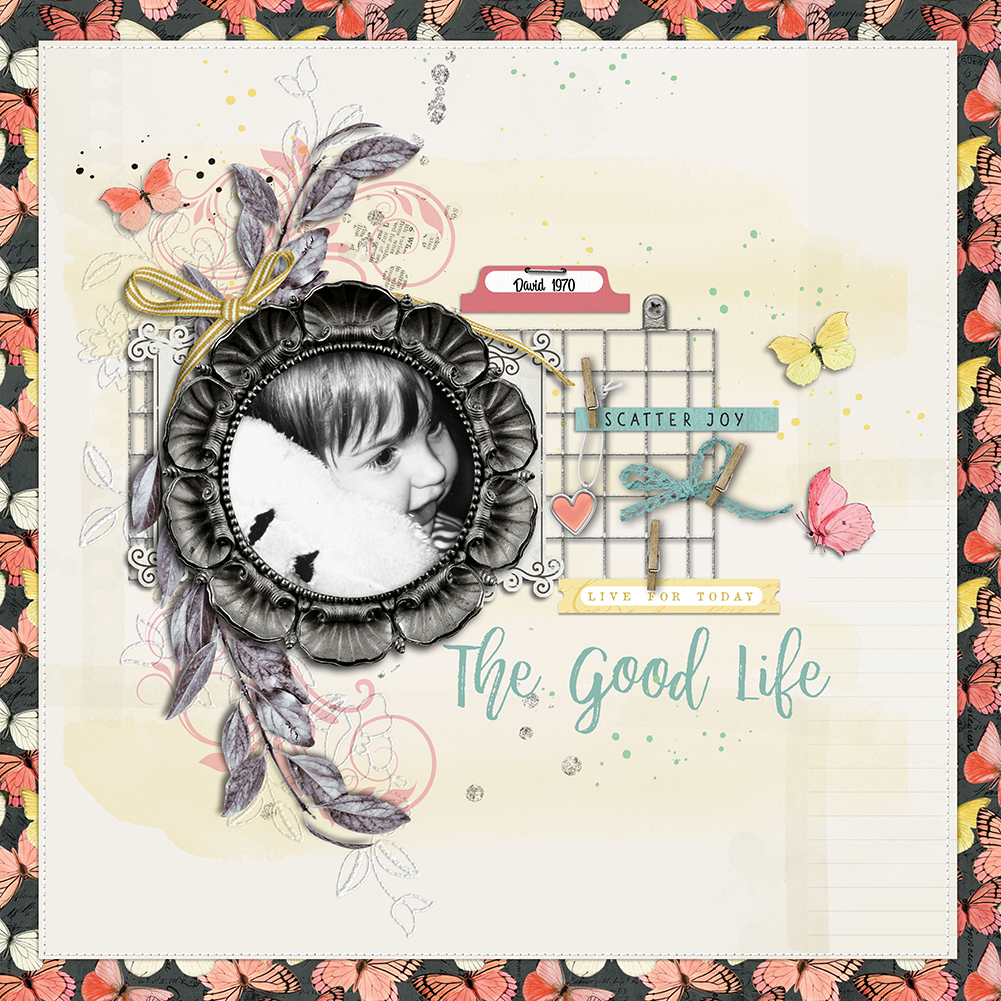 How will you mash the templates? I hope your head is swimming with ideas! Please post your layouts in the Template Mashup Challenge Gallery for all to enjoy. Don't forget to also add your page to the April Challenge Participation Thread in the Forum to earn a discount coupon code to the KPD store. Thank YOU!