Story Scrapbook Challenge : Take me away
Hi, it's Carol here with my favourite time of the month – the Story Scrapbook Challenge.  This month I'm saying take me away!  Have you ever thought that, dreamed of somewhere you've been before and want to go back to?  Where would you go?  Who would you take?
Would you love to stand on the same sandy shores?  Stay in the same accommodation?  Eat at the same restaurant?  A special someone you want to see again?   See those same sunsets?  Recreate a honeymoon, or a country from your gap year, or family holidays at the cabin?  Is there a place you go time after time and just want to keep going back to forever?
Was it the views or the vibe or the food that makes you want to revisit?  Let's reminisce and maybe this could be the first step of a dream coming true.
And if you don't have a particular place you want to go back to, is there somewhere new you are hankering to tick off your bucket list?  Or another part of a country you've visited that you want to explore?  Is there a state in your own country you really really want to visit, and why?
I am happy to armchair travel with you all, I have a bevy in hand and my feet are up, so take me away!
The creative team have jumped on board with some terrific example pages:
Julie aka MaggieMae tells us the story of an anniversary trip where they were stuck in the middle of a cyclone. I do hope they get back there one day to see the gorgeous Fiji as it needs to be seen.  Paradise Lost on that occasion indeed.  Love all the little items in this page, including what looks to be a scan in the top left of something from her stay.  What a treasure the page is.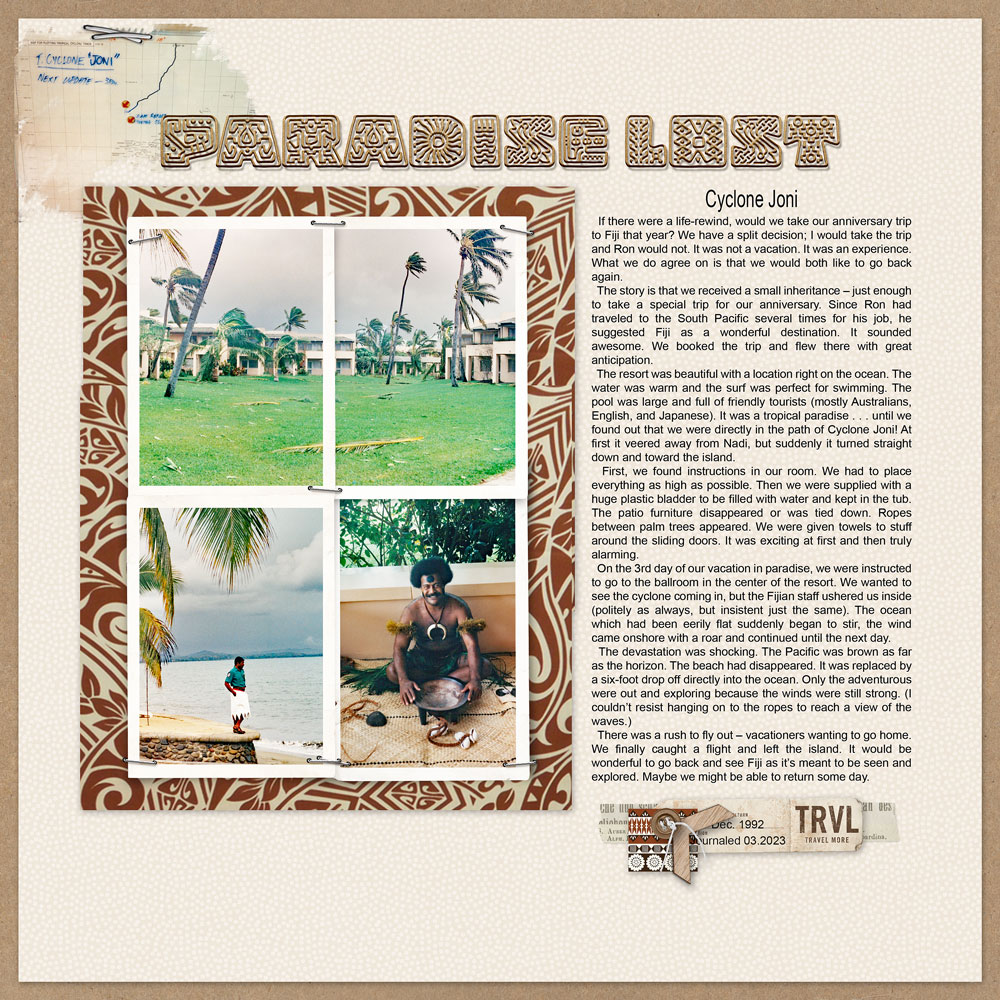 Items Julie has used:   Photo and Journal Clusters 05,   Krafty Guys Paper Pack,  Cute Mini Mix 01,   Vintage Mini Mix Kit 07,   WashiTapes: Bookshelf 01,   Fastener Basics 01,   Anzio Element Pack,   Photo and Journal Clusters 05.
Shannon aka shannonroller also played along with this challenge and tells the story of going to Punta Pescadero a number of years in a row.  She reminisces about what it was like back then, and one of the trips with their children along.  The addition of the key element is perfect when you read the story.   It sounds like a magical place, off to get an atlas to see where it is.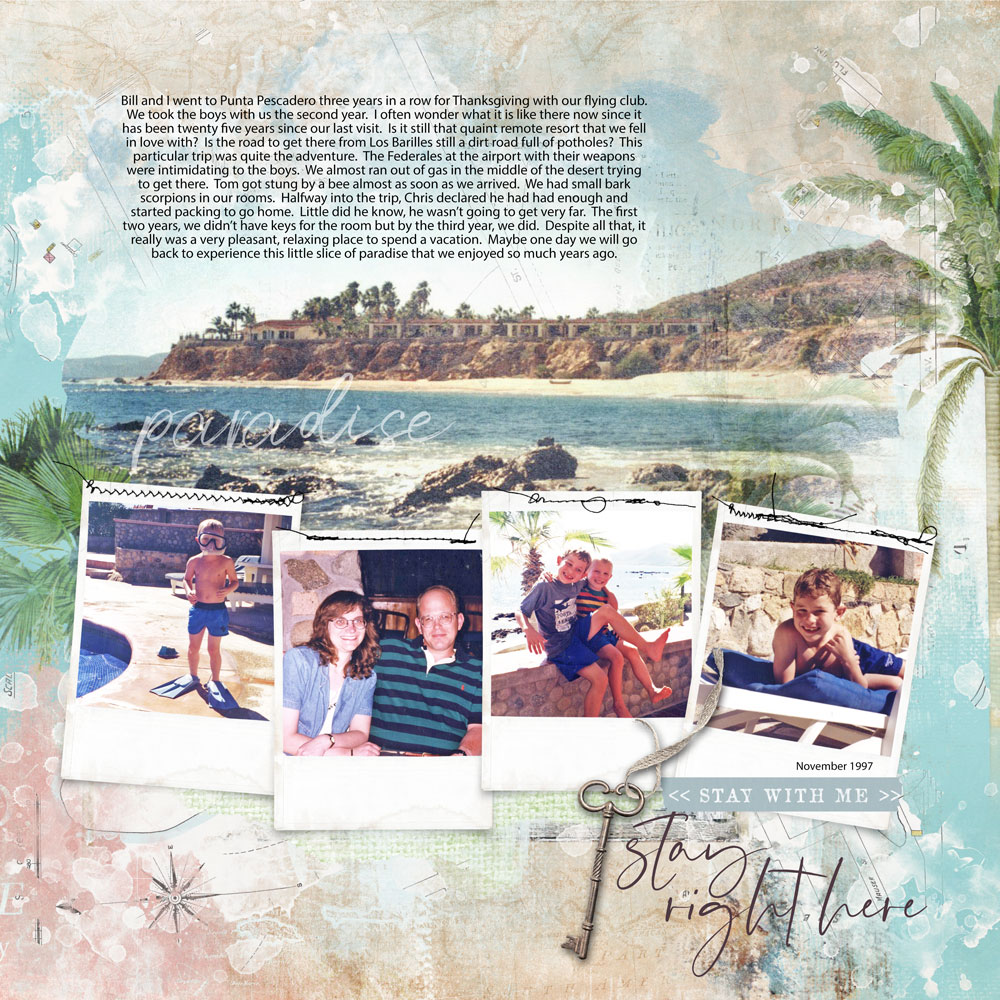 Supplies Shannon has used:  Frame and Blend Vol. 04 No. 03,  Vintage Artistry Beached Bundle.
And for my page aka carollee I am reminiscing about the English leg of a trip I took pre-husband.  I absolutely loved the castles in England and whilst I paid due respect to these incredibly old structures, I just imagine now what it would be like to go again with a history buff like my husband.  I've planned a whole trip around it in my head.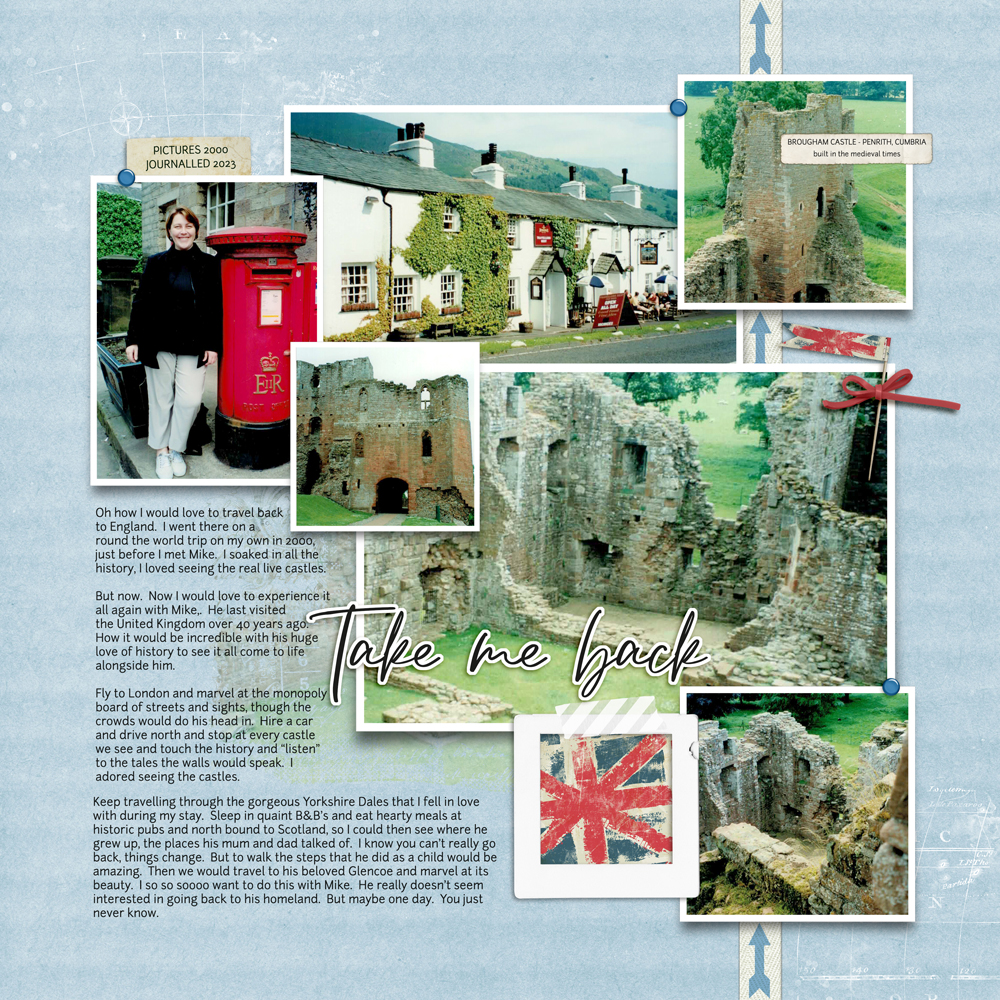 Supplies I have used:  Scattered Pictures Vol. 03 Layered Template 02,  Astro Solids Paper Pack,  Double Decker Kit,  Double Decker Paper Pack,  Watery Maps Brushes and Stamps 02,  Flair Minis 01,  Deckled Edge Journal Spots 01.
The team at KPD have generously provided a freebie to help you on your way, the freebie link is valid for six months, KPD is the most generous digi scrapping place around.  I hope the goodies inspire you.
Post your pages in the Scrapbook Challenge Gallery and don't forget when you use ALL KPD product on your challenge page you should post a link of your page in the March Challenge Participation thread so that it will count toward your savings in the rewards program.  Everyone's a winner!