Story Scrapbook Challenge : Celebrating mom, mum, mother whichever way you say it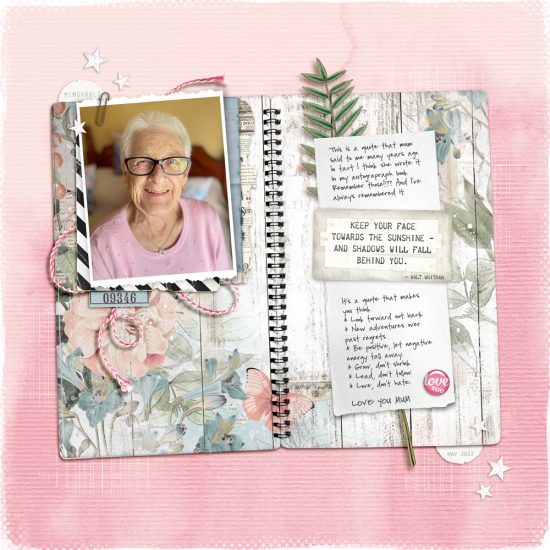 Moms, mums and mothers and any other wonderful females in your life –
If you'd like to do a tribute page, then please go right ahead.  If your mom has any funny quirks or sayings that would make a great story.  Did you mother pass on any wise words of wisdom to you?  Are you much like your mum, in looks or personality or habits?
If you have sadly lost your mother, I'm sincerely sorry, is this perhaps a fortuitous time create a page telling of the void she has left?  Perhaps you didn't get along with your mother and had another female role model you looked to, a special aunt, your grandmother, a family friend?
For some of you it's a cause of celebration, perhaps it's your first mother's day please share, or maybe you'd like to delve into when your mother was a young mum.
Mother's day in many parts of the world this month and for some it may be painful seeing the world go on, perhaps tell a story of your loss.  You don't have to share it, just get your words on paper.  We have all had a mum, maybe you knew her, loved her, maybe you didn't get to know her, maybe you had a difficult relationship.  Tell your story any way you wish, these are your words and your memories to get down.
So this month the story challenge is about mothers.
The creative team have jumped on board with some terrific example pages:
Sarah's page of the special wave her mother does is a ripper.  It's these little moments, these little things, they the story means so much because now anyone in the family in years and years to come will always know why they wave up and down!!!  It's a thing.  I love it.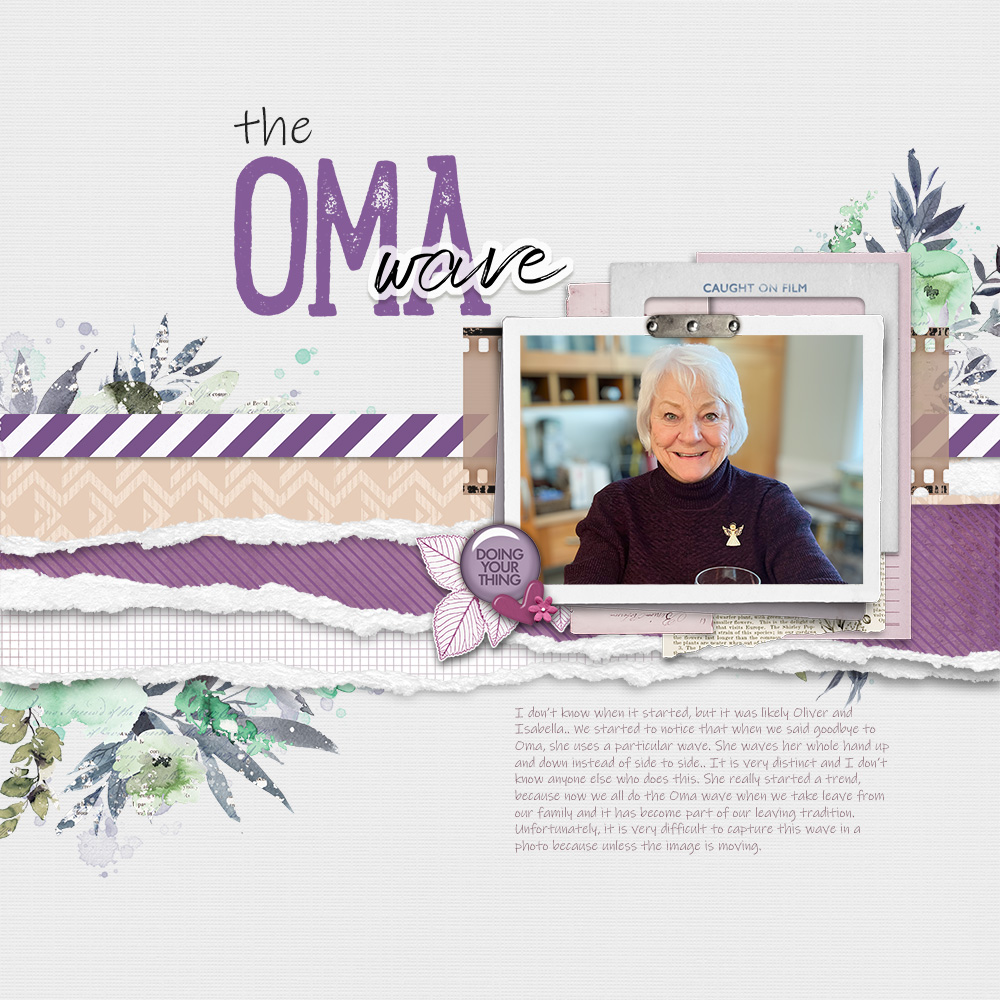 Supplies Sarah has used:  Vintage Artistry Lilac Chipboard Stickers,  Vintage Artistry Lilac Stack Layers,  ARToptions Viken Transfers 02,  Monthly Memories Element Pack 09,  ARToptions Plum Grove Chipboard Words,  ARToptions Mini Mix 24,  Anzio: Flairs,  Americana Country Scrapbooking Kit,  Botanical Bliss Element Pack 01,  Color Swatch Toast Filmstrips and Frames,  Fox Creek Paper Pack,  Slide Frames 03  and more.
Oh my heart indeed.  Lori Ann has created the most beautiful page here, the verse is perfection, the background heart, everything.   Days like this can be hard for sure.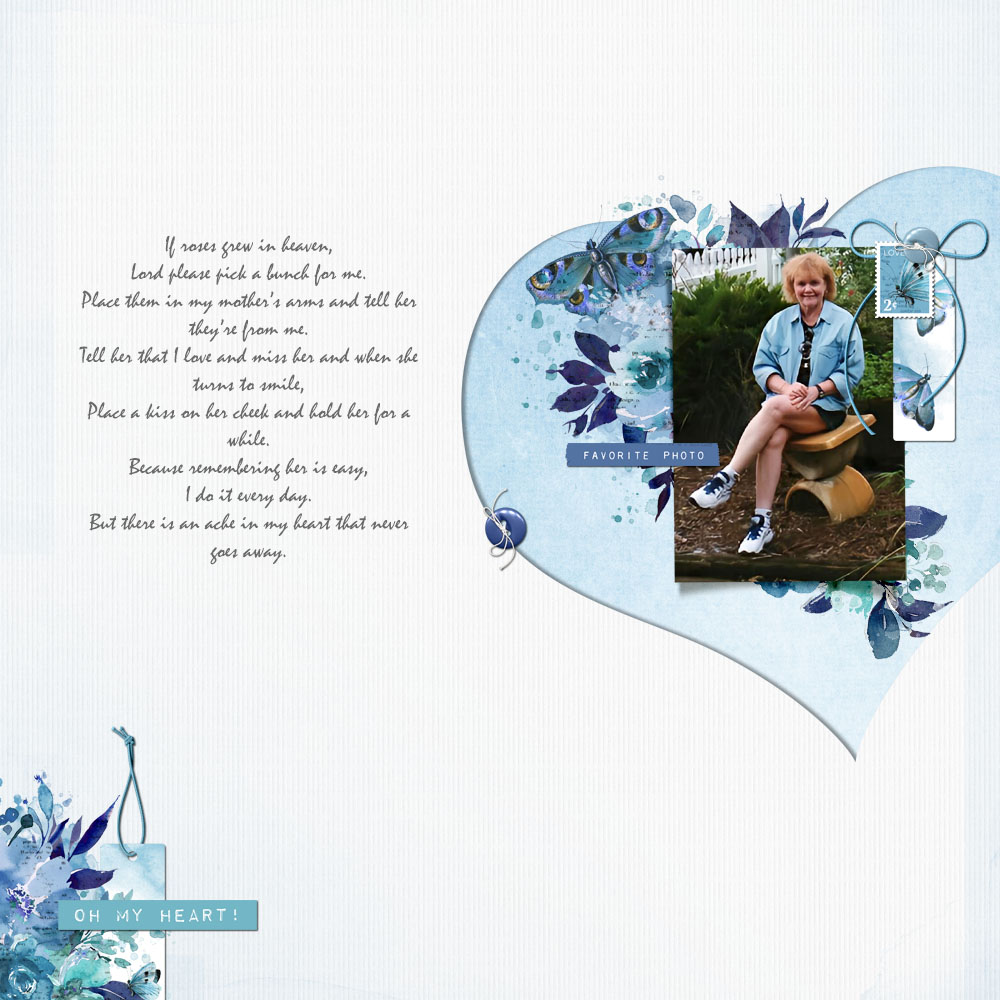 Supplies Lori Ann has used:  Arctic Whites Paper Pack 02,  Monochromatics Overlays 01,  ARToptions Mini Mix 28.
And for my page I do love this soft pretty photo of my mum, and I thought of a quote she once passed to me and I've long remembered.  So that's the direction my page went.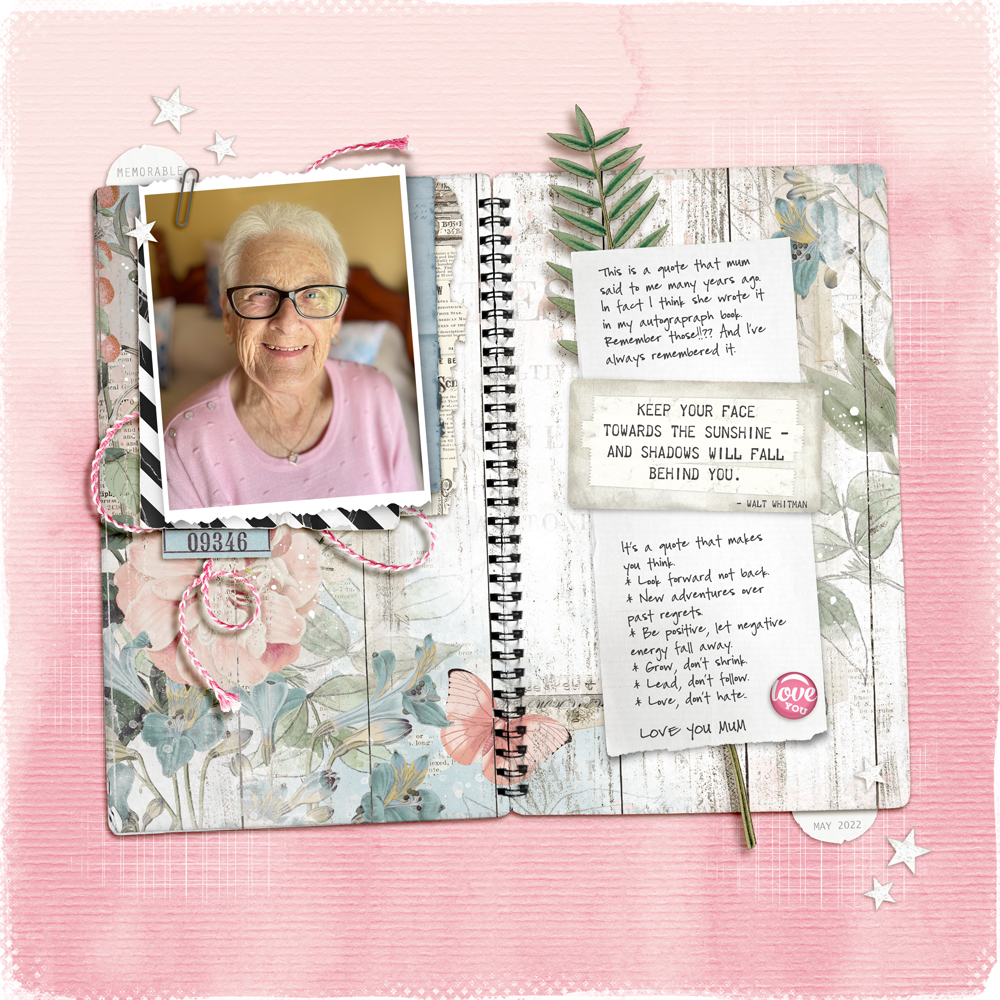 Supplies I have used:  Vintage Artistry Tranquility Spiral Pages 01,  Textured Cardstock: Faded Berry Paper Pack,  Partial Page Masks 04,  Edge Overlays 08,  Classic Deckled Photo Frames 01,  Vintage Journal Spots 02,  Vintage Journal Spots 05,  Brilliant Love: Roughed Up Pocket Cards,  Vintage Artistry Wedgewood Ephemera,  Vintage Artistry Wedgewood Ephemera 02,  Torn and Tabbed Sentiments 01,  Color Essentials Pink Ribbons and More,  Ledger Grids 04 Brushes and Stamps.
The team at KPD have generously provided a freebie to help you on your way, the freebie link is valid for six months, KPD is the most generous digi scrapping place around.  I hope the goodies inspire you.
Post your pages in the Scrapbook Challenge Gallery and don't forget when you use ALL KPD product on your challenge page you should post a link of your page in the May Challenge Participation thread so that it will count toward your savings in the rewards program.  Everyone's a winner!