Story Scrapbook Challenge : Female advice and life lessons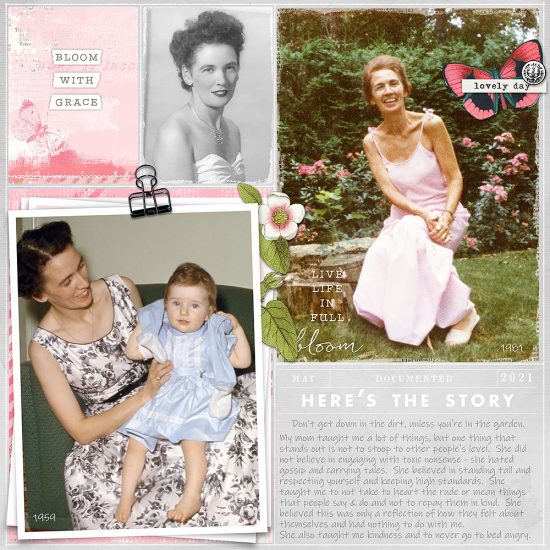 So with Mother's Day upon us in this part of the world, I know not everywhere, but for many many countries, I wanted to base my story scrapbook challenge this month on female advice.
Think of some sage advice your mum or your grandma handed down to you, or some words of wisdom an important woman in your life lived by.  Is there something in your heart that you desperately want your son or daughter to know and learn that you'd like to share.
Is there a conversation with your mum that sticks out or a trait she had and whether you have that same trait (or not).
Have you read an awesome female centred quote that just resonated?  Do you have a female role model that you aspire to and why?  Has there been a female teacher that believed in you with words of encouragement?  Do you have a strong woman in your life that you'd like to pay homage to by what they've taught you or how they've lived?
We want to hear it all.  Let's say cheers to the women in our lives.
The creative team have jumped on board with some terrific example pages:
I love these life lessons that Kate's mother has passed onto her, and how lucky to have these gorgeous photographs in her possession.  Kate's mum sounds like my kind of lady, I love these standards.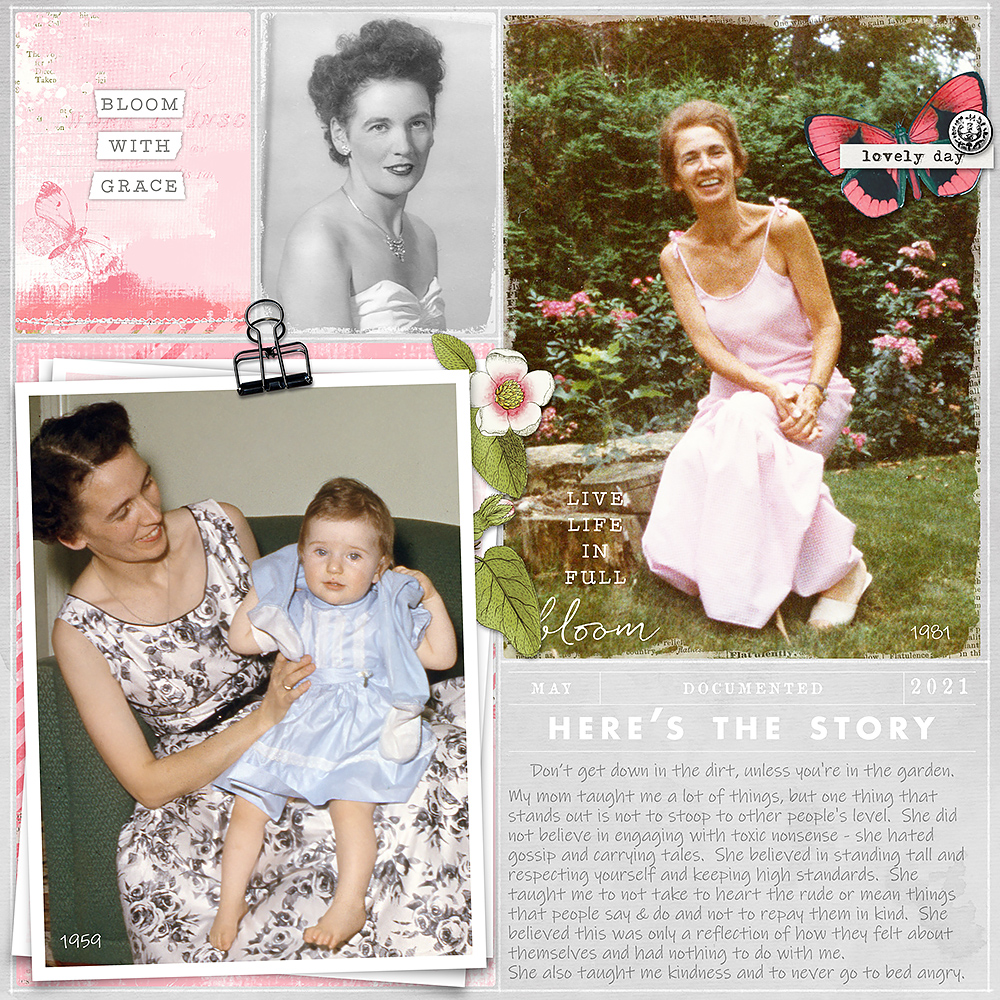 Products that Kate has used:  Recap Grids 05,  Palette Textures 09.
What a ripper photograph and story from Shannon.  Can you even imagine having a washer like this.  I loved reading about Shannon's mother's traits of her laundry, very methodical.  These are the stories we want to scrapbook so these snippets of life of yesteryear are never forgotten.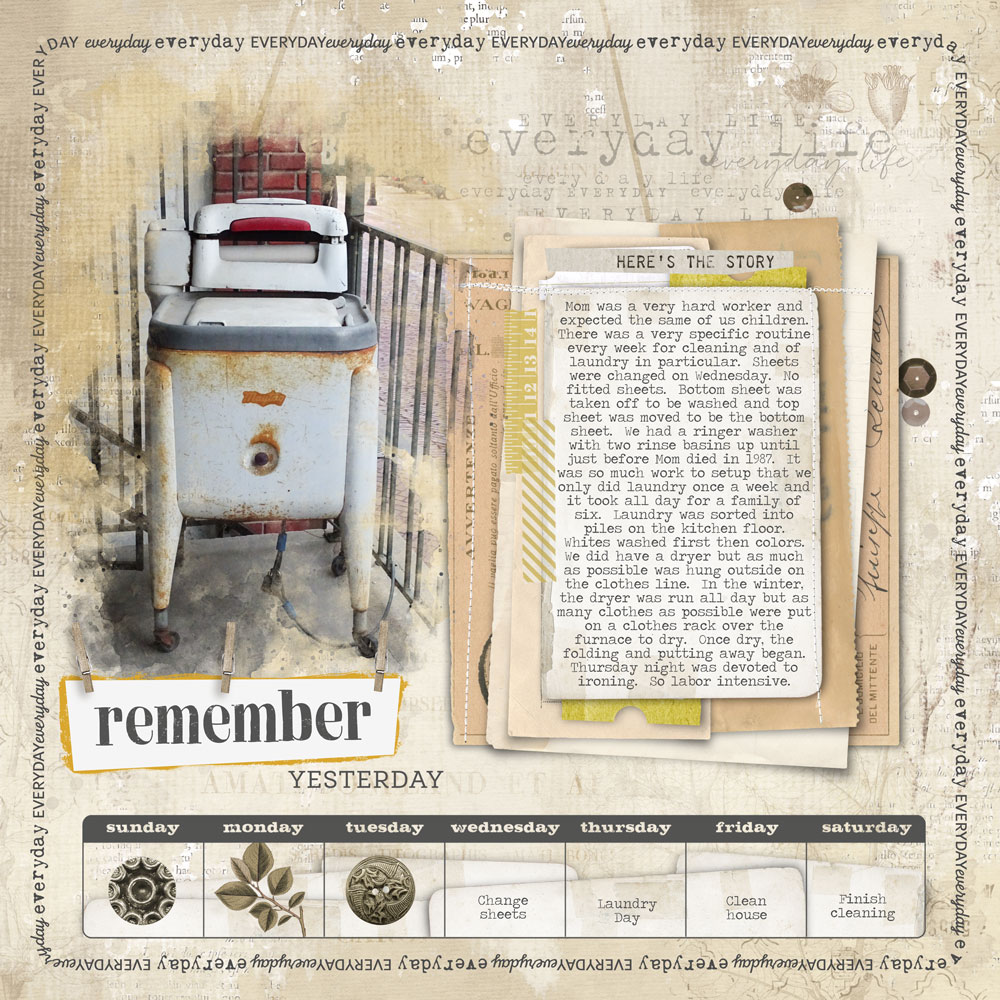 Supplies used by Shannon:  Vintage Artistry Everyday Ephemera,  Typewriter Clusters 02,  Neutral Word Bits 01,  Vintage Artistry Natural Ephemera,  Vintage Artistry Essentials Ephemera,  Vintage Artistry Essentials Stamp Pack,  Vintage Artistry Essentials Paper and more.
And for my page I document the life lessons and traits my mum has instilled in me over the year.  Not a bad set of values if I do say so myself.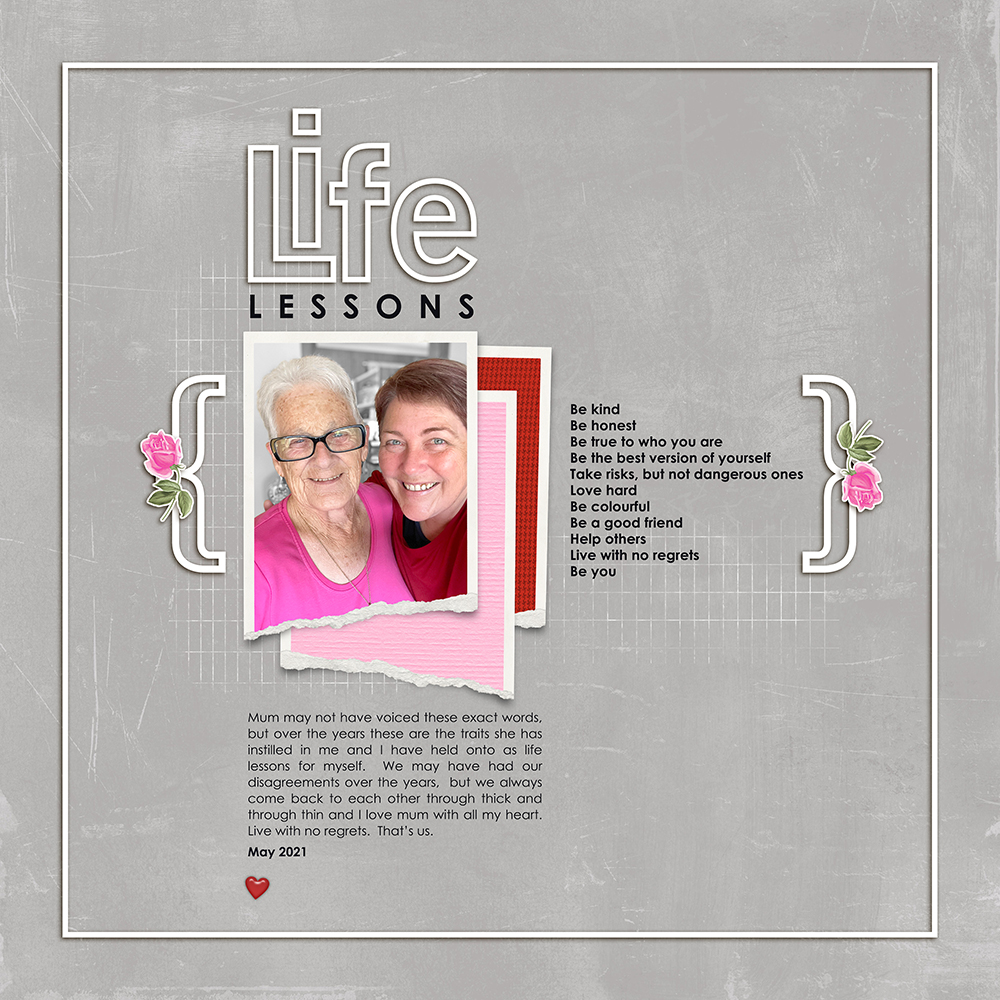 Supplies I have used:  Ripped Frame Stack Layers 04,  Maybe Not Solids Paper Pack,  Patterning Palettes 02 Solids Paper Pack,  Outlined Alphabet 01, and some of the terrific freebies you'll get this month.
The team at KPD have generously provided a freebie to help you on your way, the freebie link is valid for six months, how generous KPD is.  I hope the goodies inspire you.
Post your pages in the Scrapbook Challenge Gallery and don't forget when you use ALL KPD product on your challenge page you should post a link of your page in the May Challenge Participation thread so that it will count toward your savings in the rewards program.  Everyone's a winner!