Story Scrapbook Challenge : Christmas in July – a Christmas story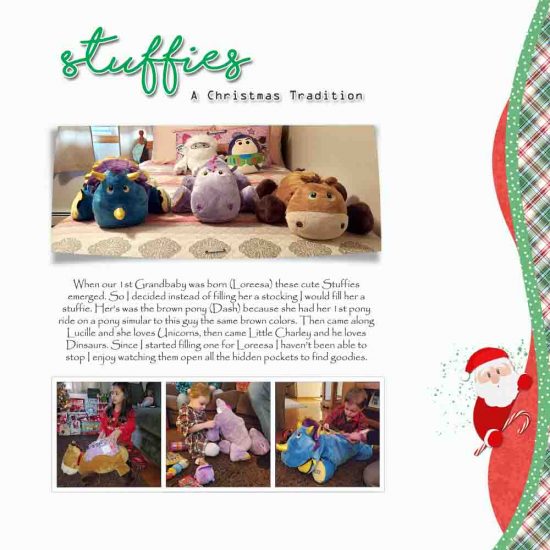 Hi it's Christmas Carol here with another story scrapbook challenge.  And here we are over half way through the year and it's Christmas in July!  Finally those in the northern hemisphere get to experience a bit of Christmas in the heat like us Aussies do!    So to get into the mid-year Christmas spirit – this month I want you to give us a Christmas story.
Pop back in your phones or on your photo drives or in your camera for a special photo that will relay a random memory you'd like to keep.   It doesn't have to be big, it doesn't have to be grand, but just a little insight as to the where, what, how, when behind the photo.
Tell us a story about your Christmas dinner, maybe something special you cooked.  Has there been a Christmas gift that has been a bit hit … or a big fail?  Do you have that photograph sitting on Santa's knee that just needs to be scrapped and a story told?
Do you have any Christmas traditions, maybe even handed down to you that you continue today?  Is there a particular memory you have of a Christmas past involving a special friend or relative now not with us?  Is there fun involved in setting up the Christmas tree or the lighting of your home, or a special decoration with a lovely story behind it?  Do you have a special Carol that means so much to you or do you attend Carols by Candlelight?
So many ways to tell a story about a Christmas memory.  And I'm already singing jingle bells and ready to get in the mood.
The creative team have jumped on board with some terrific example pages:
First we have Imaggs page.  I love a good tradition but sometimes years later you just don't know where or how the tradition started.  No problem's here with Lori Ann's family, these children will know exactly.  I love this.  And now I want a unicorn too!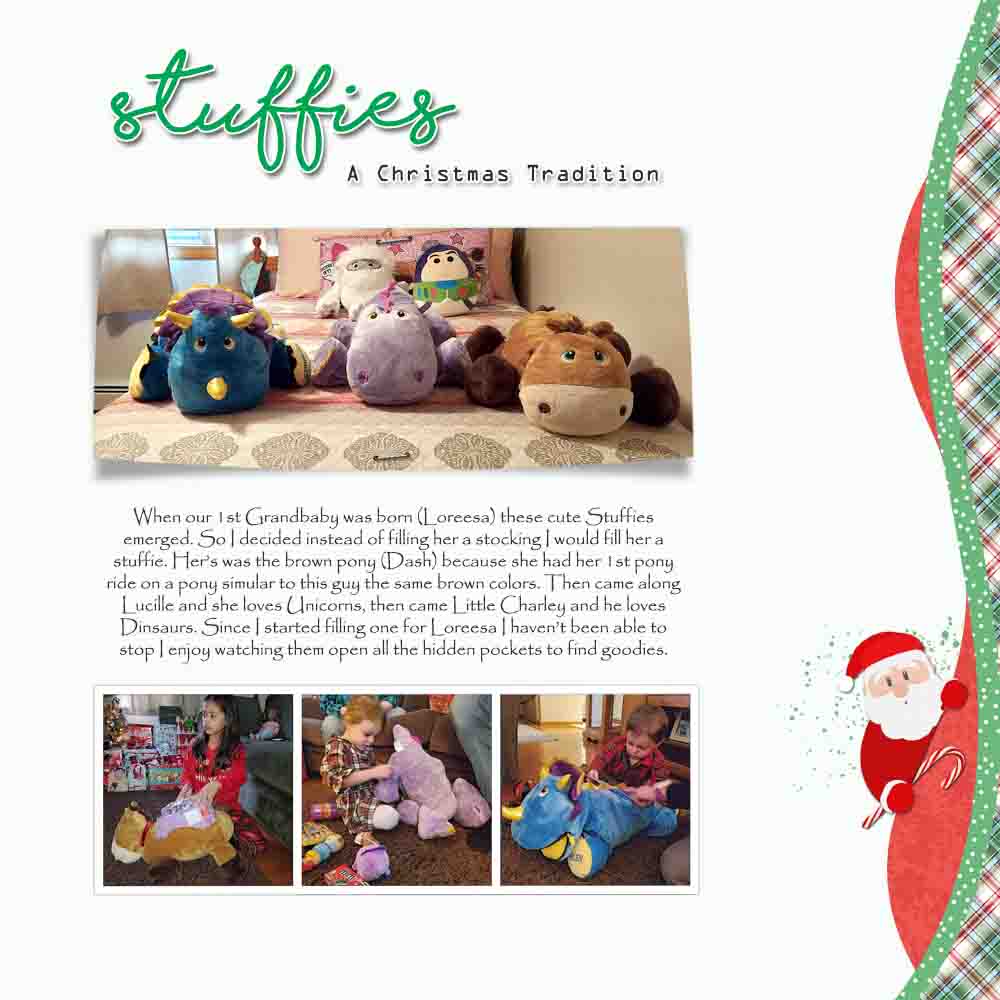 Supplies used by Imaggs:   Textured Cardstocks 01,  Stapled Photos Layered Templates + PNGs 03,  Candied Christmas Paper Pack,  Thin Classic Photo Frames Curled and Flat 03,  Curved Page Masks 01,  Splatters Brushes and Stamps 03.
Next we have a page by grandmak.  She shows the life sized nativity scene in her town which is displayed each year, how wonderful.  Great way to display the photo across the three spill frames like that too.  I love the glow she has coming in with that fun colourful bokeh.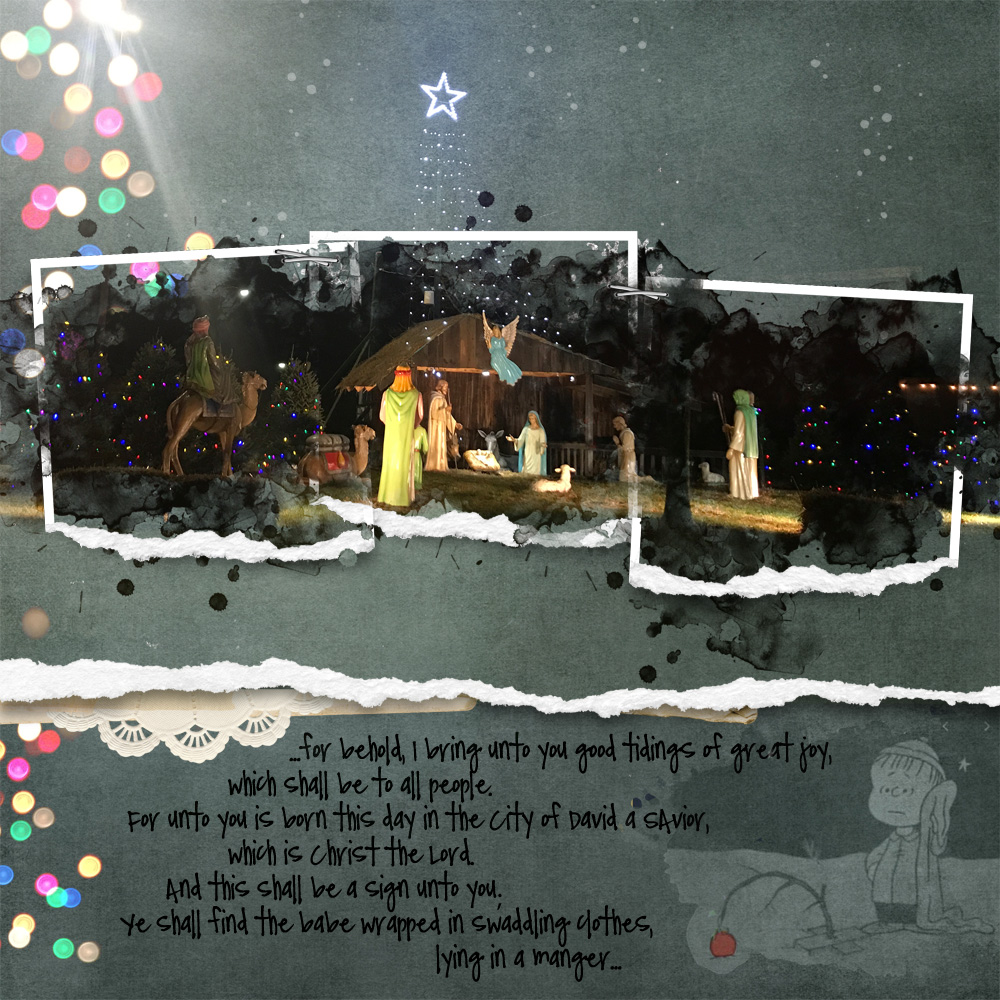 Supplies used by grandmak:  Torn and Framed Layered Template 04,  Vintage Christmas Element Pack,  Chalk it Up: Basics 01 Paper Pack,  Spill Frame Layers 27,  Fastener Basics 01.
And for my page I have delved back to 2018 when my husband and I were both elves in our town's Christmas parade.  What fun we had hamming it up for the community watching along.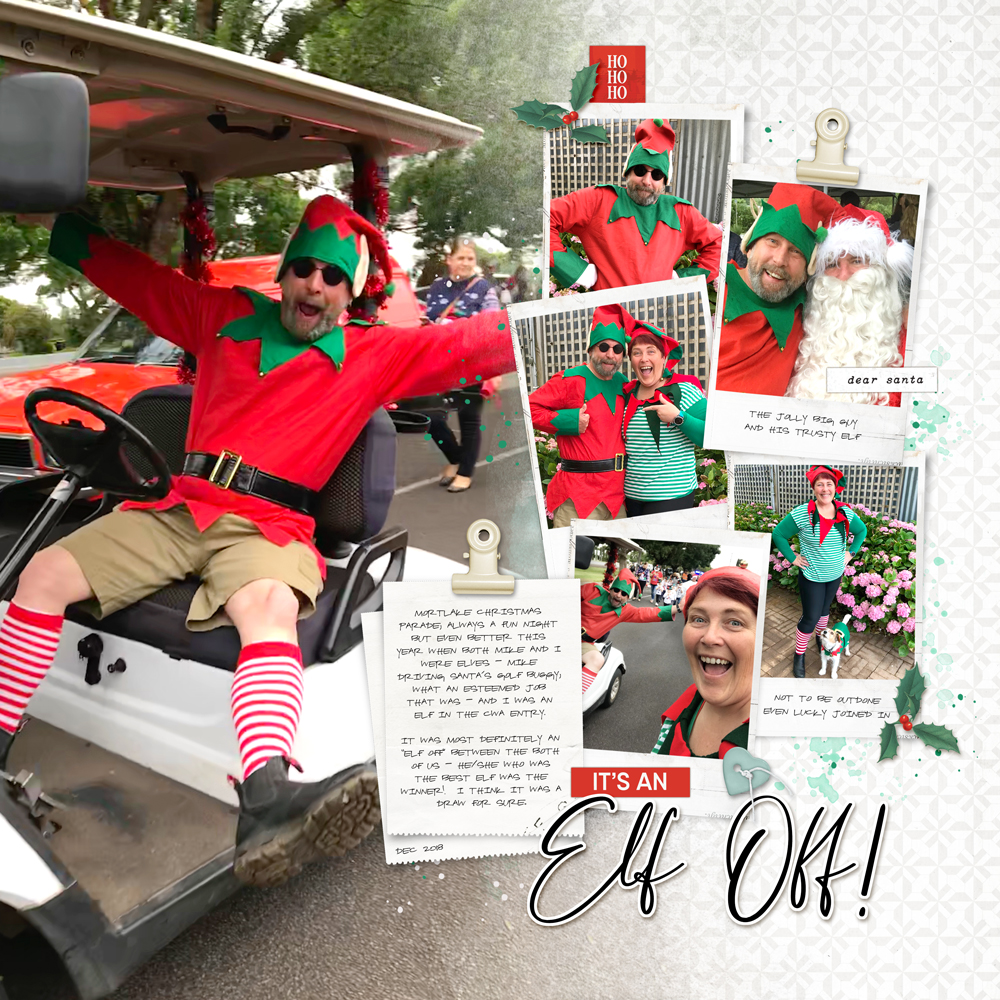 Supplies I have used:  Scattered Pictures Vol. 05 Layered Template 03,  White on White Paper Pack 01,  Stamped Blocks 34 Brushes and Stamps,  Country Christmas 02 Foliage Bits and Pieces,  Country Christmas 02 Little Stickers 03,  Country Christmas 02 Little Stickers 04.
The team at KPD have generously provided a freebie to help you on your way, the freebie link is valid for six months, KPD is the most generous digi scrapping place around.  I hope the goodies inspire you.
Post your pages in the Scrapbook Challenge Gallery and don't forget when you use ALL KPD product on your challenge page you should post a link of your page in the July Challenge Participation thread so that it will count toward your savings in the rewards program.  Everyone's a winner!