Saturday Scraplift: Iconic Titles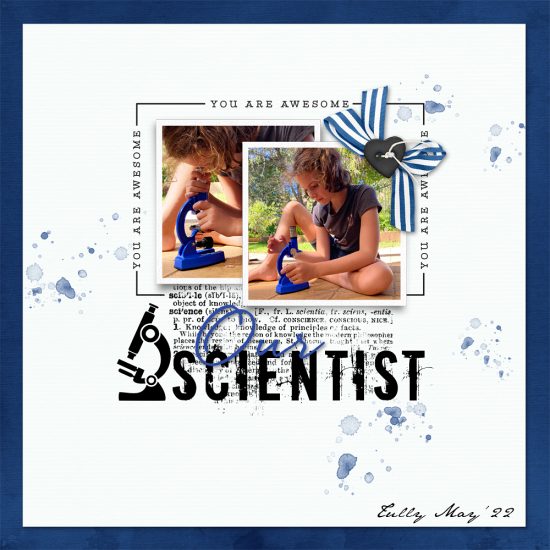 Happy Saturday! Sorry for the late posting but I've (Wendy) had some technical difficulties with the blog. But, I promise this page is worth the wait. I've been sitting on this one for awhile and I think this is the perfect weekend to share it.
Thanks to Sharon (Shannamay) for this darling page of their scientist. I was really drawn to the microscope icon she used to enhance her title. I just thought that was a great design element. Obviously the clean lines, broken grid and great shadows also totally make the page pop as well so there's lots of details to draw inspiration from.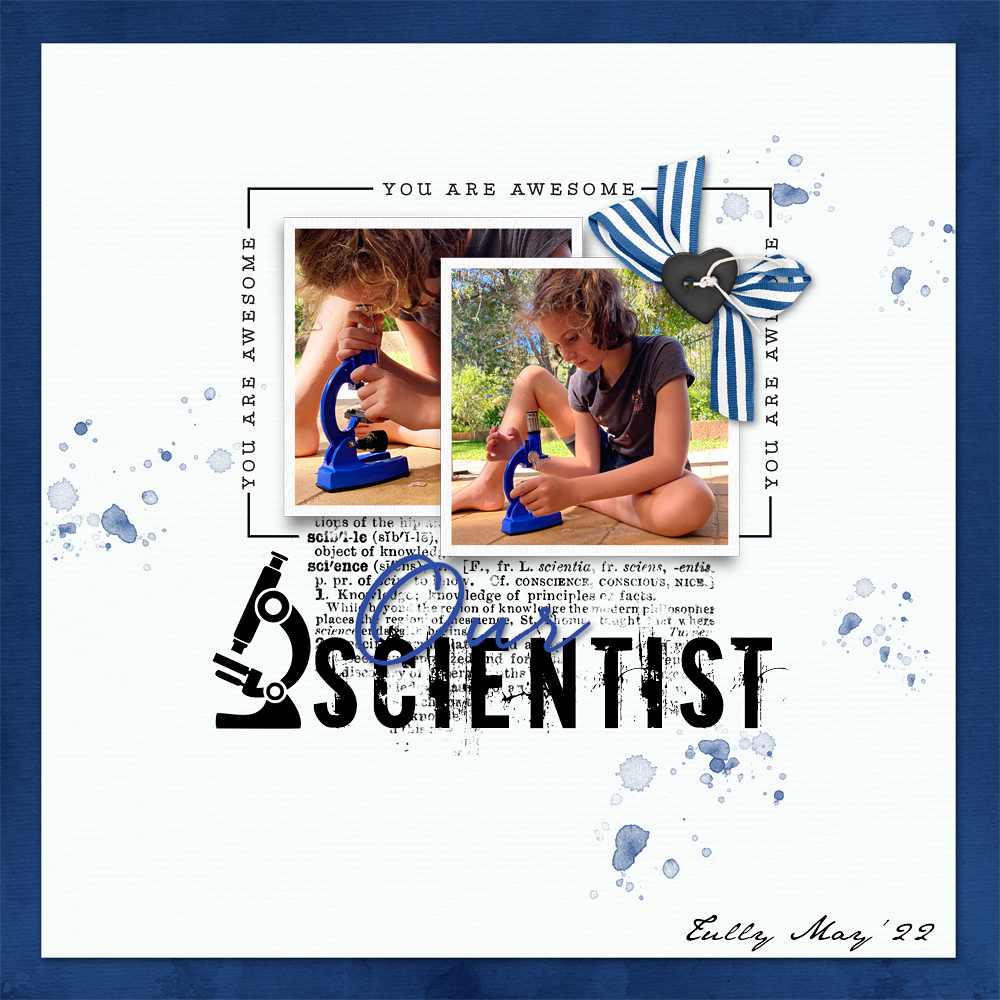 I wasn't the only one inspired by this page. I have lots of examples to show you. Up first is Melanie (Britgirl) who was not only inspired by the page design, but also by our Christmas in July sale at KatiePertietDesigns.com. Love the vintage feel of this sweet Christmas story and her title work totally and soft background brush work really make it all come together. Although truthfully, that pouty face is the best part of this page. 🙂
Fine line borders 22, Botanique noel, Circling sentiments 2, Glad tidings elements, Blitzen elements, Art options mini mix 10, Vintage Christmas no 2 solids, Vintage Christmas no 2 elements, Stapled stacks Christmas, Botanical Christmas 01, Hanging by a thread 4
Julie (MaggieMae) took her inspiration from the overall design of the page. The flowers are stunning and I love the subtle shadow on the title work.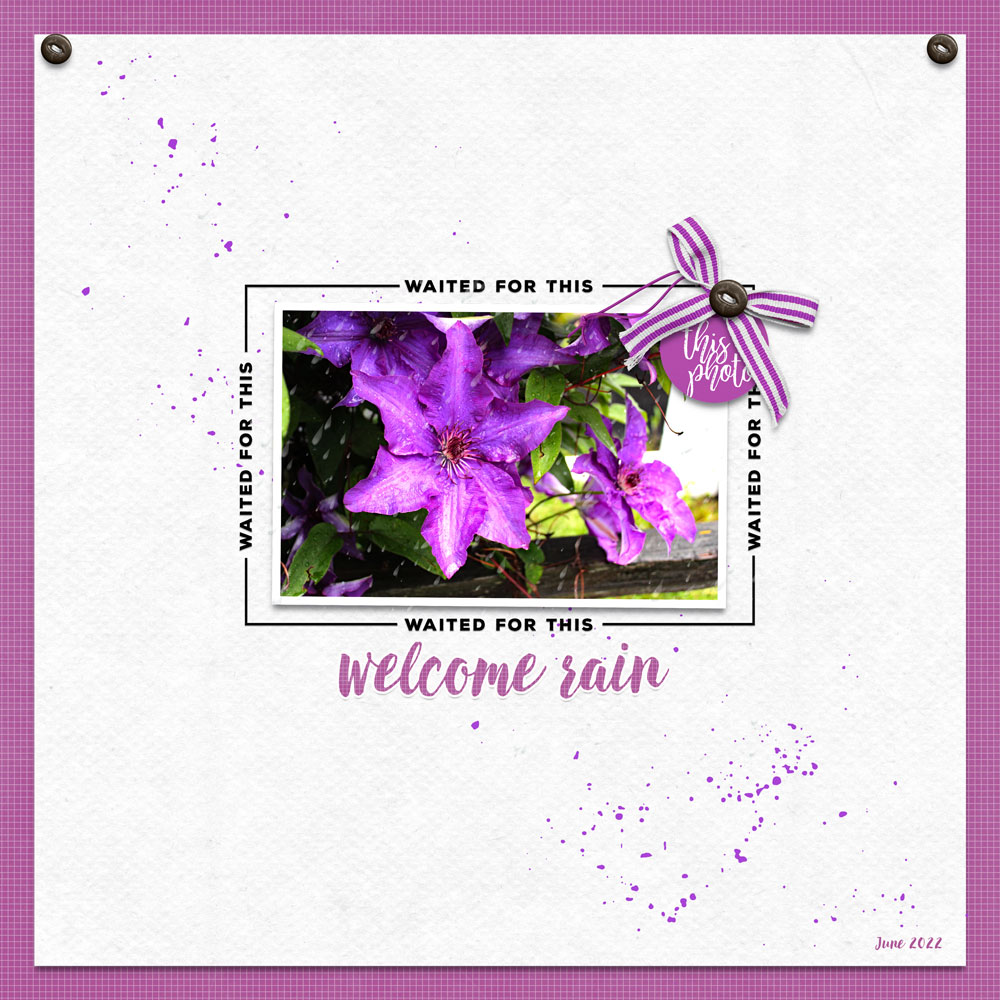 Graphed Notebook Paper Packs 18, Maybe Not Solids Paper Pack, Splatters Brushes and Stamps 03, All Around 4×6 Borders Brushes and Stamps 07, Monthly Memories Element Pack 09, Autumn Winds Element Pack
Linda (earlofoxford) took the general theme of the page and ran with it. Love her blended background photo, the layered photos and the strong grounding title work. And what a cool chapel!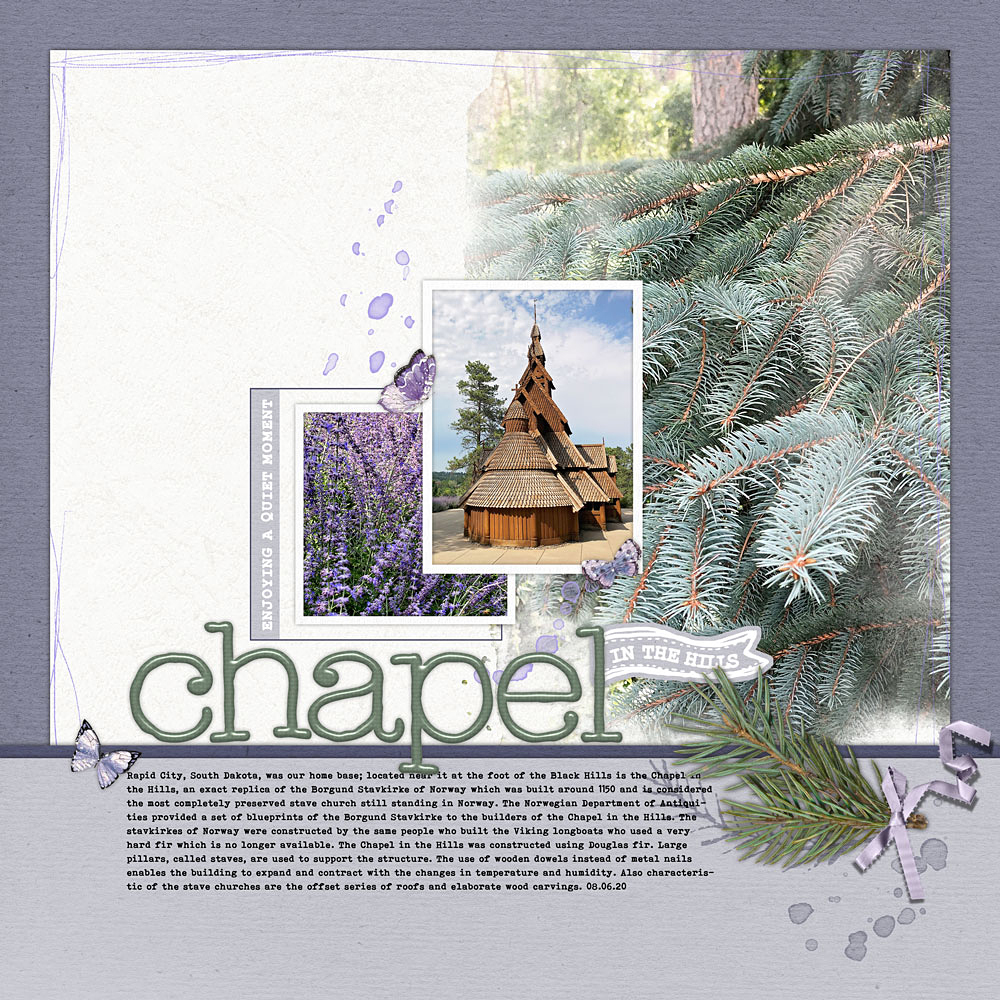 Krafted Cardstocks Paper Pack 03, Fresh Vintage Asha Solids Paper Pack, Partial Page Masks 02, Blendable Layers 09, Coffee Stains Brushes and Stamps 02, Coffee Stains Brushes and Stamps 03, DIY 4×4 Photo Borders 01, Classic Curled Photo Frames 07, ARToptions Viken Transfers 01, Be Merry Brush Value Pack, Doodled Banners Brushes and Stamps 01, December Woods Element Pack, Baby Blush Element Pack, Jelly Serif Alphabet 01, Drop Shadow Styles 02
Lori (lmaggs) was inspired by the clean lines, the bow and the stacked photos. While her title is more subtle, it really pops on the white background. Love her clusters that anchor the page and I really want that chair!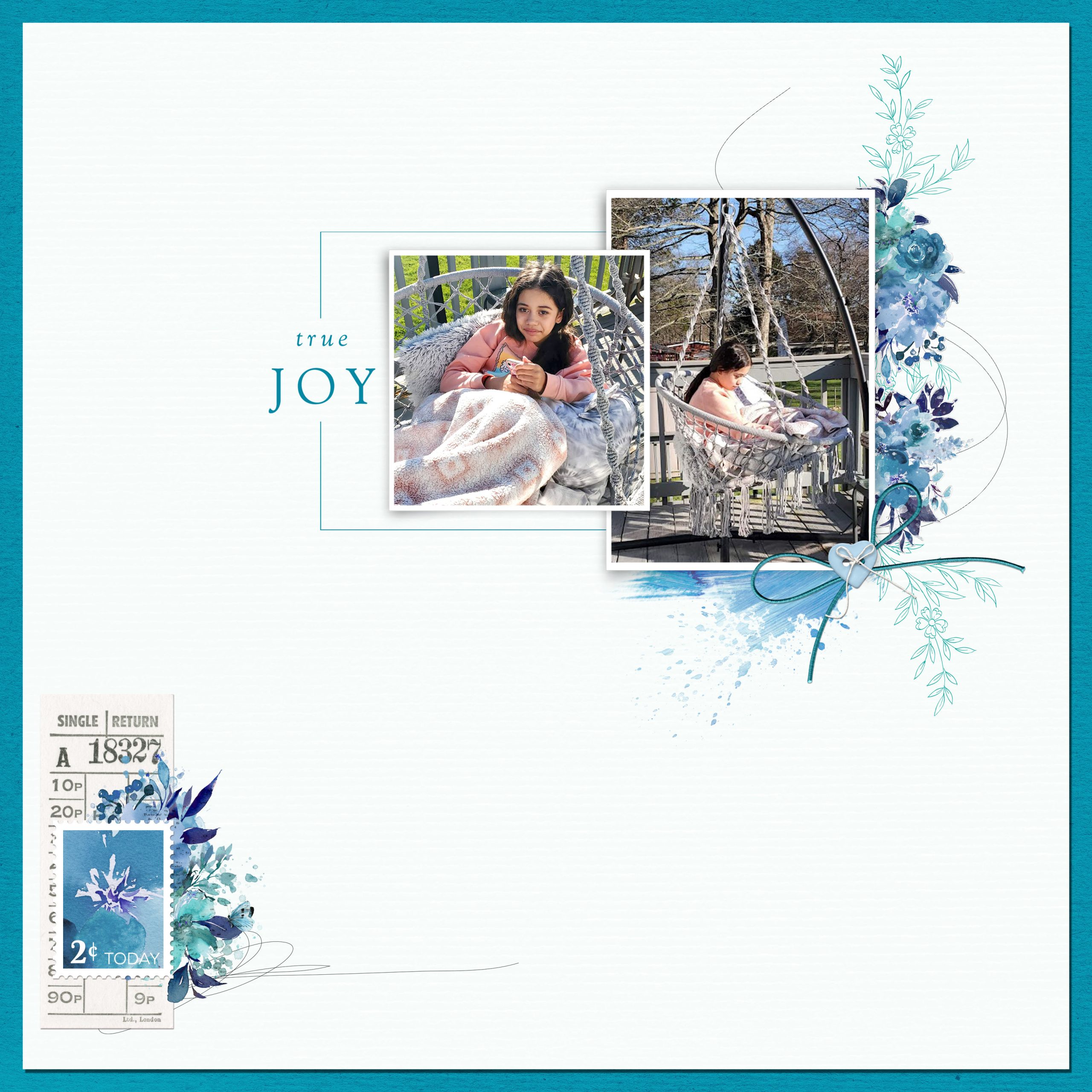 Textured Cardstocks 01, Krafted Cardstocks03, Inspiration Sampler 101516, ARToptions Mini Mix 28, Thin Classic Photo Frames 04, Collage Mix Layered Template 01, Colorful Watery Spots 01, Fresh Vintage: Clare Element Pack, Fine Line Twists Brushes and Stamps 02
And finally, there's my blatant lift of Sharon's page. 😉 Believe it or not, it also is a Christmas page. My daughter actually got a tattoo of one of our more ridiculous Christmas ornaments. It's all about the funny with that one!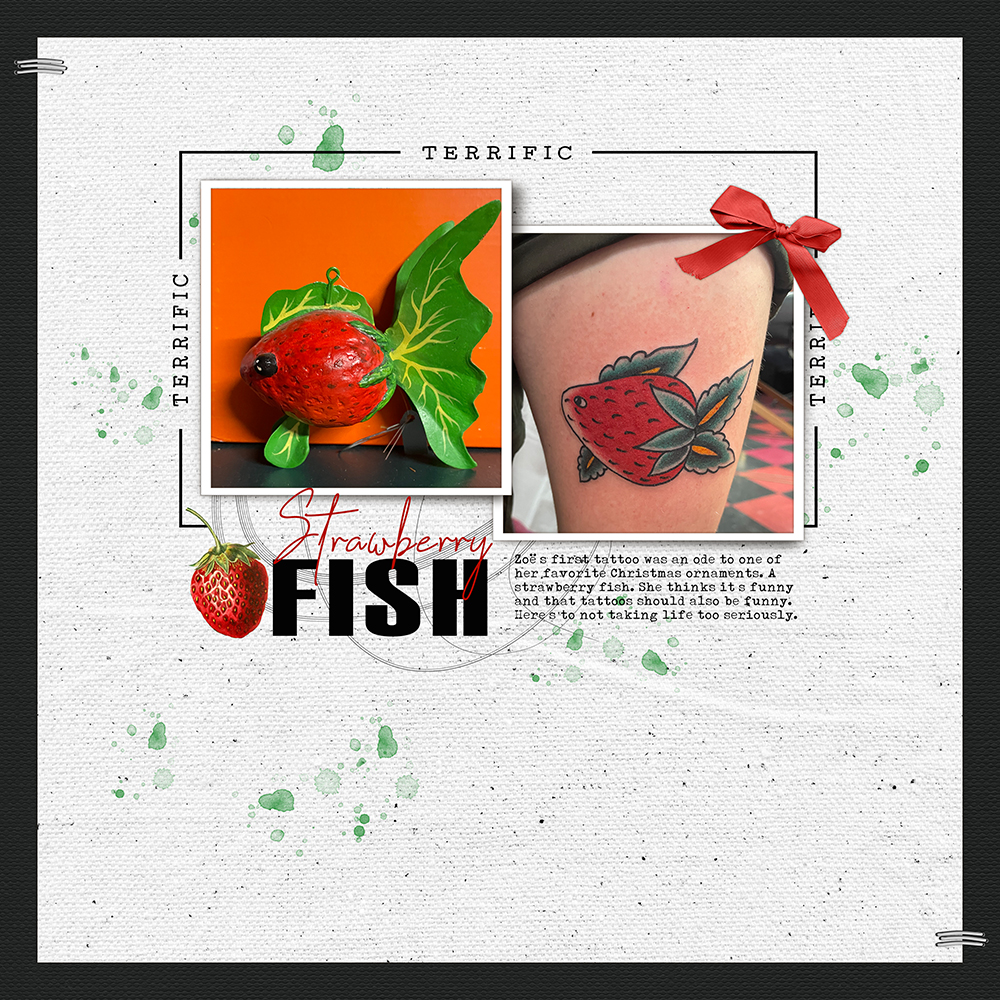 Berry Patch Elements, Christmas Lodge Solids, Looping Lines 01, ArtOptions Blendable Layers 11, All Around 4×6 Borders 03, Basic Fasteners, Classic Sidelift Storyboard Photo Frames 01
Thanks for your patience this week. I hope you have some fun with this week's Iconic Titles. Remember to post your lift in the Saturday Scraplift Challenge Gallery as well as in the July Challenge Participation Sign-in thread in the forum. I'll see you in the gallery!