Story Scrapbook Challenge : All Creatures Great and Small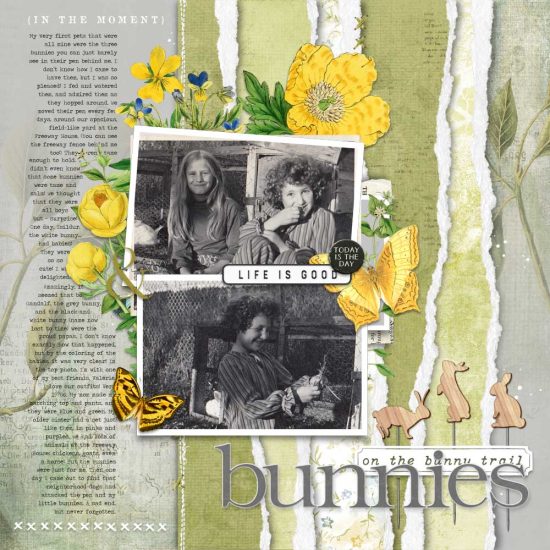 All creatures great and small. Who loves animals? A subject close to my heart. So let's tell a story and I've got some ideas for jumping off points and going down some rabbit holes … see what I did there 😉
So tell us a story about your pet, either now or a childhood pet, or a pet you'd like to get? A specific story or an overall picture, it's all good. Do you volunteer at a shelter? Do you walk your neighbour's dog? Have you seen kittens being born?  Any significance of the name of your pet?
Do you live on a farm, tell us about the creatures you tend to and which bring you joy? Have you milked a cow, ridden a horse, looked after chickens?
Do you have a particular spirit animal? A connection or affinity with a particular creature? Do you have a tattoo of an animal, bird or fish, I'm sure there's a story around that.
Do you love to photograph animals, thinking our very own Joanne with her gorgeous deer photographs. Is hiking or bushwalking something you love to do, what animals do you see on your meanderings? Do you love bird photography, I know there are a lot of birders out there, I think that's what they call themselves.
Do you marvel at the animals at a zoo or a nature reserve? Have you swum with the dolphins? Fed swans at a lake? Seen whales in the ocean?
I'm pretty sure we'll all have a story about a creature that we can share, even if the story turns dark, you may have a fear of animals or been bitten or scratched, or borne the loss of a beloved pet. We're all in for this month's story scrapbook challenge whichever way the story takes you.
The creative team have jumped on board with some terrific example pages:
For those of us with dogs, Rae has provided the perfect example of the looks you get when the suitcase comes out.  Oh the guilt we must endure.  It makes up for it when we get home and the excited faces, but oh that packing.  Great photos, great story, great memory Rae has created here.  It did make me laugh hard though.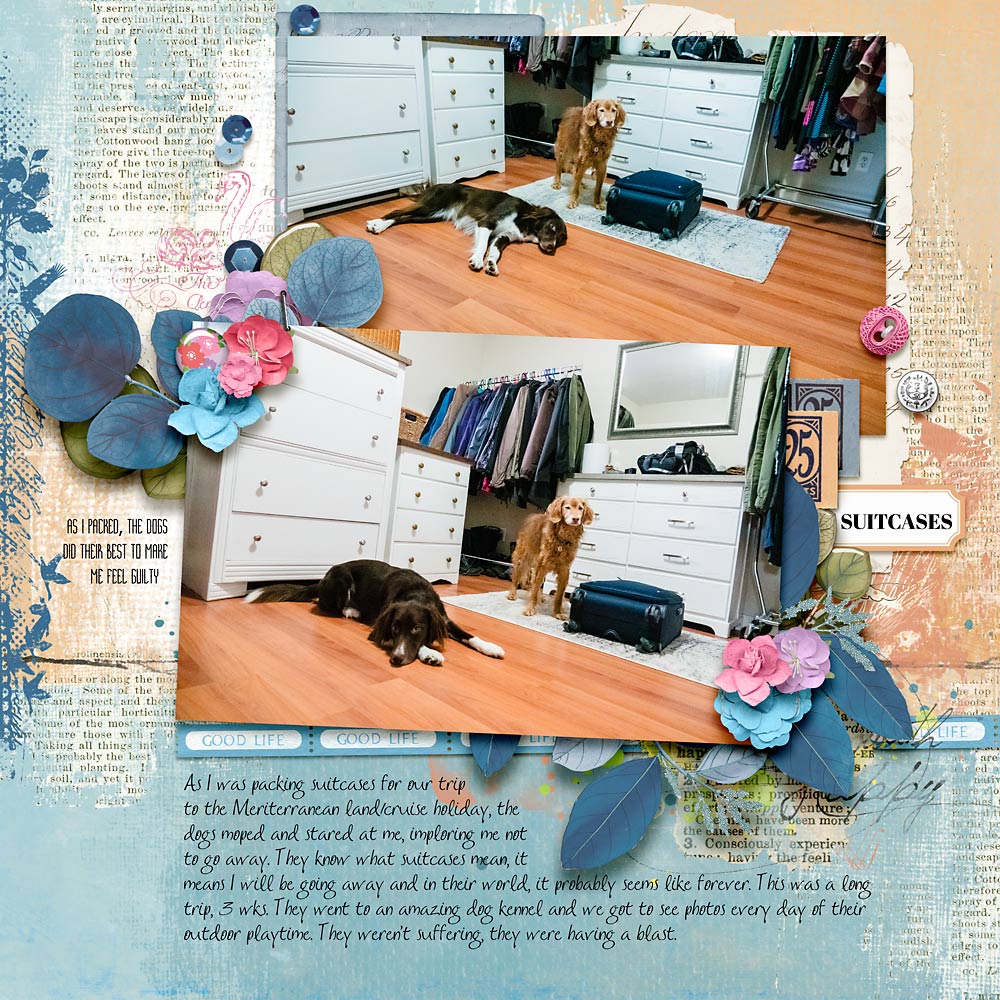 Supplies Rae has used:  Curated Team Scrapbook Mix 11 Value Pack,  Vintage Artistry Wedgewood Scrapbooking Bundle,  Patterning Palette 04 Element Pack,  Border Stamps and Layers 05.
I absolutely adore this page that Stacia has created about her childhood bunnies, the vibrant yellow and muted green and grey look fabulous against those darling B&W photos and the delight in Stacia's face in that bottom photo is glorious.  Fabulous story, but warning – sad ending.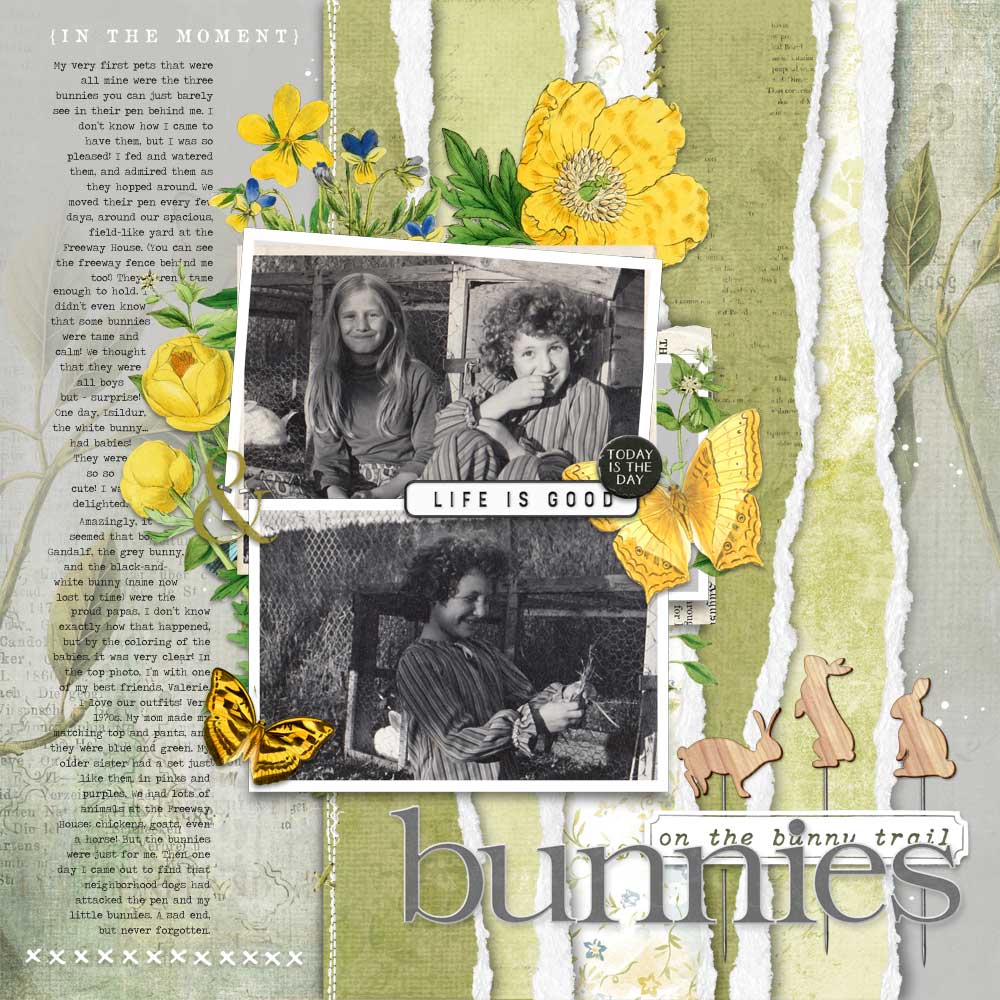 Supplies Stacia has used:  Torn and Framed Layered Template 10,  Scrap Layers 03,  Color Swatch Grove Paper Pack,  Color Swatch Grove Transfers 05,  Color Swatch Grove Transfers 06,  Pinned Wood Veneers 04,  Stamp Sets: Spring.
Storytelling at it's finest by Carol (oldbag165) here.  She doesn't have a photograph of Chadwick Beauregard Mutt but all the words from her heart have given us a mighty fine picture of this dog of parts.  And of course the lesson that a young child learns that with all the love and fun a dog will bring, there's the ultimate pain.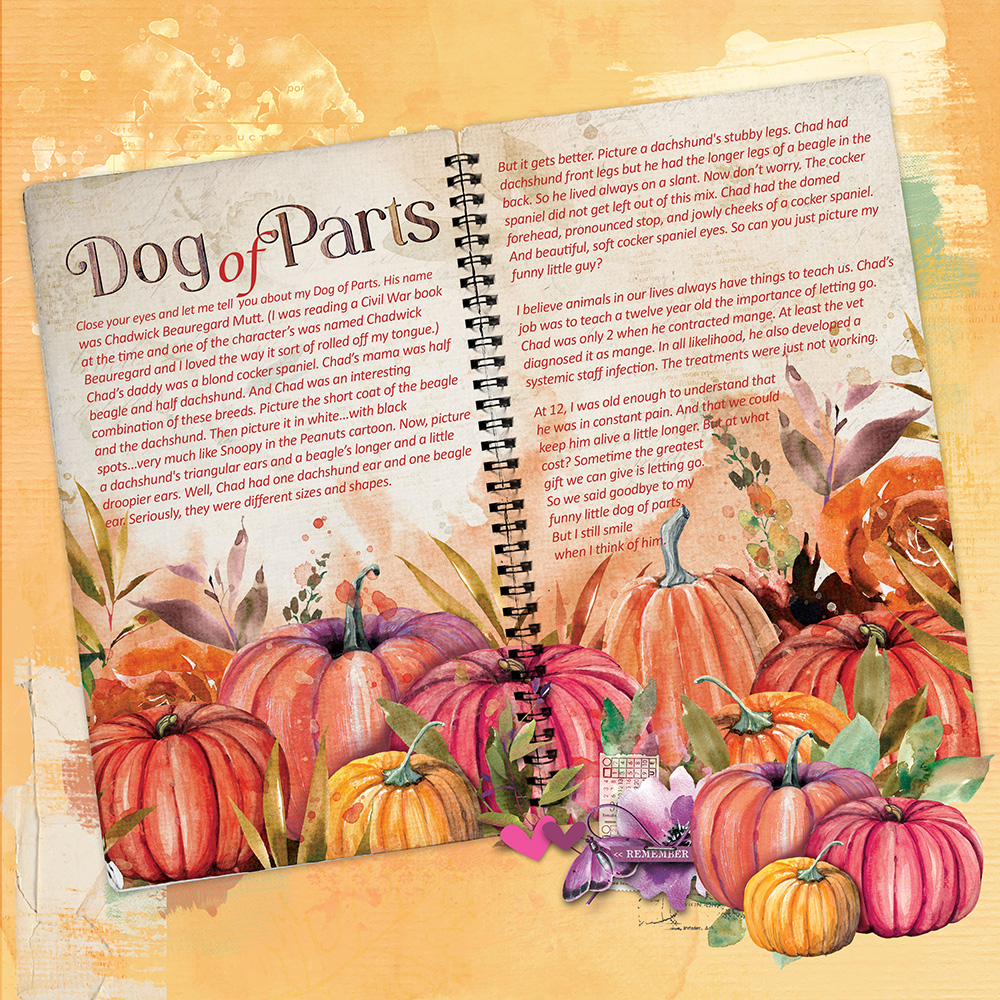 Supplies Carol has used:  Curated Team Fav_Fall,  ARToptionSpice_ Spiral Pages 01,  ARToptionSpice_Wildflowers Ephemera,  ARToptionSpice_page layers 1,  ARToptionSpice_page 2.
And lastly for my page, I am telling the story of a beautiful Australian bird.  I had gone away on a girl's weekend staying in a cabin and we awoke to the laughing of a kookaburra just outside in the bush, so I was lucky enough to take these photographs.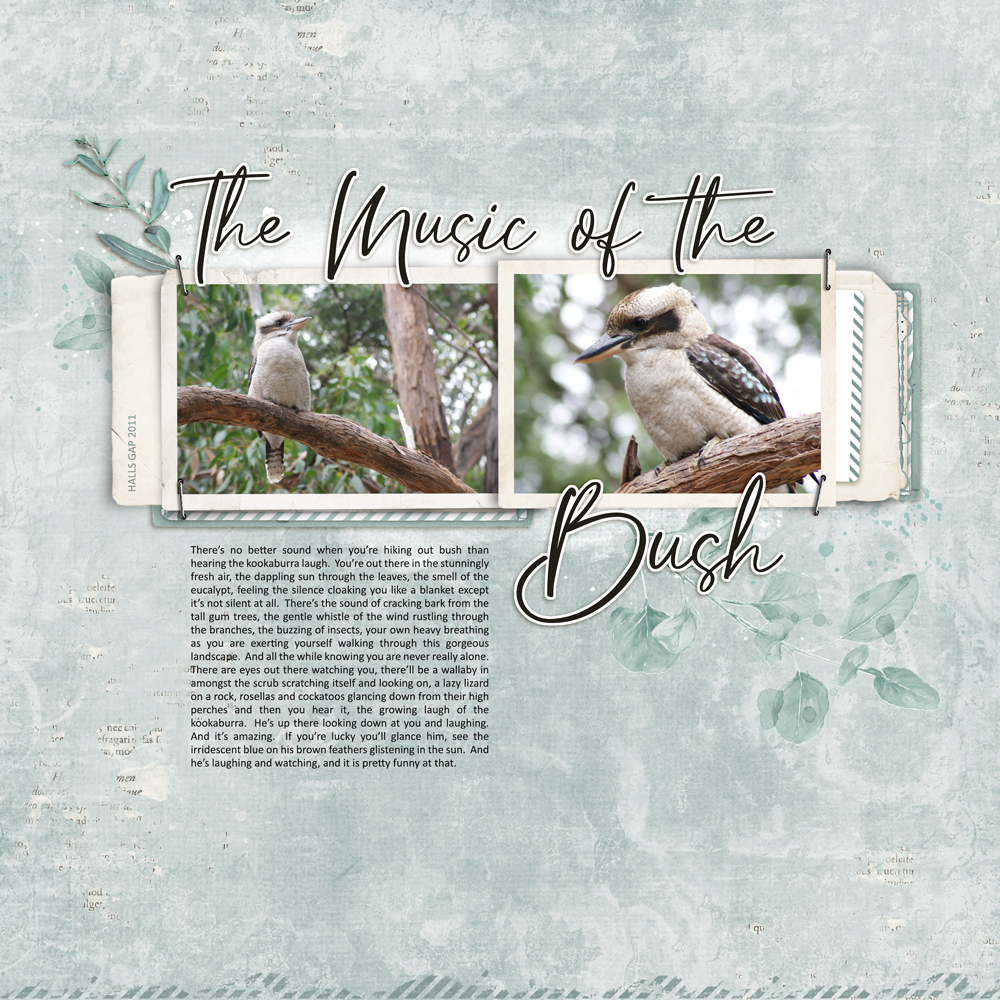 Supplies I have used:  Color Swatch Eucalyptus Paper Pack,  Color Swatch Blossom Transfers 02,  Color Swatch Blossom Transfers 05,  Color Swatch Eucalyptus Stitched Frames,  Color Swatch Eucalyptus Ephemera,  Artsy Layered Blends 01.
The team at KPD have generously provided a freebie to help you on your way, the freebie link is valid for six months, KPD is the most generous digi scrapping place around.  I hope the goodies inspire you.
Post your pages in the Scrapbook Challenge Gallery and don't forget when you use ALL KPD product on your challenge page you should post a link of your page in the November Challenge Participation thread so that it will count toward your savings in the rewards program.  Everyone's a winner!