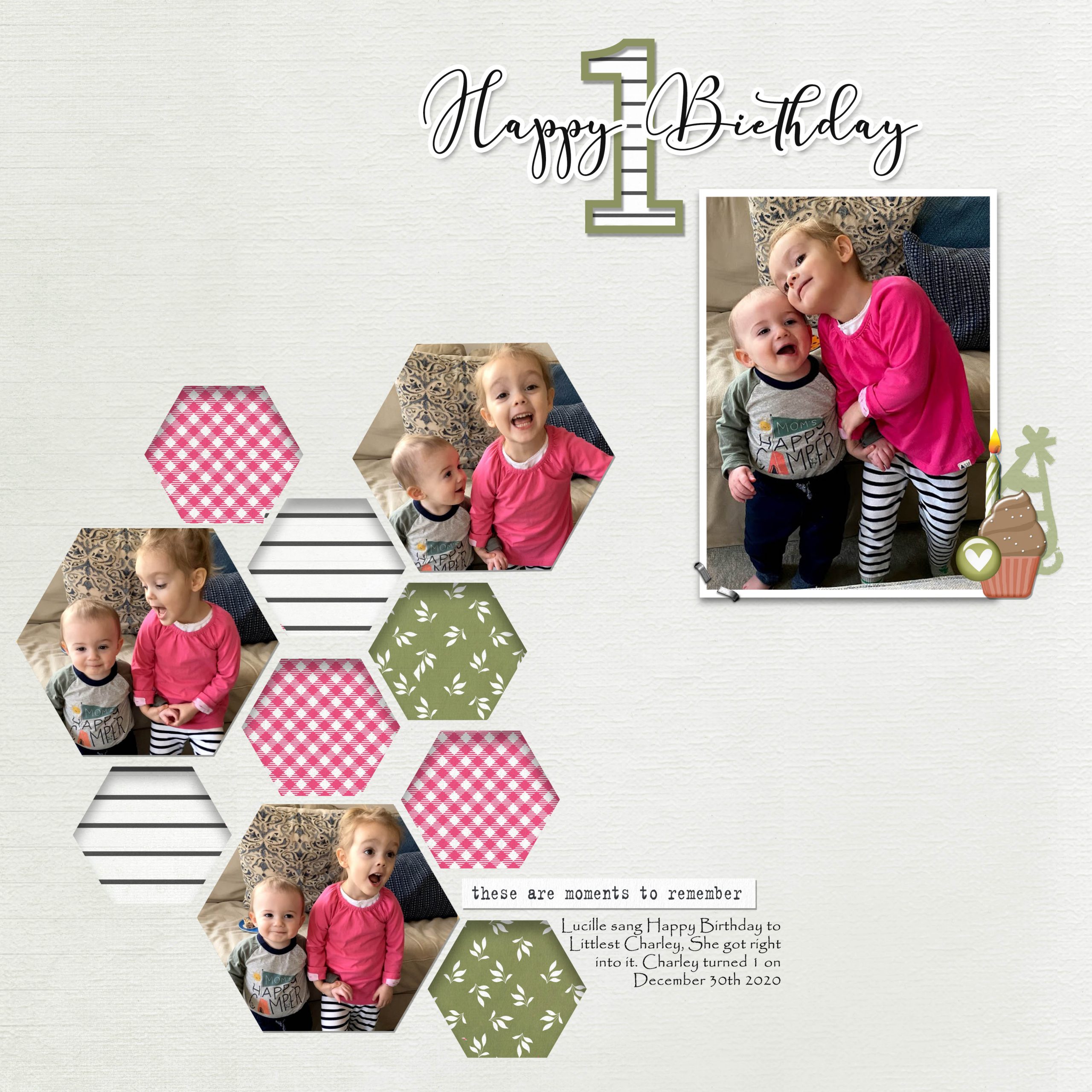 Good morning and welcome to the first Saturday Scraplift of the month. Today we are lifting Lori's (Imaggs) page – Charley's 1st Birthday. I chose her page because of her wonderful geometric work. I also really like her cluster on the big photo. Helping me lift this fun page today are Audrey, Rachael, and Valerie.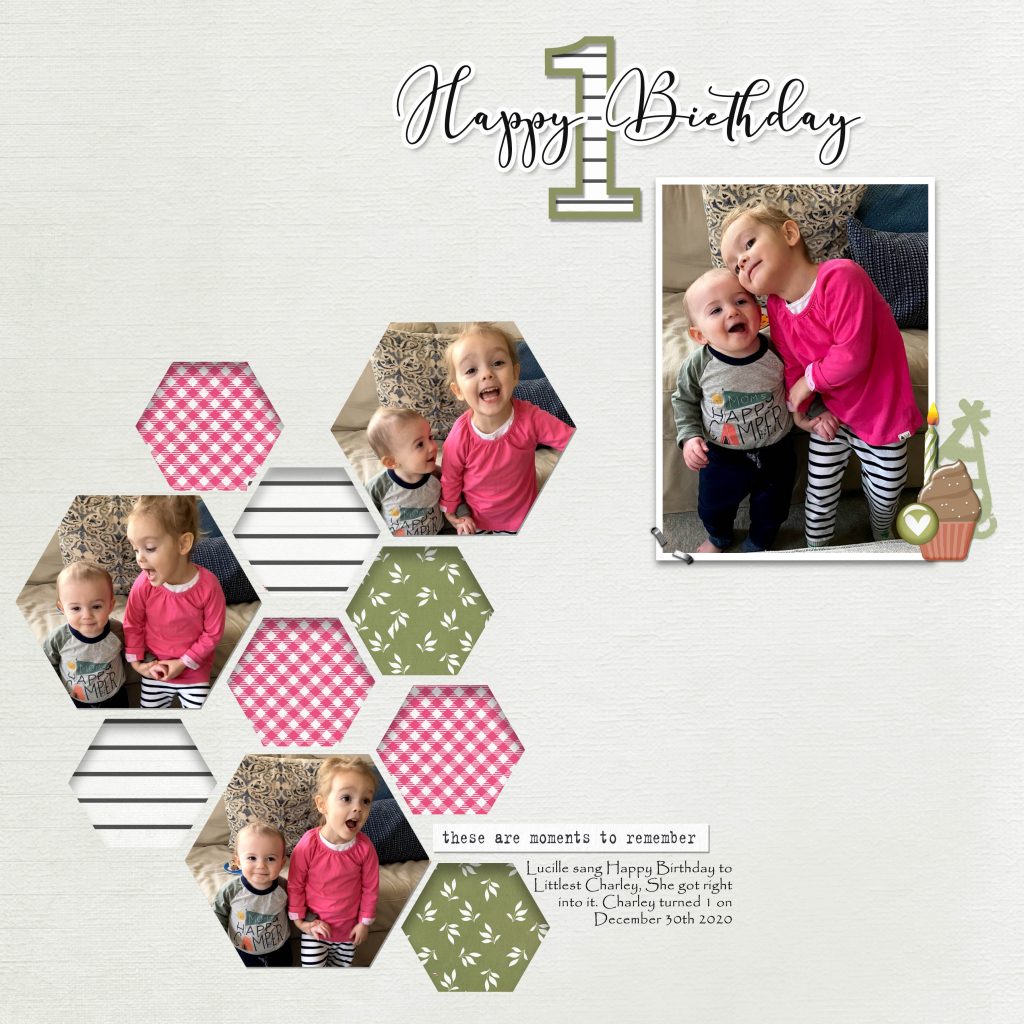 Products used:
Monthly Memories Vol 03 Pattern Essentials Paper Pack 11, Another Year Paper Pack, Stitched Geometrics 02, Curated Team Scrapbook Mix 17, Outlined Alphabet 01.
Audrey (Adrianita) did a wonderful lift and showcased her fun trip to the city. I love everything about this page! The splatters and sequins are a nice touch and finish the page off nicely!
Products used:
Splatters Brushes 06, Doodledo Frames 12, Fresh Vintage Clare Element Pack (Thread), City Maps Paper Pack 01, Departure Gate Papers, Far and Wide Dots and Stripes,  Instamatic Frames 04, Sequins Scatters Sky, Far and Wide Element Pack, Adventuring Travel Embellishment Pack
Rachael's (myssp) page is just adorable. I find her photos amazingly clear and beautiful, and the depth she created with her shadows is awesome, especially with the addition of the stitching! I also like how she lifted Lori's colors; pink, black, and green go so well together!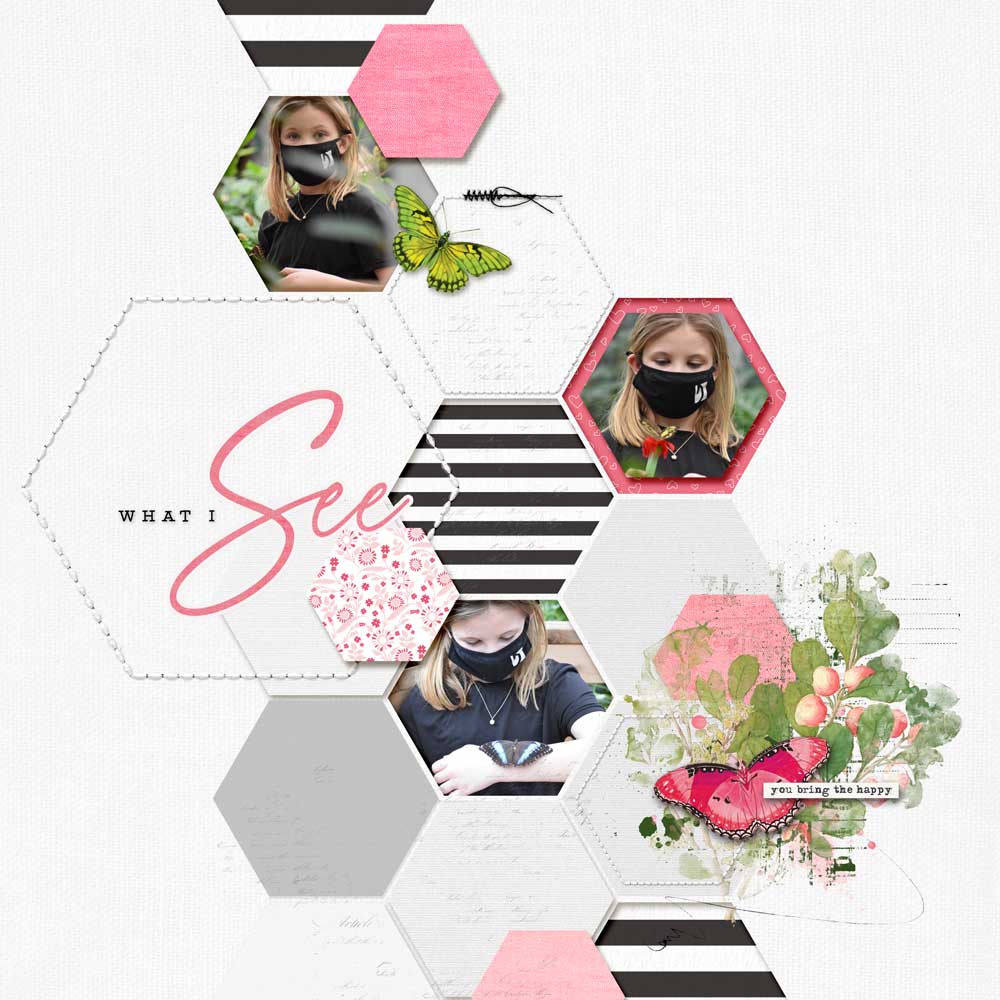 Products used:
Typed and Scripted 20, Photo Grids 12×12 Layered Templates 09, Stitched Geometrics 02, Readymade Layers: Botanical Clusters 26, Everlasting ReMix Paper Pack, Everlasting Scrapbooking Collection
Valerie (nana_vg) chose more of a direct lift of Lori's page. The snowflake used as an O is probably my favorite but then I look at those cute snow babies and I can't decide! This page is a perfect lift, especially with the addition of her wonderful patterned papers!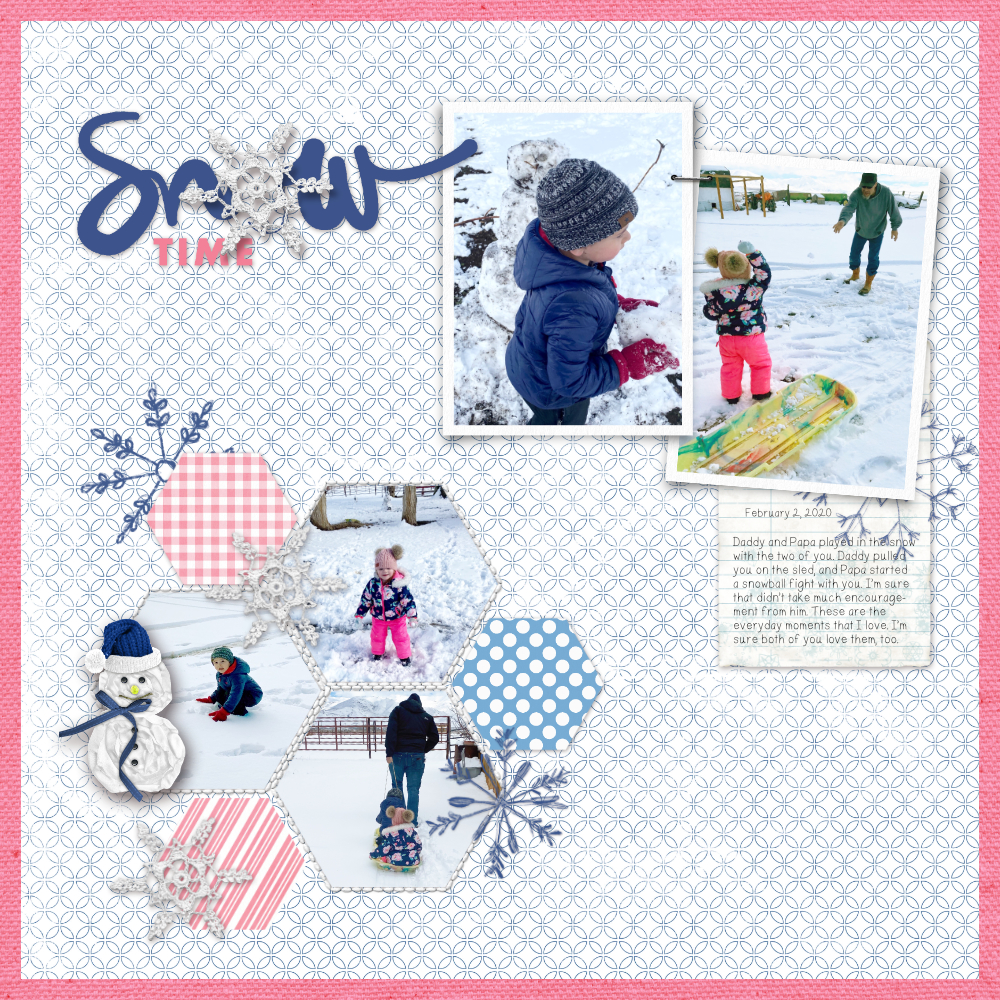 Products used:
Classic Curled Photo Frames 07, Stitched Geometrics 02, Curated Studio Mix Scrapbooking Kit 18, Instant Artsy Snowflakes Stamp Pack 01, Monthly Memories Vol. 03: Pattern Essentials Paper Pack 01, Bold and Scripted Brushes and Stamps 17.
I can't wait to see where Lori's inspiration takes you! If you join in on this challenge, be sure to post your page in the Saturday Scraplift Gallery and the March 2021 Challenges Thread. That way, you'll earn awesome KPD $DISCOUNTS$!
Have a wonderful Saturday!