Saturday Scraplift: Tearing Up a Design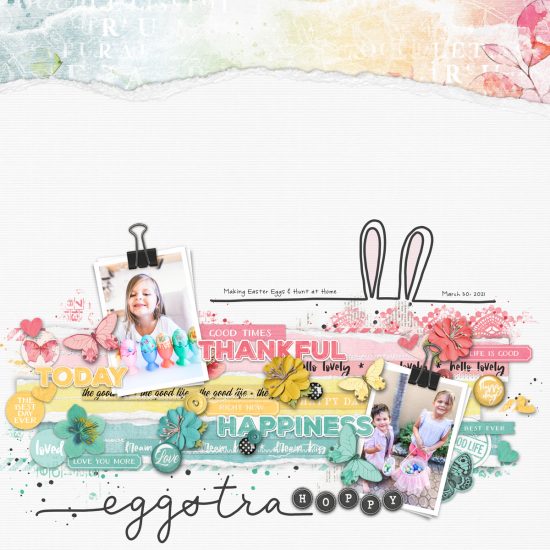 You know me and torn edges. I can't resist them, so it's no wonder that this delightful page by Audrey (adrianita) drew my attention. I love the pastels that mimic the dyed Easter eggs and the pops of black that always seem to finish off a well-designed page. Lori Ann, Liz T, and Erin were eager to join me in lifting Audrey's page. Here's where the inspiration took us.
Audrey's page: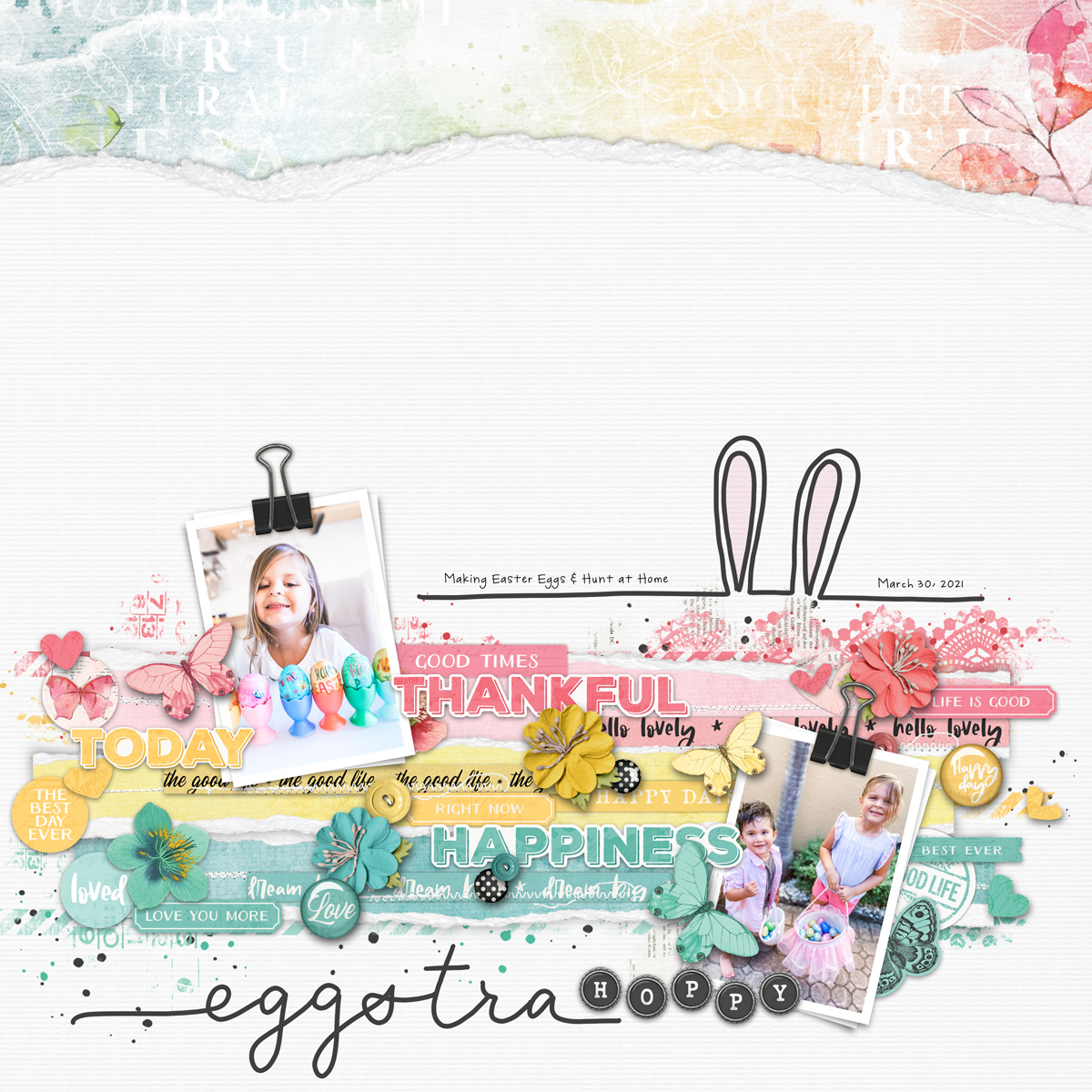 Lori Ann (lmaggs) scrapped a meeting between her granddaughter and the Easter bunny. I really like the twist she employed by angling her torn strips of spring-colored papers to provide homes for her sweet photos. And the bunny ears sticker is just too cute!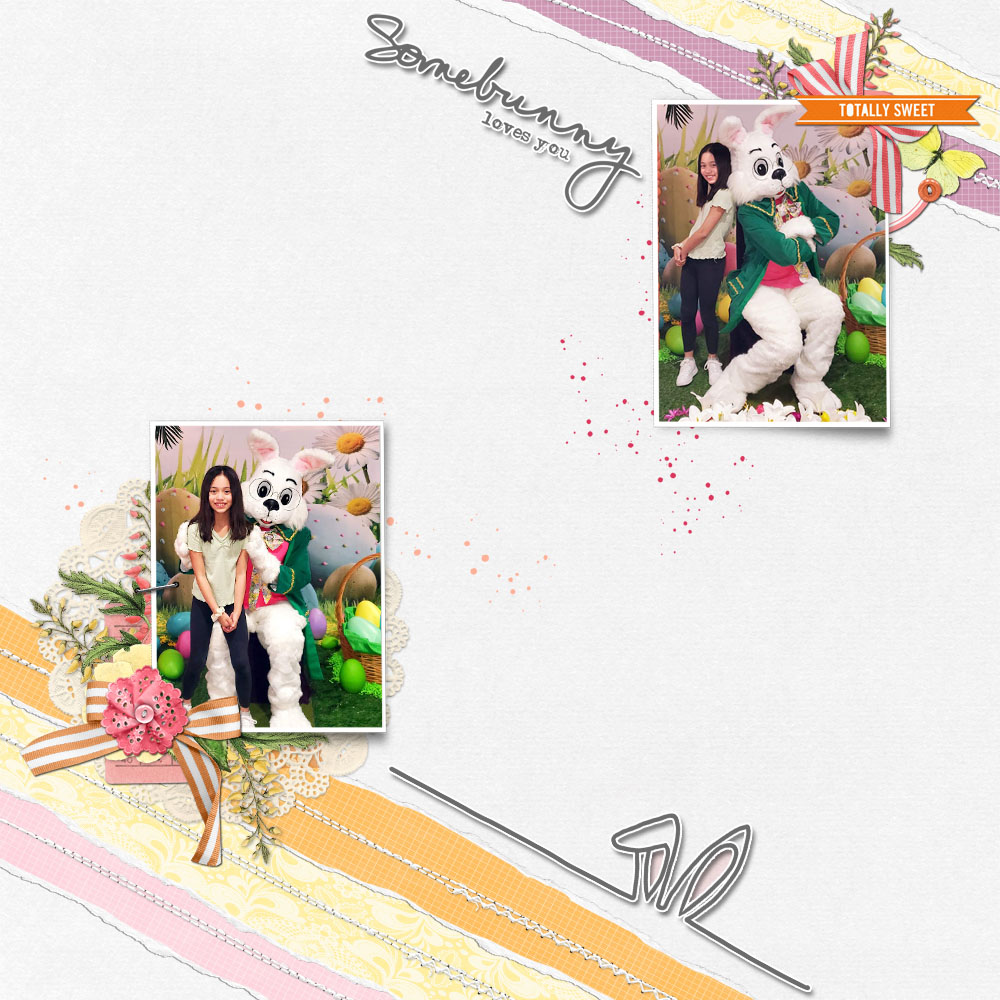 Credits: Arctic Whites Paper Pack 04; Graphed Notebook Paper Pack 11; Graphed Notebook Paper Pack 18; Hand Drawn Easter Lines 01; Love Letters Scrapbook Kit; Torn and Framed Layered Template 09
Liz T (lizziet5) also went with an Easter theme and used a photo of her grandson checking out his treat-filled basket. She rotated Audrey's design to emphasize her photo and used her signature soft hues. I love the visual triangle of bright blue, inspired by those bunny ears.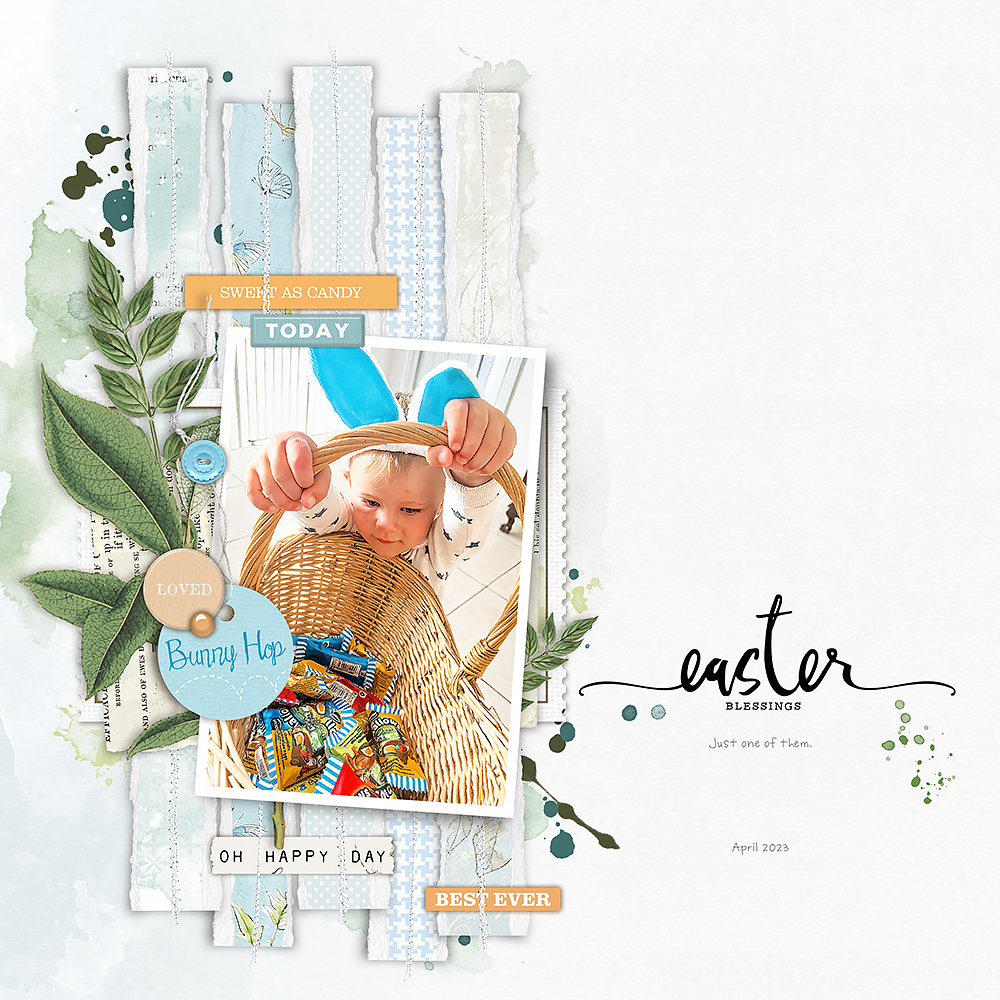 Credits: Torn and Framed Layered Template 09; Arctic Whites Paper Pack 04; ARToptions Avesta Chipboard Bits; Classic Side Lift Photo Frames 01; Enchanted Easter Element Pack; Monthly Memories Vol. 03: Pattern Essentials Paper Pack 02; Patterning Mini Mix 02; Spectrum | Sherbet Flairs; Spectrum | Sherbet Ephemera; Vintage Artistry Tranquility Chipboard Words; Typed and Scripted Stamp Pack 29; Vintage Artistry Everywhere Defining Word Blends; Vintage Artistry Serenity Paper Pack 01; Vintage Artistry Serenity Solids Paper Pack; Vintage Artistry Tranquility Solids Paper Pack; Vintage Garden District Element Pack; Watercolor Sketchbook 01 Paper Pack; Readymade Layers: Floral Clusters 03; Readymade Layers: Botanical Clusters 39
Erin's (Ernie88) torn paper, angled design puts her adorable photos front and center, as they should be. She chose an Easter-y, springy color scheme, accompanied by bold, black brush work to emphasize the sweet relationship between her children.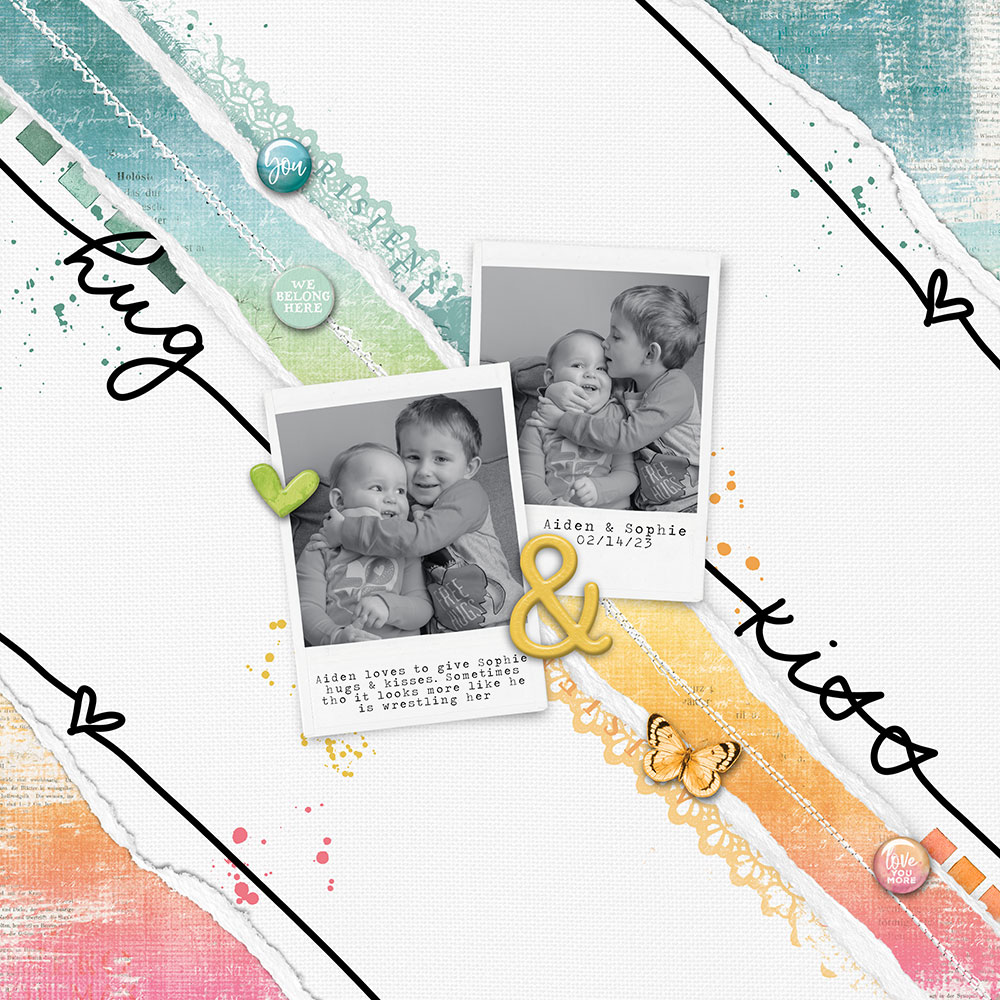 Credits: Photo Clusters 64; Spectrum | Sherbet Paper Pack; Spectrum | Sherbet Plastic Alphas; Torn and Framed Christmas Layered Template 03; Torn Templates 01; Watercolor Sketchbook 01 Solids Paper Pack; Hand Drawn Love Lines 01; Readymade Layers: Scatters 03; Readymade Layers: Scatters 04
I adhered very closely to Audrey's wonderful design but adapted my color scheme to complement the photo of our delicious Cherokee Purple heirloom tomatoes. I incorporated touches of black in the splatters, the clip on the photo, and my title.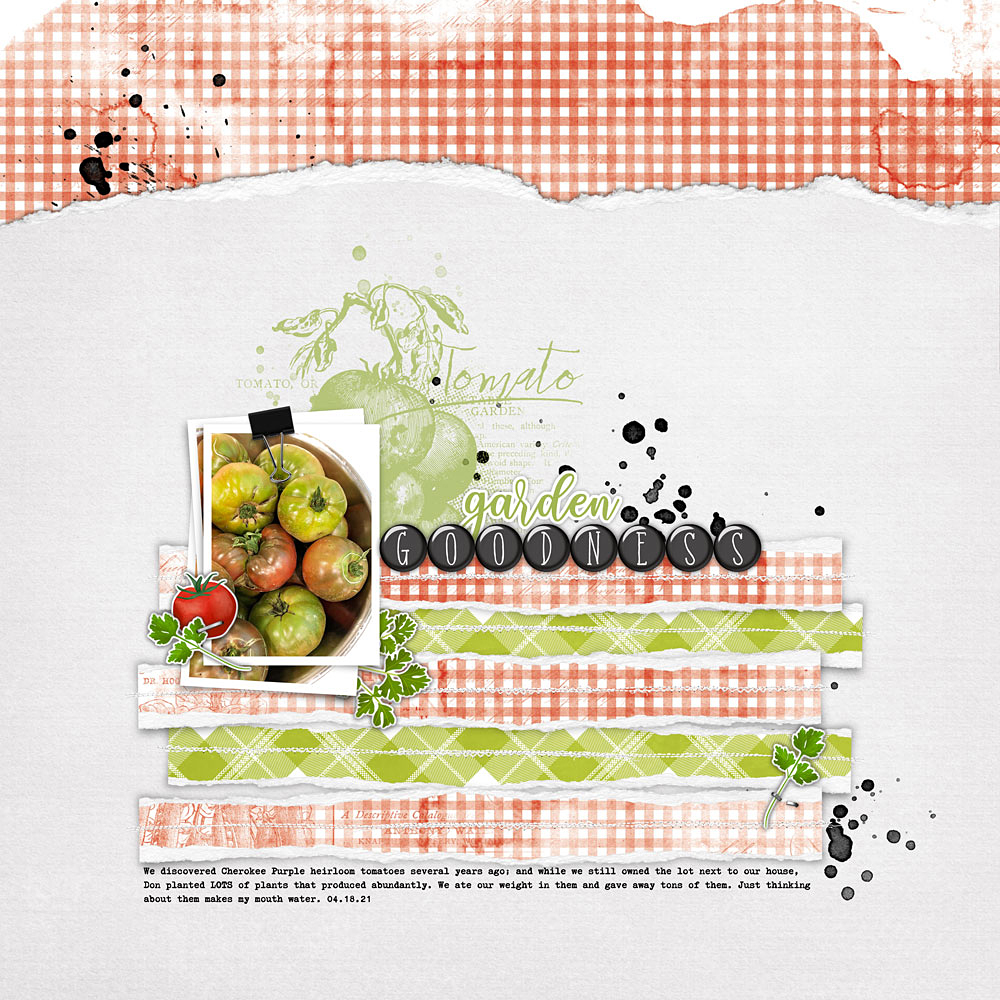 Credits: Vintage Artistry Countryside Paper Pack; Watery Spots Brushes and Stamps 09; Watery Spots Brushes and Stamps 10; Watery Spots Brushes and Stamps 13; Torn Templates 02; Beached Canvas Cardstocks Paper Pack; Grown in the Garden Stamps and Layers 01; Torn and Frames Layered Template 09; North Pole Add-on Paper Pack; Garden Grows Mini Kit; Clipped Stacks 10; Hike More Outdoors Scrapbook Element Pack; Everlasting ReMix Element Pack; Drop Shadow Styles
How are you going to include some torn edges in your design? There's no end to how versatile they are, so I'm excited for you to "tear up" the gallery with your lifts – lol! Remember to post your page in the Saturday Scraplift Challenge Gallery as well as in the May Challenges Sign-in thread in the forum. Happy scrapping and Happy Mother's Day!