Saturday Scraplift: Show Off Your Photo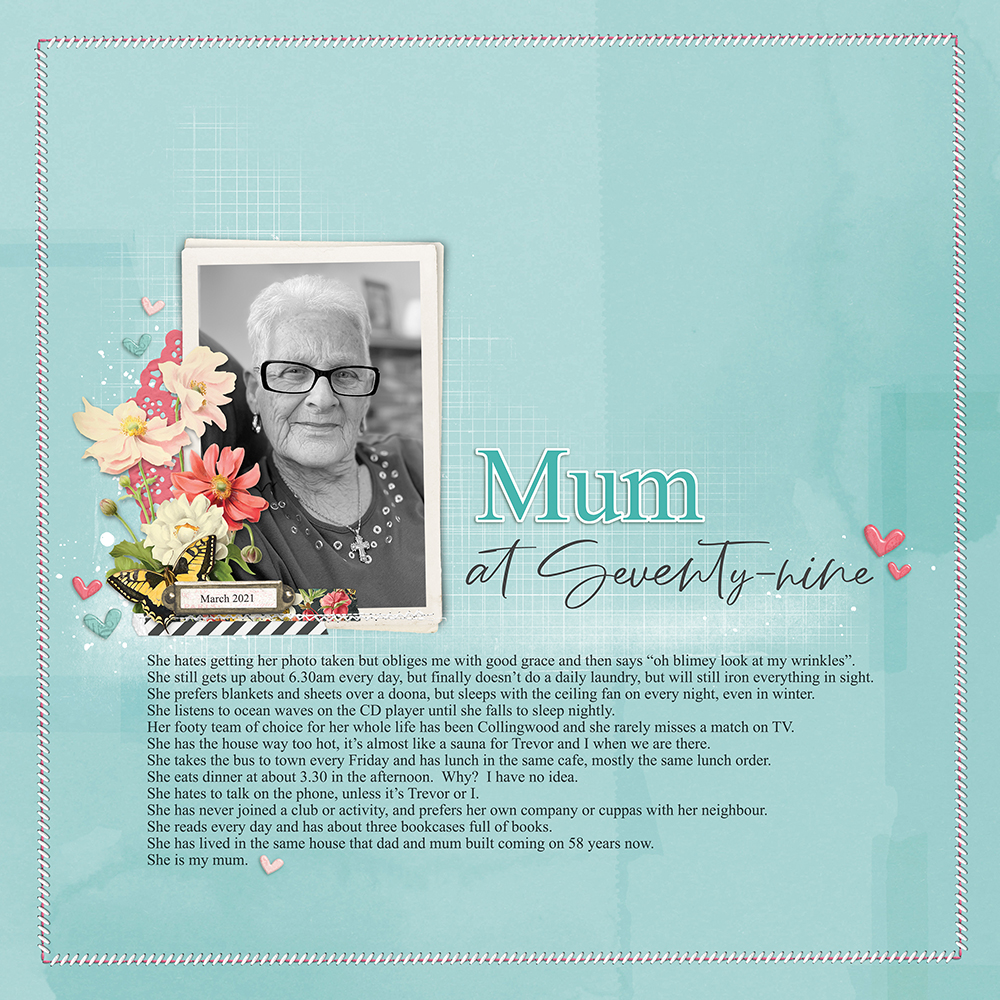 Even though we all LOVE playing with the wonderful goodies here at Katie Pertiet Designs, it's really about the photos, isn't it? We're preserving those special photos that spark our memories and help us enjoy the good times all over again. Carol's (carollee) page about her mum is just that kind of page. There are so many things to love about it: the beautiful black and white photo, the journaling that captures who she is, and the bits of color, stitching, and brushwork – perfection! My fellow Creative Team members Jheri and Stacia joined me in taking inspiration from Carol's page.
Carol's page: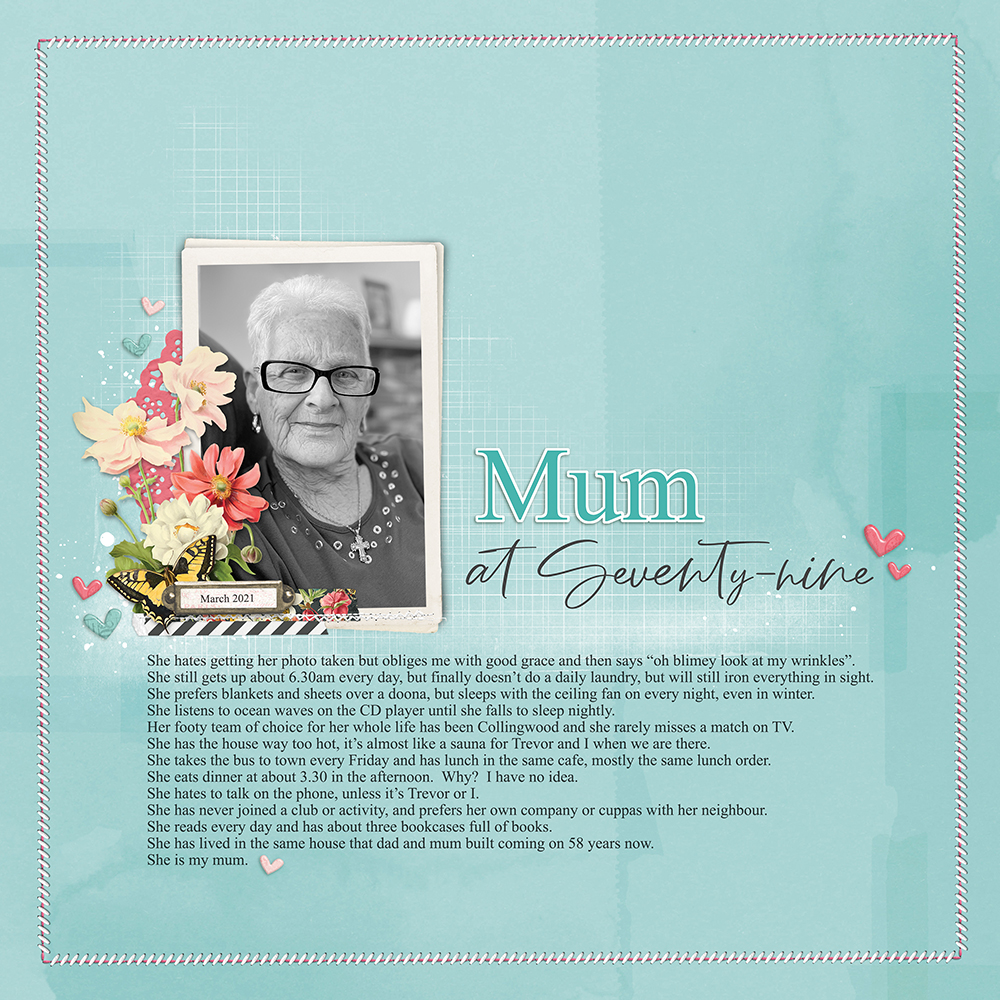 Jheri's (Jheri) sweet page highlights an adorable photo of her granddaughter – don't you just love that little rooster tail? The burst of color in the cluster is brilliant against the monochrome of the slightly textured background paper and the black and white photo. And her journaling details exactly who this little cutie is right now. A page like this for each birthday would be a good idea, don't you think?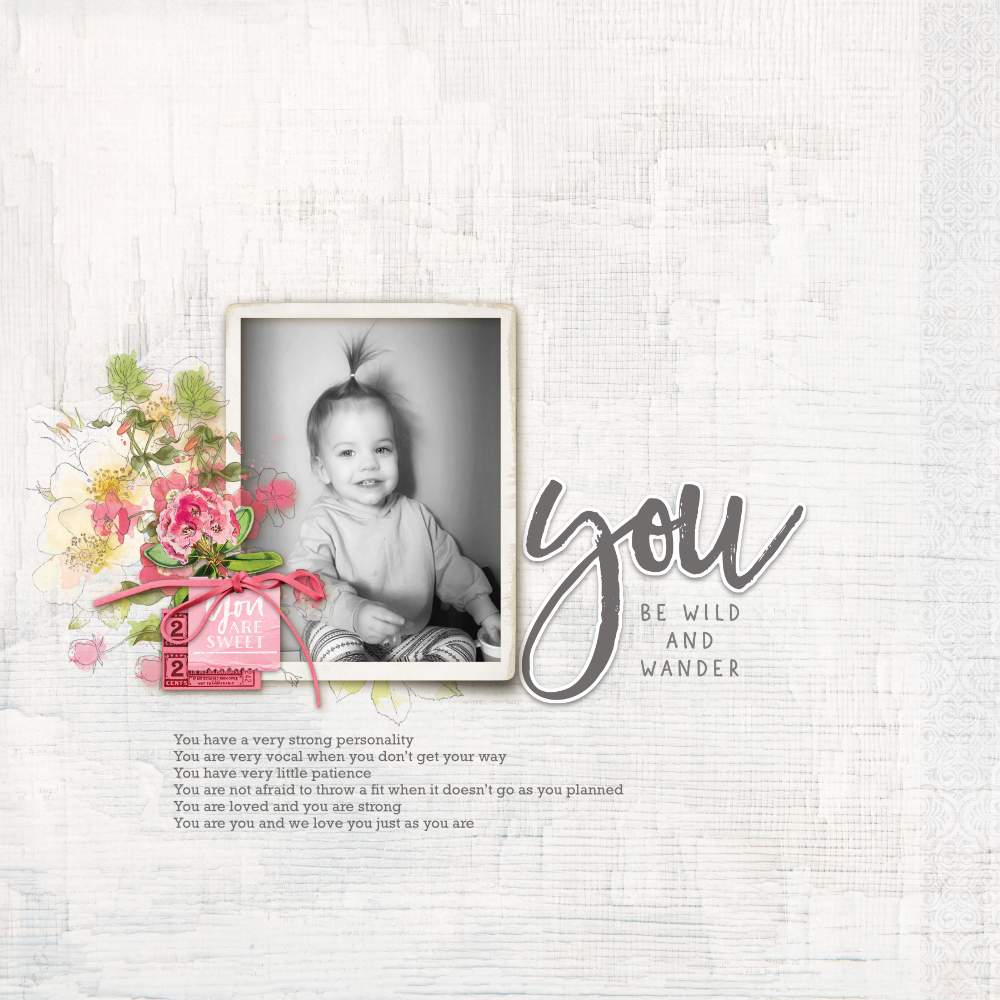 Credits: Vintage Botanicals Layered Photo Frames 01; Monthly Memories Vol. 02: Foundations 07; Scrap Layers Layered Template 02
Stacia (Stacia) created a lovely tribute to her mother – they totally have the same smile. Even though there are lots of layers and pretty elements on Stacia's page, it's not the least bit crowded and keeps the focus on the great photo of her mom. I love how her color palette picks up the subtle pinks and blues in the photo.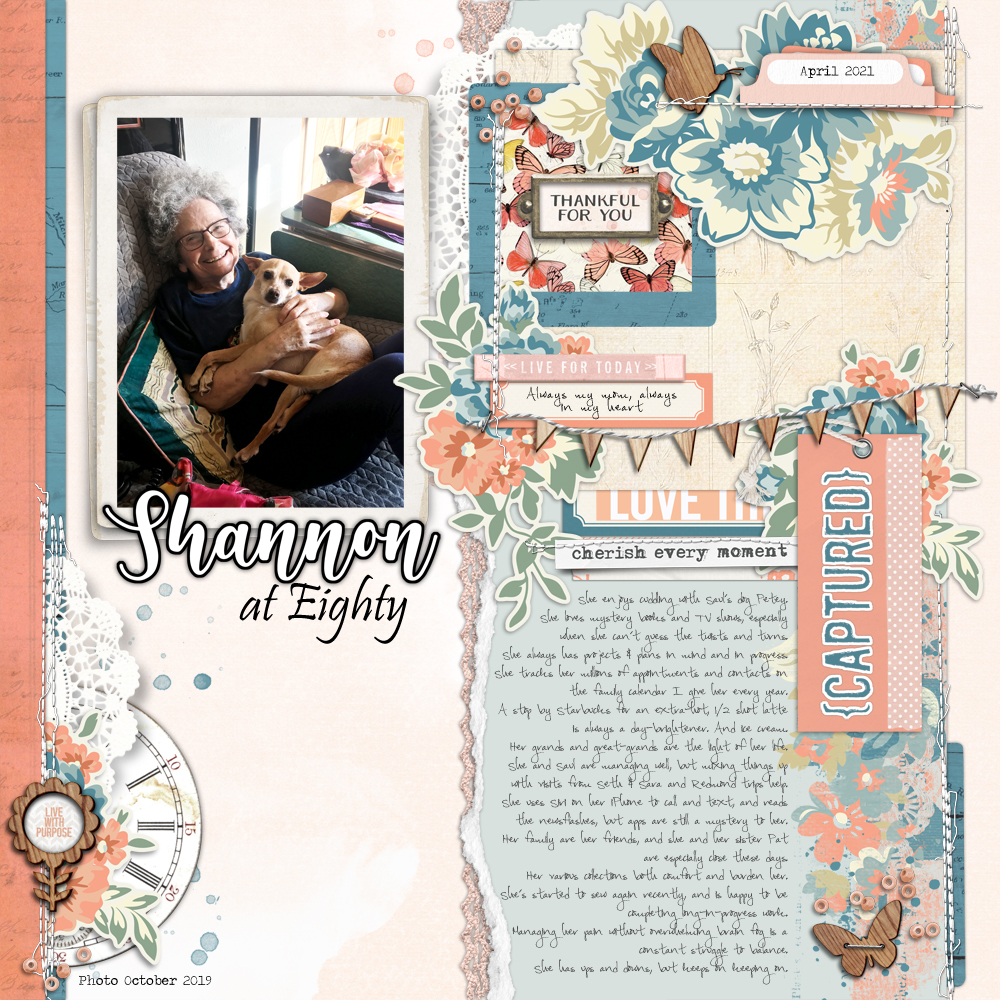 Credits: Layer Works 1471; Vintage Botanicals Layered Photo Frames 02; Monthly Memories Element Pack 02; Cottage Fields Pocket Cards 04; Old Ledger Coral Paper Pack; Beached Paper Pack; Canvas Book Paper Pack 01; Golden Pretty Scrapbook Kit; Stitched Word Strip Sentiments 07; Canvas Cardstocks Paper Pack 09 (recolored)
I scrapped a photo of my honey and me from a year and a half ago and took the opportunity to record some facts about our fifty-year journey together. As I grow older, I find myself reflecting more and more – I know, it's an old person thing!  Making my photo black and white (we were wearing blue and red) gave me the opportunity to play with Katie's beautiful new Cottage Fields kit – yummy things in there!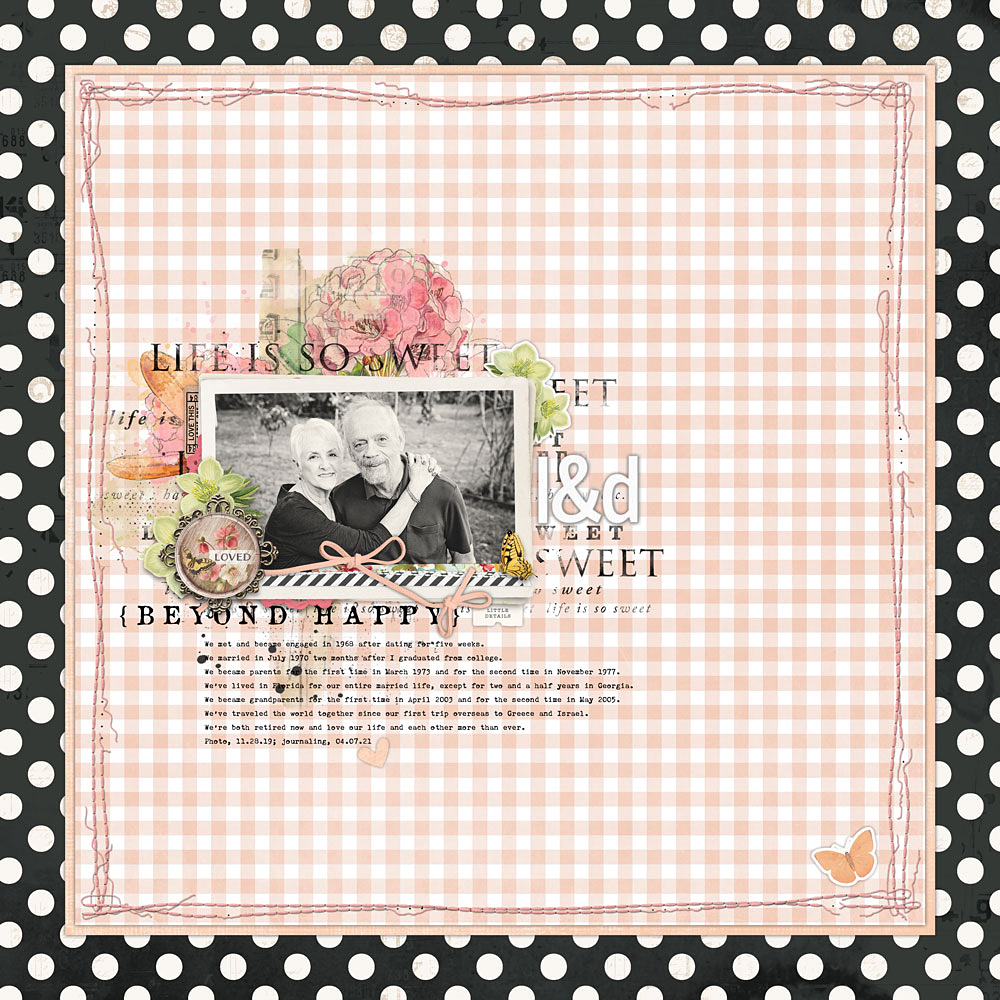 Credits: Cottage Fields Paper Pack 01; Lightly Linens Paper Pack 31; Readymade Layers: Botanical Clusters 29; Watery Typecast Sentiments 10; Cottage Fields Element Mix; Cottage Fields Bits and Pieces; White Chipboard Alpha 02; Cottage Fields Layered Frames 01; Cottage Fields Element Pack; Messy Stitched Borders 03: Pink; Drop Shadow Styles
There are so many ways to be inspired by Carol's beautiful page. I hope you'll join in on the fun and post your lift in the Saturday Scraplift Challenge Gallery as well as in the April Challenge Participation Sign in thread. Happy scrapping!