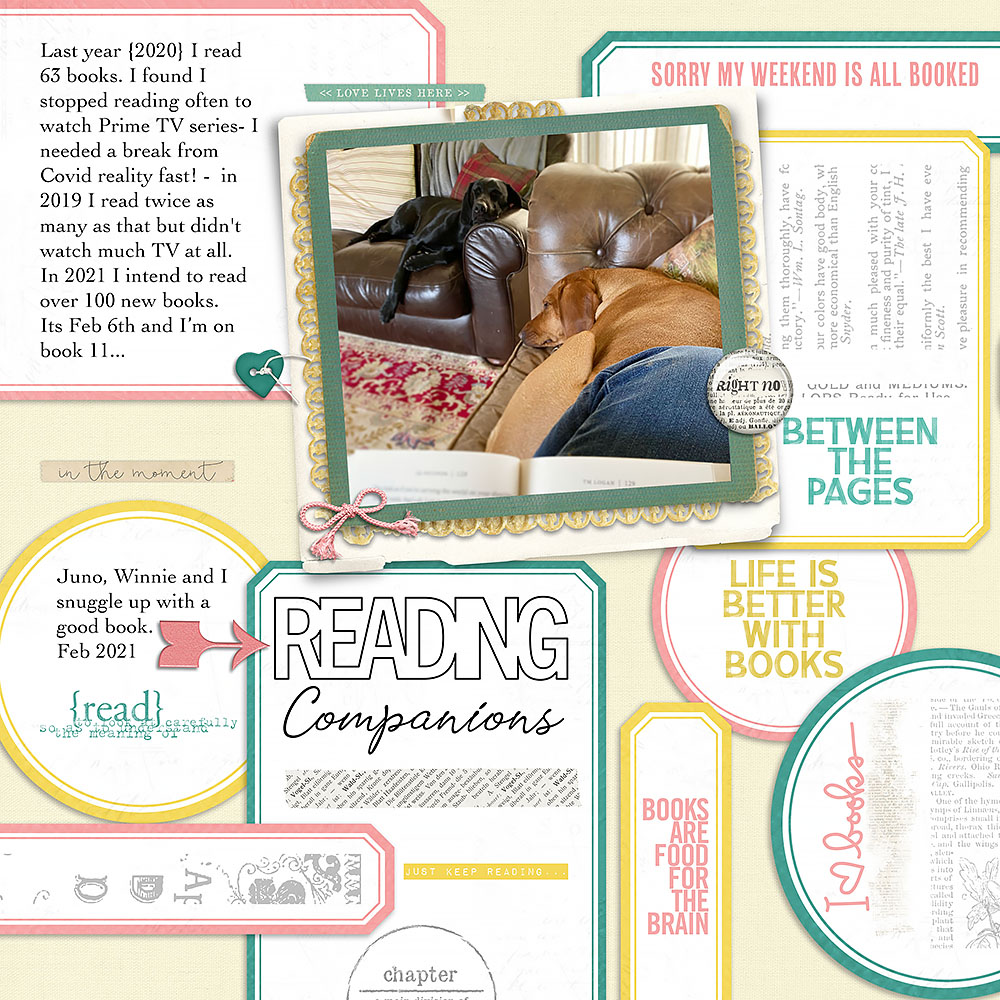 Saturday Scraplift: I Love Office Supplies!
My secret's out: I adore any type of office supply product. I can't go into Office Depot or Staples without buying something, whether I need it or not. I'm pretty sure that's what drew me to Mel's (britgirl) fun page about her cute reading companions, Winnie and Juno. I also love to read, so the attraction was instant. Several of my fellow Creative Team members jumped at the chance to lift Mel's page; here's how she inspired us.
Mel's page: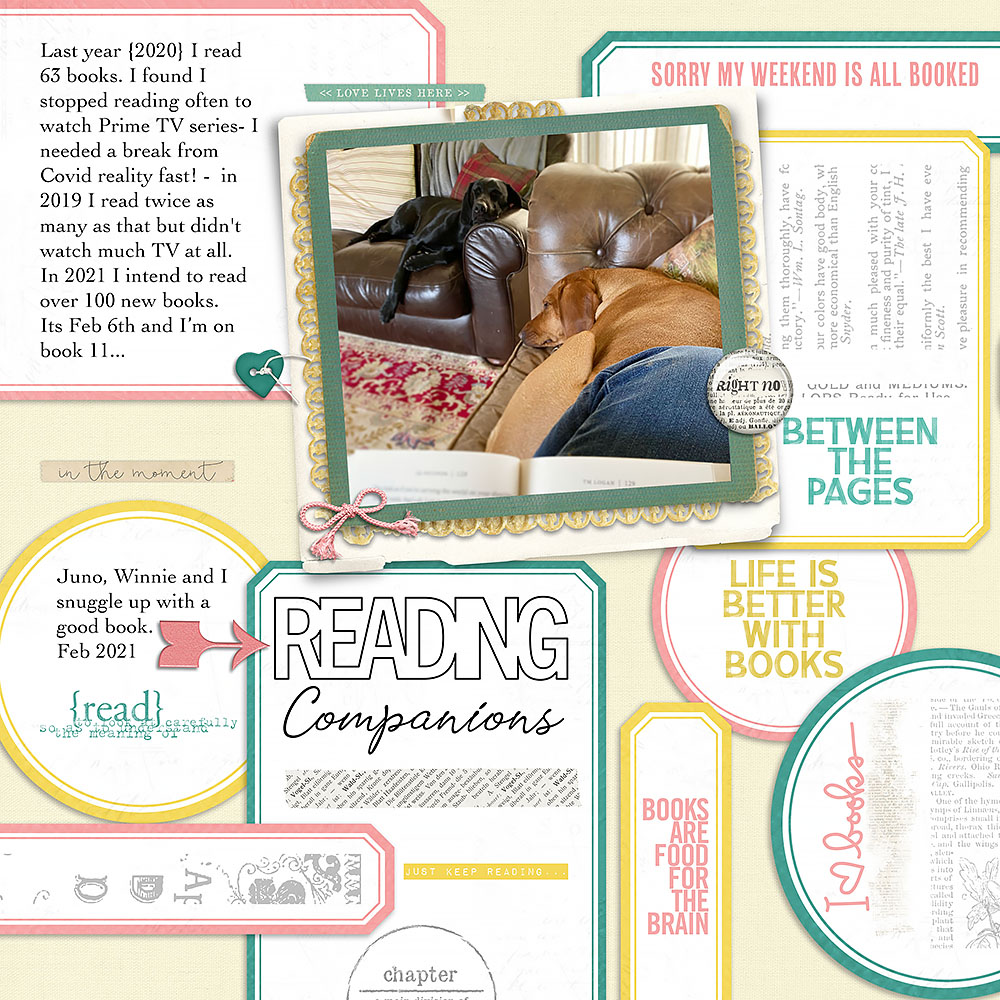 Addie (agoymerac) scrapped an adorable photo of her nieces and used stitched tags and word art to let them know how much she loves them. I really like how she arranged her photo and the tags in a loose grid pattern (love a grid!) and then supported it at the bottom with heart brush work and her title. Great spot coloring on that title, too!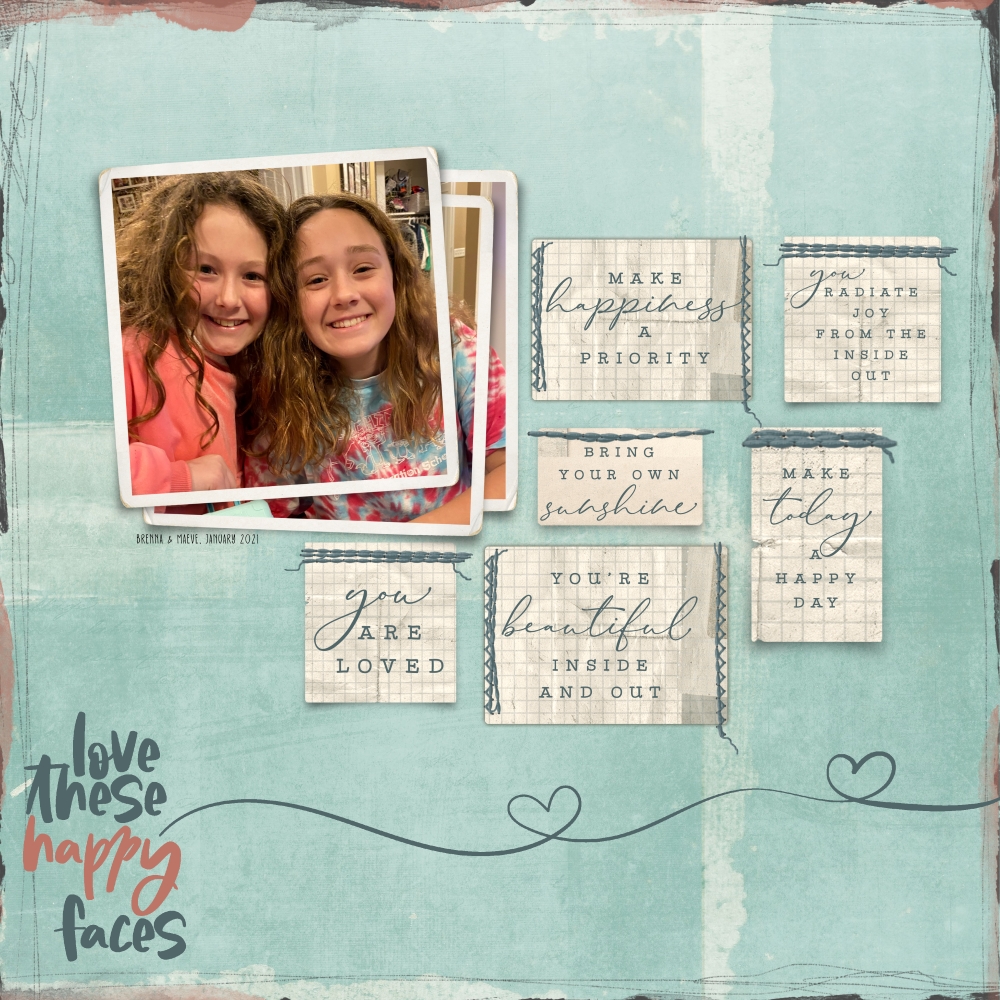 Credits: Stitched Journal Strips 04; Thoughtful Script Stamps Pack 02; Thoughtful Script Stamp Pack 03; Vintage Artistry Collectors 01 Paper Pack; Happy Faces Stamp Pack; Looping Hearts Stamp Pack 01; Artsy Bookshelf Layers 01; Stacked Vintage Frame Layers 01
Rachael (myssp) did a fabulous job with layering on her page featuring a sweet shot of Miss Molly and Drake. Every time I study her page, I find something else tucked in – a frame, a tag, a piece of note paper, a bit of twine. That black and white photo really stands out amidst the pink tones.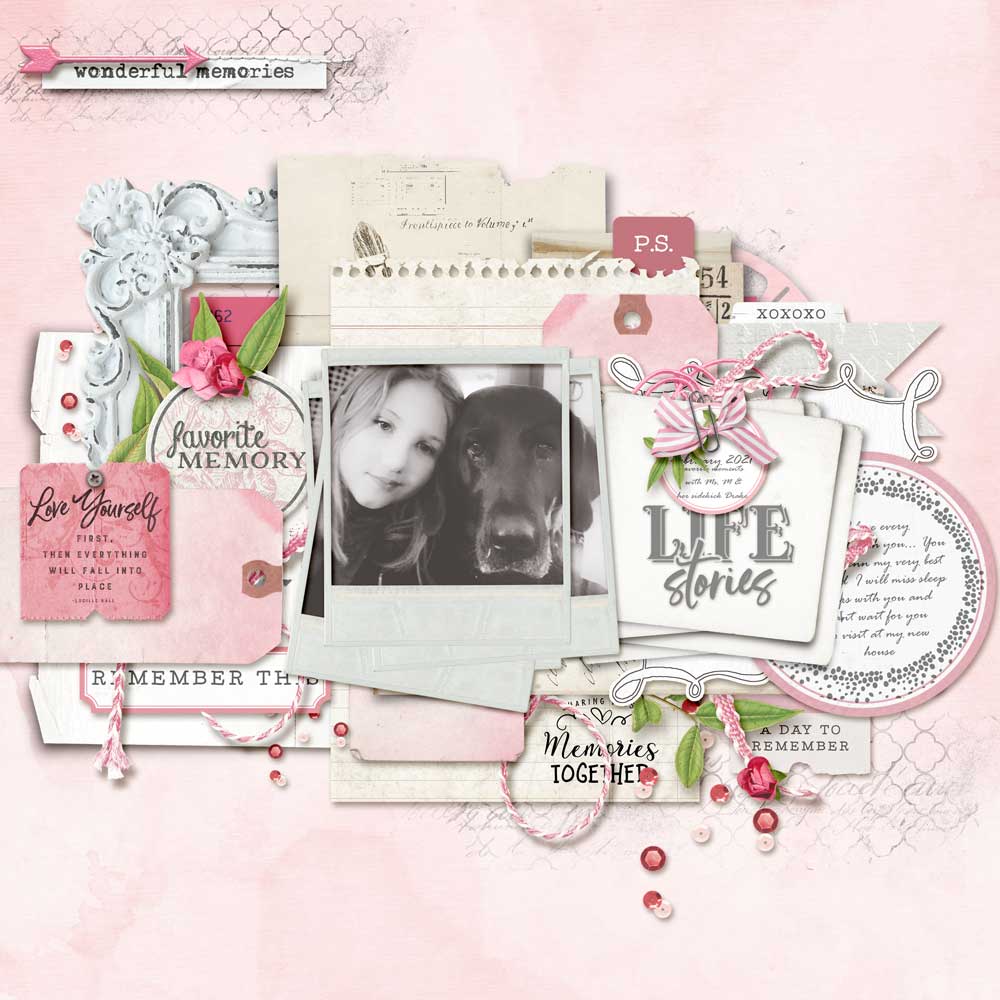 Credits: Ancestry Sentiment Stamps; Layer Works 1454; Vintage Artistry Blush Bundle; Pocket Cards: Notebook 01; All My Love Scrapbooking Kit; Instamatic Frames 03; Fresh Vintage: Asha Element Pack; Clipped Journal Layers 02; Everlasting Scrapbook Kit; Sherene Scrapbook Kit; Story Sentiments Brushes and Stamps 02; Color Essentials Pink Ribbons and More; Stitched Word Strip Sentiments 07; Curated Team Scrapbook Mix 10 Value Pack
Valerie's (nana_vg) page is all about the sweet relationship between a big brother and his two little sisters. The pink and blue color choices are perfect as are her use of the file labels and slide frames. Valerie did a wonderful job of including several photos and lots of journaling on a page that isn't the least bit crowded.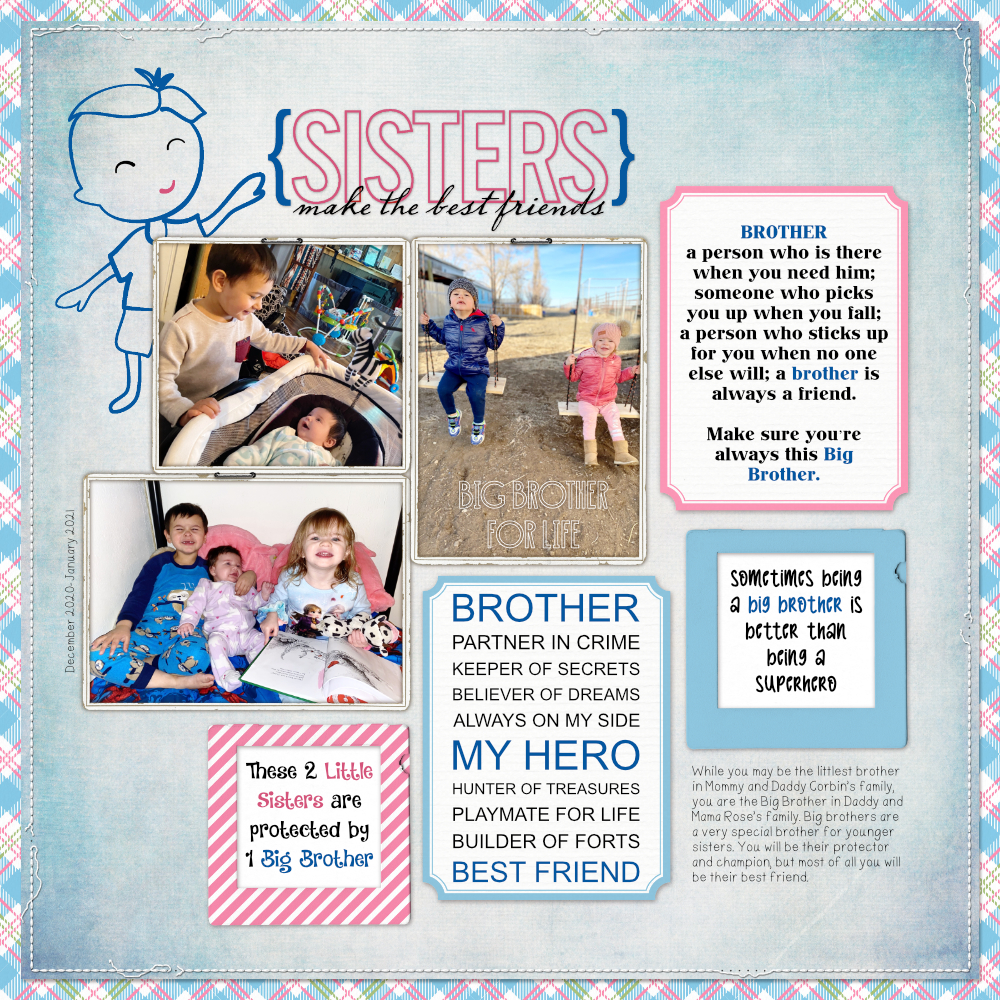 Credits: Photo Clusters 43; Inked Whimsy Brushes and Stamps 02; Bracketed Sentiments (retired); Patterning Palette 04 Kit; Patterning Palette 04 Solids Paper Pack; Canvas Color Mix Paper Pack 17; Palette Textures Paper Pack 03; Messy Stitched Borders: White 02
I loved the labels and the subject matter of Mel's page, so I decided to do a little recap of the books I read in 2020. The screen shots of the book covers dictated my color scheme – it's amazing how many book covers are black and red with a spot of blue. I'm sure there's some color psychology research involved there.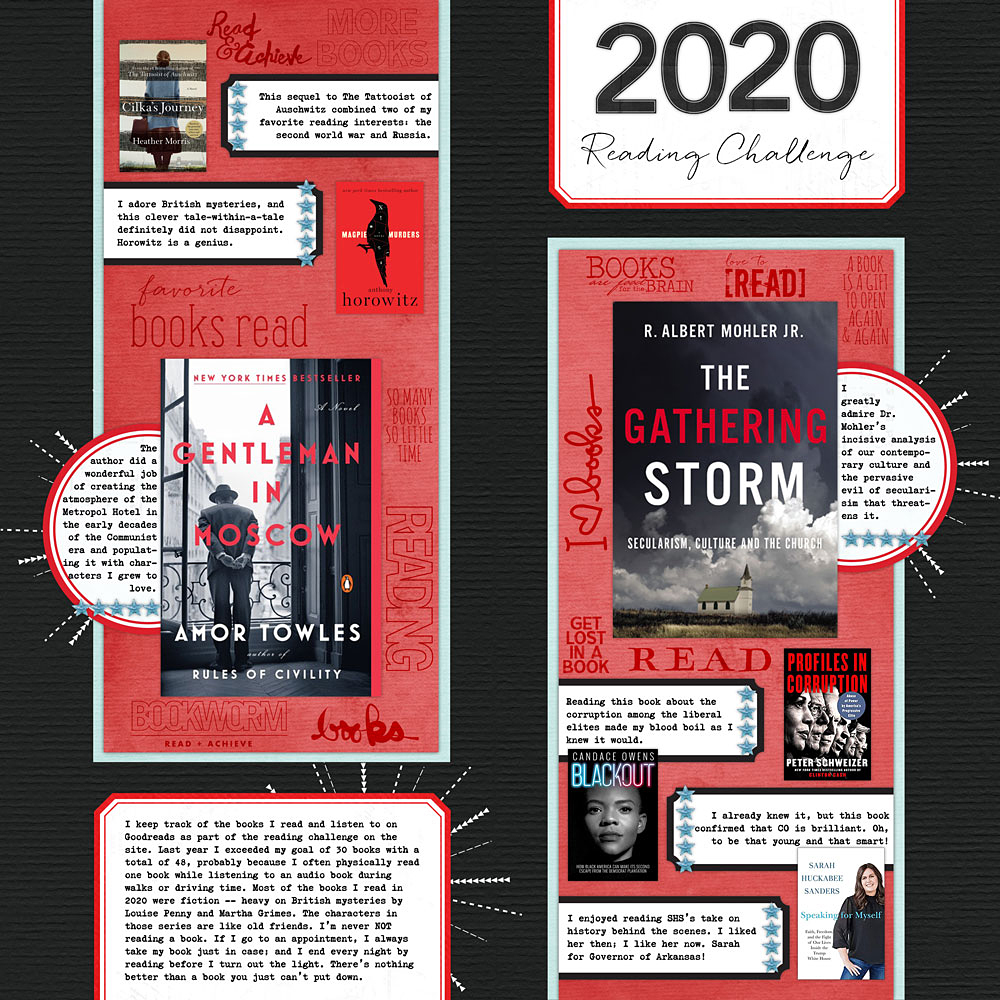 Credits: Blitzen Solids Paper Pack; Striping Graphic Bursts Brushes and Stamps 01; Monthly Memories Vol. 02: Element Pack 12; Basic Paper Alphabet: Black 01; Palette Textures Paper Pack 23; Palette Textures Paper Pack 26; Be Merry Element Pack; Title Lines Brushes and Stamps 09; Thicker Inked Words: School 01 Brushes and Stamps; So Proud Brushes and Stamps; My Story Page Titles Brushes and Stamps 02; Stamps Sets Vol. 02 Books; Cutting Files: Merging Statements 05; North Pole Scrapbooking Element Pack; Education Word Art Brushes and Stamps; Love My Teacher Brushes and Stamps; Love for School Brushes and Stamps; Astro Element Pack; Drop Shadow Styles
There's no end to the ways Mel's clever page will inspire you, and I'm eager to see your lifts. Post your page in the Saturday Scraplift Challenge gallery as well as in the March Challenge Participation Sign-in thread to be eligible for your rewards. Happy scrapping!