Hi everyone! It's Trace (tracermajig) back with you once again for the April iTunes challenge!
I came across this album while I was browsing and I was immediately drawn to the chalkboard background and scribbles. I think there are a number of different ways you could take this and our team did just that!
Before I show you some examples, Katie has generously provided a freebie to get you started. It is not a requirement to use it in the challenge, though.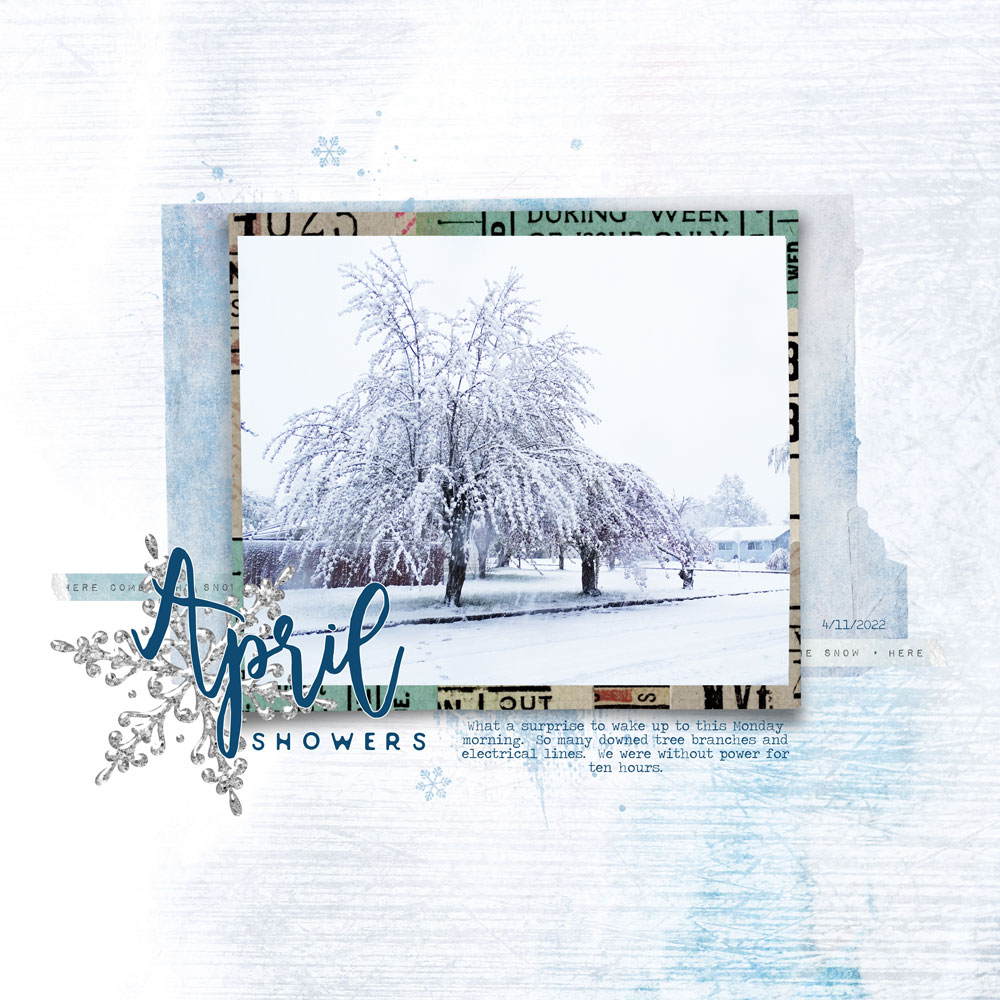 Shannon (shannonroller) took her page is a different direction and went light and bright! I love the soft blending and addition of the snowflakes! It all works so well to look like an extension of her photo!
Shannon used these supplies on her page: Arctic Frost Winter Scrapbook Bundle, ARTpack Winter Brushes and Stamps 02, Baskets of Joy Brushes and Stamps, Glittery Epoxies: Wintery 03, Vintage Photo Frames 50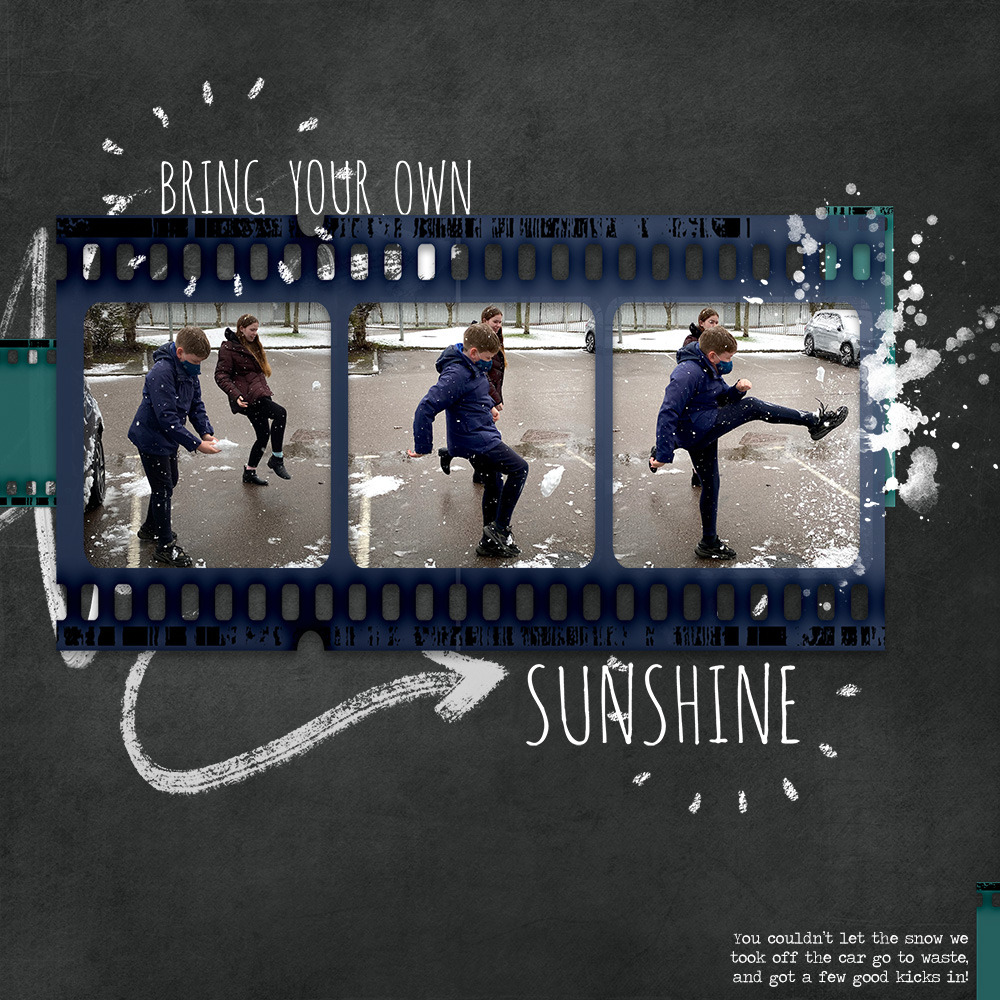 Chrissy (kikimama) was inspired by the chalk background. I love how she used the chalk brushes to help tell her story. Don't you think the splatters look just like the snow being kicked? So creative!
Chrissy used the supplies on her page: Big Chalky Arrows Brushes and Stamps 01, Chalkboard Stars Brushes and Stamps 01, Chalk it Up: Basics 03 Paper Pack, Colored Filmstrip Frames 03, Colored Filmstrips 03, Instant Artsy: Scribbles-n-Scratches 01, Stamp Sets Vol. 02 Weathering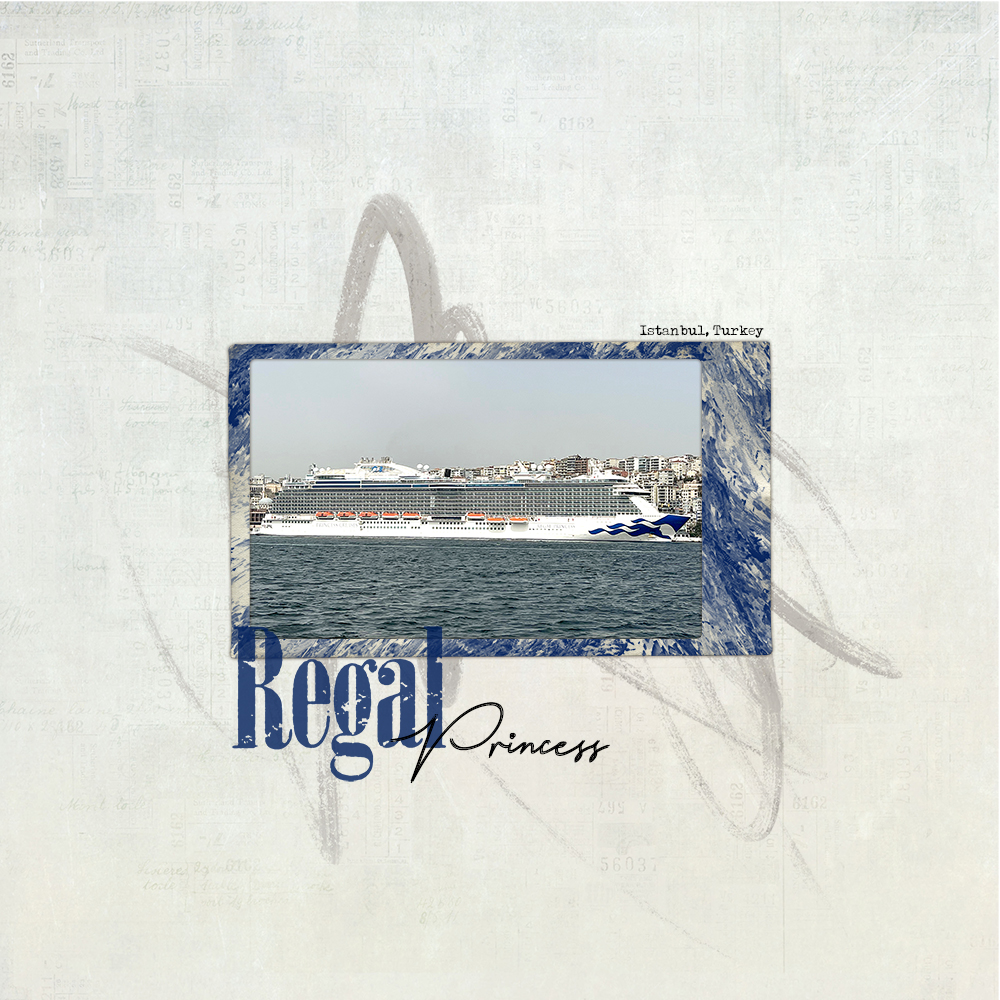 Wendy (wendymck) was inspired to scrap a cruise photo. I love how the blue chalk brush over the frame mimics the waves in the water and also the waves on the side of the ship.
Wendy used the following products on her page: Curators Botanical Addon Paper Pack, Instant Artsy: Scribbles-n-Scratches 01, Instant Artsy: Textures 01, Stamped Alphabet 02, Vintage Photo Frames 21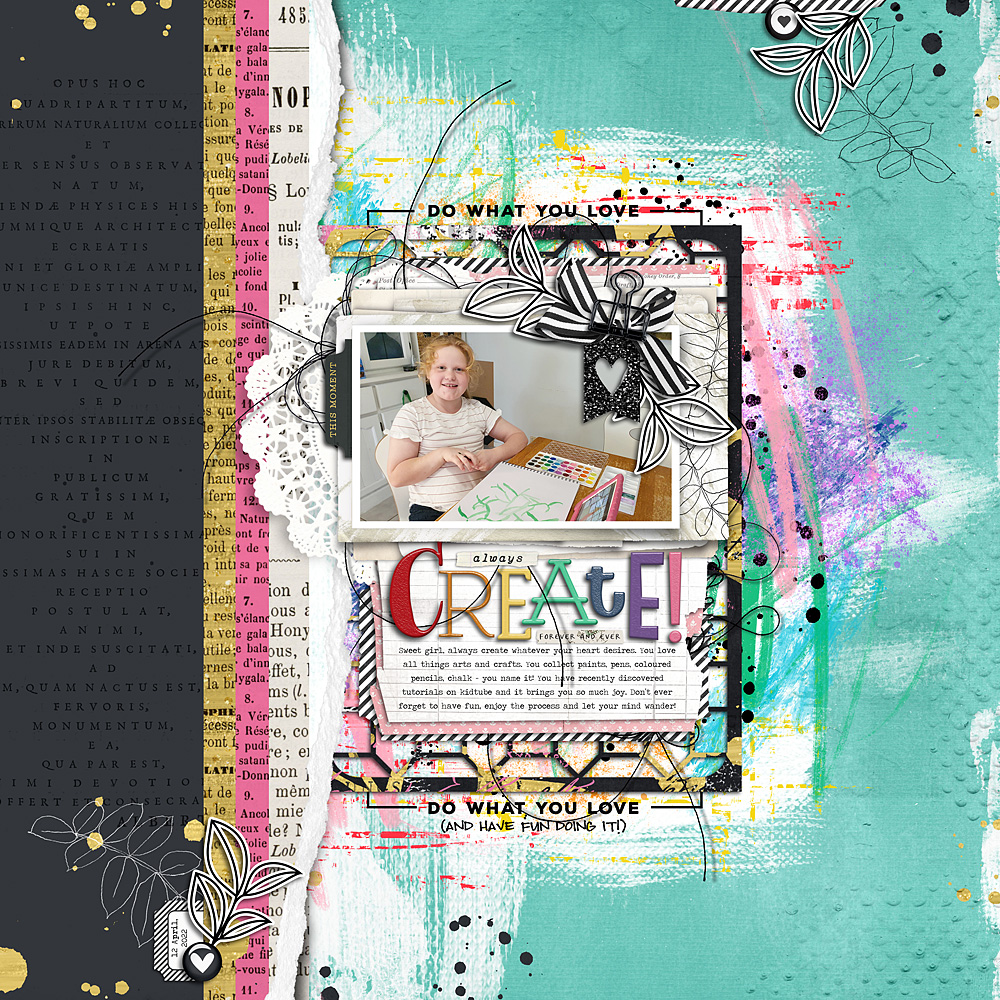 I (tracermajig) was immediately inspired to get 'messy'. My daughter loves art supplies and so this gave me a perfect chance to go crazy with colour!
I used these supplies on my page: All Around 4×6 Borders Brushes and Stamps 07, ARToptions Mini Mix 24, Be Hoppy Scrapbooking Kit, Brilliant Life Element Pack, Brilliant Love Element Pack, Classic Side Lift Photo Frames 01, Color Me Happy Scrapbook Kit, Curators Botanical Ephemera, Curators Botanical Sentiment Transfers 01, Curators Remnants 02, Cutting Files: 3×4 Pattern Cards 01, Done with Doilies Photo Clusters 01, Flair Minis 04, Golden Pretty ARToptions Paper Pack, Golden Pretty Scrapbook Kit, Hello December Scrapbook Kit, Indigo Garden Remnants 02, Indigo Garden Scrapbooking Kit, Instant Artsy: Scribbles-n-Scratches 01, Instant Artsy: Textures 01, Kerava Scrapbook Kit, Messed Up Texture Clusters Brushes and Stamps 01, Messy Sprays Brushes and Stamps 01, Painted Photo Masks 21, Pencil Line Leaves Brushes and Stamps 10, Plastic Slimline Serif Alphabets 01, Scattered Pictures Vol. 06 Layered Template 07, School Rules Scrapbook Kit, Spring Skies Scrapbook Kit, Textured Whites Paper Pack 01, Torn and Framed Layered Template 03, Vintage Photo Frames 21
I hope you feel inspired to create a page! Don't forget to share it with us in the the iTunes Inspiration Gallery and to update the April Challenge Participation thread to earn store rewards!