Story Scrapbook Challenge: Words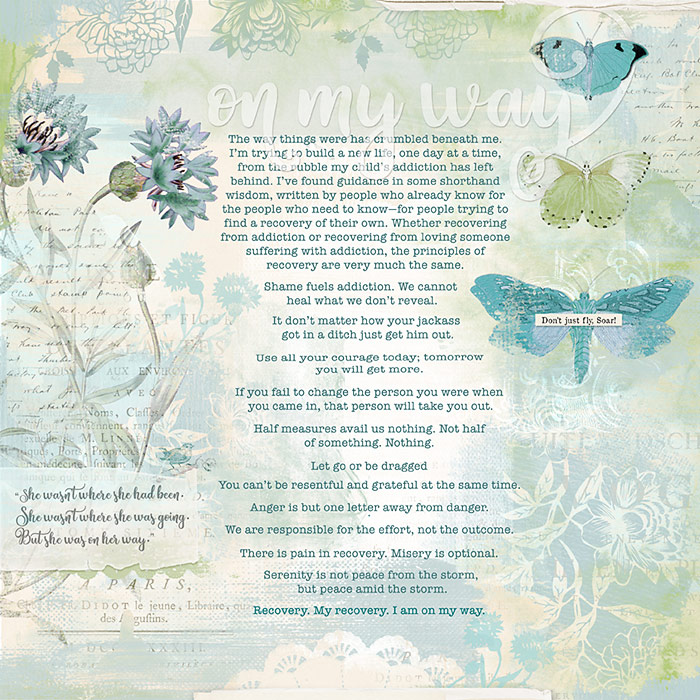 This month's challenge will be a good one, it's about words.  Do you have a quotation that has served you well, words that you live by?  Have you received a piece of sage advice that is something you reflect on often?  Is there a lyric from a song that particularly touches you?  Do you have a mantra that you say over and over?  Is there a passage in a book, perhaps even the Bible that you hold dear and call on time after time?  Is there a particular speech that has hit the spot and changed your life?
I want you to scrap that quote, lyric, passage, words – and also tell us the story as to why.  Why are those words so meaningful and important to you?  Why do they resonate?  Why do you hold them close?
I absolutely cannot wait to see what this challenge brings because I have been spoilt for choice by the Creative Team.
Deborah has blown me away, with her page, words fail me at the beauty and the depth.  And she hopes this may help someone feel less alone.
Supplies used by Deborah:  Blendable Layers 40,  Blendable Layers 109,  Blendable Layers 115,  Blendable Layers 36,  Blendable Layers 45,  Blendable Layers 55,  Blendable Layers 86,  Documenting Life Notebook Daily Stories Template 01,  Stories of our Life Layered Template 01.
Debbie has created a terrific poster, it's made me giggle and would look so great printed and up on the wall.  
Supplies used by Debbie:  Blendable Layers No. 83,  Catana Kit,  Clock Parts No. 06,  Maybe Tomorrow Complete Collection,  Leyton Scrapbooking Collection,  Doily Edgers No. 03.
This page by Lizj just has me all goose bumpy, those beautiful photographs and the lyrics of the mother/son dance at the wedding.  What memories must flood back when she looks at this page.
Supplies Liz has used:  Drop Shadow Styles,  Scattered Pictures Vol. 02 Layered Template 02,  Brushed Alphabet 03,  Miriam Paper Pack,  Miriam Element Pack,  Fresh Vintage: Albia Element Pack,  From My Bookshelf Blendables 15,  DocuStack Layers 02
And finally my page, this is a quote I have called on often over the years, and especially fitting now.
Supplies I have used:  Chalkboard Wings Subtle Solids Paper Pack merged with Bit of Bokeh: Ice Paper Pack,  Star Glows Brushes and Stamps 02,  Stitched Journal Strips 04,  Golden Leaves 01,  Twisted Dots 01.
The team at DD have generously provided a freebie to help you on your way, the link is good for the entire month of July.  I hope the goodies inspire you.
Post your pages in the Scrapbook Challenge Gallery and don't forget when you use ALL DD product on your challenge page you should post a link of your page in the July Challenge Participation thread so that it will count toward your savings in the rewards program.  Everyone's a winner!