Story Scrapbook Challenge : What are you looking forward to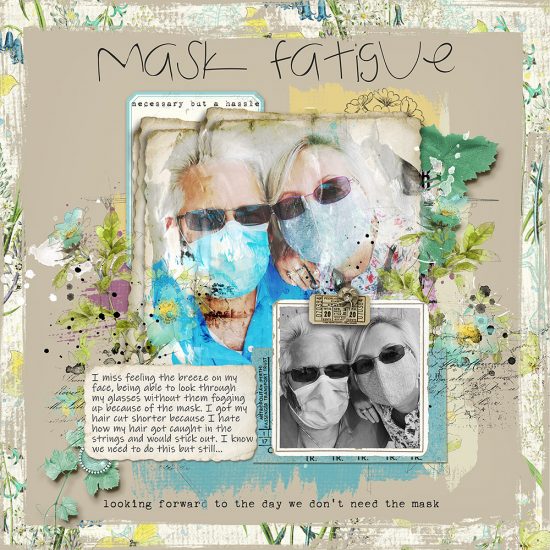 Hello all it's Carol here bringing you another Story Scrapbook challenge.
I listened to a podcast earlier this year where Hugh Van Cuylenburg of The Resilience Project was interviewed.  His words have really helped me through this year.  In a year of lock down, open up, lock down again, doubt about the future, wondering what is normal, he mentioned amongst all these feelings that we must have something every day to look forward to, even as bleak as things had gotten.   I held onto those words and yes sometimes what I looked forward to was a stretch (like my daily takeaway cappucino) but I did it, and it helped.
So this month's story I want you to tell me what you are (or have been) looking forward to, go back in time earlier this year or last year if need be to tell this story.
It could be something you've been missing that you are looking forward to – a beauty treatment at a salon, a hair cut, wearing lipstick outdoors (let's face it, it's hard if you're wearing a mask!), working from the office, having the kids go back to learning in school.
It could be something small that you set yourself to look forward to every day – time out in the garden, a good soaking in the bath with a wine, a takeaway coffee, a long chatty phone call with a  friend, a zoom call with the grandchildren.
It could be something in the future you're desperately looking forward to – catching up with family, taking a trip on a plane, shopping in a clothes store, dining out in a restaurant, having guests in your home.
I know we're all in different stages in 2021 across the world, so it will be interesting to read what we are or have been looking forward to.
The creative team have jumped on board with some terrific example pages:
I totally get where Chrissy (aka kikimama) is coming from with her page and missing a nice proper coffee, sitting down, in a real mug and time to think and that routine of this ritual.  I'm with you on this one Chrissy.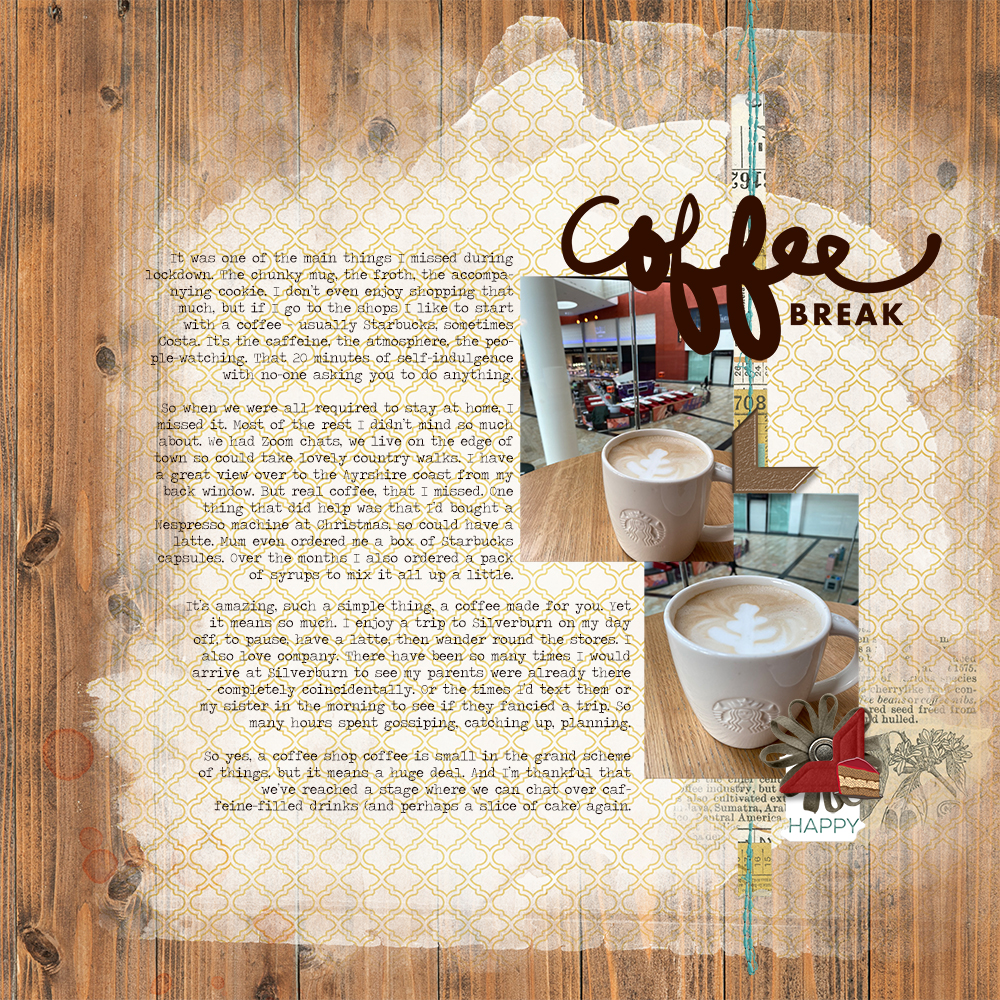 Supplies Chrissy has used:  Curated Studio Mix Scrapbooking Kit 38,  Page Blends 05,  Bold and Scripted brushes and stamps 11,  Coffee Stains brushes and stamps 01,  Dictionary Blendables Everyday 02,  Photo Corners: Colors 01,  Piece of Cake epoxy stickers,  and more.
I bet you'll be nodding along with this page from Rae (aka bcgal00), I am with you on this one Rae, as well as the earrings getting caught, and missing seeing people's smiles and wearing lipstick.  What a great page for your family albums telling of this strange time we find ourselves in all across the world.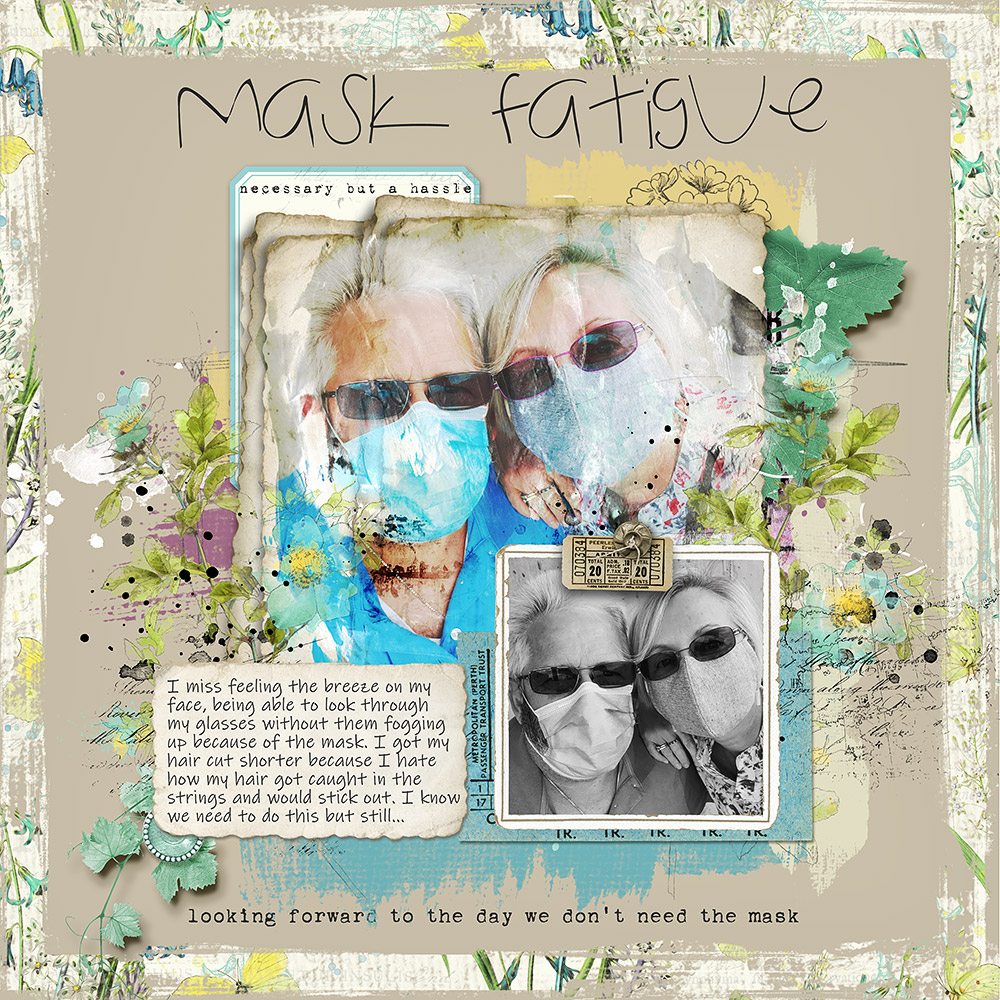 Supplies Rae has used:  Blendable Layers 83,  Deckled Edge Journal Spots 01,  Vintage Photo Frames 30,  Artsy Layered Collages 02,  Artsy Painted Photo Borders 02,  Antiquarian Artistry 01 Element Pack.
And for my page (aka carollee) I went a bit opposite – about how I miss travel, but I'm not sure I'm looking forward to it, well at least the overseas part of it, not until we are all back on an even keel.  That's the beauty of the story challenge, where the story tells you can be very unique.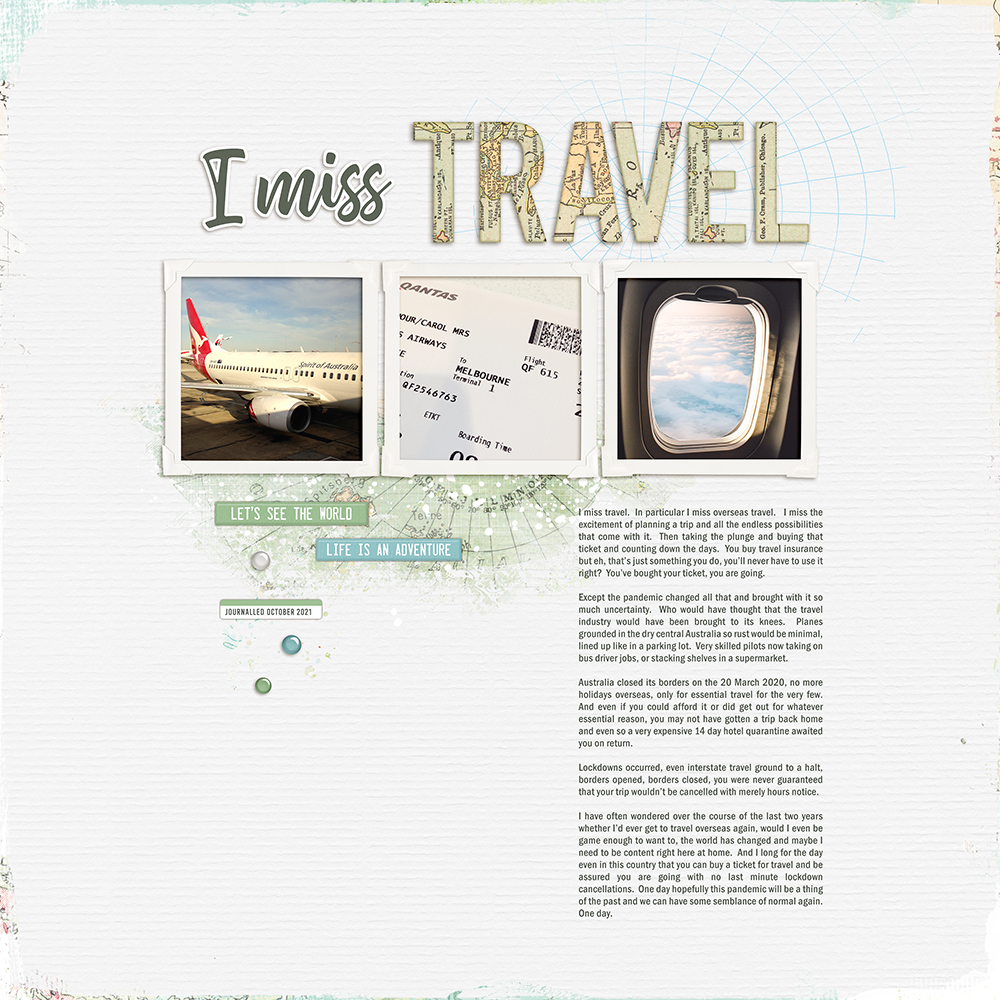 Supplies I have used:  Maybe Not Solids Paper Pack,  Blendable Maps 02,  Watery Grids Brushes and Stamps 01,  Vintage Artistry Anywhere Epoxy Stickers,  Vintage Artistry Anywhere Chipboard,  Vintage Edge Overlays 01,  Vintage Photo Frames 49.
The team at KPD have generously provided a freebie to help you on your way, the freebie link is valid for six months, KPD surely is generous.  I hope the goodies inspire you.
Post your pages in the Scrapbook Challenge Gallery and don't forget when you use ALL KPD product on your challenge page you should post a link of your page in the October Challenge Participation thread so that it will count toward your savings in the rewards program.  Everyone's a winner!