Story Scrapbook Challenge: Fathers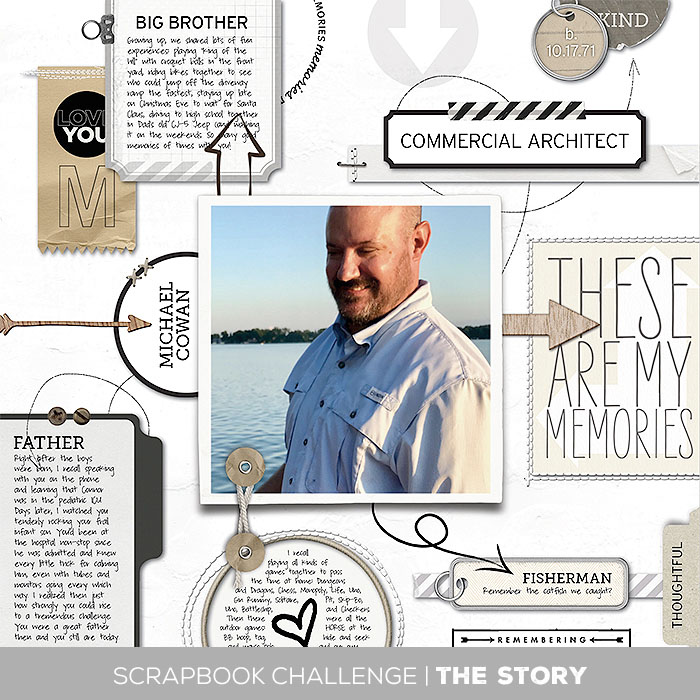 Father, grandfather, uncle, brother, son, grandson, husband, boyfriend, we all have them, well we have some of the categories.  In this month of Father's Day in the US, I want you to tell a story about a significant male member in your life, be it family or otherwise.  Perhaps you would rather tell a story about a male neighbour, teacher, friend.
Sing their praises, tell us about them, maybe describe a particular event, or a sage piece of advice they have given you, a lesson they have taught you, and yes lessons come from both young and old.
And yes I know there may be some of you out there that have not lead happy family lives and for that I'm sorry, but it might be a story you would like to record, and perfectly fine if you want to keep it private.  This story challenge is all about your stories.
So with that, go forth and tell your story about a man in your life.
The creative team have jumped on board with some terrific example pages and we all came to the challenge from different directions:
Audrey's sweet sweet page documents all the special things about her son, what a gift this will be one day when he can read back and know just how precious he is.
Supplies Audrey has used go on forever 🙂 here's but a few:  Giggles and Grins Brushes and Stamps,  Watercolor Sketchbook No.01 Element Pack,  Lila Bleu Element Pack,  Life Lines Element Pack,  Farmhouse Christmas Element Pack,  Bead Scatterings No. 03,  Negative Sleeves No. 03,  Patterning Palettes No. 03 Element Pack … and more.  Check out her page in the gallery, I'm in awe of the long list of goodies she's used.
Terri has joined in with an awesome page about her brother.  It's so important to document our extended family members amongst our pages, I love all the facets that are covered here.
Supplies Terri has used:  Textured Whites Paper Pack No. 03,  Pencil Twist Arrows Brushes and Stamps No. 02,  Curated Team Scrapbook Mix No. 04,  Bold and Outlined Brushes and Stamps No. 01,  Brushed Arrows Brushes and Stamps No. 01,  Fine Lines Page Titles No. 07 Brushes and Stamps,  Pocket Page Alphabet,  Curated Team Scrapbook Mix No. 08,  Curated Team Scrapbook Mix No. 10 Value Pack,  Layer Works No. 986 (elements),  Layer Works No. 901 (elements),  eadymade Layers: Vintage Edgers No. 02,  Ledger Journalers Brushes and Stamps No. 03.
And lastly for my page I decided to have a chat to my dad, looking at his childhood photo and letting him know just what an amazing life he had ahead of him.
Supplies I have used:  Lake Lodge Element Pack,  Bloese Solids Paper Pack,  Ledger Grids No. 04 Brushes and Stamps,  Clean Stitched Borders: Brown No. 01,  Clean Stitched Arrows: White No. 01,  Blendable Ledgers No. 01,  Curated Studio Mix Scrapbooking Kit No. 15,  File Tab Words: Fall No. 01.
The team at DD have generously provided a freebie to help you on your way, the link is good for the entire month of June.  I hope the goodies inspire you.   I am really looking forward to reading all the stories this month.
Post your pages in the Scrapbook Challenge Gallery and don't forget when you use ALL DD product on your challenge page you should post a link of your page in the June Challenge Participation thread so that it will count toward your savings in the rewards program.  Everyone's a winner!