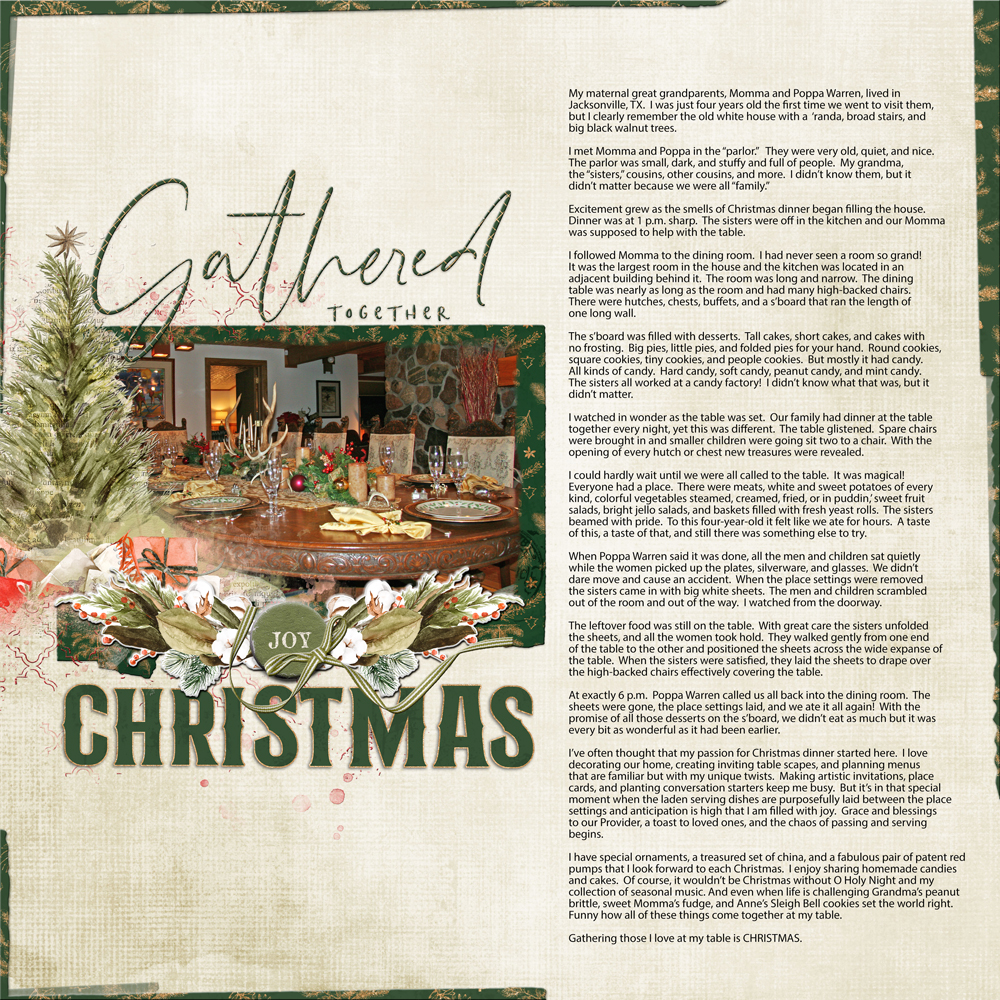 Story Scrapbook Challenge : Christmas Ornaments and Traditions
Every year Christmas rolls around and we delve into our cupboards and out comes the box of Christmas decorations and we remember.  Yes we have the old glittery balls and lights and random tinsel.  But there are extra special ornaments and traditions that are held deep in our hearts.  Am I right?  And these are the stories we need to jot down so that they are never forgotten.
Is there a decoration that you have handed down through the generations?  A souvenir strung from a branch reminding you of a vacation to far away lands?   A first Christmas ornament for a new little one.  A precious trinket from your grandparents?  The first decoration you bought together as a couple for your first tree.  A bauble from a dear friend?
Or let's delve further – maybe it is the tree, something you potted and still used today, maybe it's now so big it's planted out in the garden.  Perhaps it's the act of lighting up the house that is turned into a tradition held dear.  Is there a tradition that you want to remember.   Something that just makes Christmas each year that extra special.
I want you to tell a story of a precious memory you have each Christmas – be it something on the tree, an act you do that has become a tradition held dear, or any story you want to tell so that that Christmas story is never forgotten.
I absolutely cannot wait to see what this challenge brings.  Let's hear all about dear Christmas memories.
The creative team have jumped on board with some terrific example pages:
Tammie has created a beautiful page remember Christmasses with her great grandparents.  Can you just imagine how goggle eyed a young girl would be at a dining table like this.  I love the journalling, these are definitely the stories that need to be remembered.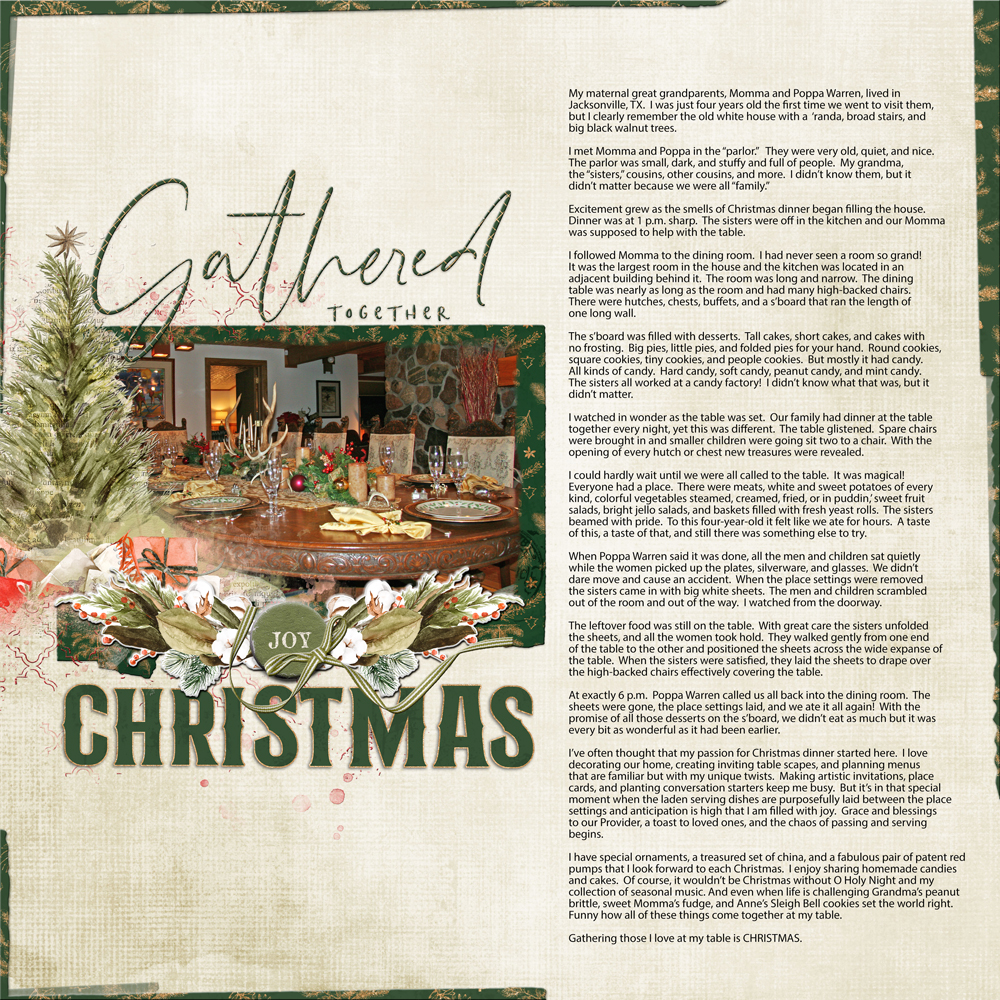 Supplies Tammie has used:  ARToptions Mini Mix Kit 10,   Layer Works No 1412 paint, alpha,   Layer Works 1408,   Layer Works 141,   Evergreen Season Add on paper pack,   Loosely scripted sentiments brushes and stamps 11.
How absolutely luxurious does Jane's page look here documenting the ornaments and decorating that grand Christmas tree.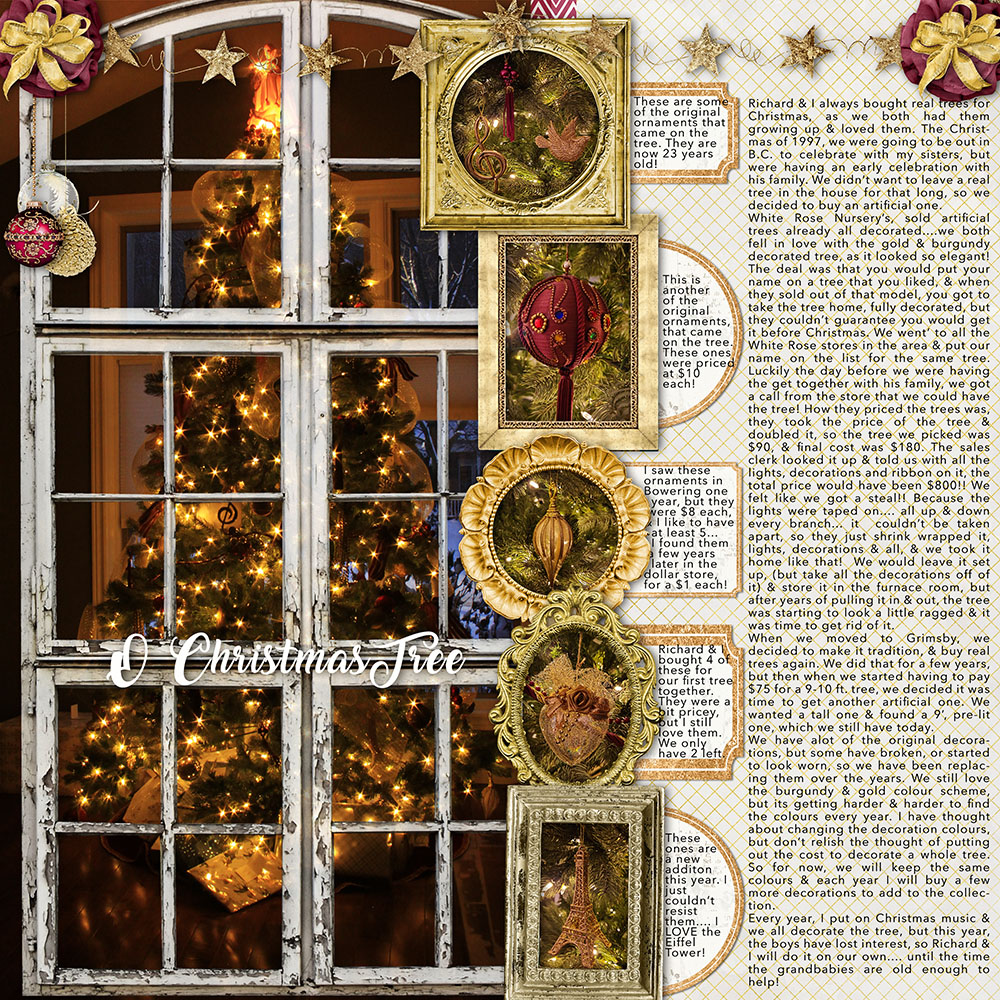 Supplies Jane has used:  December Sparkles Essentials,   Evergreen Season Kit,   Black, White and Maroon Kit,   Seasons Finest Kit,   Golden Season Kit,   Christmas Garden Element Pack,   Golden Pretty Kit,  and more.
Shannon has documented a special ornament and what it means remembering another time years gone by.  I bet a lot of us have ornaments like this one.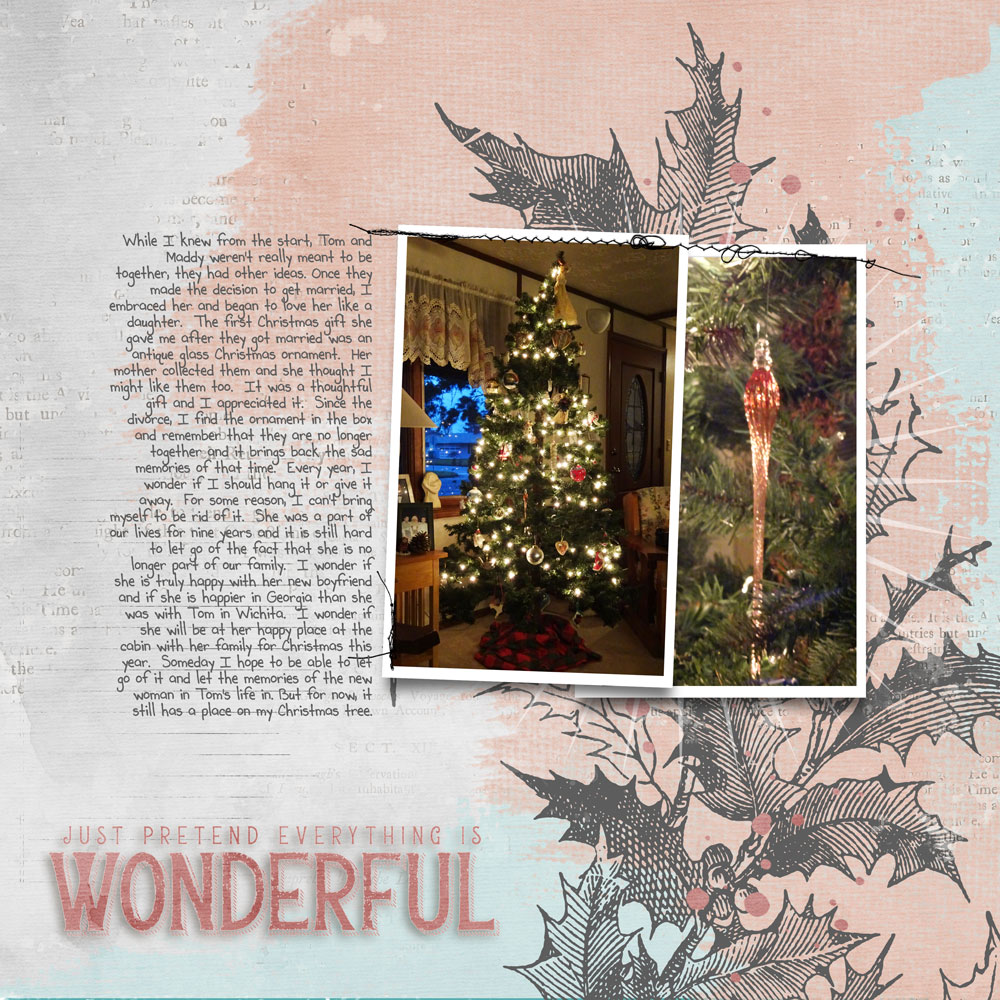 Supplies Shannon has used:  Painted Page Starters December 01,   Palette Textures 15,   Palette Textures 14,   Chalk Sign Sentiments 06.
And lastly for my page, I went with a Christmas tradition where my husband plays Santa's elf in our town's Christmas parade each year, with one year being extra special.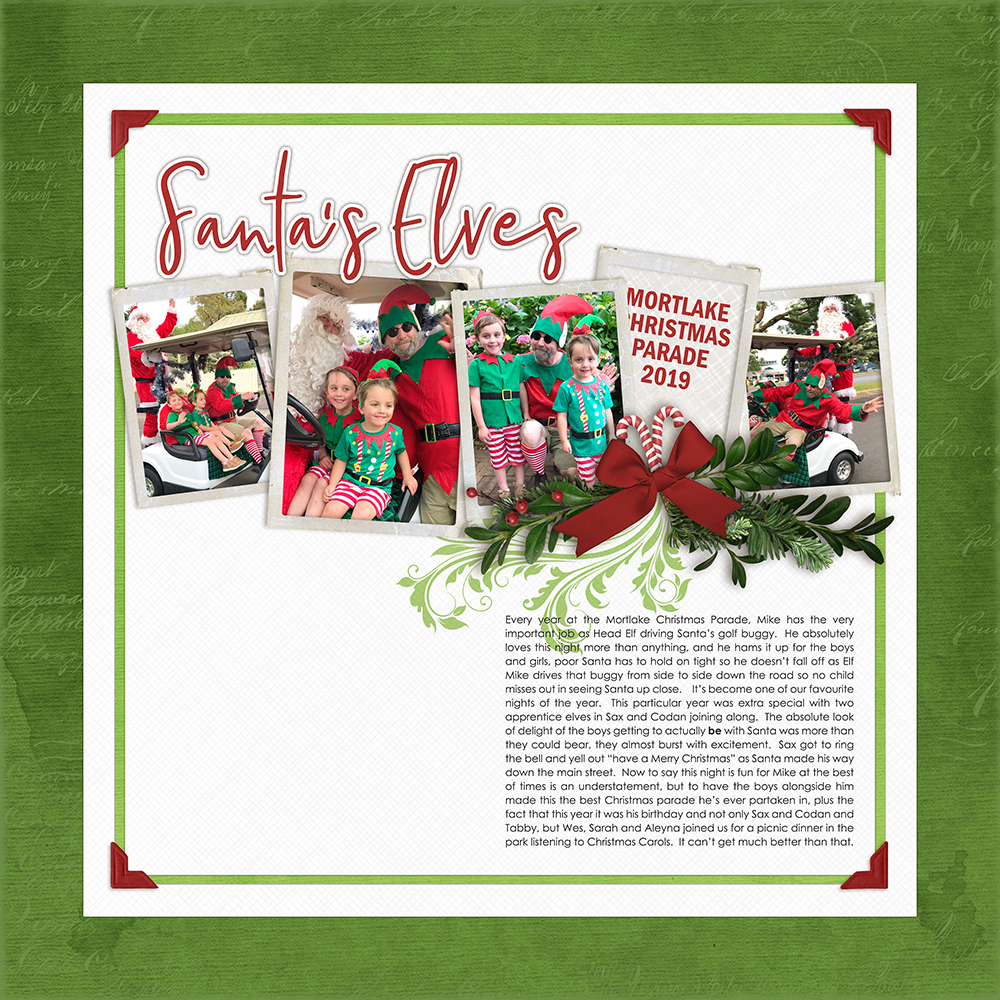 Supplies I have used:  Palette Textures Paper Pack 16,   Photographs and Memories Layered Template,   Enchanted Easter Solids Paper Pack,   December Sparkles Paper Pack,   Photo Corners: Colors 01.
The team at KPD have generously provided a freebie to help you on your way, the freebie link is valid for six months, how generous KPD is.  I hope the goodies I've chosen inspire you.
Post your pages in the Scrapbook Challenge Gallery and don't forget when you use ALL KPD product on your challenge page you should post a link of your page in the December Challenge Participation thread so that it will count toward your savings in the rewards program.  Everyone's a winner!