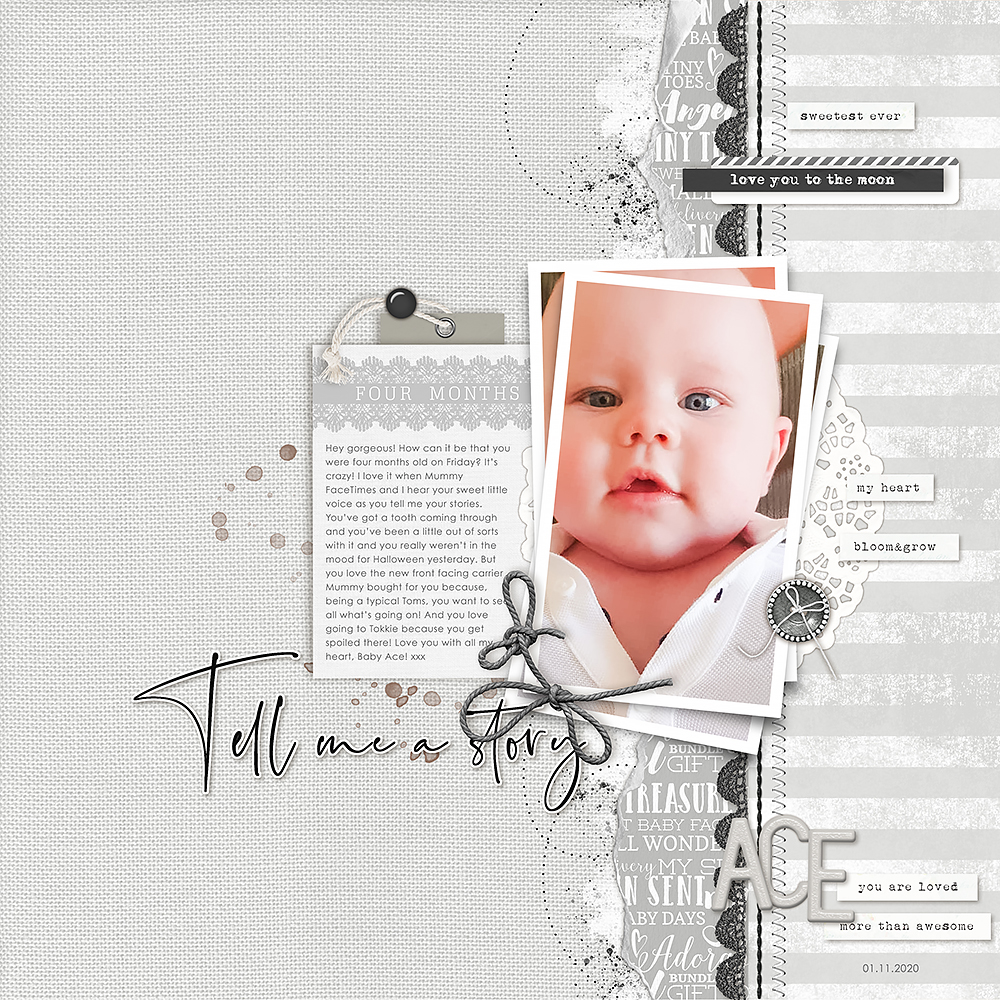 Saturday Scraplift: Split Page Design
I love page designs that draw attention to the focal photo while adding overall interest. Liz T's page (above) is just that kind of design. There's no missing the adorable photo of her grandson which is enhanced by the split background, the monochromatic color scheme, and the well-chosen accents and embellishments. My fellow Creative Team members and I had a lot of fun being inspired by Liz's page.
Shannon's (shannonroller) lovely page tells the story of her home city of Vancouver over time, a theme she extends in her design by incorporating clock and map brushwork as well as the earthy neutral color palette. Her at-first-glance ordinary photo allows her to tell a much larger story.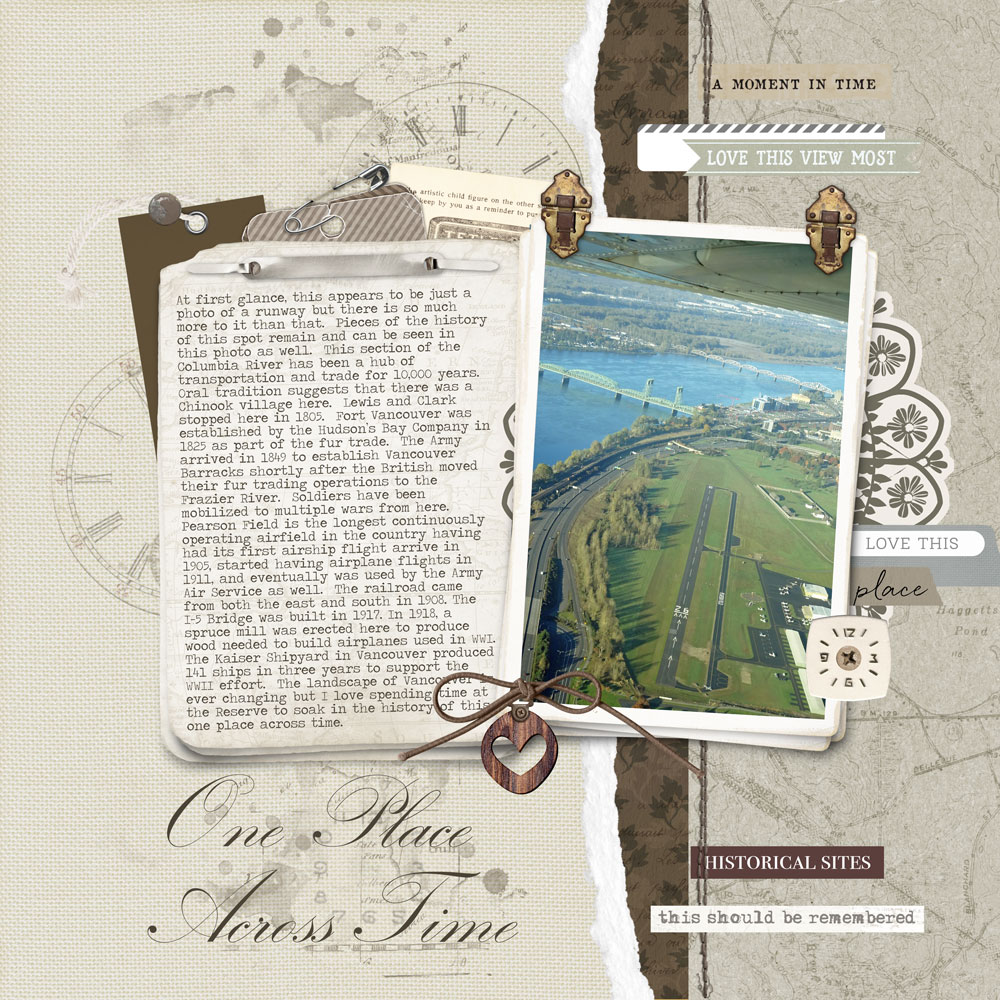 Credits: Vintage Garden District Little Stickers 04; Darcy Gardens Element Pack; Forever Fall Element Pack; Cambrianna Element Pack; Cut Ups: Traveler 01; Taped Word Strips 08; Far and Wide Travel Scrapbook Kit; Clock Part Classics 01; Autumn Bliss Element Pack; Fall Market Scrapbook Kit; Autumnal Artistry Element Pack; Metsa Scrapbook Kit; Quinn Sentiment Pack; Hinged Photo Frames 06; Plainly Woven Paper Pack 02; Curated Studio Mix Scrapbooking Kit 21; Watery Maps Brushes and Stamps 03; Torn Templates 01
Kate (OKate) scrapped a stunning black and white photo of her parents during their first year of marriage. Don't they look like they're having a blast? I love the drama she created in her design by her brilliant choice of the floral paper, those pops of red, and the well-placed word strips.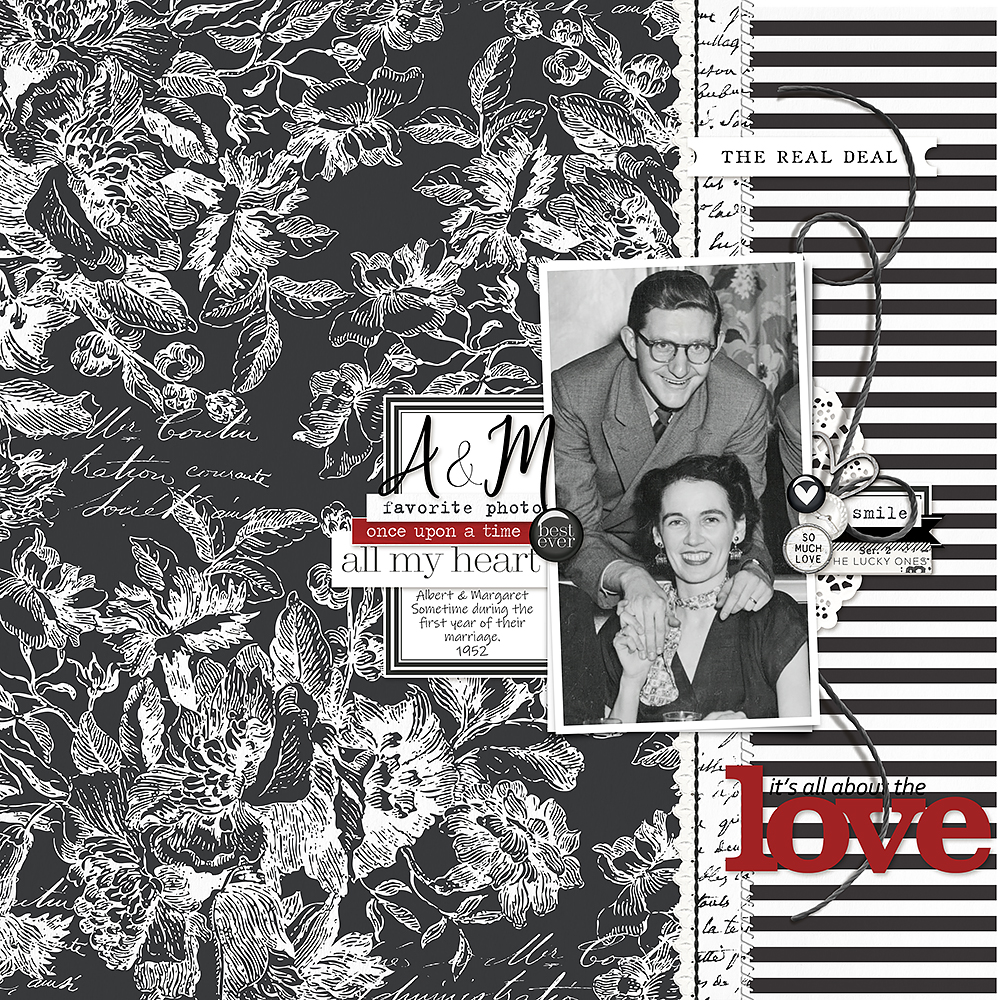 Credits: Modern Vintage Simplicity Paper Pack 01; Moonlight Dreams Element Pack; Classic Scraps Mini Kit 01; Cottage Charm Element Pack; Black, Creme and Red Kit; Golden Pretty Element Pack; Looking for Love Element Pack; Watercolor Sketchbook No. 01 Element Pack; Oiselet Rouge Element Pack; Pebble Essentials 01; Assorted Basic Stitching; Clean Stitched: White 03; All About the Love Brushes and Stamps
Kathy's (blackkathy) use of a neutral background allows her cute photo to shine on her page. The stitched twist serves as a unifying device, leading the viewer's eye from her photo to her clever title work, and her shadow work is fabulous.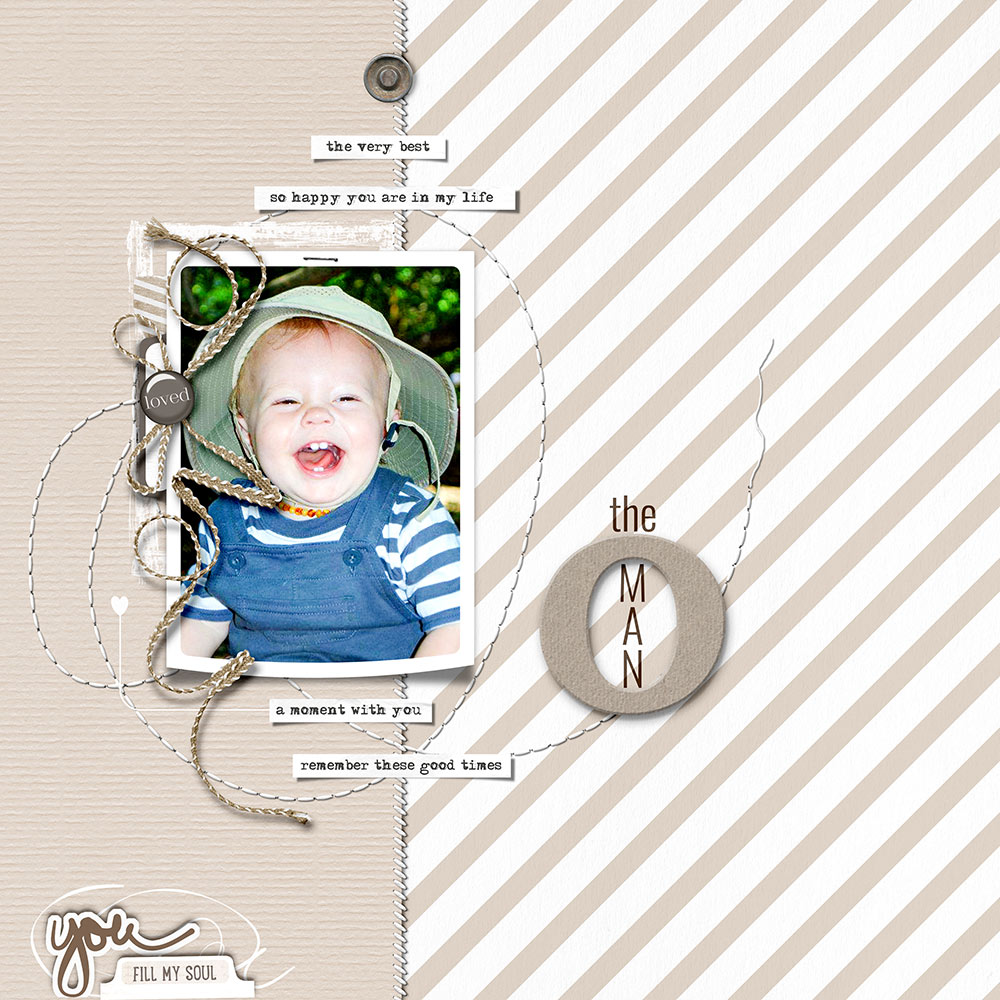 Credits: Cardstock Paper Pack Bundle: Neutra; Classic Curled Photo Frames 03; Clean Stitched Borders 03: White; Heart Pointers Brushes and Stamps 01; Curated Studio Mix Scrapbooking Kit 19; Curated Studio Mix Scrapbooking Kit 35; Moonlight Dreams Element Pack; Artsy Painted Photo Borders 01; Basic Bare Chipboard Alphabet 04
I used Liz's wonderful page practically as a template for my own. I converted the photo of my son and grandson to black and white and then had fun with shades of blue for the rest of the page. I took a cue from the text paper for my title to describe my grandson's award.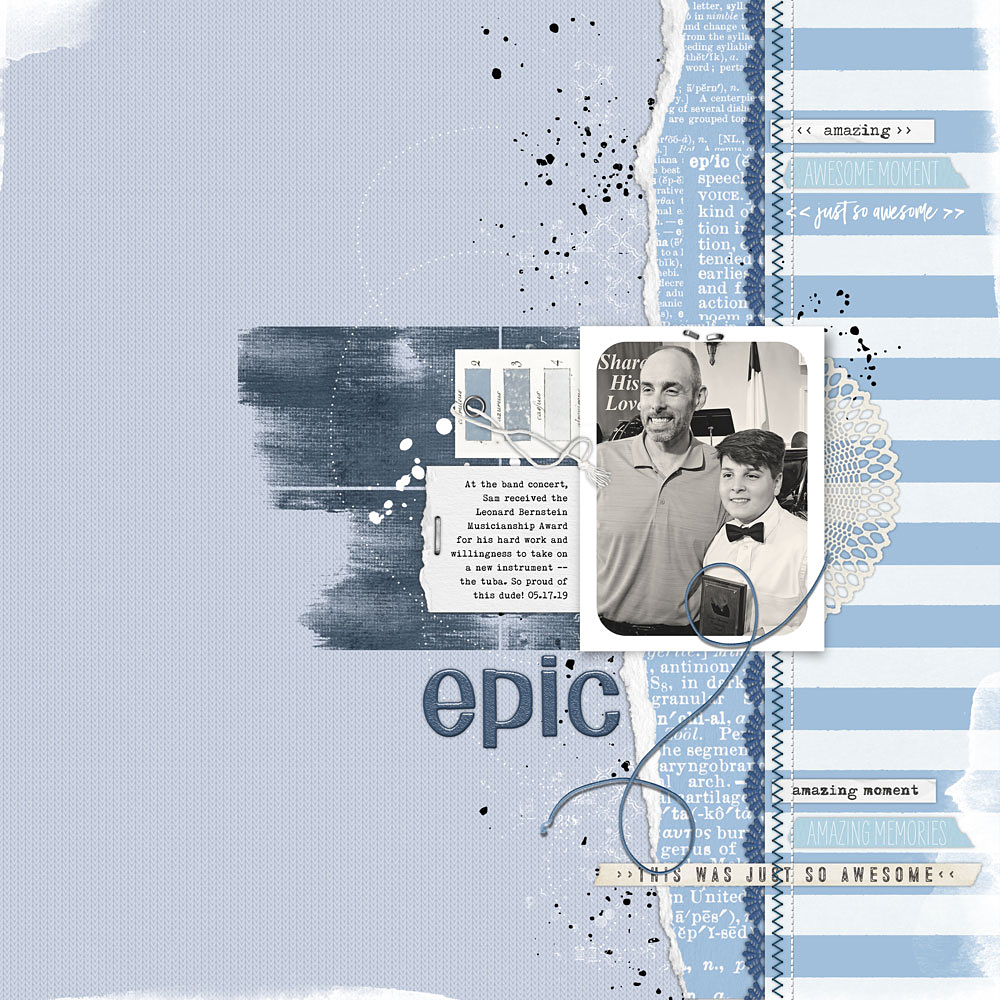 Credits: Sweater Weather Paper Pack 01; Edge Overlays 02; Splatters Brushes and Stamps 03; Splatters Brushes and Stamps 04; Painted Window Frame Stamp Pack 08; Palette Textures Paper Pack 12; Twisted Dots 01; Quatrefoil Clusters Stamp Pack 02; Curled Journal Spots 06; ARToption Mini Mix 02; Torn Templates 02; Little Nutcracker Element Pack; Winter Whites Dots and Stripes Paper Pack (recolored); Antiquarian Artistry 01 Element Pack; Autumn Rambles Element Pack; Neutral Word Bits 03; Scripted Remarks Brushes and Stamps 01; Taped Word Strips 04; Trickery Element Pack; To the Sea Element Pack; Assorted Basic Stitching; Kerava Element Pack; Classic Curled Photo Frames 06; Cameron Element Pack; Arctic Frost Element Pack; Drop Shadow Styles
Liz's page will give you all sorts of inspiration, so I hope you'll have fun lifting it and sharing your page with us. Remember to post your page in the Saturday Scraplift Challenge Gallery as well as in the November Challenges Sign in thread. Happy scrapping!