Saturday Scraplift: All in a Row-At an Angle
Hi!  Shannon (shannonroller) here and welcome to the first scraplift for October!  And what better way to start off the month than lifting this fabulous fall harvest page by Beth (bred1269).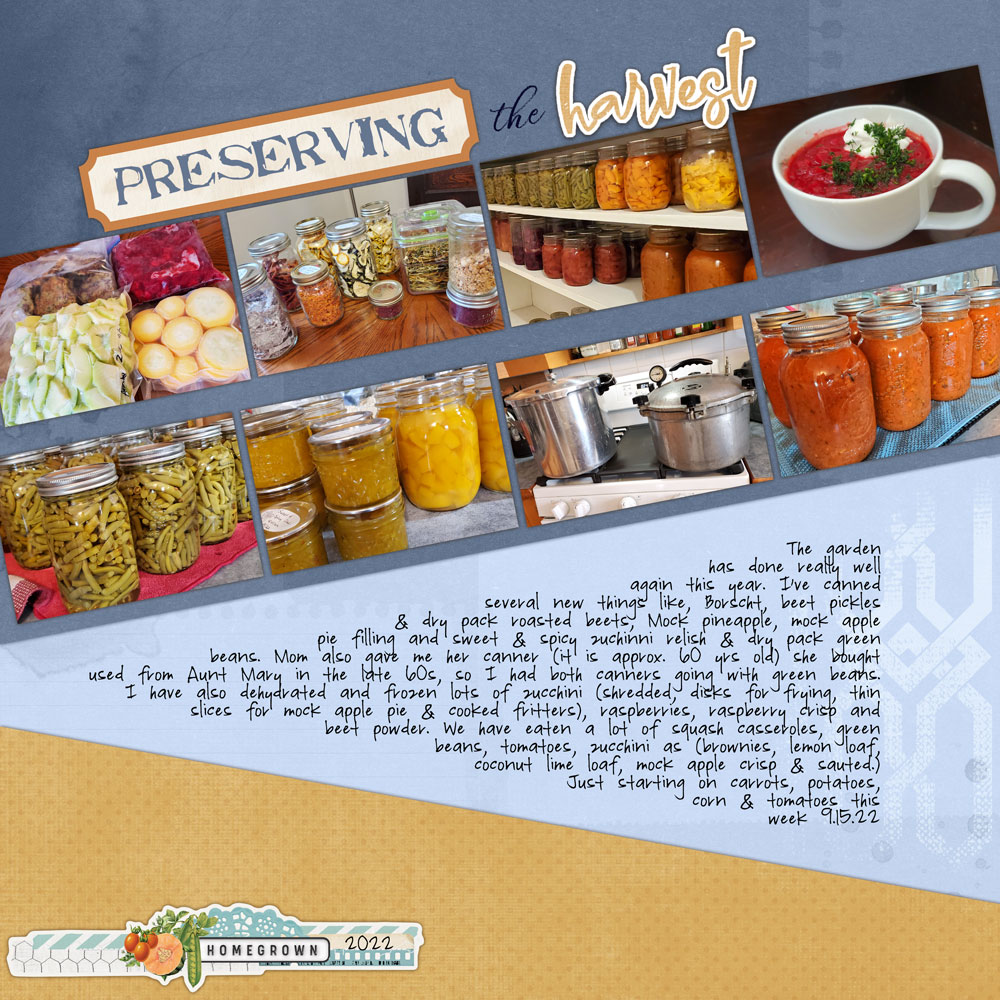 This layout really popped in the gallery.  I love everything about it.  The colors, the design with all the great angles and what impressive photos of her harvest and canning!  I am so NOT a gardener or canner but am certainly impressed with those who are.  It looks like Beth is certainly filling up her pantry with the products of her own labor.
As usual, the analyst team has stepped up to provide some additional inspiration with their takes on lifting this fabulous layout.
First up, Addie (agoymerac) with a layout of her succulents.  She picked her inspiration as the angled lineup of photos.  Her photos are terrific and the choices she made for layering behind the photos are perfect!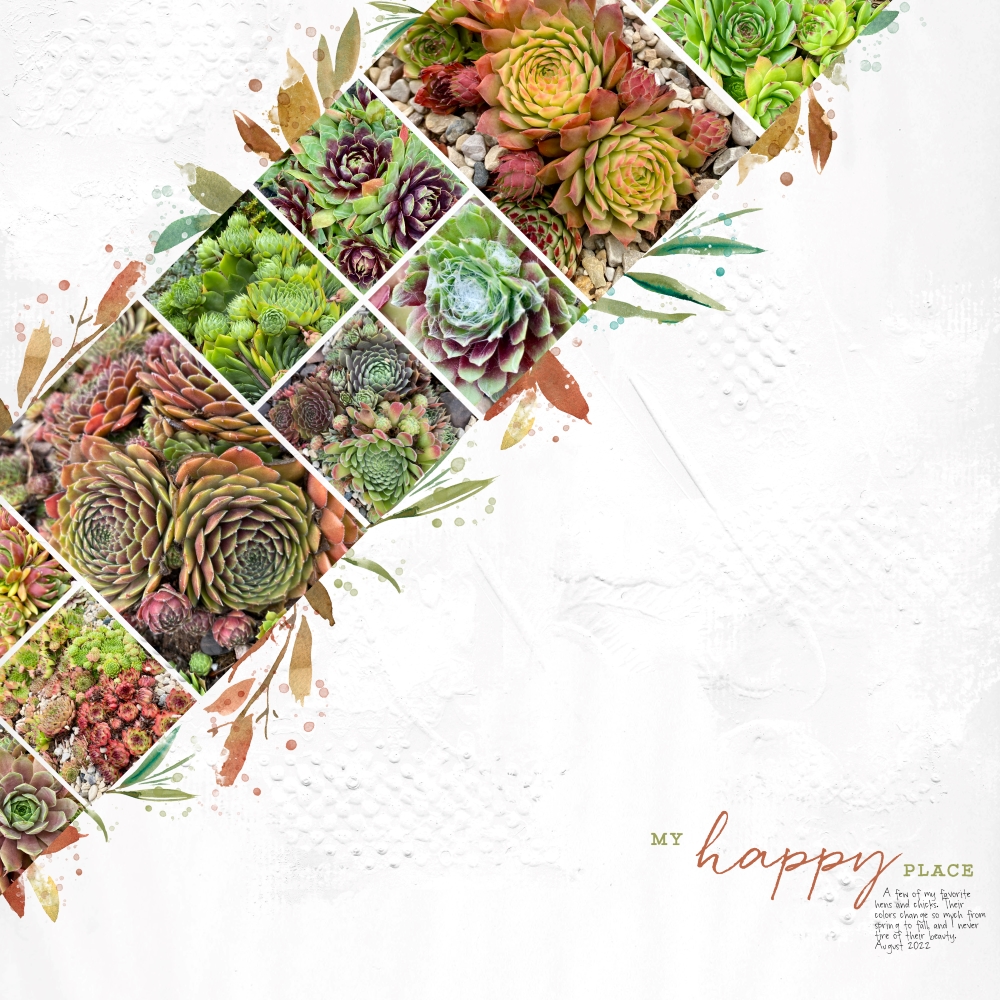 My Happy Place.  Products used: Artoptions Alena Transfers 04  Photo Grids 12×12 Layered Templates 12, Textured Whites 01, and Plant Smiles.
Linda (earlofoxford) documented her love for Seminole football and the emotional rollercoaster of the game with LSU.  The Seminole color scheme is perfect for fall and she took her inspiration from the lined up photos and angled the notebook and journaling.  The torn edges also were great to tuck the angled photos in.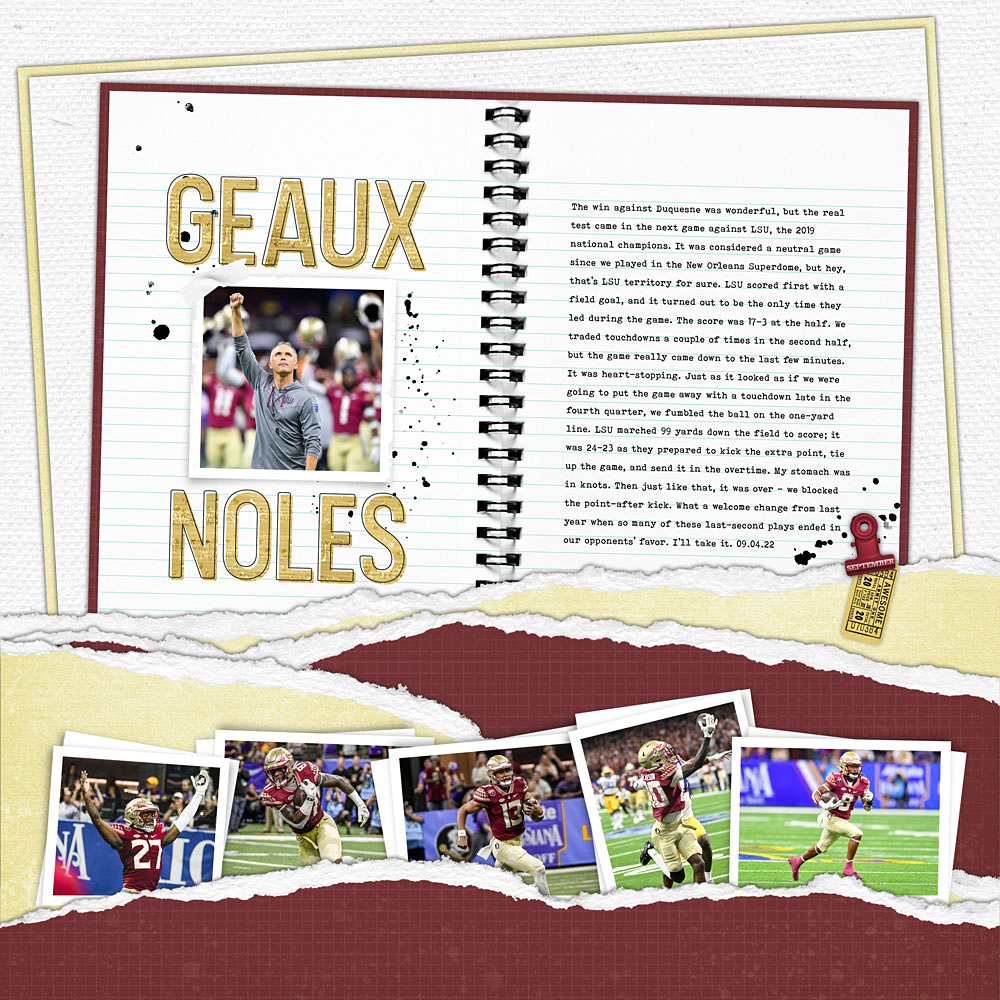 Geaux Noles.  Products used: Deer Lodge Solid Papers, Canvas Cardstocks 06, Botanist Notebook 25 Paper Pack, Bound Paper Pack 19, Splatters Brushes 07, Splatters Brushes 08, Golden Season Element Pack, Classic Curled Photo Frames 02, Torn Templates 02, Stuffed Edge Photo Frames 02, Fall Garden Remix Element Mix, Metal Clip Dates Value Pack 01, and Drop Shadow Styles 02.
I chose to scrap these photos of a flight I took last month with my favorite pilots-my son and husband.  We took a route to get the best view of Mt. St. Helens' crater and Spirit Lake.  Then we headed over Puget Sound to have lunch near the Tacoma Narrows Bridge.  Trips like this have been coined "getting a $100 hamburger" although the price of fuel has really increased the price of those burgers these days.  I loved Beth's inspiration to angle my photos like she did.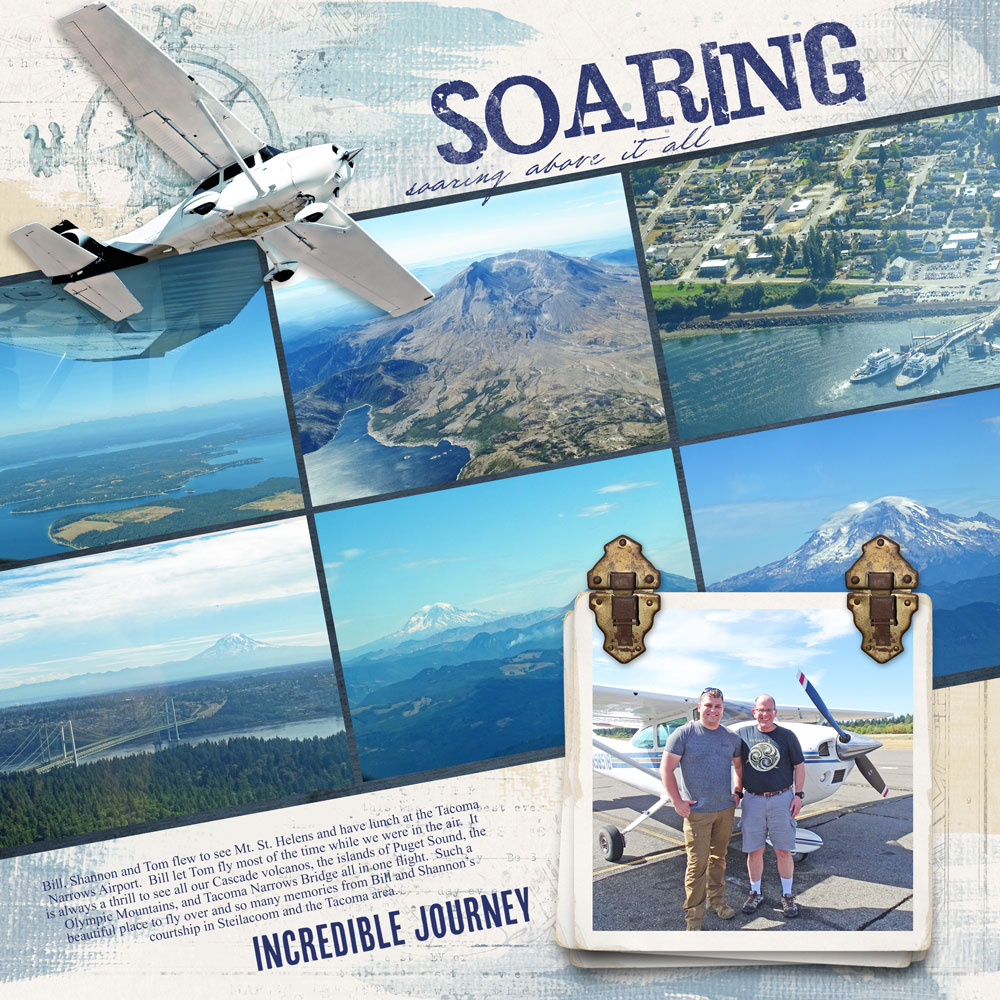 Soaring. Products used: Traveler Blendable Layers 07, Traveler Blendable Layers 12, Vintage Artistry Anywhere Sentiment Transfers, Vintage Artistry Anywhere Ephemera, Blendable Layers 104, Palette Textures 04, Away From It All, Hinged Photo Frames 06 and Photo Grids 12×12 Layered Templates 01.
I hope that you are as inspired by Beth's layout as we were.  Be sure to post your layouts for the lift in the Saturday Scraplift Gallery and the October Challenge Participation Thread to get credit toward a discount coupon to use in the Katie Pertiet Design Shop.  Happy Scrapping!
Shannon