July Color Challenge: Black and White with a Pop of Color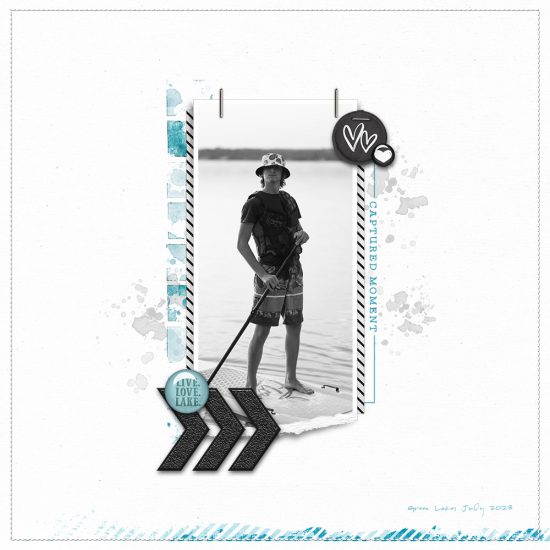 Sarah here for the July Color Challenge and this month we are going to play with black and white with a pop of color….ANY color! 
Sometimes, I have a great photo that I really want to put on a page, but the colors in the photo are a disaster, and I have trouble figuring out how to make it all fit. One of the easiest ways that I've found to work with a challenging-colored photo, is to convert it to black and white and then I am free to add whatever color I want to create atmosphere on the page! Doing this really emphasizes the subject and creates a very impactful page.
So this month, the color choice is totally up to you, but try pairing it with black and white! I hope that you'll join me!
For my page, I caught my son on the paddleboard and I LOVED his expression, but the photo was filled with crazy colors. It was perfect for this strategy of converting it to black and white and adding just a pop of one color, in this case: blue!
Products used: Spectrum Gardenia Transfers 15, Color Swatch Ocean Transfers 05, Curated Team Favorites Lakeside Scrapbook Kit, ArchiBlend Clusters Brushes, Stamps and Layers 02, Everlasting ReMix Element Pack, Everlasting Scrapbook Kit, Brilliant Love Scrapbooking Kit, Torn Classic White Photo Frames 04, Clean Stitched Borders: White 01, Emilia Solids Paper Pack.
Erin created this very sweet page of three of her kids documenting the first day of summer vacation. Love how she used the filmstrip to create a series of silly and adorable photos, with just a pop of blue!
Products used:Bakers Twine: Sea, Filmstrip Frame Brushes and Stamps 01, Plainly Woven Paper Pack, Spectrum Gardenia Transfers 16 (coming soon), Spectrum | Gardenia Chipboard Bits, Spectrum | Gardenia Chipboard Words, Spectrum | Gardenia Wishing Bubbles, Taped Together Overlays 04, Watery Typecast Sentiments 15
Amy did a page with one of her amazing dogs. First of all, I adore all her dog photos, and this one with the black and white photo with the yellow tennis ball…how sweet is that! What an amazing capture. Love that the ball in the photo is in color!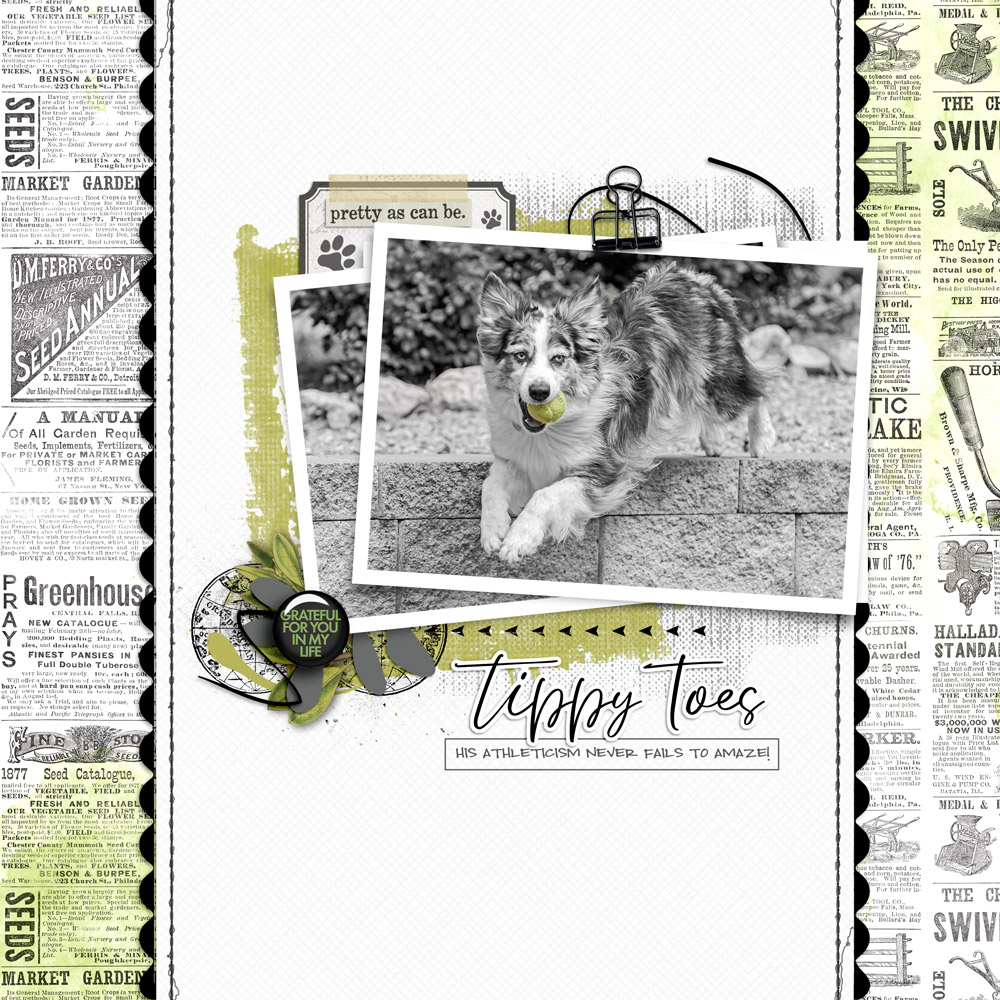 Products used: Blendable Layers 60, Clipped Stack Layers 16, Enchanted Easter Solids Paper Pack, Hello December Element Pack, Layer Works 385, Mary Jane Element Pack, Mixed Bag Brushes and Stamps 05, Paw Print Clusters Brushes and Stamps 01
Scallop Frame Stamp Pack 01, Vintage Artistry Countryside Add-On Paper Pack.
Kathy's page embodies the focus on the photo using black and white. Look at the expressions and how they are emphasized by converting the photo to black and white! With the pop of red, this is such a stunning page.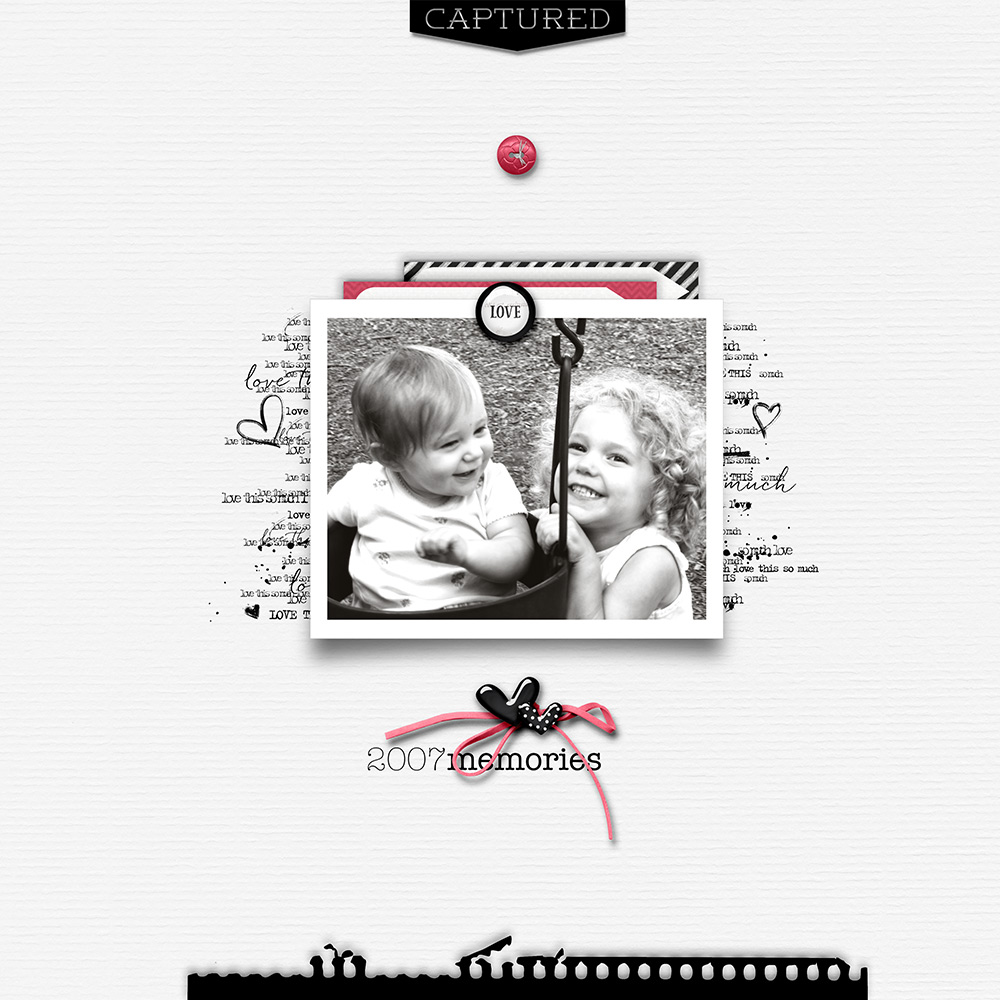 Products used:
Katie has provided us with a few
freebies that you can download here
 and use on you page if you choose. Don't forget to upload your page to the Color Challenge Gallery and post to the Monthly Challenge Thread to take advantage of some awesome rewards in the store!
Happy July!