Get Inspired: Turn Pocket Cards into Pockets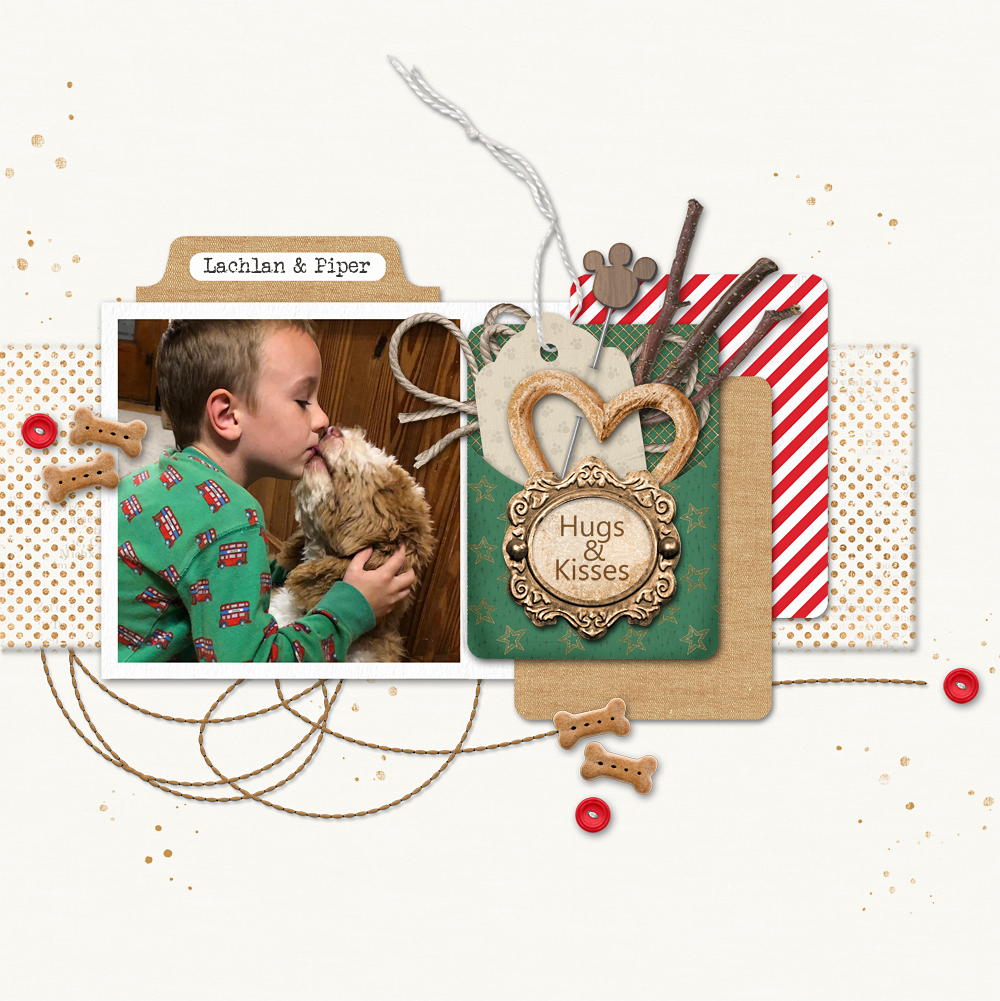 Good morning everyone! Today's post is especially for those of you who like to play with all the stuff!
Last month I posted this layout of my granddaughter Tully. I received some lovely comments, a few requests about how I made the little pocket and a suggestion that it would make a good "Get Inspired" post – so . . . here we are! I love to use Katie's Checks and Plaids Paper Packs or her Dots and Stripes Paper Packs as I think they look like the reversible papers I used to buy which were perfect for making little paper pockets. I think I might still be a paper scrapper at heart!! I DO love that I can do all the same things without all the mess!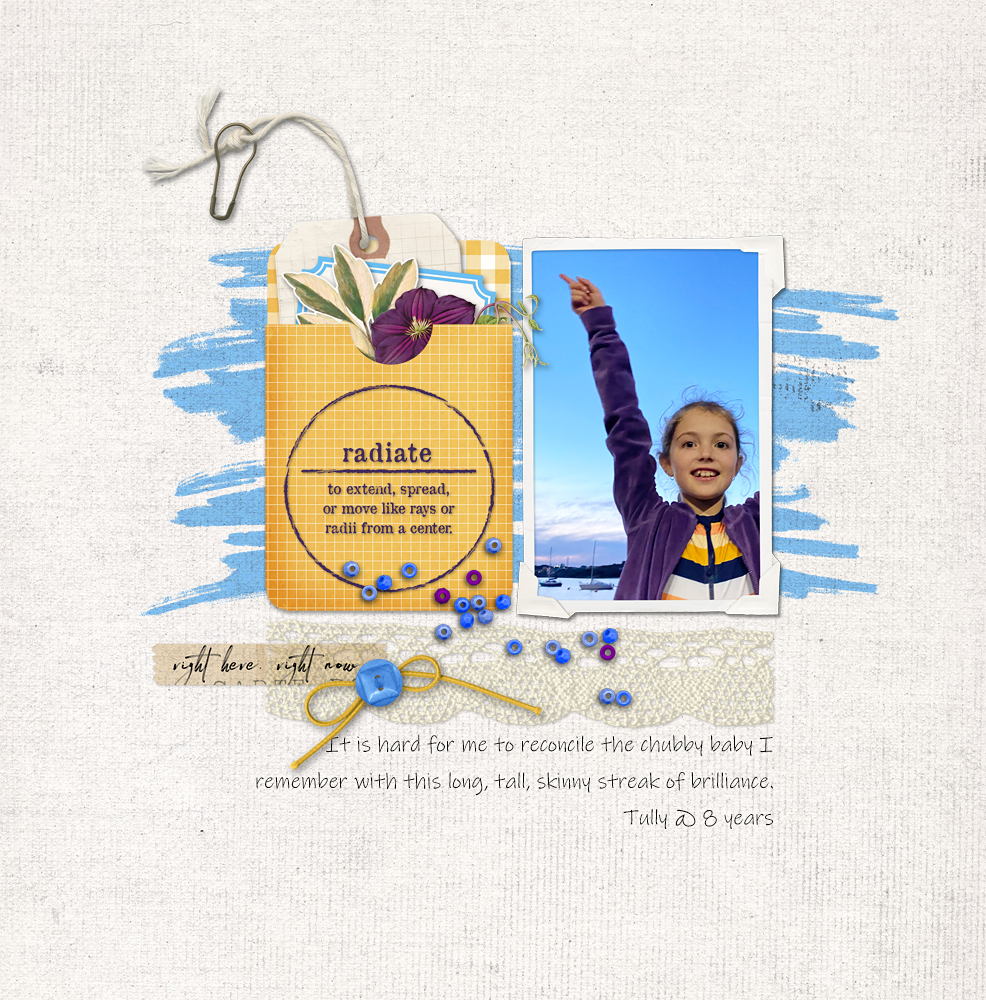 As a base for my pockets, I start with a set of pocket cards which have rounded corners. I use these "Basics":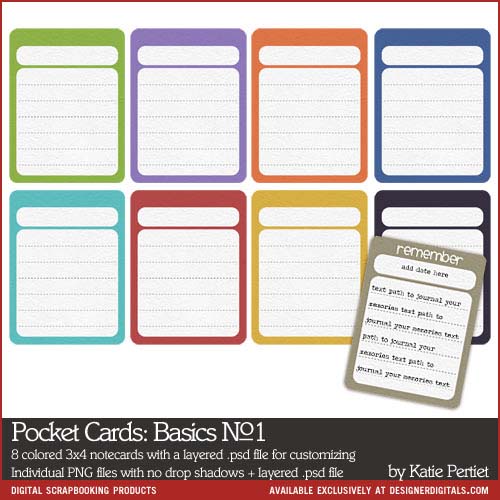 Place a pocket card on your page and duplicate it. Use the transform handles to lengthen or widen the cards as you choose (I lengthened them in the above example to match the height of my photo). Hide the top one for the moment and clip your chosen paper to the bottom one – merge the card and the paper. This paper will be on the 'inside' of the pocket. This will be the layer that eventually has a drop shadow added to it, but I save that for later for ease of seeing what I'm doing when working on the top layer (aging eyes **sigh**).
Reveal the top card and clip your chosen paper for the outside of your pocket to it and merge the card and paper. Decide what kind of pocket you want to have and use the various marquee tools to shape it to your liking. You can cut the pocket straight across or diagonally. You can use the circular tool to cut a scooped pocket – you can even cut a window into your pocket if you choose.
Once you've shaped the top – or the outside – of your pocket, you can apply a drop shadow. If you put this on a separate layer (easy in PS – message me if you need a workaround for PSE), then you can use a soft edged eraser brush to erase all but the part of the shadow that appears under the opening (this is done to prevent a 'doubled-up' shadow around part of the pocket when you shadow the base later. It means that you can also nudge it a little higher or alter it in any way that makes it more realistic to your eye. Once you're happy with the shadow, merge it with the top (or outside), of the pocket.
With the top layer still selected, use the burn tool with a soft edge to slightly darken the edges of your top layer. (I work with the midtones range and use a brush with a 50px size and a 70% exposure). This gives the rounded look that implies that the objects inside are pushing it outwards.
Now comes the fun of searching your stash (or maybe the shop) for little bits and pieces to embellish the pocket and to 'fill' it with items that either support your page theme or are just for the fun of it.
Finally – add a drop shadow to the bottom layer and your pocket is done!
Katie's new Evergreen Season Scrapbooking Collection for Christmas worked equally well on this puppy love layout. Here I've used two coordinating papers from the collection and embellished the pocket with a bookplate which contains the page title. I made a large scooped opening for this card which I placed over the instamatic style border of the photo frame. I also clipped paper to a couple more of the pocket cards to add extra layers under my pocket.
.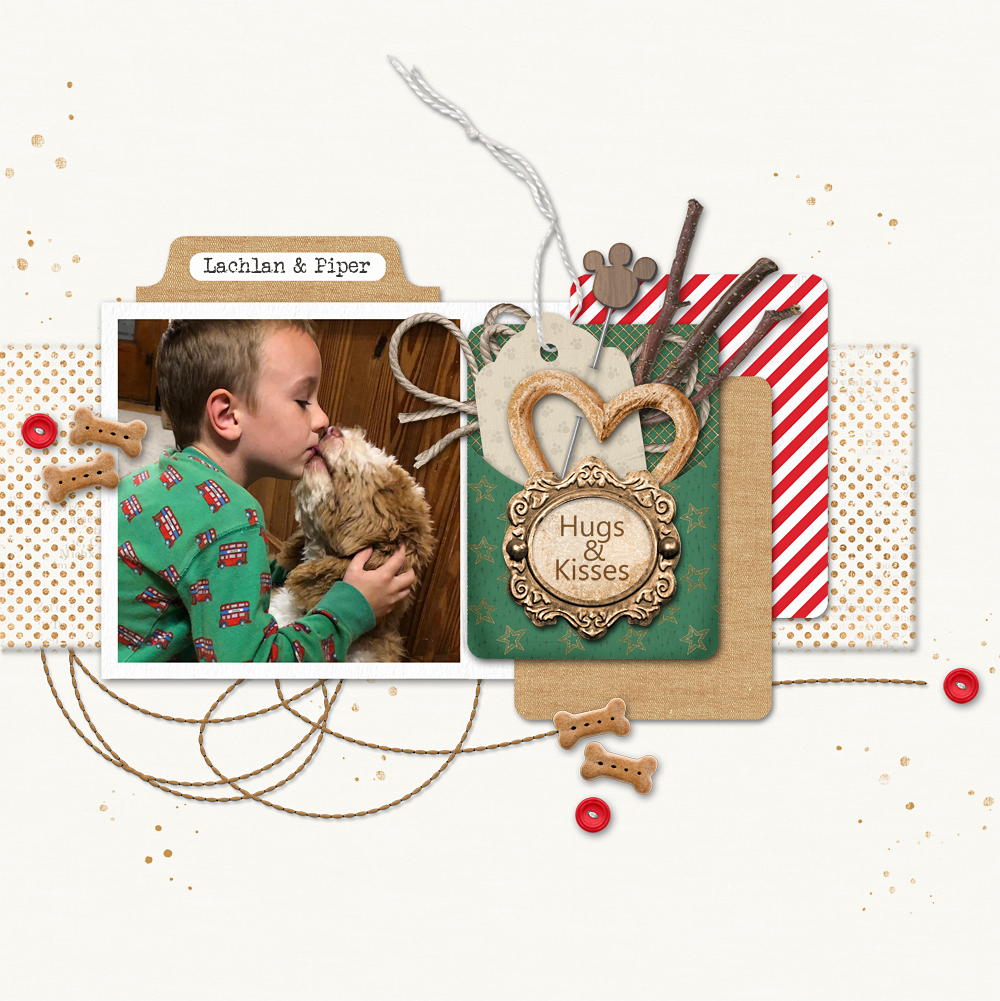 I cut a diagonal opening for this pocket and enlarged it so that I could have my photo spilling out of it. You'll notice that I waited to burn the edges of  the pocket until I had clipped the small tag to it. This way, the edge of the tag is also darkened a little, adding to the illusion. Note how the yellow of the tag completes a visual triangle with the leaves & title.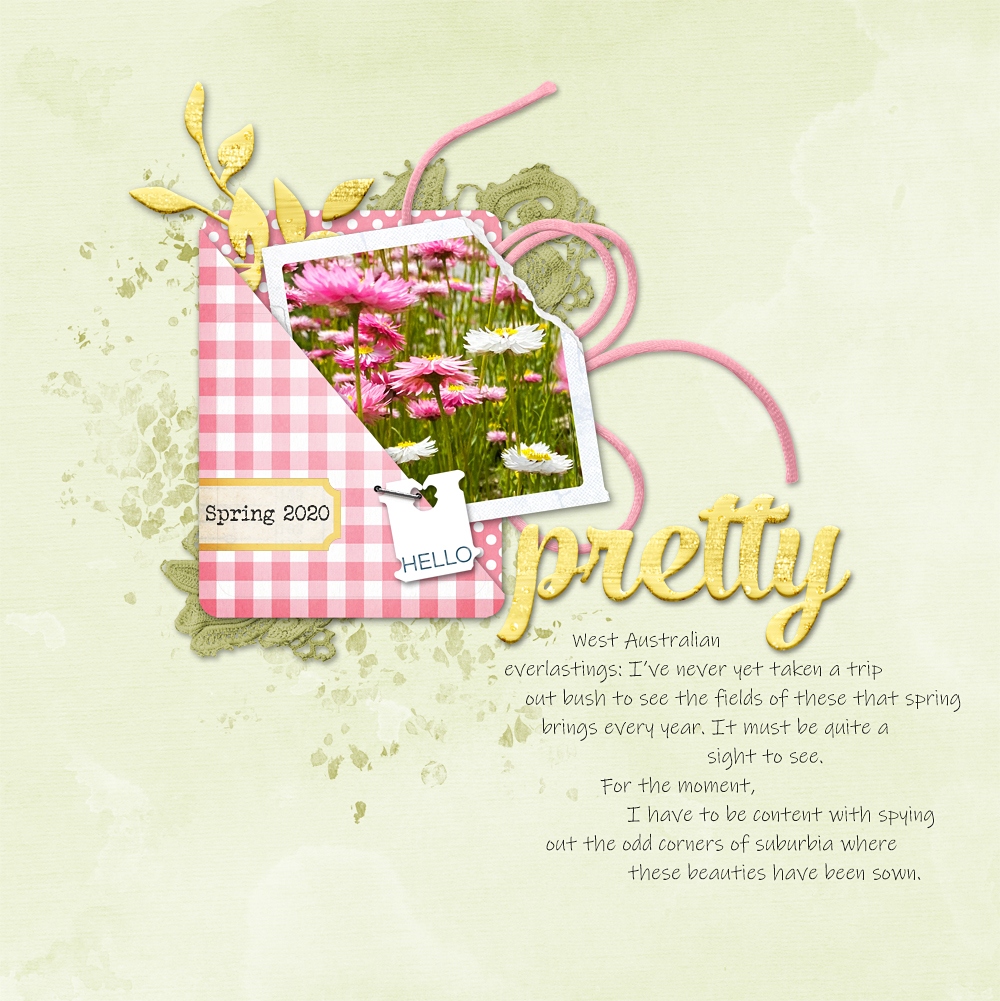 In this next example, I've cut a 'v' shaped opening and placed a jounaling label over it to contain my title. Choosing a branch which drapes out over the edge requires a little judicial erasing – but can be very effective.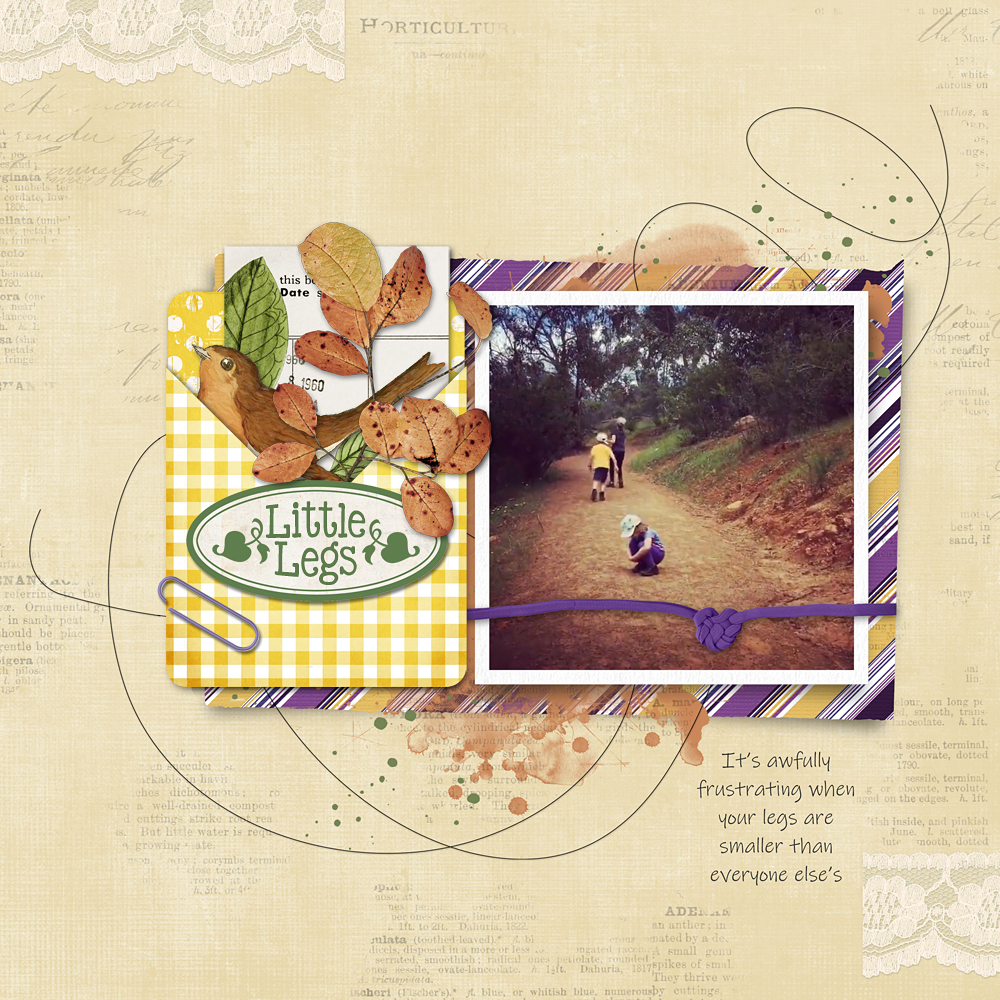 I was having so much fun, I decided to make a page of pockets to give you some extra ideas:
Cut out a window and fill with seed packets
Cut straight across and embellish the edge
Create a doubled up pocket that's smaller than the base and stitch it on
A sideways pocket!
Two opposite diagonals topped with a button
A low scooped opening to allow for a photo to be tucked inside.
Just a hint – keep a png copy of any pocket you create because you can then use it as a template on another LO.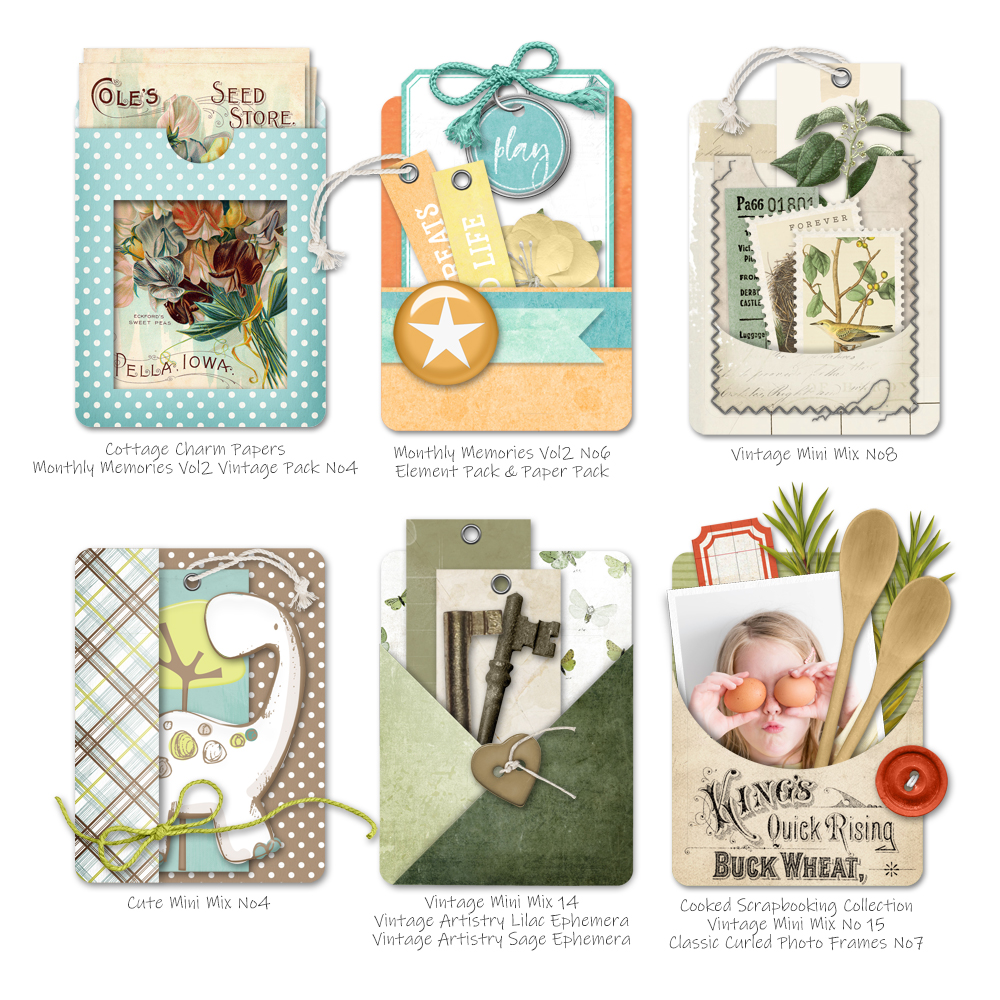 In my last example I used the last cooking themed pocket for a page about my daughter Bonnie's new hair do. I found some free scissors and comb clipart to tuck behind the photo.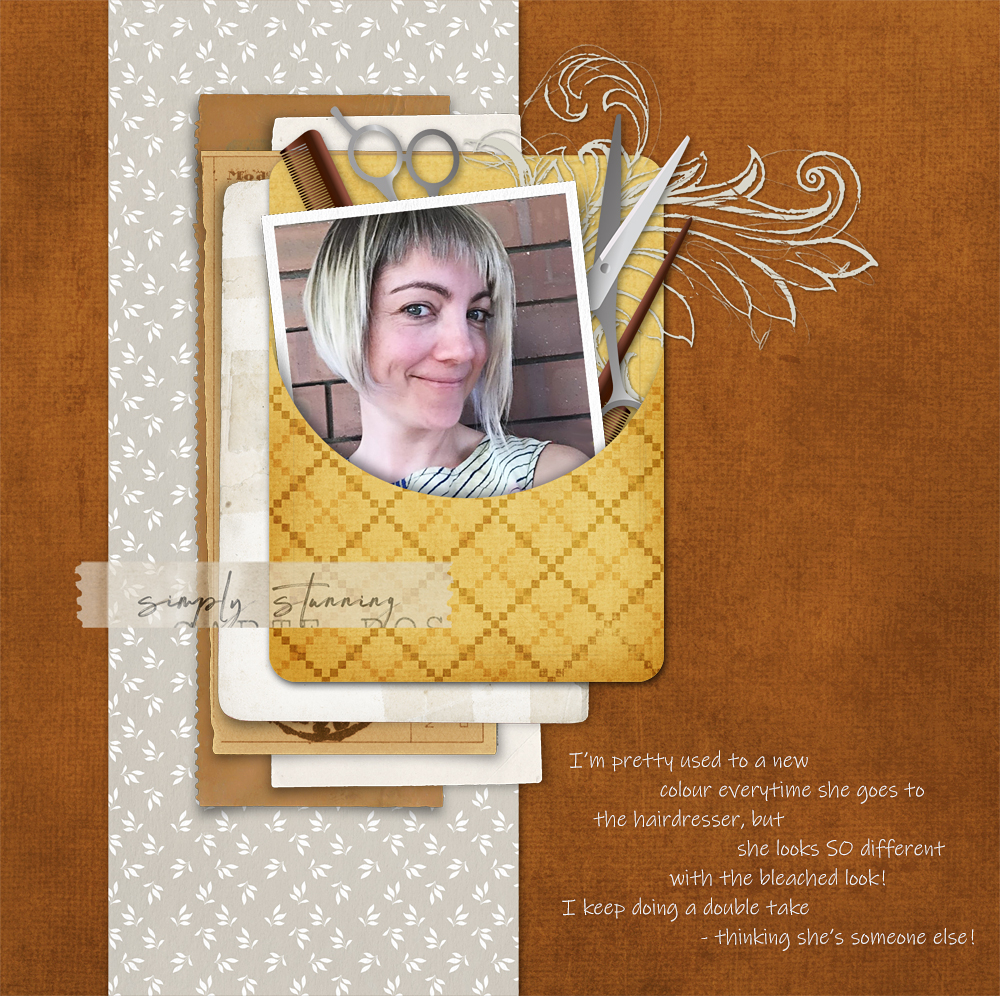 I hope you will have a much fun playing as I did – if my instructions are clear as mud – message me and I will attempt to clarify!!
My pages and credits (as well as the examples page with credits) will be in the Get Inspired Gallery and I hope to see your page there too!
Don't forget to add your 100% page to the November Challenges Sign-in Thread in the forums to earn great shopping rewards.