August Color Challenge: Mellow Yellow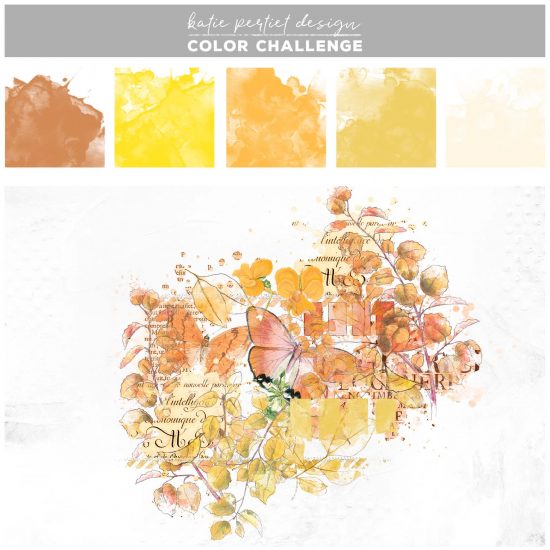 Sarah (sterkeurs) here and can you believe that we are in AUGUST already?? Seriously, this summer has gone by way too fast for me. In our neck of the woods, we've only had two days of rain in the past two months, so needless to say, there is a LOT of yellow grass due to watering restrictions. Everywhere you look, there is yellow grass, so I was inspired to use that as the inspiration for this month's Color Challenge: Mellow yellow! All kinds of yellow will fit for this Challenge and there are lots of products in the store that you can use. To get you started, here is the link to the freebies that Katie has generously offered for the Challenge.
Some of our Creative Team and Guest Creative Team members have created fantastic pages with this beautiful sunny color! Linda (Earloxford) used a fabulous radial look to showcase a spectacular sunset photo.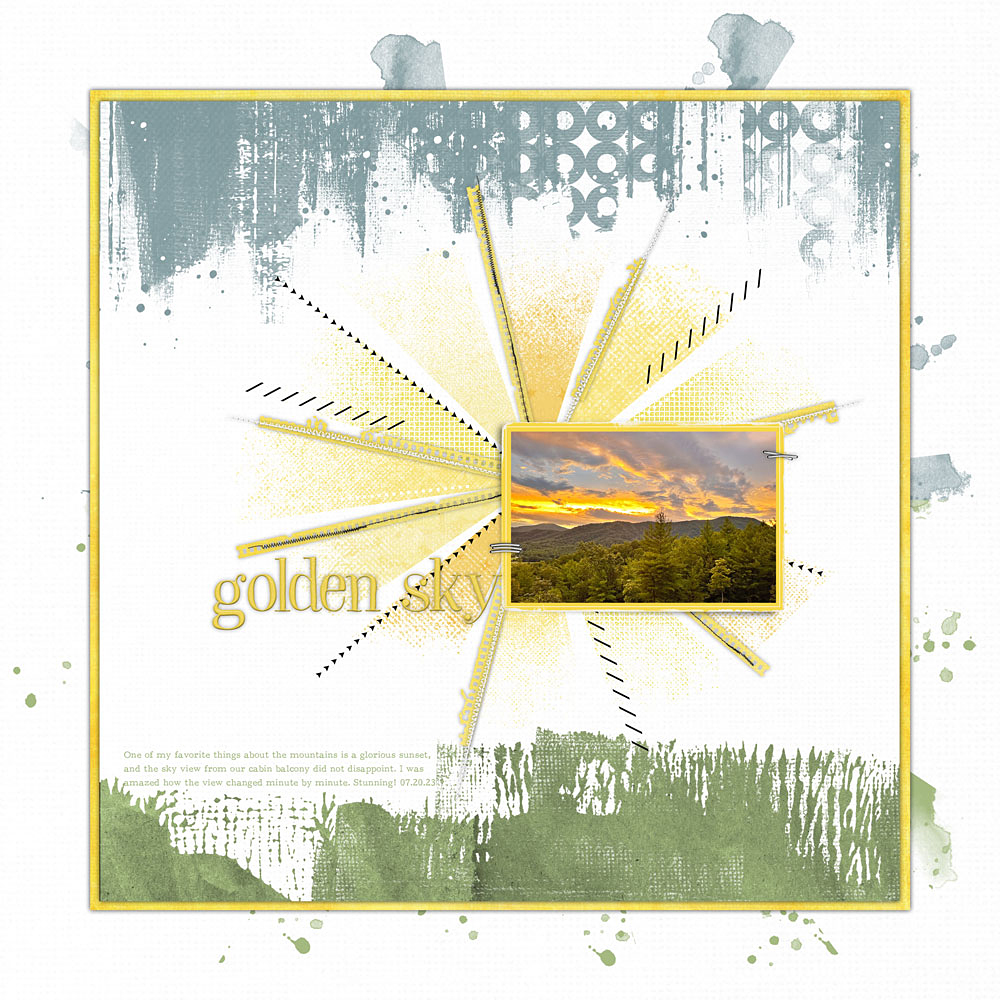 Products used: Lemon Zest Solids Paper Pack, Painted Bursts Overlays 01, Canvas Color Mix Paper Pack 18, Partial Page Masks 08, Partial Page Masks 10, Antiquarian Artistry Solids Paper Pack 01, Attic Treasures Solids Paper Pack, Mixed Media Burst Layers 02, Simply Stars Value Pack 01, Neptune Paper Pack, Sunny Season Solids + Tonal Paper Pack, Just Like Spring Paper Pack, Berry Patch Element Pack, Cadmium Gardens Element Pack, Fastener Basics 01, Drop Shadow Styles
Brenda (Bbe) did a page showcasing a photo of her adorable granddaughter going down a waterslide Such a perfect summer page! I love the expression on her face!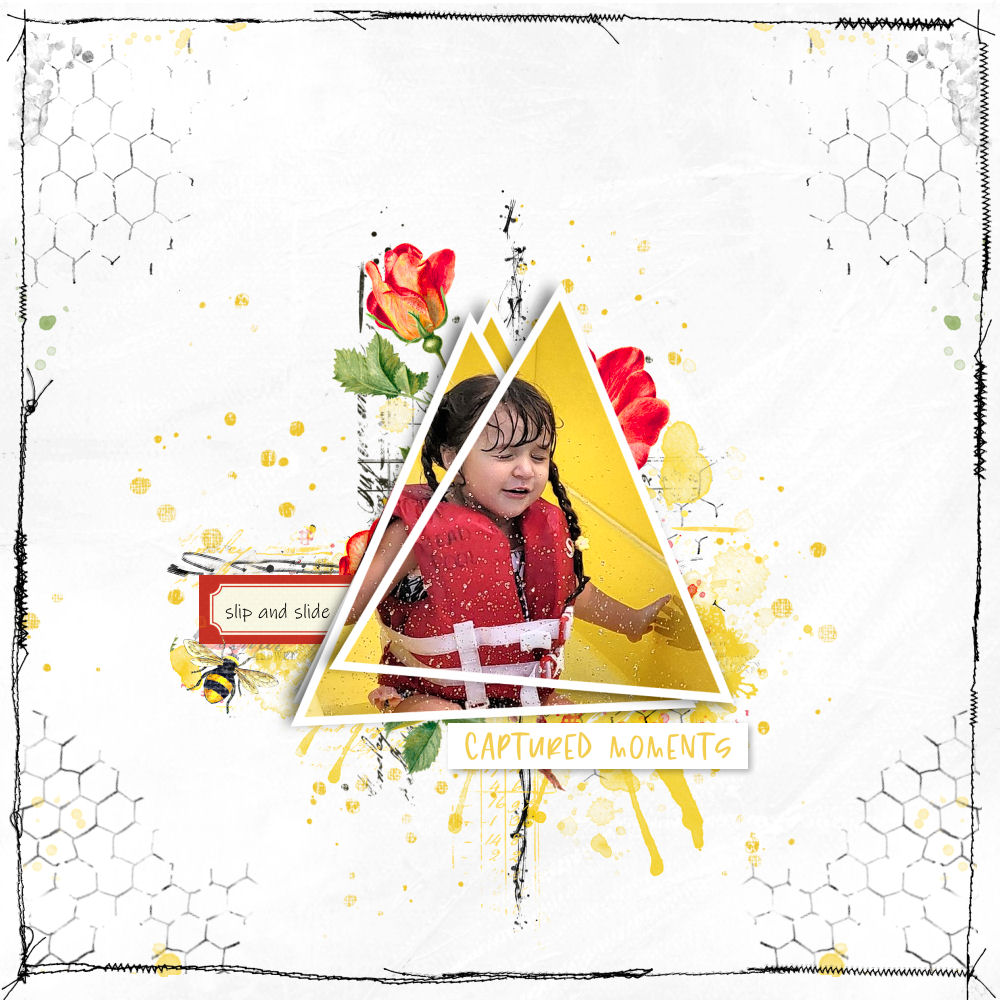 Products that Brenda used on her page: Textured Whites Paper Pack 03, Geometric Photo Frames, Stacks and Layers 01, Readymade Layers: Botanical Clusters 47, Artsy Splatter Strokes Brushes and Stamps 02, Stamped Stitches 11 Brushes and Stamps, Sunny Season Scrapbook Elements, Back To School Scrapbooking Collection
Lynn (grandma Lynnie) did a sweet page with her granddaughter as well. I love that Lynn used ALL the freebies for her sweet page.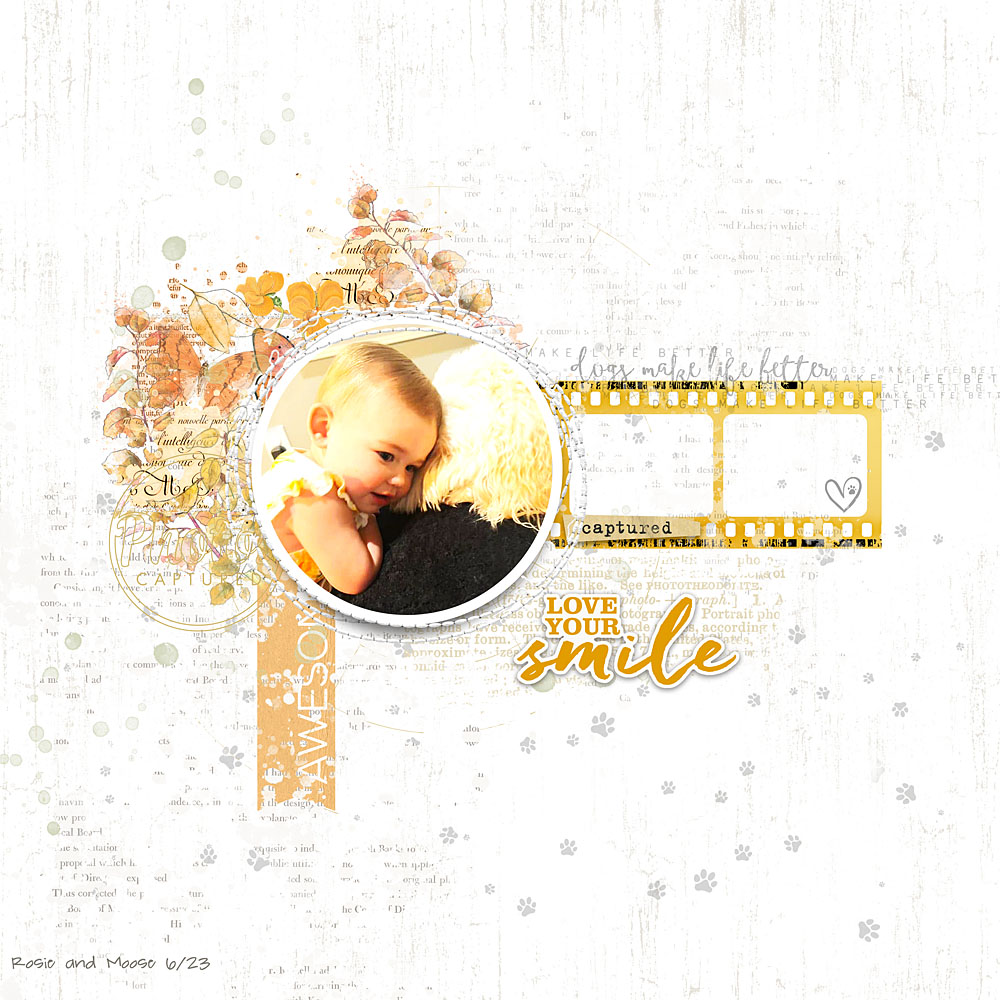 Products used: Challenge freebies, Scrap Layers Layered Template No.26, Worth Repeating Brushes and Stamps No.34, Paw Print Clusters Brushes and Stamps No.01, Hand Scripted Pawesome Brushes and Stamps No.01, Cabana Whites Paper Pack
Monica (mosbaskets) documented her son and his cat Cinnamon who had kidney stones! Thankfully, the cat made a full recovery.
Products Monica used: Framing Moments LT Vol1 #7 , Spectrum Sherbet Painted Foundations, Spectrum Sherbet Solids, Spectrum Sherbet Strawberry Painted Grid Transfers, Spectrum Sherbet Palette Transfers, Spectrum Sherbet Chipboard Bits, Spectrum Sherbet Ephemera, Essentials Mango Ribbons & More
I hope that these pages provide lots of inspiration for you to create a page using yellow! Remember to post your page in the Color Challenge Gallery and in the Monthly Challenge Thread to qualify for great discounts in the store.
Happy August!